About
Diwali, also called as the festival of lights is the brightest of all Hindu festivals celebrated every year. This year, Diwali is celebrated on November 10. The celebrations of customs and rituals go hand in hand with sweets and fried foods. Diwali witnesses increased consumption of high-calorie sweets and snacks that are often associated with health risks including diabetes, high blood pressure and weight gain.
During the festive season, people choose their favorite foods that are loaded with ghee, sugar and dairy products over healthy foods. It is important to enjoy every moment of celebration, and you cannot keep away from calories during Diwali. Extra calories make people gain weight, however, avoiding extra calories will be possible if you follow smart ways.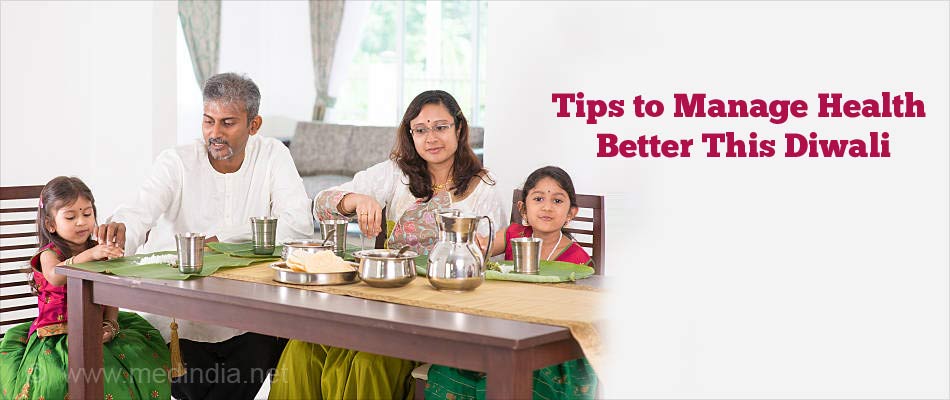 Cook Smart
Adopt methods like baking, grilling, roasting, steaming instead of deep frying. These cooking methods help you avoid extra calories. Use olive oil instead of sunflower oil and vanaspati, as it is low in calories. Use healthy ingredients such as low-fat milk, jaggery and honey to make sweets and snacks. These ingredients are healthy alternatives and provide fewer calories. Indian traditional sweets, somas, which are usually deep fried in oil can be baked with nutritious filling ingredients, such as dates, dried figs, raisins, almonds, walnuts and pistachios, instead of sugar.
Take Smaller Plate
When you serve yourself in smaller plates, you tend to eat less. It helps you avoid eating unhealthy foods. Chew your food and eat slowly. This will help you stop overeating.. Eat only when you are hungry.
Control Portion Size
To keep calories under control, keep your portions in check. Limit your intake of foods that are high in fat, salt, and sugar. Whether you eat at home or a restaurant, make sure you consciously exercise portion control.You can enjoy your occasional favorite indulgences, but in moderation. It is all about being mindful of what you eat.
Eat Smart
Change your daily routine during festive days. Try to cut down extra calories from other food sources. For instance, instead of consuming 3 to 4 cups of tea or coffee a day, stick to one cup. Opt for green tea that will help you get rid of the toxins, regulate metabolism and cleanse your digestive system. If you tend to get hungry between meals, choose something wholesome and good for you, like fruits, fresh juice or salad that are packed with nutrients and help lower the risk of certain diseases.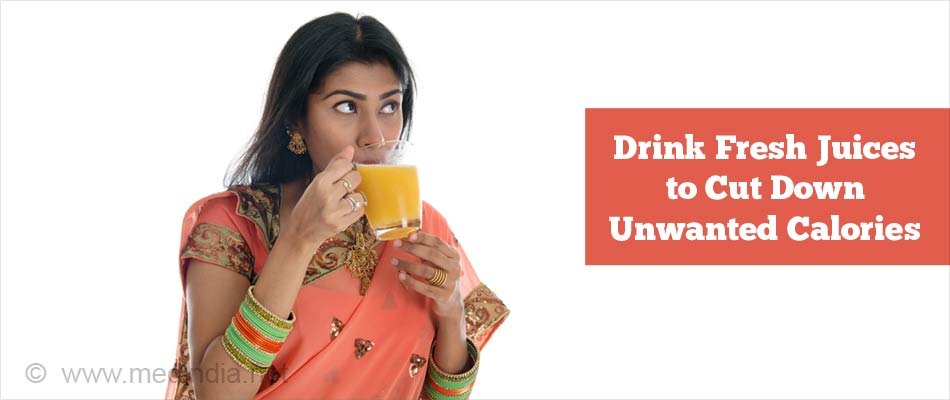 Pay Attention
Eating while watching TV or texting on your smartphones results in eating for emotional comfort instead of hunger. When you pay attention to what you eat, you can make small changes that make a big difference.
Avoid Alcoholic and Aerated Beverages
Aerated drinks may quench your thirst, but their high sugar content causes obesity, and high blood sugar. Avoiding alcohol will not only save you from a lot of extra calories but also help you enjoy the festival to the fullest.You can choose fresh fruit juices with honey. For instance, lime and mint cooler will not only quench your thirst but also helps in digestion and to expel toxins. Drink plenty of water to keep yourself hydrated and your system clean.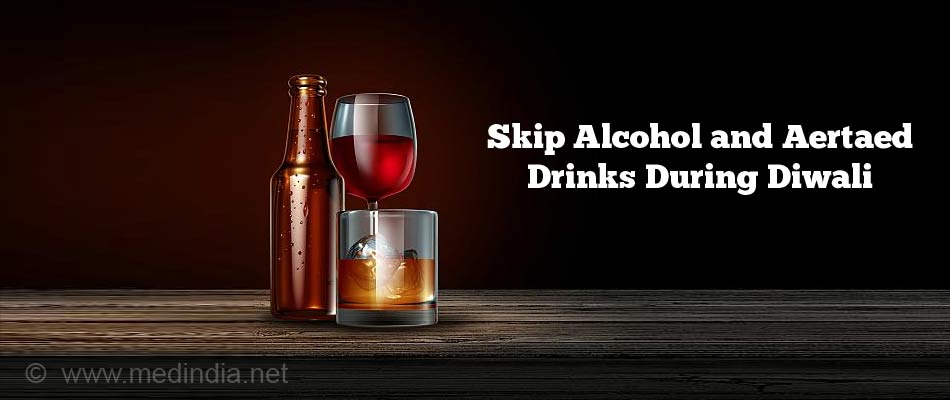 Indulge On Dry Fruits and Nuts
Instead of high-calorie sweets, indulge on dry fruits and nuts. They are crunchy, delicious and require absolutely no preparation. Nuts such as almonds, walnuts and pistachios are good sources of protein, fiber and low in carbohydrates. A handful of almonds benefits your overall health by lowering the risk of metabolic disorders. It also helps lower bad cholesterol and keeps your heart healthy. Dry fruits such as raisins, dried apricots, prunes, fig and dates are extremely rich sources of vitamins and minerals. Eating nuts and dry fruits will not only help you cut down on calories but also keep you satiated for longer periods of time. Dry fruits and nuts can be a healthy gift for your loved ones, instead of those sugar and fat-loaded sweets.
Exercise
Do not skip your exercise regime during the festive season. Make up your mind to add some time for exercise before and after Diwali. People tend to gain weight during these festive days, it is advisable to shed the extra kilos by exercising. Walking, jogging and cycling help you to burn calories rapidly. Simple activities like taking a walk to meet your friend could be beneficial.
Use Technology
Mobile apps can help you manage food records, count calories and track what you eat and even provide guidance on healthy food choices. Maintaining a food diary can help you make adjustments and incorporate healthy changes. Keep a track on your blood glucose level and blood pressure using the monitoring tools.
Following these simple tips, will help you watch out your calorie intake during this festive season. Being mindful of what you eat and making the right choice of food will help you maintain your weight.
Healthy Fruit and Nut Bar
Ingredients:
Rolled oats 2 cup
Almonds 1/4 cup
Cashew 1/4 cup
Walnuts 1/4 cup
Raisins 1/2 cup
Pumpkin seeds 1/4 cup
Cucumber seeds 1/4 cup
Dried apricots 1/4 cup
Dried dates 1/4 cup
Dried fig 1/4 cup
Banana 2
Apple 1
Maple syrup/ Honey 1 cup
Chocolate chips 1/2 cup
Method:
Preheat the oven to 350 degrees F.
Dry roast rolled oats on a medium flame for a couple of minutes. Add chopped almonds, cashew nuts, walnuts and saute.
Add pumpkin seeds, cucumber seeds, raisins, chopped dried apricots, fig and dates to the mixture.
Finely chop apple; mash banana well and combine with the mixture.
Add maple syrup or honey, chocolate chips and stir the mixture well until the ingredients are well combined.
Transfer the mixture to a greased baking tray and flatten with a spatula.
Bake for about 15 minutes. Cut into bars and serve.
Cinnamon Apple Chips
Ingredients:
Apple 2
Cinnamon powder 1 tbsp
Brown sugar 1/4 cup
Salt a pinch
Method:
Preheat the oven to 350 degrees F.
Peel apples and cut into thin slices.
Mix cinnamon, brown sugar and salt.
Place the sliced apples on the baking tray.
Sprinkle the mixture on the sliced apples.
Bake the apples for 45 minutes to 1 hour; until the apples are dried and edges curl up.
Reference:
Mindful Eating: Savor the Flavor -

(http://www.heart.org/HEARTORG/HealthyLiving/HealthyEating/Nutrition/This-Holiday-Season-Eat-Mindful-Not-Mindless_UCM_447030_Article.jsp#.W1BnejnhWM8)
Latest Publications and Research on Turn This Diwali into a Lighter Sweeter Celebration