About
It's that time of the year again. A walk down the street and you are inundated with that intriguing aroma of pure desi ghee mithais. Amidst the colorful hanging lanterns and creative diyas, your eyes can't escape those boxes of tempting traditional sweets in attractive, alluring packs; chocolate and dry fruits, which are back in business yet again! You realize that another year has passed by in a jiffy and the festival season is already here.
Diwali, which is one of the most awaited festivals, is truly the harbinger of joy and prosperity.(1✔ ✔Trusted Source
Diwali

Go to source)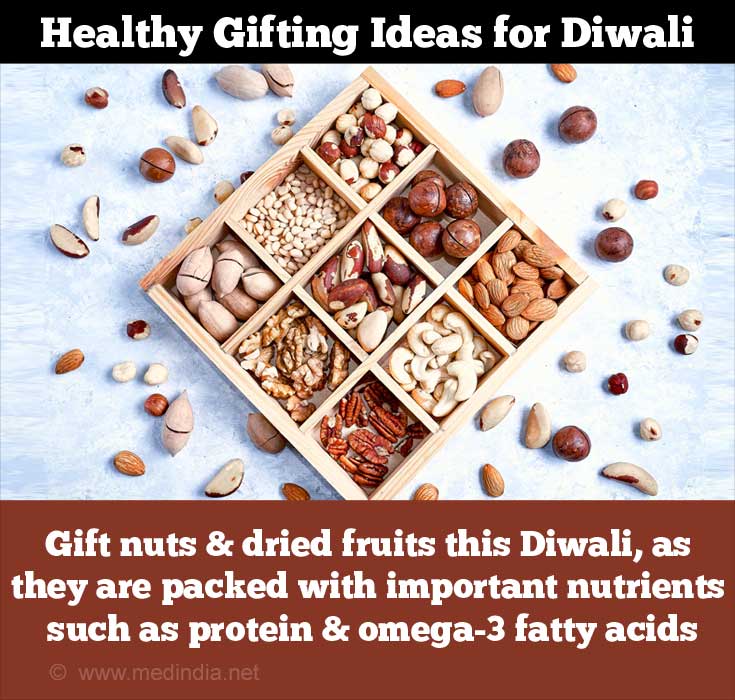 With the gleam of the diyas and the echo of the chants, you look forward to the royal feast of mouth-watering deep fried traditional snacks and sweets. These greasy, high cal sweets usually land up at your house in the form of best wishes from your family and friends conveying love and appreciation and also for maintaining the festival spirit. But wait and think for a moment. You have worked extremely hard to shed those unwanted pounds throughout the year, would you now over-indulge and undo the benefits of the year long struggle in staying fit? To maintain your guilt free eating and low cal lifestyle, how about going the healthy route this Diwali? It not only shows your friends that you care about them, but also that you respect their diet plans and fitness regimes.
Advertisement
So for all the health fanatics who are trying so hard to fight the battle of the bulge and looking for some healthy gifting ideas this Diwali, here are few ideas and suggestions exclusively for you:(2✔ ✔Trusted Source
The Tradition of Exchanging Gifts on Diwali

Go to source)
Exotic "all-natural" fruit basket
This is by far the 'healthiest' and 'fiber-rich' gift you can think for your family and friends. Fill up the basket with different seasonal fruits and may be even some truly exotic fruits such as kiwi and avocado, which one would not buy on a regular basis due to their high cost factor. Mangoes, oranges, strawberries, pineapple are excellent sources of vitamin C which help build up our immune system and also keep our gums and teeth in a healthy condition. To boost the intake of potassium, add in bananas, prunes, dried peaches, apricots, honeydew and melons. Avocadoes and olives are rich in unsaturated fats.
Nuts and dried fruits
Nuts such as walnuts, almonds, macadamias, Brazil nuts are excellent source of protein and omega-3 fatty acids whereas dried fruit, such as dates, dried apricots, peaches, pitted prunes or dried apples are high in fiber. You could either gift one kind or make a basket of assorted options. Adding a small information leaflet about the benefits of each dried fruit would be better appreciated by the recipient. Dried fruits are usually enjoyed during the winter season, which typically sets in post-Diwali. Nuts and dried fruits are non-perishables and could be stored for long periods of time.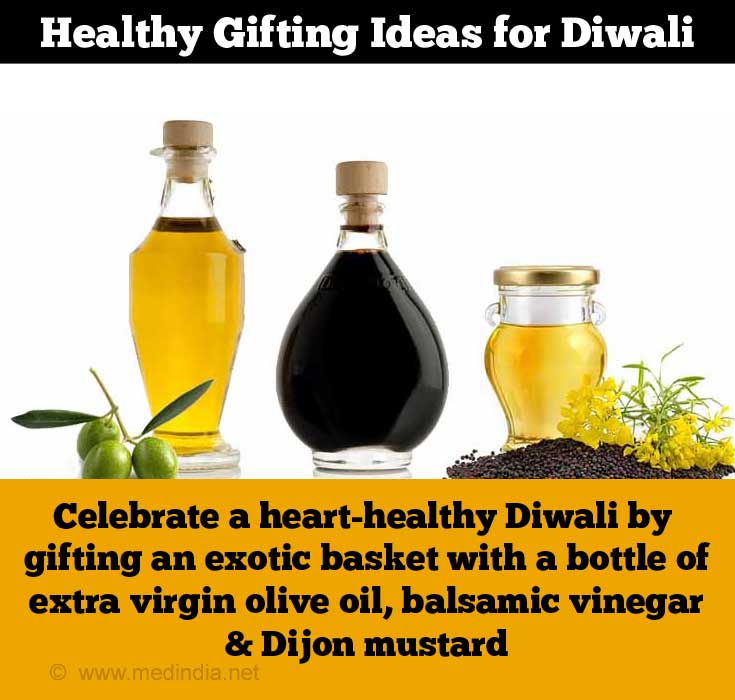 Home-made desserts
Home-made desserts are the most ideal and thoughtful gift, provided you have the time to make it. When preparing desserts at home, you have the liberty of choosing healthy and low fat ingredients like slim milk and other dairy products. Honey and dates are excellent alternatives to refined sugar or artificial sweeteners. You could also use wheat flour instead of refined flour such as all-purpose flour or maida.
Basket of whole grains
An assortment of brown rice, whole rice (with choker intact), whole wheat pasta, wheat couscous, multigrain bread etc put together in an attractive basket is a great gift for your near and dear friends. You could also add in some soup sachets, which go well with the above cooked dishes.
Assortment of herbs
Various assorted herbs such as cilantro, basil, lemon verbena, pineapple sage, thyme, oregano, planted in eye-catching pots are also good gifting alternatives. Your family and friends would love to use it in their regular cooking. This also would be an inspiration for them to inculcate the habit of growing herbs at home.
Heart-healthy oil and salad dressings
An exotic basket with a bottle of extra virgin olive oil, some seasonings and a bottle of balsamic vinegar or Dijon mustard is a great gift that your friends will remember for a long time as they would enjoy cooking with it not only during Diwali but for many months that follow.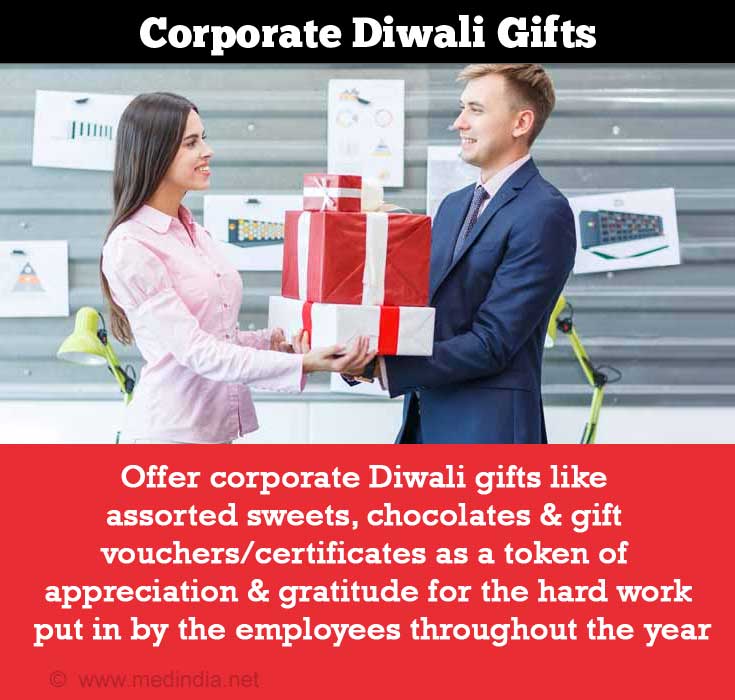 Gift certificates/vouchers for spa sessions
A spa treatment is non-medical procedure used to rejuvenate your body and in general improve the overall health. Generally aromatherapy, massage, manicure and pedicure are few of the options available in the spa. It is a great way to wean-off the tiredness due to hectic Diwali preparations.
Scented oils
Scented oils with natural aroma are great to offer as gifts. You could also add in aroma soaps that are used in aromatherapy for relaxation and rejuvenation of the body.
Tea powder basket
For most Indians, a cup of hot chai acts as an instant energizer. Tea comes in a wide variety of flavours like cardamom, masala, ginger and lemon. Green tea with its rich antioxidant property is quite popular these days. Gifting variety of tea powders to your family and friends means giving them the opportunity to stop, relax and enjoy the moment, over and over again. Choose from different types and flavours of tea such as herbal, green tea, organic tea, flavored tea etc.
Creative diyas
Being the festival of lights, the market is adorned with beautifully painted diyas, which stand as a symbol of fortune and are believed to usher in prosperity to homes. Present your loved ones with a set of diyas or the "gift of light" on Diwali and you are sure to see them happy and smiling!
Corporate gifting:
The corporate Diwali gifts are a token of appreciation and gratitude for the hard work put in by the employees through the year. Diwali corporate gifts may include any of the above mentioned gifts as well as stationary and desk-top gifts, assorted sweets, chocolates, gift vouchers/certificates as well as electronic gadgets like iPods, MP3 players, and cameras.
So this Diwali, think outside the sweet box, broaden your horizon and set a new trend by going the healthy way when gifting your loved ones. A healthy gift would be much more valuable than the most expensive gift item which may or may not be used. Remember it would be a blessing to receive gifts that help your diet situation instead of worsening them.
So light a lamp of love, blast the chain of sorrow and fire a flowerpot of health and happiness. Wishing you and your family a sparkling and healthy Diwali!
References:
Diwali -

(https://www.diwalifestival.org/)

The Tradition of Exchanging Gifts on Diwali -

(https://www.diwalifestival.org/tradition-diwali-gifts.html)
Latest Publications and Research on Healthy Gifting Ideas for Diwali
Please use one of the following formats to cite this article in your essay, paper or report:
APA

Sudha Bhat. (2019, October 26). Healthy Gifting Ideas for Diwali. Medindia. Retrieved on May 16, 2022 from https://www.medindia.net/patients/lifestyleandwellness/healthy-gifting-ideas-for-diwali.htm.

MLA

Sudha Bhat. "Healthy Gifting Ideas for Diwali". Medindia. May 16, 2022. <https://www.medindia.net/patients/lifestyleandwellness/healthy-gifting-ideas-for-diwali.htm>.

Chicago

Sudha Bhat. "Healthy Gifting Ideas for Diwali". Medindia. https://www.medindia.net/patients/lifestyleandwellness/healthy-gifting-ideas-for-diwali.htm. (accessed May 16, 2022).

Harvard

Sudha Bhat. 2021. Healthy Gifting Ideas for Diwali. Medindia, viewed May 16, 2022, https://www.medindia.net/patients/lifestyleandwellness/healthy-gifting-ideas-for-diwali.htm.