What is Toothpaste?
Toothpaste is a gel or paste that removes the sticky film of bacteria constantly formed on the teeth surfaces, known as plaque. Toothpaste is used for brushing teeth with a toothbrush and is rinsed off later.
Toothpaste is important to oral health because it fights off gum disease (gingivitis) and contains fluoride, strengthening the tooth enamel and preventing tooth decay.
Furthermore, toothpaste also contains abrasives to clean and whiten teeth, which flavours freshening breath and gives better visual appeal.
This article will provide a brief overview of toothpaste – its history, ingredients, different formulations, and issues relating to safety.
Toothpaste is by no means the invention of modern times. Around 3,000–5,000 BC, Egyptians were the first to develop a dental cream that contained powdered ashes from an ox, myrrh, eggshells, and pumice, to remove debris from teeth. Later, water was added at the time of use.
Some 1,000 years later, Greeks and Romans added more abrasives to the powder mixture, for example, crushed bones and oyster shells.
Romans also appear to be the first to add flavors, help with bad breath, and make their paste more edible.
Around the same time, China and India were using a powder/paste with flavorings, such as ginseng, herbal mints, and salt, thereby resembling toothpaste which is not too dissimilar from those used nowadays.
The most common issues with ancient toothpaste were the high level of abrasive, poor taste, and high cost.
Advertisement
In 1914 came undoubtedly one of the most important breakthroughs in the history of toothpaste – the introduction of fluoride.
Later, The American Dental Association (ADA) approved the use of fluoride salts in toothpaste in 1960, paving the way for a global roll-out of fluoride toothpaste.
Furthermore, toothpaste has now become 'multitaskers' due to the ncorporation of active ingredients that help to combat a variety of oral diseases and conditions and provide cosmetic benefits.
Despite the many types of toothpaste, some common ingredients include the following: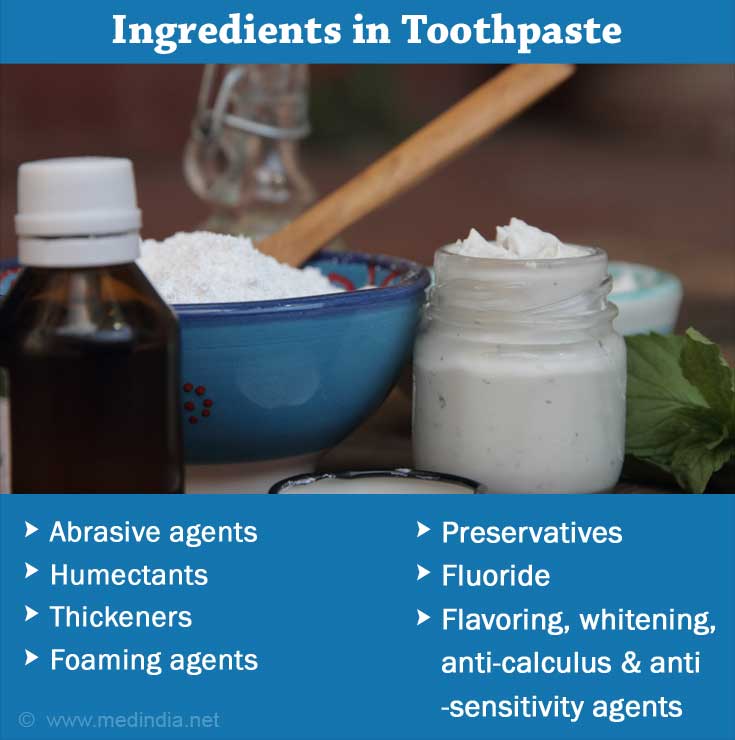 Abrasive agents - such as magnesium carbonate, dehydrated silica gels, calcium carbonate, hydrated aluminum oxides, and phosphate salts.
Humectants - substances that keep the toothpaste from drying out such as glycerol, sorbitol.
Thickeners - agents that add thickness to the toothpaste, including seaweed or mineral colloids, synthetic cellulose, or natural gum that give proper toothpaste texture.
Foaming agents - to make the toothpaste foamy, detergents such as sodium lauryl sulfate or sodium alkylsulfonyl succinate are added.
Preservatives - to prevent the growth of microorganisms.
Advertisement
Some kinds of toothpastes contain other ingredients, depending on their formulation:
Fluoride, which strengthens enamel and prevents cavities
Flavoring agents like spearmint, peppermint, or menthol and sweeteners including sorbitol, glycerol, and xylitol are used for bad breath.
Anti-calculus agents - to retard the calcification of dental plaque and calculus formation. Ingredients like pyrophosphate or zinc citrate are used. Additionally, some toothpaste contains an antibiotic called triclosan, which kills some bacteria in the mouth.
Anti-sensitivity agents, including strontium chloride or potassium nitrate reduce pain in sensitive teeth. It is recommended to consult a dentist before using desensitizing toothpaste.
Whitening agents - consist of coarse abrasives such as condensed phosphates, hydrogen peroxide, and blue covarine, which remove stains from the teeth surfaces.
Natural toothpaste - made from herbal extracts and other natural ingredients, like seaweed extract, essential oil of ginger, or propolis.
Advertisement
Fluoride is a naturally occurring mineral that exists in soil, rocks, water, and many foods.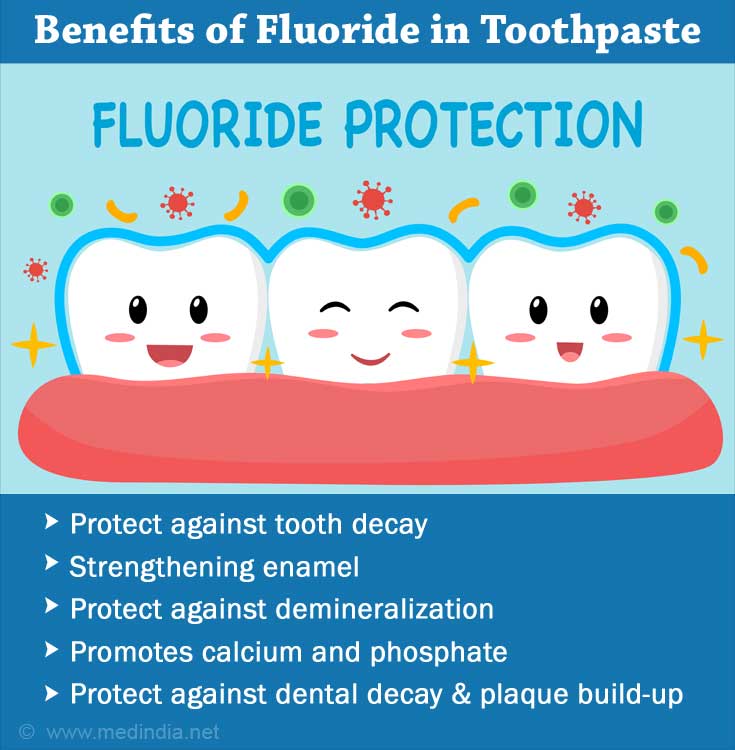 It protects teeth against decay by helping strengthen developing enamel in children under the age of 7 and slowing acid production of bacteria caused by plaque.
It also protects teeth against a process called demineralization, where bacteria combine with sugars to create acid that erodes the tooth.
Further, fluoride promotes a process that brings calcium and phosphate ions to the tooth to create a new surface area that is acid-resistant.
In many cities and countries, local authorities add fluoride to the drinking water, which has been shown to reduce tooth decay by at least 25%.
Fluoride toothpaste provides an additional layer of protection against dental decay and plaque build-up.
Mouthwash should be avoided soon after brushing since it can wash off the protective effect of fluoride on the teeth.
At the same time, too much fluoride can lead to dental fluorosis. Fluorosis is a condition that produces a change in the color of tooth enamel. This discoloration usually manifests as white or sometimes brown spots.
Fluorosis usually occurs when children in the teeth forming years swallow toothpaste rather than spitting it out. According to the Centers for Disease Control and Prevention (CDC), the teeth forming years are before the age of 8.
Chronic exposure to high levels of fluoride in areas with naturally occurring high levels of fluoride in drinking water can lead to skeletal fluorosis.
This occurs when fluoride builds up in bones, causing stiffness and pain. In the most severe cases, ligaments can calcify, causing pain and trouble moving.
There are so many toothpaste options to choose from, it can be difficult for people to determine which one is the right one for them.
The first thing is to make sure that the product is safe and will do what it claims.
If the choice is to purchase a fluoride toothpaste -
Children up to 3 years old should use toothpaste with a fluoride level of 1,000 parts per million (ppm).
Supervise children under age 6 to discourage swallowing toothpaste.
Use only a pea-sized amount of toothpaste between the ages of 3 and 6.
Anyone ages 3 and older should use toothpaste with a fluoride level of 1,350-1,500 ppm.
For any fluoride toothpaste, look for the American Dental Association's seal of approval. It indicates the toothpaste will:
Contain fluoride
Have active ingredients to improve dental health, such as lessening tooth sensitivity, preventing enamel erosion, or reducing gingivitis
Not have sugar in the flavoring agents
Provide scientific evidence demonstrating safety and efficacy.
Toothpaste without fluoride is considered cosmetics, and they do not fall under FDA supervision. However, these products should still provide a list of ingredients.
To avoid counterfeit and unregulated products, stay away from any toothpaste that doesn't state ingredient information or is not properly labeled.
Beyond that, choose toothpaste based on any personal preferences or specific dental needs. Whitening teeth, addressing tooth sensitivity, controlling tartar, and choosing different flavorings are all options.
Opt for American Dental Association (ADA) approval
Be wary of imposters
Consider your needs and the needs of your family members.
Remember, using good, fluoridated toothpaste is also an essential part of the oral hygiene routine for effective plaque removal. When choosing the best toothpaste, it is important to think about unique oral health needs.
Oral Health Topics -

(https://www.ada.org/en/member-center/oral-health-topics/toothpastes)

Toothpaste -

(https://www.mouthhealthy.org/en/az-topics/t/toothpaste)

Evidence-based recommendation on toothpaste use -

(https://www.scielo.br/j/bor/a/FRsDSNcn9rDxxMxMQryzr4y/?lang=en)

Contents of toothpaste - safety implications -

(https://www.nps.org.au/australian-prescriber/articles/contents-of-toothpaste-safety-implications)

An introduction to toothpaste - its purpose, history and ingredients -

(https://pubmed.ncbi.nlm.nih.gov/23817056/)
Please use one of the following formats to cite this article in your essay, paper or report:
APA

Dr Jayashree. (2021, November 02). Toothpaste: A Necessity of Daily Life. Medindia. Retrieved on Dec 05, 2022 from https://www.medindia.net/patients/lifestyleandwellness/toothpaste-a-necessity-of-daily-life.htm.

MLA

Dr Jayashree. "Toothpaste: A Necessity of Daily Life". Medindia. Dec 05, 2022. <https://www.medindia.net/patients/lifestyleandwellness/toothpaste-a-necessity-of-daily-life.htm>.

Chicago

Dr Jayashree. "Toothpaste: A Necessity of Daily Life". Medindia. https://www.medindia.net/patients/lifestyleandwellness/toothpaste-a-necessity-of-daily-life.htm. (accessed Dec 05, 2022).

Harvard

Dr Jayashree. 2021. Toothpaste: A Necessity of Daily Life. Medindia, viewed Dec 05, 2022, https://www.medindia.net/patients/lifestyleandwellness/toothpaste-a-necessity-of-daily-life.htm.
Latest Publications and Research on Toothpaste: A Necessity of Daily Life
Do you wish to consult a Dentist for your problem? Ask your question
Dr. Shrasta Sajeev
BDS
3 years experience

Dr. Harita Pottam
BDS
2 years experience

Dr. Anjan Venkatesh
Bachelor of Dental Surgery
2 years experience

Dr. Safia Mohammed
BDS
6 years experience
CDC, Tolichowki , Hyderabad
View All