What are the Differences between Cosmetic and Plastic Surgery?
The terms cosmetic and plastic surgery are often used interchangeably, especially in popular media. This creates some amount of confusion among patients and people in general, as they are two separate specialties. The two disciplines are closely related and their areas of expertise may even overlap at times, but they are not the same. As a patient or potential patient, it is especially important for you to be aware of the differences. Public perception of plastic and cosmetic surgery is in fact so flawed that there are several misconceptions about the specialties.
Most people believe thatcosmetic surgery is less complex as a procedure and not as technically challenging when compared to plastic surgery or reconstructive surgery. A study found that most people think that cosmetic surgeons do not require as much specialized training as plastic surgeons and that cosmetic surgery procedures carry less risk, have a shorter recovery time, are easily reversible and much simpler.
Most of these perceptions are shaped through the portrayal of cosmetic and plastic surgery in the entertainment industry. As both types of surgery have come to be viewed very casually and an increasing number of people opt for such surgical procedures, it becomes increasingly important for people to be aware of the differences between the two disciplines. Incorrect information and preconceived notions can result in unrealistic expectations, not just about the recovery period and results, but also about the risks involved.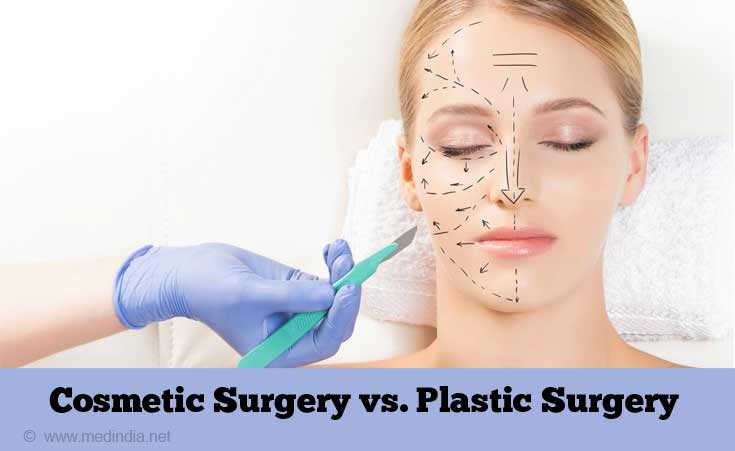 Both cosmetic and plastic surgeries are concerned with bringing about improvements in the patient's body. Although, there is a lot that they share in common, there are big differences in the goals of treatment, the specialization and training of surgeons and in patient outcomes.
Plastic Surgery to Repair Defects and Restore Function and Appearance – Plastic surgery is a medical or surgical specialty that focuses on the repair and reconstruction of defects or abnormalities that affect the face and body because of various possible conditions or circumstances like congenital disorders, burns, trauma, accidents and disease. Plastic surgery involves reconstructive surgical procedures to correct any abnormalities in the physical body that cause some extent of dysfunction. Many surgeons who specialize in plastic surgery go on to further specialize in cosmetic surgery with additional training.
Click here to View Image
Cosmetic Surgery to Enhance Appearance – Unlike plastic surgery, which is a medical necessity, cosmetic surgery procedures are not used to correct any kind of dysfunction, which is why they are referred to as elective procedures. Cosmetic surgery includes surgical and non-surgical procedures which are aimed at enhancing the physical appearance of the patient. This means that surgical procedures are used to improve the aesthetic appeal through restructuring or contouring specific body parts to improve symmetry and proportions. Such procedures may be performed on any part of the body, from the head and neck, down to the toes.
Choosing a surgeon can be quite tricky for most patients because in most parts of the world cosmetic surgery isn't a medical discipline strictly speaking and there is no board certification, although there are certain professional associations like the American Board of Cosmetic Surgery that award membership very selectively, based on the surgeon's training and experience. There is a difference in the training and certification process for cosmetic surgeons and plastic surgeons throughout the world and the standards and practices can vary between countries.
Plastic Surgeons – Plastic surgery is associated with procedures that are medically necessary and so plastic surgeons can go on to do a residency or fellowship in the discipline once they have gone through medical school. In most countries like the United States, a doctor needs to complete 2 years in general surgery residency, followed by another 2 years residency in plastic surgery.
A plastic surgeon is a board-certified only upon completion of these residency programs. An important point to note here is that a plastic surgery residency program includes cosmetic surgery but only as one segment of the surgeon's training. This means that it does not cover training in every type of cosmetic procedure. A board certified plastic surgeon, therefore, does not necessarily have experience or expertise in every type of cosmetic procedure.
Cosmetic Surgeons – At present, there are no residency programs for cosmetic surgery even in the United States, where cosmetic surgeons get their training and experience only in cosmetic surgery after completing their residency in 1 of 7 approved programs, including plastic surgery. Cosmetic surgery certification is, therefore, obtained by completing a post-residency fellowship that includes at least 300 cosmetic surgery cases.
Cosmetic surgeons who are certified by the American Board of Cosmetic Surgery, therefore, have to spend around 5 to 8 years in residency and fellowship programs, but they receive extensive training in all areas of cosmetic surgery and non-surgical cosmetic treatments.
Plastic surgery includes surgical procedures like:
Breast Reconstruction – This is often necessary after women undergo a mastectomy or if there is a need for breast size reduction because of back problems or for any other health reason. The procedure may also be used on some men.
Burn Repair – This type of plastic surgery typically involves skin grafts and other reconstructive techniques if the patient has experienced severe burns, cuts or wounds.
Congenital Defect Repair – Reconstructive procedures are often necessary to correct birth defects like cleft palate and cleft lip.
Hand Surgery – These are very specialized surgical procedures to correct abnormalities or injuries that have resulted from trauma and conditions like Carpal tunnel syndrome or rheumatoid arthritis.
Microsurgery or Flap Procedures – These include reconstructive plastic surgery procedures which are used to replace certain body parts, such as when afflicted with cancer or other diseases.
Cosmetic surgery includes surgical and non-surgical procedures like:
Breast Enhancement – A procedure to enhance the appearance of the breasts through augmentation, breast lifts or reduction.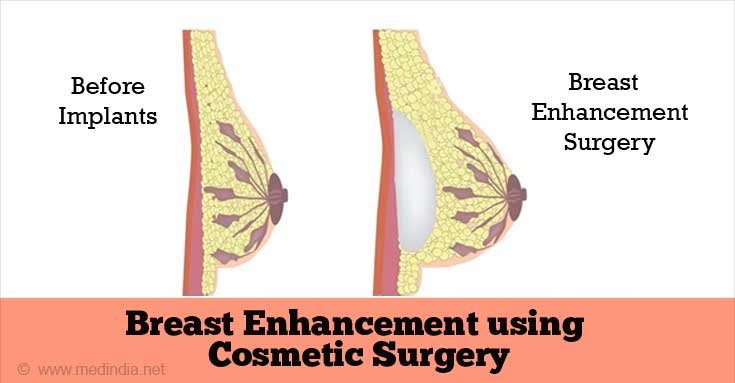 Facial Contouring – This includes procedures like rhinoplasty(surgery performed on the nose) and chin or cheek enhancement, which are all meant to improve the aesthetics of the targeted body part.
Facial Rejuvenation – This includes procedures like facelifts and brow lifts that are usually used to hide the effects of aging.
Body Contouring – This includes procedures like tummy tucks and liposuction that are often used for fat removal and to reshape the areas.
Skin Rejuvenation – This includes laser plastic surgery procedures like laser resurfacing as well as Botox procedures, which have become much sought after in recent times.
Cautionary Advice
Although, there are certification bodies like the American Board of Cosmetic Surgery that enforce rigorous standards, cosmetic surgery can be performed by any licensed physician as there are no residency programs for the discipline. This obviously poses a problem as very often surgeons can say that they are board certified without specifying the discipline. Surgeons can legally perform elective cosmetic procedures like liposuction and facelifts without adequate cosmetic training, which is why botched procedures are not uncommon.
If you need to get any cosmetic surgery procedure done, make sure to check the surgeon's credentials and his area of expertise before making any final decision. Also, beware of unscrupulous marketing ploys that promise affordable plastic surgery or affordable cosmetic surgery, as these surgical procedures are expensive and if you try to save money with your choice, the cost could actually end up being a lot higher. Botched cosmetic surgery jobs often require extensive reworking and the costs could keep mounting because the results will generally leave a lot to be desired.
References:
Cosmetic Surgery vs Plastic Surgery -

(http://www.americanboardcosmeticsurgery.org/patient-resources/cosmetic-surgery-vs-plastic-surgery/)

Is a cosmetic surgeon a plastic surgeon?  -

(http://www.plasticsurgery.org/news/plastic-surgery-blog/may-2013/is-a-cosmetic-surgeon-a-plastic-surgeon.html)

Plastic surgery -

(https://en.wikipedia.org/wiki/Plastic_surgery)
Latest Publications and Research on Cosmetic Surgery vs. Plastic Surgery