About
In the last couple of decades the field of medicine has witnessed rapid advances that have proven to be of great benefit to patients in particular and mankind at large. Today many diseases have either been completely eradicated (e.g., Smallpox) and many have been controlled (e.g., Leprosy). The growth in the field has also seen a surge in doctors specializing in various fields of medicine. Even within a speciality there are number of sub-specialists. It is now not unusual to see a general surgeon specializing in just breast diseases or a Urologist just doing transplant surgery or andrology.
Specialty in a branch of medical science is done by medical graduate after completing medical school. Normally it takes them another three to five years to qualify as a specialist in the chosen subject. Surgeons normally take longer than physicians to get trained and start a practice.
Ignorance about which doctor one should see for a specific condition often means seeing the wrong doctor for the condition. These type of lapses delays and escalates the cost of treatment.
In countries where there are no structured health delivery systems such as in developing countries and where patients have to fend for themselves, it is extremely important for them to know a little bit on how the field of medicine operates and what does all these different medical fields mean to the public and the patients.
Medical Specialities
Specialities in the field of healthcare can be categorized into the following groups:
Doctors who are mainly physicians – example includes – General Physicians, Cardiologist, Nephrologist, Neurologist, Gasto-enterologist and Endocrinologists.
Doctors who are mainly surgeons – some example includes General Surgeon, Urologist, Orthopedicians, Neuro-surgeon and Cardio-thoracic Surgeon
Doctors who work as both physicians and surgeons – some examples are - Eye specialist, ENT specialist, Obstetrics and Gynecologist
Doctors who mainly do diagnostics and some of the examples include pathologist, microbiologist, geneticist and radiologist
Experts practicing in the medical field without a valid medical qualification but who may have qualification from specialist societies include podiatrist, osteopaths, physiotherapist and dieticians.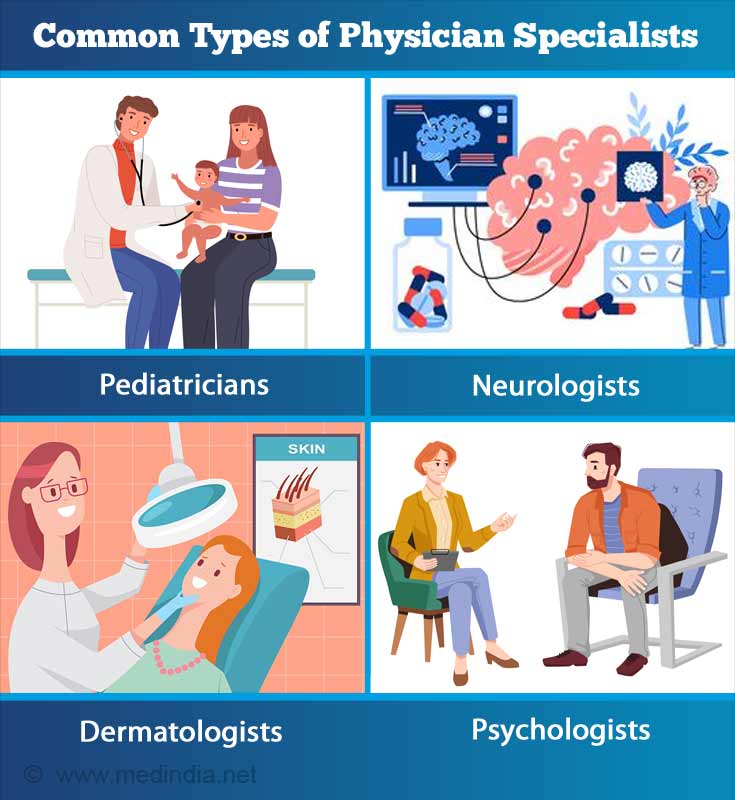 The following sections will describe these specialists and define their role in the everyday care of the patients.
Anesthetist
Pronounced as [a-něs"thĭ-tĭst]
Anesthetist is a specialist who is responsible for keeping the patient anesthetized (sedated) and for monitoring the vital signs like airway, breathing and circulation during surgery. They monitor input and output during the surgery like delivery of intravenous fluids, blood and other drugs.
Decision on type of anesthesia before surgery can be discussed with them. The choice is wide and includes – Local, Regional - Spinal, Epidural, or General Anesthesia.
In general anesthesia the patient loses consciousness completely and the breathing is carried on through a tube inserted from the mouth into the trachea whereas in regional anesthesia an injection is given to block the pain sensation of a certain segment of the body and the patient is kept awake. This can be either spinal, epidurals or peripheral nerve block.
Similarly in local anesthesia a very small section of the body is made numb before operating. An anesthetist cares for the patient in the initial post-operative condition also until the time after the surgery when the patient is awakened and the breathing tube is removed. They take care of pain during and immediately after surgery.
Pain Specialist – Some anesthetist specialize in 'pain relief' especially for terminal cancer patients.
Cardio-thoracic surgery or neurosurgery anesthesia requires special training.
Surgical Intensive Care specialist also maybe an anesthetist and this branch is now being called 'Critical Care Medicine.'
Advertisement
Neurologist
Pronounced as [noo-rol-uh-jist]
A neurologist is a physician dealing in disorders of the brain and nervous system. He diagnoses and treats neurological disorders and diseases. His surgical contemporary is called a Neuro-suregon. They generally treat conditions such as meningitis, encephalitis, dementia, epilepsy, headache, Parkinson and Movement Disorders, or Sleep Disorders, congenital disorders, Multiple sclerosis and poliomyelitis.
There are various types of specialties in this branch of medicine including:
Child Neurology,
Geriatric Neurology
Neuro-ophthalmology,
Neuro-oncology
Neurologists may also specialize in dealing with dementia, epilepsy, headache medicine, Parkinson and Movement Disorders, or Sleep Disorders.
Oncologist
Pronounced as [än-"käl-&-j&st]
An oncologist is a specialist dealing with treatment of cancer and uses chemotherapy drugs to treat the disease.
Their surgical counterpart is called surgical oncologist. They are trained to treat different kinds of cancer and first work as an assistant under an experienced oncologist. Most of them need to pass an exam to be called an oncologist. They could specialize in cancers of a particular type like gynecological oncology, focusing on female reproductive cancer or urological cancers like testicular, prostate, bladder or kidney cancers.
A Radiation Oncologist uses radiation to treat cancers and may further specialize in one of the broader fields like Genito-urinary, lung or bone cancer.
Hematological Oncology- focuses on cancers of the blood such as leukemia and lymphomas.
Oncology is a rapidly advancing field and it is important for them to keep themselves updated on all medical research, so as to easily diagnose and treat their patients.
In addition they require a lot of compassion as many of their patients are terminally ill.
Advertisement
Pediatrician
Pronounced as [pee-dee-uh-trish-uh n]
A pediatrician treats children with medical conditions.
They focus on the prevention, detection and management of physical, behavioral, developmental and social problems that affect children from birth up to 16 years of age. They work to diagnose and treat infections, injuries and many types of organic disease and dysfunction and bring about improvement in the life of children with chronic problems.
There are various types of pediatricians like those who practice primary care, those looking after the general needs of children and others dealing in children with cancer, heart problems, kidney diseases and so on. Some also specialize in children with behavioral problems and counsel parents.
The nature of a pediatrician needs to be pleasant and friendly as children are their main patients and they have to instill goodwill and confidence in them by befriending them easily.
General Practitioner (GP)
Pronounced as [jen-er-uh l] [prak-tish-uh-ner]
A general practitioner treats many different medical conditions and ailments on an outpatient basis. They are popularly known as a GP or a 'family physician' in many countries.
Normally it is good to identify and register with a GP in the area in which you live. It is a good practice to consult a general practitioner before getting referred to a specialist. General practitioners do not specialize in one organ of the body but have a good knowledge of a wide range of medical conditions and complaints.
They also offer health education and educate their patients about the preventative care measures along with treating both acute and chronic medical ailments. These doctors and may have regular patients and may work in hospitals, private practices and also may make house calls. Their patients may be of all age groups. They will normally handle child immunization and may also be capable of doing minor surgical procedures.
In most countries they have to qualify further in this field before they are licensed to practice as GP. In India many have the basic medical qualification and require no further training and only a few hospitals offer post –graduate level qualification in this field.
A GP should be likeable, friendly, homely, sociable and at the same time well- read. They need to frequently attend meetings to keep themselves updated with latest diagnostic and treatment guidelines for various conditions.
Gastroenterologist
Pronounced as [gās"trō-"en-t&-"räl-&-jist]
A Gastroenterologist is mainly concerned about the prevention, diagnosis and treatment of conditions and disorders in the gastrointestinal tract involving the esophagus, stomach, small and large intestine, rectum, liver and pancreas of adults.
They look into troubles of swallowing, heartburn, chest pain not related to the heart, digestive and elimination problems and certain conditions occurring after surgery. They may also look into chronic gastro-intestinal problems like Crohn's Disease ulcerative colitis, chronic hepatitis and chronic pancreatitis. Besides they can use endoscopes to screen for ulcers or cancers in the stomach or colon cancer and effect removal of polyps too.
A Gastroenterologist may, in certain conditions, work along with your general practitioner for the cure of a condition or disorder.
Advertisement
Geriatrician
Geriatrician focuses on health care of elderly people. Generally patients who are over 65 years The term geriatrics comes from the Greek γέρων geron meaning "old man", and ιατρός iatros meaning "healer". This speciality is gaining importance as the number of people who live over 65 is increasing in most countries.
Geriatrician at times requires to take an interdisciplinary approach to a problem as many patients suffer from not only medical but social problems too. A Geriatrician may work with other physicians, nurses, social workers, occupational therapists and family members to take care of the needs of his patient.
Geriatrics has its own sub-specialities including –
Geriatric Psychiatry
Geriatric Neurology
A Geriatrician is different from a Gerontologist. Please read below to understand the difference.
Cardiologist
Pronounced as [kärd-E-"äl-& -j&st]
A cardiologist is a specialist who is an expert in treating the heart and the associated cardiovascular system.
He may collaborate with cardiac surgeons to decide the course of treatment for his patients. Cardiology is a specialty, which has many subspecialties like interventional cardiology, nuclear cardiology, electro physiology, or echocardiography, which help in making diagnostic studies. In addition one could specialize in medical or surgical procedures and become a cardiac physician or surgeon.
Cardiologists play a very important role and have to be cautious as they deal with the most important part of the human body --the heart. A cardiologist will ask various questions and demand to know many details and carry on various diagnostic tests like stress testing, cardiac catheterization, radiology studies to get more information about the patient"s condition and treatment options. If a surgery is to be done he may take the services of a cardio thoracic surgeon and ensure patient-care after surgery.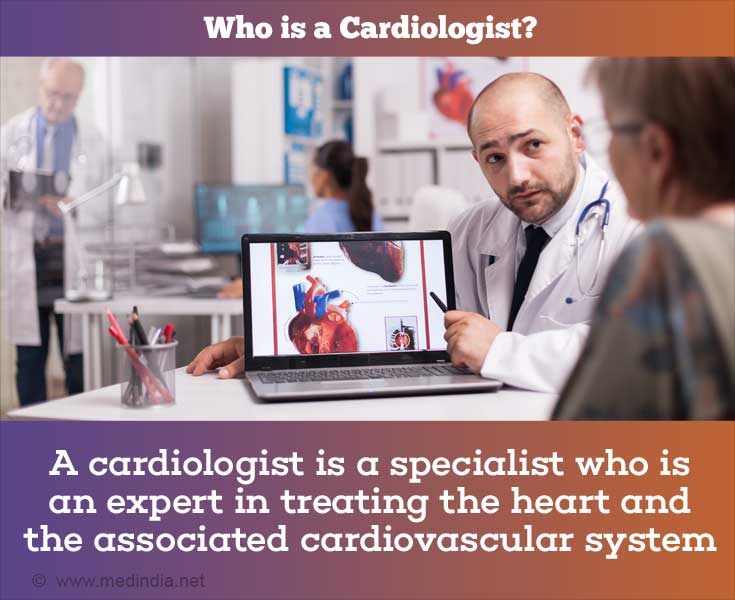 Endocrinologist
Pronounced as ["en-d&-kri-"näl-&-j&st]
An endocrinologist is a specialist who diagnoses and treat diseases like diabetes, thyroid diseases, metabolic disorders, over or under production of hormones, menopause, osteoporosis, hypertension, cholesterol disorders, infertility, lack of growth and endocrine glands cancer..
An endocrinologist could be a diabetologist, dealing in pancreas that produces insulin.
These specialists carry on research to learn and treat patients with hormone imbalances. They treat diabetics so that they are able to avoid other complications like problems of the eyes, kidneys and nerves leading to blindness, dialysis, or amputation. Besides they treat hypothyroidism and hyperthyroidism that create problems of weight, strength, energy levels. They may also treat thyroid cancer and enlarged thyroid glands.
Endocrinologists can effectively cure osteomalacia and osteoporosis. Besides they diagnose and treat hormone imbalances causing infertility. Pediatric endocrinologists treat children having a short stature and other growth problems.
Besides, endocrinologists can also treat lipid disorders, such as hypothyroidism drug- use or genetic or metabolic conditions. Endocrinologists can treat hypertension caused by a rare adrenal growth called a pheochromocytoma.
Rheumatologist
Pronounced as [roo-muh-tol-uh-jist]
A rheumatologist is a medical practitioner who specializes in treating arthritis, rheumatic diseases and conditions involving the bone, joints and muscles. They carry on research regarding these disabling and fatal conditions and can suggest appropriate treatment.
There are more than 100 such types of diseases like rheumatoid arthritis, osteoarthritis, gout, lupus, back pain, osteoporosis, fibromyalgia and tendonitis, some of which are very difficult to diagnose and treat.
Since many of these diseases involve the immune system, rheumatologist have an in-depth knowledge of the immune system.
Rheumatologists work closely with their patients and orthopedic surgeons and radiologists who perform joint replacements, soft tissue reconstruction and repair and nerve decompression and report on X-rays, CT, MRI and ultrasound scans.
Rheumatologists may also work in close collaboration with neurosurgeons who attend to neck and back problems.
Nephrologist
Pronounced as [ni-"fräl-&-j&st]
A nephrologist is a medical doctor who specializes in kidney care and in treating kidney diseases.
He usually sees patients referred to him by general practitioners, having kidney- related problems, high blood pressure and other metabolic disorders. Nephrologists have to undergo specialized training in kidney diseases and disorders. You would find nephrologists commonly treating chronic kidney disease, polycystic kidney disease, acute renal failure, kidney stones, high blood pressure, kidney transplants and dialysis. He orders blood and urine tests and takes biopsies to determine how the kidney is working.
Nephrologists may not necessarily perform surgical procedures like in the case of kidney or prostrate cancer or kidney stones removal, which are best done by an urologist. They meet their dialysis patients regularly to adjust their medication and therapy according to their problems and conditions. Neprologists play a managerial role in dialysis centers by setting up policies and procedures for dialysis treatment.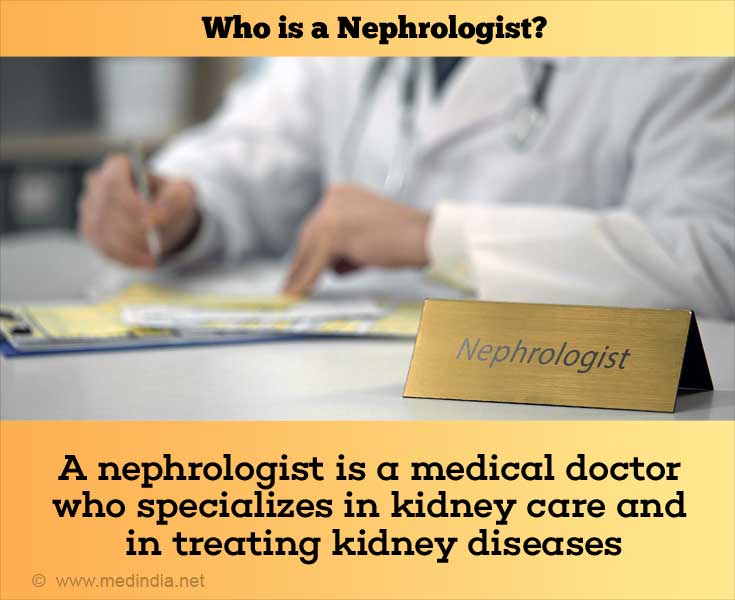 Psychiatrist
Pronounced as [si-kahy-uh-trist]
A psychiatrist is a physician who specializes in the diseases and disorders of the mind. He helps to enhance the quality of a person's life by making assessments of the mind and emotions, providing treatment and rehabilitation care to mentally -disturbed patients.
These specialized doctors help patients with psychiatric or mental disorders to prevent, reduce and eliminate symptoms and disabilities that arise as a result of such disorders. Specialists in psychiatry are well informed and skilled in the integration of medicine, psychiatry, neurosciences and psychosocial sciences. They may also deal with phobias of all types.
Psychiatrists not only help their patients but also counsel the patient's family doctor about them. They may offer a mix of treatments in some cases, which includes medication, psychotherapy and counseling. One can find them working in various settings like psychiatric and general hospitals, private consulting rooms, research units, community health centers besides social and government agencies.
Dermatologist
Pronounced as [dur-muh-tol-uh-jist]
A dermatologist is a medical expert who can be consulted for skin, nail and hair diseases and disorders.
Dermatology deals with not only study, research and diagnosis of normal disorders, diseases, cancers, cosmetic and ageing condition of the skin, hair and nails but also includes specializations like dermato-histopathology and topical and systemic medications.It also includes dermatological cosmetic surgery, immunotherapy, laser therapy, radiotherapy and photodynamic therapy.
Common skin diseases treated by dermatologists include skin cancer, warts, fungal infections, dermatitis, psoriasis, acne, atomic eczema and herpes simplex. Dermatologists attend to patients in hospitals and private clinics as well as carry on teaching, clinical and basic research. These specialists have an in-depth knowledge of microbiology, pathology, biochemistry, physics, physiology, endocrinology and other specializations as most skin disorders and diseases are caused by internal conditions.
They do perform skin surgeries for skin cancer, remove skin growths and discolorations.
Venereologist
Pronounced as [v&-"nir-E-"äl-&-j&st]
Venereologists deal with the study and treatment of sexually transmitted diseases caused by sexual contact. A person may just be a carrier without realizing it or may actively suffer the symptoms.
Venereologists may be active medical practitioners or may be engaged in research working out methods of prevention and innovations in treatment. A visit to the venereologist is recommended for those suffering from drug resistance, and for long-term management of sexual infections.
These specialists may have to deal with social issues and moral norms at times in certain societies, however, they do play an important role in educating the patients, their family and general public about sexual infections and diseases and about their preventive measures.
Radiologist
Pronounced as ["rAd-E-"äl-&-j&st]
A radiologist is a physician who reads and interprets diagnostic imaging pictures, mammograms, CT scans, MRI and ultrasound images.
After due specialization, in nuclear medicine, radiation therapy, MRI, CT, neuro-radiology or pediatric, skeletal, genitourinary, or gastrointestinal radiology or mammograms, they may deal in specialized fields.
Radiation physicists, radiation biologists, radiological administrators and radiological technologists assist radiologists. Registered radiological technologists can perform certain radiological procedures as well as assist in other performances; however, they have to be under the supervision of a radiologist and cannot interpret radiological results.
Radiologists may work in X-ray departments of hospitals or may also work from their private practices with appropriate equipment and technicians. They may work for lesser hours than other doctors, but they do give their interpretations at any time of the day. Most other practitioners do not interpret radiological findings and rely on the radiologist, who is very savvy in making such predictions as he has a through knowledge of the human physiology.
Diabetologist
Pronounced as [dahy-uh-bi-tol-uh-jist]
A diabetologist is a health care professional, who specializes in the clinical study, diagnosis and treatment of diabetes, which is a metabolic disorder and, therefore, forms a part of endocrinology.
He deals and specializes in diseases and conditions like diabetes mellitus type 1, diabetes mellitus type 2, non-insulin dependent diabetes, hyperglycemia, hypoglycemia, diabetic ketoacidosis, arteriosclerosis, peripheral neuropathy, foot ulcer and diabetic retinopathy. He may also deal in gestational diabetes.
He may prescribe blood glucose levels, HbA1C levels, physical examination, fundoscopy, Visual acuity, Urinalysis and tests to assess nerve conduction studies. He may be involved in treatment to monitor blood glucose levels over time, assess hypoglycemic agents, prescribe medication, provide foot care, recommend diet, recommend healthy lifestyle and good hygiene and may refer you to an ophthalmologist. Dietitians, nutritionists and nurse educators may all play a valuable part in helping someone learn to live well with diabetes.
Gerontologist
Pronounced as [jer-uh n-tol-uh-jee, jeer-]
A gerontologist is a doctor studying and treating conditions arising in the aging process. He mostly works with senior citizens, studying their biological, medical and social issues at that age.
These specialists work in hospitals, nursing homes and laboratories and may form a part of government health policies for the old.
You find these specialists constantly researching on how to slow the deterioration of mental and physical health of senior citizens. A gerontologist is a licensed physician and diagnoses and treats old age diseases like Alzheimer's disease, Parkinson disease and osteoporosis. A gerontologist counsels and educates his patients about the ways they can adopt to cope with aging issues. They may also play a vital part in arranging for physiotherapy sessions and check-ups to monitor old age health and give counseling sessions to their family regarding care for them
Neonatologist
Pronounced as [/nē-ə-nāt-äl-ə-jəst/]
A neonatologist is a specialist in caring for premature and ill newborns and generally works in hospital's neo-natal care or baby special care units.
This specialist does tests to make sure that newborn babies are well- developed and free from infections and organ deformities. After delivery,they may keep infants in hospitals to avoid chances of infection and speedy recovery, but have to also make sure the infants are intellectually stimulated, bond with the parents and provided with suitable nutrition in the pediatric care wards.
These specialists are highly skilled and work with other specialists like respiratory therapists, neonatal nurses, neonatal surgeons and trainee neonatologists in a team in hospitals.
Hepatologist
Pronounced as [hep-ə-täl- -ə-jəst]
A hepatologist is a specialist who is a gastroenterologist dealing in liver diseases and disorders. He deals in disorders like serious and chronic hepatitis, chronic alcoholism and liver disorders due to certain medications.
It is a well-known fact that the stopping of the function of the liver or it's ill-functioning can lead to slowing down of metabolism, protein production and may lead to the ultimate toxification of the body.
A hepatologist is consulted for his up-to-date knowledge of medication and treatment of liver diseases and disorders.
Internal Medicine Practitioner
An internal medicine practitioner deals with the diagnosis, management and non-surgical treatment of unusual and serious diseases.
Their patients are often seriously ill or require complex investigations, so they work mostly at hospitals. In modern times internal medicine specialists have started specializing in one organ or a particular area of medical knowledge like gastroenterologists (stomach) and nephrologists (kidney).
These specialists are trained to diagnose severe and chronic illness and cases of multiple illness. They also play a part in preventive medicine, men and women health, substance abuse, mental health and common problems of the eyes, ears, skin, nervous system and reproductive organs.
Nuclear Medicine Practitioner
Nuclear medicine practitioner or technologist is a professional who is trained and experienced in the theory and practice of nuclear medicine procedures that involve the use of small amounts of radioactive materials (or tracers) that is administered by injection, swallowing, or inhalation to diagnose and treat a variety of diseases.
These RA tracers are attracted to specific parts of the body and show up as gamma rays detected externally by cameras. Nuclear medicine imaging procedures have been successful in identifying abnormalities much earlier than radiological procedures. Today, nuclear medicine offers procedures that cover a wide range of medical specialties, from pediatrics to cardiology to psychiatry.
Nuclear medicine practitioners carry on bone scans to examine orthopedic injuries, fractures, tumors, or unexplained bone pain and heart scans to identify normal or abnormal blood flow to the heart muscle, measure heart function or determine the existence or extent of damage to the heart muscle after a heart attack. Besides they conduct breast scans to locate cancerous tissues in the breast and liver, gall bladder and kidney scans to judge the functioning of liver, gallbladder and kidney.
Besides they also carry on thyroid and lung scans and also scans to detect the causes of gastrointestinal bleeding.
Neuro-Surgeon
Specializes in brain, nerves and spinal cord surgery. Neurosurgeons could repair malformations, treat injuries, remove pathological growths and implant devices.
They generally do surgeries of the spine like spinal disc herniation, spinal stenosis, spinal cord trauma, tumors of the spine or spinal cord or congenital malformations such as spina bifida. Other neurosurgery issues involve the brain, such as brain tumors, head trauma, cerebral aneurysms, hydrocephalus and craniosynostosis.
Neurosurgeons often work for long hours under the micro-scopes or use advanced technology to guide them to a specific spot in the brain. Their working hours are usually long and their surgery may take many hours to perform. They require precision and an immense amount of patience to deliver good operative results.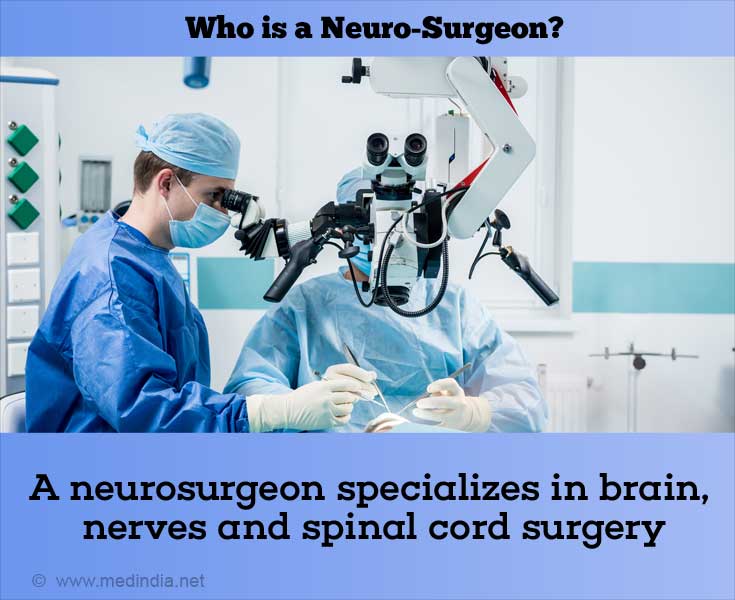 Surgical Oncologists
Surgical oncologists focus on surgery of cancers. They may specialize in particular region of the body like head and neck cancers or lung cancer or genitor-urinary cancers. Much of their work overlaps onto other areas of speciality. For example the removal of urinary bladder maybe done by a Urologist or by a trained oncologist. A surgical oncologist will also give post or pre operative chemotherapy if necessary.
Orthopedic Surgeon
Pronounced as [awr-thuh-pee-dik] [dok-ter]
Orthopedic doctors focus on injuries to bone, including joint injuries or deformities. They may be specialized further in areas such as spine or cancer.
These specialists help treat broken bones, joint problems, like arthritis and degenerative conditions, like osteoporosis. In addition, orthopedic doctors treat sports injuries, infections, or congenital conditions related to, and tumors in the bones. Some may specialize and focus on bones of a particular body part, such as the hand, musculoskeletal oncology, or joint replacement particularly of the hip and knee.
An orthopedic doctor will also spend time reading medical journals, or doing other types of research, to keep up to date on the latest information about bone and joint care. They will usually use drills, saw, hammer, chisel, screws, pins, etc., and some of their tools may remind you of a carpenter! They often use X-ray machines in the operating room to achieve precision in their job.
Post-surgery they work closely with physiotherapy unit, some may work with rehabilitation expert. The famous 'Jaipur Foot' was invented by an orthopedic surgeon.
Plastic Surgeon
Pronounced as [plas-tik sur-juh n]
Plastic surgeons are specialists engaged in remodeling and restructuring different areas of the body, which may be carried out to for correct medical problems or to improve the way the face or the body looks.
Plastic surgeons may specialize in certain parts of the body like pediatrics, craniofacial, hands and burns or they may specialize in doing certain procedures. Plastic surgeons may perform cosmetic surgeries like breast implants and face-lifts, but can also do surgeries to correct deformations or scarring after accidents to improve the functions of the skin. These specialists may deal in non-emergency situations to correct functional problems and do other reconstructive procedures like skin grafts, scar repair, tumor removal and cleft palate surgery.
Plastic surgeons also do other body enhancement surgeries like tummy tucks, rhinoplasty (nose job), buttock augmentation and procedures like liposuction (to reduce body fat). Plastic surgeries are carried on even in children to correct birth defects like cleft palate, congenital hand deformities, facial defects and to remove birth marks and moles which may turn problematic later in life.
Cosmetologist
Pronounced as [koz-mi- täl-ə-jəst]
Cosmetologist is an expert in cosmetology, which includes hair styling, barbering and manicuring. They require training and license before they can practice. Cosmetology is a very wide field and encompasses manicurists, pedicurists, shampoo specialists as also those who specialize in make-up and skin-care. We may have plastic surgeons, dermatologists and others practicing in the field of cosmetology. They need to be well trained and modern in their approach and also need to keep in touch with latest trends in their field.
It must be noted that those who are well-trained and up to date in this specialized field can earn a lot of money.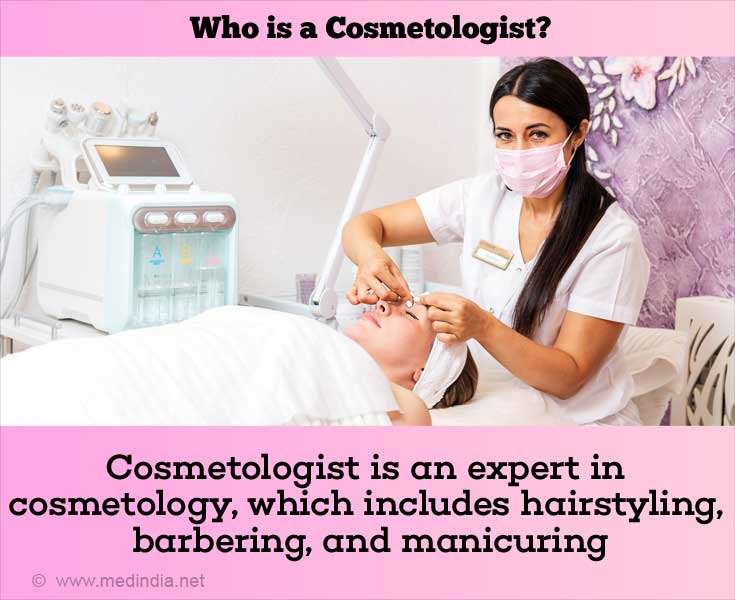 Urologist
Pronounced as [yu-''räl-&-j&st]
A Urologist specializes and treats the urinary tract problems of both men and women and on the reproductive organs of men. Their branch of study covers the kidneys, ureters, urinary bladder, urethra and the male reproductive organs like the testes, epididymis, vas deferens, seminal vesicles, prostate and penis. Urology overlaps with specialties like nephrology, andrology, gynecology, proctology and oncology.
Urology is the dual management of medical procedures like cure of urinary infections and surgical procedures like correction of congenital abnormalities and cancer management. Urologists may specialize in other related branches like neurourology, genitourology, urologic oncology, urogynecology and so on.
Otolaryngologist / ENT specialist
Pronounced as ["Ot-O-"lar-&n-''gäl-&-j&st]
An ENT specialist or an Otolaryngologist is a doctor who specializes in head and neck surgery and caters to the medical and surgical treatment of the ear, nose and throat including disorders, infection, hearing loss, nerve damage and many more. They may also cater to problems in the nasal passage, problems in sense of taste, sinusitis problems and also allergies of the nose and throat like seasonal allergies, pollen allergies and so on. They also take care of severe problems of the larynx and the esophagus like problems in speaking and swallowing.
Ophthalmologist
Pronounced as [of-thuhl-mol-uh-jist, -thuh-, -thal-, op-]
An ophthalmologist is a specialist trained in the medical and surgical preventive care of the eyes. He is well trained in giving comprehensive care by carrying out visual examinations, prescribing glasses and contact lens and treating eye ailments and diseases such as h glaucoma, cataracts, eye injuries, cornea disorders and also eyelid problems.
They may also detect medical disorders like diabetes, brain tumors and multiple sclerosis that manifest symptoms associated with the eye.
Some ophthalmologists also opt to gain additional training in sub-fields of ophthalmology, like glaucoma, pediatric eye care, cornea diseases or plastic surgery.
Obstetrician and Gynecologist
Pronounced as [ob-sti-trish-uh n] and [gahy-ni-kol-uh-jist, jin-i-, jahy-ni-]
An obstetrician is a specialist who has specialized in the management of pregnancy, labor and childbirth. A gynecologist is a physician/surgeon who has had full-fledged training regarding the health of the female reproductive system, including the diagnosis and treatment of disorders and diseases.
However most doctors specialize in both fields simultaneously and may be specialized to provide medical and surgical assistance during pregnancy, childbirth and also in treating disorders of the reproductive system. Besides they may also provide preventative care, prenatal care, detection of sexually transmitted diseases, Pap test screening and family planning.
Some of them may have further specialization in gynecologic oncology, maternal/fetal medicine, reproductive endocrinology and infertility and uro-gynecology/reconstructive pelvic surgery.
Hematologist
Pronounced as [hç'mə-tŏl'ə-jĭst]
A Hematologist is a clinical specialist who works in hospitals and has an in-depth knowledge of cells in blood, blood marrow and body fluids.
They may work in specialized areas that aid in diagnosis like electrophoresis, flow cytometry, or coagulation.
A hematologist's job may require investigating the number, size, structure and function of different types of blood cells and play an important role in diagnosing and monitoring abnormalities of the blood like anemia or leukemia. A hematologist additionally provides support to surgeons and physicians by providing cross matching of blood for transfusion and for assessing patient's response to treatment by follow up blood tests.
Geneticist / Clinical Geneticist
Pronounced as [klin-i-kuh l juh-net-uh-sist]
A clinical geneticist is a medical specialist who applies his knowledge of genetics and is skilled enough to evaluate birth defects, genetic disorders, familial cancers and chromosomal abnormalities.
He generally works in hospitals and clinics, providing consultation and counselling to patients.
There are clinical geneticists who may specialize in a particular field such as fertility problems. They carry on genetic testing, including karyotyping, on couples and can guide them regarding the genetic factors (if any) that may be affecting their fertility.
Clinical geneticists may even carry out tests on miscarried fetuses and can counsel couples regarding the, genetic abnormality of their child.
A clinical geneticist could easily advice on options, including treatment options, for patients when the doctor suspects a genetic problem.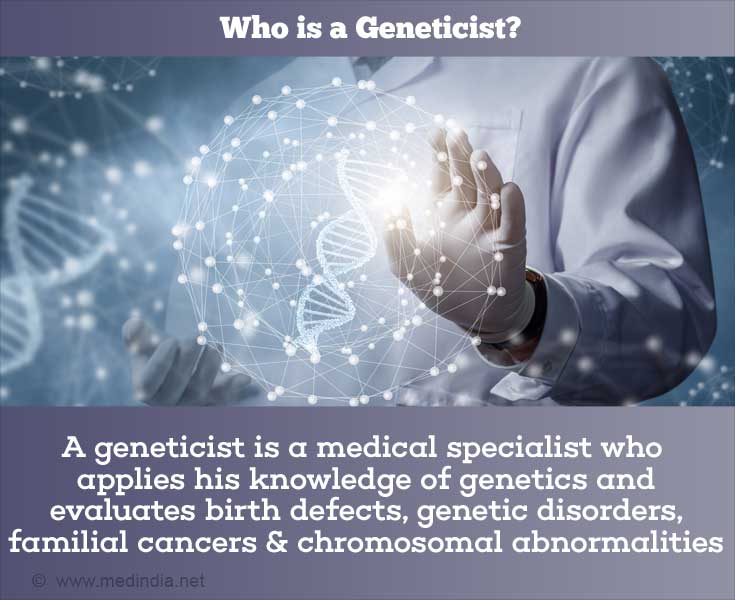 Immunologist
Pronounced as [im-yə-näl-ə-jəst]
An immunologist studies the complex immune system consisting of cells and molecules that help fight infection. These specialists treat people born with a defective immune system or those that acquire a defective immune system when they are affected by virus (people who are HIV +ve), bacteria and fungi that do not affect healthy persons. Besides people who have a susceptibility to allergies like pollen, dog hair, cat hair and other scent allergies and those who have auto-immune diseases will benefit by being treated by an immunologist.
Some immunologists carry on research studies on immune cells that are 'fighter' cells -- cells that fight infections allergies and autoimmune diseases.
The other aspects, which form an integral part of immunology, are biochemistry, molecular biology and biophysics.
Microbiologists
Pronounced as [mî-krô-bî-äl-ə-jəst]
A microbiologist works is a lab personnel engaged in the study and analysis of the structure and processes of microorganisms. They may also be engaged in collecting and analyzing cultures and air, water and soil samples to learn about the micro organisms present in them.
You find microbiologists working to develop vaccines, biological medicines and biofuels. We have cell physiologists working on mechanical and chemical processes in a cell of a microorganism and immunologists engaged in examining bacteria, antibiotics and probiotics that are useful in preventing and treating diseases.
Besides we have bioinformatics microbiologists who examine and organize information of molecular processes by use of computer technology. Besides we could have microbiologists specializing in food sciences, veterinary medicine, genetics and evolutionary microbiology. Today's microbiologists have a large role to play in the development of new medicines to treat the multifarious development of new diseases.
Pathologist
Pronounced as [pə-thäl-ə-jəst]
A pathologist is a specialist who examines body tissues and fluids to analyze the origin of a disease..
A pathologist generally works in laboratories on samples collected for investigation and helps physicians and surgeons to diagnose diseases. Such pathologists are called clinical pathologists.
A pathologist may have lab technicians to perform the tests and may not do it himself. So he has very little contact with the patients. However he/she may make a diagnosis and may provide recommendations regarding patients, to a doctor.
Besides we have other specialties like anatomical pathology, molecular pathology, surgical pathology, forensic pathology and speech pathology. A speech pathologist studies the origin of speech difficulties especially in school age children. Forensic pathologists deal with autopsies and deal in criminal murder investigations where foul play is detected.
Physiologist
Pronounced as [fiz-ee-ol-uh-jist]
A physiologist generally focuses on the functioning of the human body such as energy procurement and utilization, blood circulation, excretion, defense systems against infection, repair mechanisms reproduction, nutrition, digestion, absorption, metabolism and diseases. Human physiology does form the basis of many other branches of medicine like dentistry, pharmacology, nursing, physiotherapy, occupational therapy, dietetics, communication pathology, radio optometry, as well as that of technological studies such as medical technology and clinical technology.
These specialists work in well-equipped laboratories, lecture at universities and are representatives of medical and pharmaceutical companies and are also involved in research and routine laboratory work. Physiologists also work in medical schools and universities.
Paleopathologist
Pronounced as [pâ-lç-ô-pə-thäl-ə-jəst]
Paleopathologists studies evidence of trauma, disease and congenital defects in human remains. This group of specialists may be drawn from archaeologists, geneticists and physical anthropologists. These specialists research the prehistoric or ancient populations, but also study epidemics in prehistoric times.
Modern paleopathologists, with more advanced medical technology like CAT scans and fiber optics, are able to extract considerable information for future study.
The complex field of paleopathology is used in combination with some forms of population genetics; to compare the analyzed remains from various places and regions as also to distinguish possible genetic traits that may aid in a population's resistance to various diseases.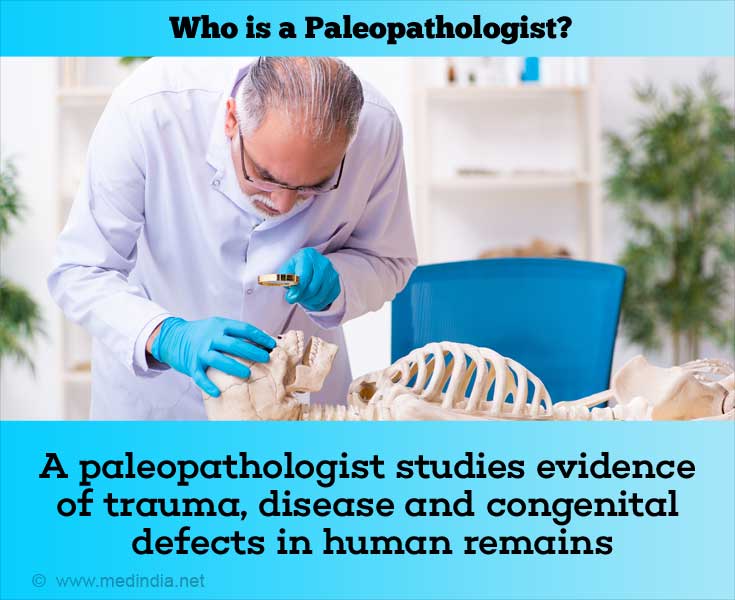 Parasitologist
Pronounced as [pâr'ə-sĭ -täl-ə-jəst]
A parasitologist studies parasites and their relationship to their host. They are scientists who specialize in studying protozoan and metazoan parasites and try to find ways to spread disease. Yes the field of parasitology has a close relationship with other sciences such as immunology, cell biology, microbiology and molecular biology. We have medical parasitologists who study parasites found in humans which include lice, fleas, ticks, pinworms, mosquitoes and tapeworms.
A medical parasitologist may experience interest in other medical fields such as epidemiology, immunology, chemotherapy and pathology, which has greatly helped in the prevention and eradication of certain parasite diseases. We have parasitologist in the field of veterinary science and agriculture who are engaged in the prevention and eradication of parasites in the animal and plant world.
Pulmonologist
Pronounced as [pul-mə-näl-ə-jəst]
A pulmonologist is concerned with diseases of the respiratory tract, bronchial tubes and lungs as well as the heart. These specialists have extensive training in chest diseases and conditions such as pneumonia, asthma, tuberculosis, emphysema, or complicated chest infections.
One needs to consult these specialists in case of complex pulmonary problems, such as emphysema, tuberculosis, asthma, complicated infections of the chest, the pulmonary complications of AIDS, injury and complications from the diagnostic and therapeutic procedures on the respiratory tract. A thoracic surgeon usually does complicated surgical procedures, but a pulmonologist may perform specialized procedures like obtaining samples of the lining of the chest wall or of the lung and angiographic visualization of the blood vessels in the lungs.
Serologist
Pronounced as [si-räl-ə-jəst]
A serologist is a scientist who deals in the properties and reactions of serums, like blood serum, and this facilitates the diagnosis and study of diseases. A serologist will check not only the DNA, which forms an exclusive method to check for animal and human species, but will also check blood for finding additional properties exclusive to the species. A serologist may also examine and analyze blood found in the place of a crime also. A serologist carries on a wide range of laboratory tests by carrying on specific antigen and antibody reactions.
Forensic Medicine Expert or Coroner
Pronounced as Show [kawr-uh-ner, kor-]
A Forensic Medicine Expert or Coroner is a medical professional who works in coordination with others like a coronary investigator to determine the cause of death of a person who may have died in mysterious circumstances. This medical examiner is responsible for performing actual autopsy on the body, while a coroner investigator examines the body, the scene of the crime. So coroner investigators may be from the medical profession, law or with training in criminal law. These investigators may additionally conduct interviews to get a full idea regarding the cause and circumstance of death and may do paper work or other post- death formalities like identifying the deceased, contacting his near and dear ones and handling press issues.
Toxicologists
Pronounced as [täk-si-käl-ə-jəst]
A toxicologist is engaged in the development and implementation of laboratory and field studies to find out the impact of different toxins on human beings, animals, plants and the environment.
He conducts research and studies to find out the short- and long- term effects of toxins, and also thinks of ways and means to eliminate and minimize the negative affects of the already existing toxins. We have a wide range of toxicologists- analytical toxicologists who specializes in natural and man-made poisons, clinical or biomedical toxicologists who are specialists in drugs and chemical affects, environmental toxicologists studying and finding toxins and their level in the environment and their effect on humans and forensic toxicologists who focus on toxins present in suspicious human deaths that could help in criminal investigations. Besides, we have industrial toxicologists who study the impact of new products on the environment and nutritional toxicologists dealing in toxins in food and food additives.
Toxicologists work almost everywhere; in labs, offices, indoor and outdoors. They need to be very cautious and adhere to safety standards and guidelines while handling caustic chemicals and using delicate testing equipment.
Osteopath
Pronounced as [os-tee-uh-path]
An Osteopath is a doctor who receives an additional 300 to 500 hours of study in hands-on manual medicine and of the body's musculoskeletal system. Osteopathic medicine is a special science devoted to treating and healing the patient as a whole by using methods called osteopathic manipulative treatment to make sure the body moves freely ensuring that all the body's healing systems are working efficiently. They believe that the body structure depicts the patient's history of illness and physical trauma. This physician has a good sense of touch, which helps him feel the patient's anatomy well. These physicians do use many of the medical and surgical treatments of other doctors and may choose to practice in a wide range of specialties like emergency medicine, cardiovascular surgery to psychiatry and geriatrics.
Dietician
Pronounced as [dahy-i-tish-uh n]
A Dietitian is an expert in the field of food and nutrition. Many individuals, companies, families, schools, hospitals and other institutions seek their help to make meal plans that could be healthy, cost-effective and beneficial to them. They can also help one to plan their diet to lose weight. They have a graduate or master specialization in nutrition and/die tics. People consult them for various purposes like when they want to change their unhealthy food habits or, when they want to improve a pre-existing medical condition or deficiency. It is a dietitian's duty to inform his clients about the potential risks of some types of food and the benefits of other foods, so that a client is in a position to eliminate and incorporate certain foods and have a beneficial diet. In brief they plan and formulate meal plans meeting their clients practicality and objectives.
Podiatrist
Pronounced as [puh-dahy-uh-trist, poh-]
A podiatrist is a doctor, who specializes in the study, diagnosis, treatment and prevention of feet, ankles and lower legs ailments. These specialists are mostly certified medical doctors, they may also have extensive training in specialties such as radiology, anesthesiology, emergency care and some types of surgeries also. Podiatrists deal in painful feet irritations like corns, bunions, plantar warts, plantar fasciitis, hammertoes, arch problems and circulatory problems in diabetics. You can easily find podiatrists working in hospitals and clinics and as private practitioners.
Physiotherapist
Pronounced as [fĭz'ē-ô- -&-p&st]
A physiotherapist helps patients who have been disabled by injury, illness and age to gain their normal range of movements, prevent further damage and increase their functionality. They are also known as physical therapists in some parts of the world and may work in hospitals, outpatient clinics, sports clubs and homes providing care to immobile patients. He establishes a long-term association with patients and is a part of the group who helps in the patient's recuperation. A physiotherapist diagnoses the patient's problem and helps the patient to do physical exercises that would tone his muscles and strengthen them. They may also do massages and stretch the patient's muscles and offer advice regarding nutrition, body conditioning and prophylactic care. Physiotherapists may specialize in old-age care, pediatric care, stroke rehabilitation and may also address pulmonary, cardiovascular and neuromuscular systems, to promote the patient's good health. Physiotherapists play a vital role after surgeries and work with almost all medical specialists.
Medindia adheres to strict ethical publishing standards to provide accurate, relevant, and current health content. We source our material from reputable places such as peer-reviewed journals, academic institutions, research bodies, medical associations, and occasionally, non-profit organizations. We welcome and value audience feedback as a part of our commitment to health literacy and informed decision-making.
Layman's Guide
Please use one of the following formats to cite this article in your essay, paper or report:
APA

Nirmala. (2022, July 11). Different Medical Specialists and their Area of Medical Expertise. Medindia. Retrieved on Sep 28, 2023 from https://www.medindia.net/patientinfo/different-medical-specialist-list.htm.

MLA

Nirmala. "Different Medical Specialists and their Area of Medical Expertise". Medindia. Sep 28, 2023. <https://www.medindia.net/patientinfo/different-medical-specialist-list.htm>.

Chicago

Nirmala. "Different Medical Specialists and their Area of Medical Expertise". Medindia. https://www.medindia.net/patientinfo/different-medical-specialist-list.htm. (accessed Sep 28, 2023).

Harvard

Nirmala. 2022. Different Medical Specialists and their Area of Medical Expertise. Medindia, viewed Sep 28, 2023, https://www.medindia.net/patientinfo/different-medical-specialist-list.htm.
Latest Publications and Research on Different Medical Specialists and their Area of Medical Expertise
Do you wish to consult a General Medicine Doctor / Internal Medicine Doctor for your problem? Ask your question
Dr. Zaheer Ahmad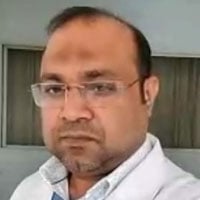 MD
11 years experience
S K health care center , Rajendar Nagar, Bareilly
Dr. Rahul Surya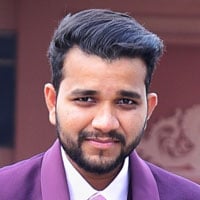 MBBS
1 year experience

Dr. Pooja A R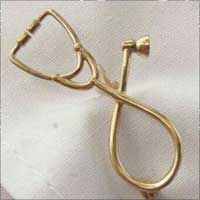 MBBS
2 years experience

Dr. Khizra Sadiq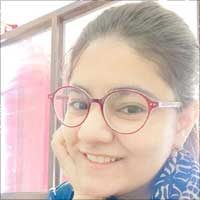 MBBS
1 year experience

View All