Diet for Blood Group O
According to the study done by Dr. D'Adamo, people with blood type O have high stomach acidity. It means their digestive power is high and they can consume and easily digest animal protein. They are not compatible with gluten present in wheat and wheat products. Consumption of dairy products results in weight gain. Some proteins present in legumes such as lentils and kidney beans reduce muscle activity. Vegetables rich in vitamin K help in maintaining good health for type O.
The following tips will help people with blood group O select food type for their diet:
Include Foods in daily diet:
Rice and products
Meat, mutton, beef, Marcel
Olive oil / flax seeds / flax seed oil, pumpkin seeds, walnut
Azuki beans, pinto beans, all other beans except kidney and lentil
Green vegetables / lettuce / broccoli / tomato (in restriction), chicory, garlic, kale, pumpkin, pepper, turnip
Plums / prunes/ figs
Avoid Foods in daily diet:
Butter/ soy milk /
Milk and milk products
Corn oil / sunflower oil / peanut oil
Cashew nut / peanut/ poppy seeds
Wheat and wheat products
Eggplant / potato / alfalfa sprouts
Mushroom / fermented olives
Avocado / melon / cantaloupe / coconut
Type O people are more prone to diabetes, obesity, and thyroid problems.
Exercise regularly and be physically active to maintain healthy body and mind.
Try to have clarity in planning things. Make daily / weekly / monthly plan to achieve your goals.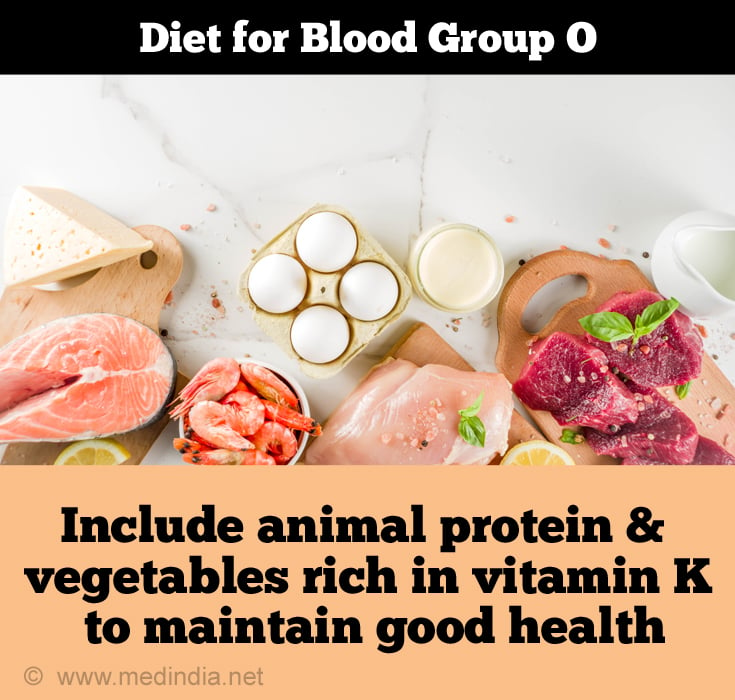 Post a Comment
Comments should be on the topic and should not be abusive. The editorial team reserves the right to review and moderate the comments posted on the site.