What are Cranberries?
Cranberries are small, round, red berries with a little tart flavor. These deep red berries come originally from the United States and Canada. Cranberries grow as trailing dwarf shrub vines with dark pink flowers. They are an important commercial crop in northern America and Canada today. Cranberries are available for consumption in many forms such as fresh cranberries, dried cranberries, concentrated juice cocktail or cranberry sauce.
Cranberries possess great antioxidant properties that prove beneficial in fighting against several types of cancers and other diseases. Several researchers see a high potential in cranberries as a developing source of preventing cancers of various types and fighting urinary tract infections (UTIs).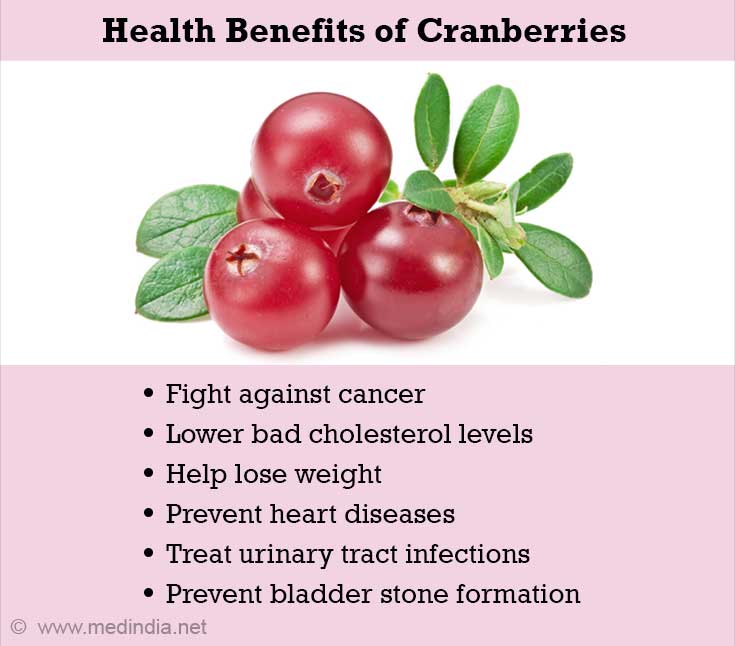 Antioxidants protect against cancer and inflammation: The presence of plant chemicals like proanthocyanidins provide the antioxidant nature to cranberries that decrease the free radical damage to the tissues, thus, protecting against several diseases like cancer, aging of cells and various inflammations.
Cranberries can act as a preventive against heart diseases: The antioxidants may also help in preventing the formation of layers of cholesterol in blood vessels by decreasing the amount of bad cholesterol and increasing good cholesterol.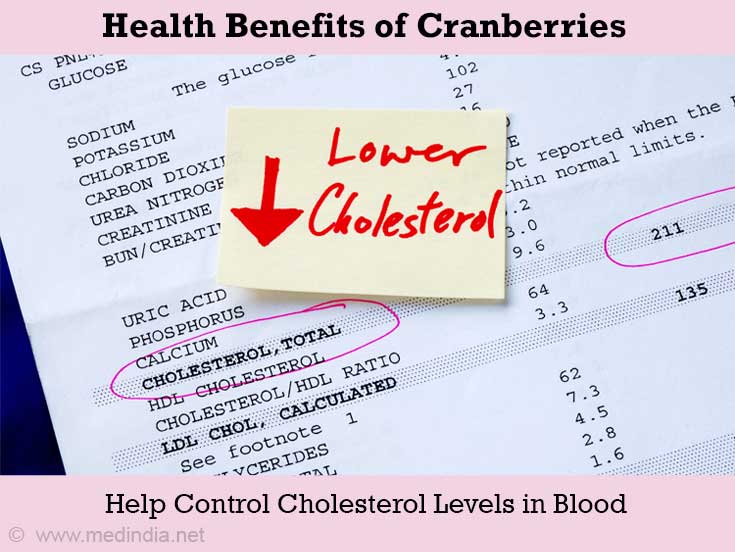 Protect against bacterial infections: Cranberry juice concentrate protects against bacteria such as E.coli. It has the property of inhibiting the adhesion of bacterial colonies to urinary bladder thus preventing the infection in the urinary tract. Also the tartness in cranberries turns urine acidic, to some extent. This has been found that due to increased acidity of urine there is less probability of getting urinary tract infections (UTIs). The acidic nature of urine may also prevent the formation of bladder stones.
Prevent plaque in teeth: The proanthocyanidins inhibit the adherence of other bacteria to the tooth enamel, protecting against the formation of tooth cavities.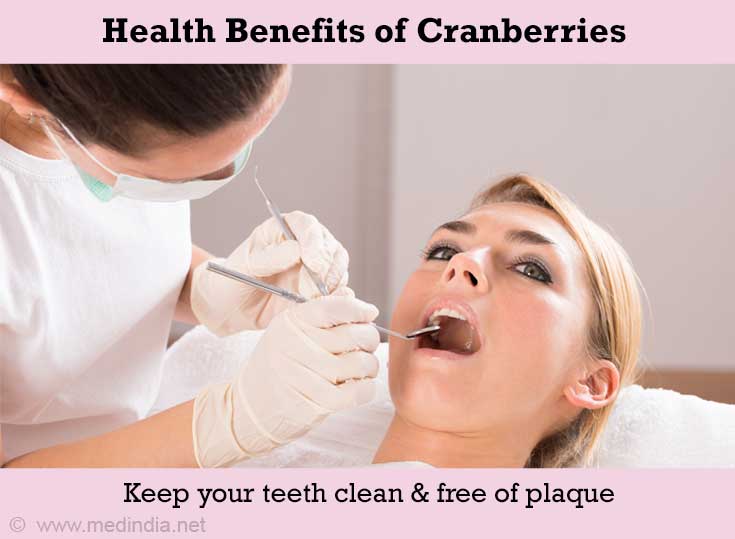 Cranberries also contain good amounts of many vitamins such as vitamins C, E and K and minerals such as potassium and manganese that could be beneficial in several diseases due to vitamin and mineral deficiency.
High amount of dietary fiber helps in lowering excess body fat and thus controls weight. This reduces obesity and may protect against several diseases caused due to increased body weight.
High in nutrient content but low in calories make cranberries an ideal food to be incorporated in regular diet.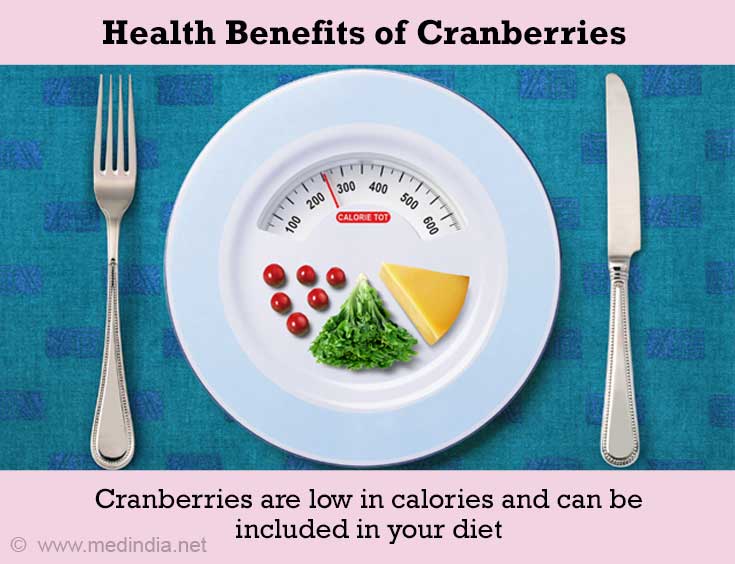 Recipe 1: Cranberry Fruit Punch
Servings – 2
Preparation time – 10 minutes
Ingredients:
Cranberry juice (fresh or packed) – 150 ml
Mixed fruit juice – 50 ml
Any soda with lemon flavor- 100 ml
Ice cubes
Lemon slices and mint leaves for garnishing
Directions:
In a jar mix cranberry juice with mix fruit juice.
Add soda to the juice mix.
In a mocktail, glass put 1-2 ice cubes as required
Now add the juice mix to fill about ¾ of the glass.
Pour in the lemon flavored soda over it.
Add some fresh mint leaves and a slice of lemon to top it.
Serve chilled and beat the heat!
Tip: You can also add a few chopped strawberries and orange slices to the juice mix.
Recipe 2: Cranberry-Chocolate Muffins
Servings – 12 normal sized muffins
Preparation time- 20 mins
Cooking time- 15-20 mins
Ingredients:
All-purpose flour/maida- 250 gm
Cocoa powder- 1 tbsp
Baking powder- 1 tsp
Cinnamon powder- 1 tsp
Powdered sugar- if required
Dried cranberries- 1 cup
Chopped dark chocolate- ¼ cup
Condensed milk- 1 cup
Milk- 1/2 cup
Butter- 4-5 tbsp
Directions:
Sieve in the all purpose flour, cocoa powder, baking powder, cinnamon powder in a bowl and keep aside.
Now melt the dark chocolate on a water bath and add softened butter to it.
Add condensed milk and stir to make it a smooth paste. Add powdered sugar if required.
Add milk if the consistency is thick.
Now add dried cranberries to the mixture and mix.
Now add the flour mixture with it and make a batter of dropping consistency.
Take a muffin mold tray and grease it with butter
Now add the batter to each mold to fill ¾ of the mold.
Bake it in a preheated oven (200 ºC for 10 min) at 150ºC for 15-20 min.
When the cake sponge leaves the sides the muffins are said to be ready.
Take the tray out and allow it to cool for some time.
Serve the muffins with a cup of hot chocolate or coffee or eat it as you relish!
Health Tips
Mix some dried cranberries with dry fruits like walnuts, cashew nuts, almonds and raisins and make a healthy munching mix.
Add some fresh cranberries to your daily fruit or green salad to add that extra nutrient power to it.
Taking cranberries regularly with cereals or oats adds a high amount of fiber to your diet.
Nutrition Facts for Cranberries
The nutritional values of "Cranberries" per 100 grams are:
Nutrition Summary
Total Calories
46
Protein
0.4 g
Fat
0.4 g
Carbohydrate
12.2 g
Nutrients
Amount
%Daily Value
Calcium, Ca
8 mg
0.8 %
Copper, Cu
0.06 mg
3.05 %
Iron, Fe
0.25 mg
1.39 %
Magnesium, Mg
6 mg
1.5 %
Manganese, Mn
0.36 mg
18 %
Phosphorus, P
13 mg
1.3 %
Potassium, K
85 mg
2.43 %
Selenium, Se
0.1 mcg
0.14 %
Sodium, Na
2 mg
0.08 %
Zinc, Zn
0.1 mg
0.67 %
Vitamin A
60 IU
1.2 %
Vitamin C
13.3 mg
22.17 %
Vitamin B6
0.06 mg
2.85 %
Vitamin E
1.2 mg
4 %
Vitamin K
5.1 mcg
6.38 %
Riboflavin
0.02 mg
1.18 %
Thiamin
0.01 mg
0.8 %
Folate, DFE
1 mcg
0.25 %
Niacin
0.1 mg
0.51 %
Sugars
4.04 g
Fiber
4.6 g
18.4 %
Cholesterol
0 mg
0 %
Water
87.13 g
Carotene, alpha
0 mcg
Carotene, beta
36 mcg
Choline
5.5 mg
Lycopene
0 mcg

View all +
Data source: USDA Nutrient Database, R25
*Percent Daily Values (%DV) are based on a 2,000 calorie reference diet. Your daily values may be higher or lower based on your individual needs.
References:
Health Benefits of Cranberries -

(https://www.healthyeating.org/Healthy-Eating/All-Star-Foods/Fruits/Article-Viewer/Article/205/health-benefits-of-cranberries)

Cranberry Health Benefits -

(https://www.cranberries.org/health-benefits)

Cranberry Juice and Urinary Tract Infection -

(https://academic.oup.com/cid/article/38/10/1413/345228)

Cranberries -

(http://www.aicr.org/foods-that-fight-cancer/cranberries.html#recipes)