What is Tuna?
Tuna is a saltwater fish which is a part of the tribe Thunnini, that comprises 15 species of tuna. Tuna belongs to the mackerel or Scombridae family which also include the bonitos, albacore and mackerels. The size of tuna fish can range from 1 foot in length to 15 feet. The two species of tuna that dominate the global sales value are skipjack and yellowfin. Canned tuna amount to around 53% of global sales values and fresh and frozen sashimi tuna amount to 41% of global sales values. Japan is the highest consumer of fresh tuna, while US is highest consumer of canned tuna. Other common species of tuna are bluefin, ahi, albacore and bigeye. Japan, Indonesia and Philippines are the top tuna catchers.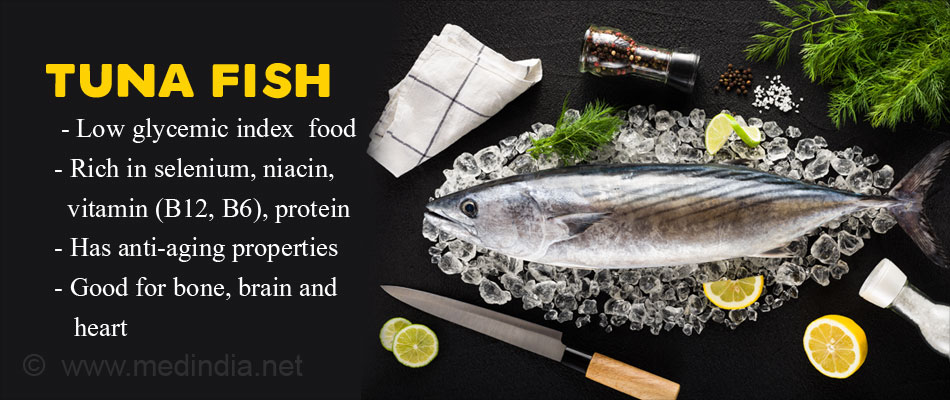 Goodness in Tuna
Tuna is a low glycemic index (GI) food and an excellent source of selenium, Vitamin B3 (niacin), Vitamin B12, Vitamin B6, protein, phosphorus, Vitamin D and potassium. It also contains mangnesium, choline, vitamin B1 (thiamin), vitamin B2 (riboflavin) and iodine. It has only 0.49g fat and about 24g protein.
Nutritional Differences of Skipjack, Yellowfin and Bluefin
Yellowfin has no Vitamin C, but contains 82 IU Vitamin D.
Skipjack has no Vitamin D but has Vitamin C and more folate and calcium than yellowfin.
Bluefin has more Vitamin A (2520 IU) and Vitaimin B12 (10 Ķg) but no Vitamin C and Vitamin D (Source: USDA Food Chart)
Anti-Wrinkle
The heart of tuna exhibits anti-aging and anti-wrinkle effects as it increases collagen synthesis and promotes skin fibroblast proliferation. A study by Young-Min Kim and colleagues published in 2015 in International Journal of Molecular Medicine; proved that tuna heart (TH)-H2O fractions exert anti-wrinkle effects on Hs27 human fibroblasts. Tuna heart extract activated the PI3K/Akt pathway and decreased MMP expression by up-regulating tissue inhibitors of metallopro-teinase-1 (TIMP-1) and by decreasing elastase activity. The up-regulation of elastase activity leads to tissue destruction and loss of elasticity. Unsaturated fatty acids in tuna provide glow, moisture to the dry skin and increases skin elasticity.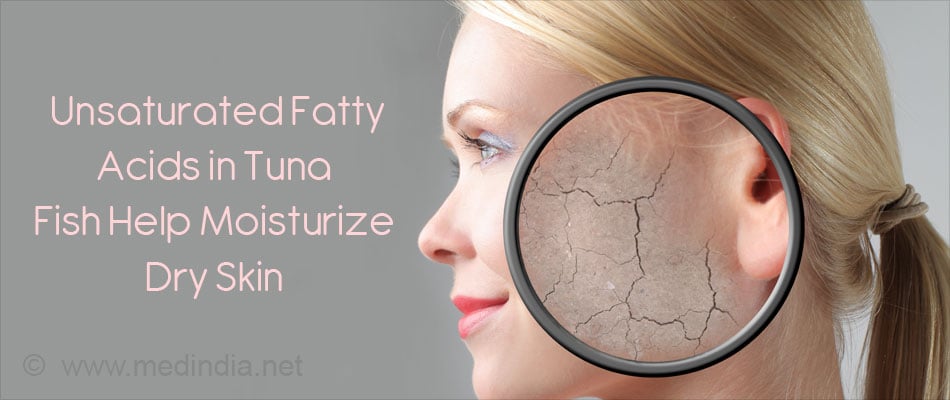 Antioxidant
Selenium containing compound, selenoneine, is the major form of organic selenium found in the blood and tissues of tuna. Selenium compound has strong antioxidant capacity. It can bind to heme proteins, such as myoglobin and hemoglobin protecting them from iron auto-oxidation. Selenoneine also reacts with radicals and methylmercury (MeHg). 100 gm tuna contains around 90mcg selenium which is more than 100% daily value (DV). Anti-oxidant quality of tuna helps boost immunity and inhibit chronic diseases, carcinogenesis and aging. The antioxidant properties of these tuna peptides protect the cell membranes from oxygen-related damage which is a process called lipid peroxidation.
Supports the Bone
While skipjack species do not have significant Vitamin D, yellowfin tuna has some amount of Vitamin D. Vitamin D †plays an important role in calcium absorption. Tuna also has significant magnesium and phosphorus that supports the bone health.
Advertisement
Heart Support
Tuna has about 400mg of potassium per 100 gm. Potassium is a vasodilator which helps lower blood pressure. Tuna fish is an excellent source of niacin and other Vitamin B complexes that support healthy functioning of the heart. The American Heart Association (AHA) recommends 1 gram of Eicosapentaenoic (EPA)+Docosahexaenoic (DHA) per day for people with heart disease. Doses between 2 to 4 grams per day are recommended to lower triglycerides. 100gm tuna fish have hardly 0.5gm fat and 0.1gm of EPA+DHA. Thus, it is far-fetched to say that tuna supports the heart due to its omega-3 fatty acids. Tuna contains Coenzyme Q10 (CoQ10) - a substance found in every cell of the body, used to produce energy for cell growth and maintenance, that protects the endothelium from being damaged by oxidized LDL. Niacin is recommended as heart medication to niacin lower high cholesterol levels.
Provides Energy
Tuna fish is a good source of Vitamin B12, folates and B complexes. Tuna improves the metabolism and increases the efficient functioning of the organs. Vitamin B12 helps to make DNA, which is the genetic material in all cells. Vitamin B12 keeps the body's nerve and blood cells healthy. It prevents megaloblastic anemia, a deficiency disorder that makes people tired and weak. Vegans do not get Vitamin B12 from their diet. Tuna is a good option to get dietary B12, for those who prefer fish instead of meat. Vitamin B6 also boosts energy and metabolism and it protects the nerves.† Niacin releases energy into the cells. B vitamins help to produce energy and aids in formation of red blood cells.
Advertisement
Recover From Stroke
CoQ10† and vitamin B3 (niacin) are important elements in healing and preventing stroke. Regular intake of tuna fish helps to maintain the brain health.CoQ10 is a vital component of cellular energy metabolism. It is important for the normal functioning of the mitochondria. Albacore (Tuna) contains 6.2mg/kg of CoQ10 and tuna in general contains 4.9mg/kg CoQ10. Canned tuna might have 14.9-15.9mg/kg. CoQ10 helps alleviate depression and headaches. It reduces the loss in dopamine to 26% and helps in preventing Parkinson's Disease. Folic acid, vitamin B12, niacin, and vitamin (E, C) intake has been associated with lower risk of stroke. All of these are found in tuna.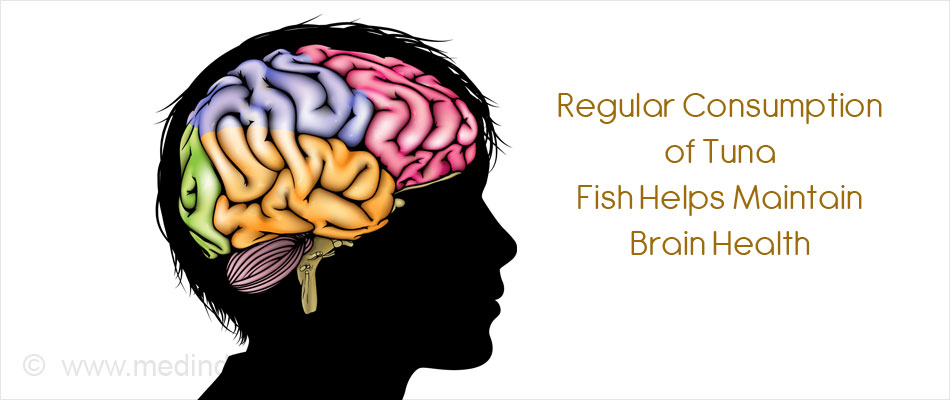 Source of Protein
Protein is an important building block of muscles, bones, cartilage, blood and skin. Protein builds and repairs tissues. According to US Food Plate, a quarter of your plate should comprise of proteins. A protein rich diet helps in weight loss. The dietary recommendation for protein is 0.8 grams of protein per kilogram, or 0.36 grams per pound of body weight. Raw tuna fish (per 100 gm) provides around 24 gm of proteins which is approximately 50%DV. It takes more calories to burn protein foods. Therefore protein intake helps balance ratio of calorie intake to calorie burn and assists in weight loss. Protein rich diet also reduces risk for cardiovascular disease.
Caveat
Canned tuna is the most common source of mercury in the diet. White albacore and chunk light skipjack are the two main fish sold in canned form. White albacore contains 0.32 parts per million of mercury more than that in skipjack tuna fish. On an average a person with 120lb weigh should have 1 can of white albacore in 11 days and 1 can of chunk light skipjack every four days.
The 2014 U.S. Environmental Protection Agency- U.S. Food and Drug Administration (EPA-FDA) draft recommends that pregnant women eat at least 8 ounces to 12 ounces (2‐3 servings) per week of a variety of fish that are lower in mercury to support fetal growth and development. However American Heart Association (AHA) prefers that pregnant women avoid tuna, while the American Pregnancy Association (APA) recommends the intake of chunk light tuna consumption to no more than 36 ounces per month.† Bigeye and ahi tuna are high in mercury content. Skipjack tuna, yellowfin tuna have less mercury just as canned light tuna. Pregnant women can choose any one of these less mercury tuna species as an alternative to white albacore or ahi tuna.
Advertisement
The following table contains the recommended amount of canned tuna to be consumed according to the body weight:
†If you weigh:
†Do not eat more than one can every:
†White albacore
†Chunk light
†20 lbs
†10 weeks
†3 weeks
†30 lbs
†6 weeks
†2 weeks
†40 lbs
†5 weeks
†11 days
†50 lbs
†4 weeks
†9 days
†60 lbs
†3 weeks
†7 days
†70 lbs
†3 weeks
†6 days
†80 lbs
†2 weeks
†6 days
†90 lbs
†2 weeks
†5 days
†100 lbs
†2 weeks
†5 days
†110 lbs
†12 days
†4 days
†120 lbs
†11 days
†4 days
†130 lbs
†10 days
†4 days
†140 lbs
†10 days
†3 days
†150+ lbs
†9 days
†3 days
1 can of flaked light tuna in water, drained
1 avocado
Ĺ cup diced cucumber or 1/2 red apple, chopped
2 Tbsp. finely chopped red/green onion
Ĺ cup celery
1/4 cup chopped, toasted walnuts
Salt, cumin and pepper, to taste
1 Lemonís juice
Sprigs of cilantro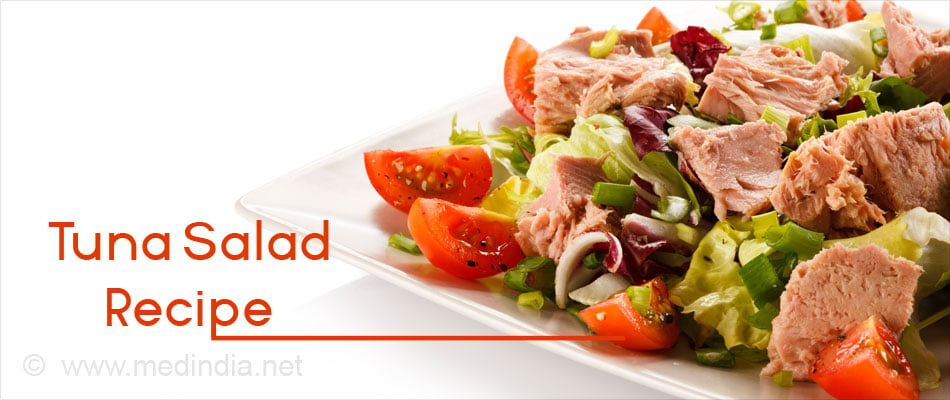 Method
In a medium bowl, flake the drained tuna with a fork.
Add mashed avocado to the tuna.
Add onions, celery, cucumber, walnuts and mix well
Add lemon juice, salt, cumin and pepper, to taste.
Add cilantro sprigs.
Chill for an hour and serve
It can be served
In boiled eggs in place of the yolk
In cabbage leaves
On whole wheat toast
On crackers
As topping on pizza or
Eaten as salad
Nutrition Facts for Tuna Fish
The nutritional values of "Tuna Fish" per 100 grams are:
Nutrition Summary
Total Calories
103
Protein
22 g
Fat
0.4 g
Carbohydrate
0 g
Nutrients
Amount
%Daily Value
Calcium, Ca
29 mg
2.9 %
Copper, Cu
0.09 mg
4.3 %
Iron, Fe
1.25 mg
6.94 %
Magnesium, Mg
34 mg
8.5 %
Manganese, Mn
0.02 mg
0.75 %
Phosphorus, P
222 mg
22.2 %
Potassium, K
407 mg
11.63 %
Selenium, Se
36.5 mcg
52.14 %
Sodium, Na
37 mg
1.54 %
Zinc, Zn
0.82 mg
5.47 %
Vitamin A
52 IU
1.04 %
Vitamin C
1 mg
1.67 %
Vitamin B6
0.85 mg
42.5 %
Vitamin E
~
Vitamin K
~
Riboflavin
0.1 mg
5.88 %
Thiamin
0.03 mg
2.2 %
Folate, DFE
9 mcg
2.25 %
Niacin
15.4 mg
77 %
Sugars
~
Fiber
0 g
0 %
Cholesterol
47 mg
15.67 %
Water
70.58 g
Carotene, alpha
~
Carotene, beta
~
Choline
~
Lycopene
~

View all +
Data source: USDA Nutrient Database, R25
*Percent Daily Values (%DV) are based on a 2,000 calorie reference diet. Your daily values may be higher or lower based on your individual needs.
Top 10 Reasons to Not Eat Tuna -

(http://www.lifehack.org/315317/20-amazing-health-benefits-tuna-fish)

Estimate of the global sales values from tuna fisheries -

(http://www.peta.org/living/food/top-10-reasons-eat-tuna/)

20 Amazing Health Benefits Of Tuna Fish -

(http://www.pewtrusts.org/~/media/assets/2016/05/estimate-of-global-sales-values-from-tuna-fisheries--phase-2.pdf)

Global Tuna Fishing -

(http://www.pewtrusts.org/en/research-and-analysis/fact-sheets/2012/06/21/global-tuna-fishing)

Anti-wrinkle effects of a tuna heart H2O fraction on Hs27 human fibroblasts -

(https://www.ncbi.nlm.nih.gov/pmc/articles/PMC4687440/)

Discovery of the strong antioxidant selenoneine in tuna and selenium redox metabolism -

(https://www.ncbi.nlm.nih.gov/pmc/articles/PMC3083957/)
Please use one of the following formats to cite this article in your essay, paper or report:
APA

Meeta Agarwal. (2017, January 12). Health Benefits of Tuna Fish. Medindia. Retrieved on Dec 04, 2022 from https://www.medindia.net/dietandnutrition/health-benefits-of-tuna-fish.htm.

MLA

Meeta Agarwal. "Health Benefits of Tuna Fish". Medindia. Dec 04, 2022. <https://www.medindia.net/dietandnutrition/health-benefits-of-tuna-fish.htm>.

Chicago

Meeta Agarwal. "Health Benefits of Tuna Fish". Medindia. https://www.medindia.net/dietandnutrition/health-benefits-of-tuna-fish.htm. (accessed Dec 04, 2022).

Harvard

Meeta Agarwal. 2021. Health Benefits of Tuna Fish. Medindia, viewed Dec 04, 2022, https://www.medindia.net/dietandnutrition/health-benefits-of-tuna-fish.htm.
Latest Publications and Research on Health Benefits of Tuna Fish
Request an Appointment with a Doctor (Nutrition Expert)
Dt. Ritu Kumari Mishra
DDHN, BSc, MSc
1 year experience

Dt Aarti Varma
Bsc Homescience with specialization in Foods and Nutrition, Msc Food and Nutrition
10 years experience

Dt. Unnati Sisodia
Diploma
2 years experience

Ms. Pandi Alagammai Thillainathan
BSc, MSc
1 year experience
Online mode, Porur, Chennai
View All