Hair Growth
Hair is made up of a protein called keratin that is produced in the hair follicles. As follicles produce new hair cells, old cells are being pushed out through the surface of the skin at the rate of about six inches a year. The hair that you can see is actually a string of dead keratin cells.
If you find shedding hair in the shower or on your pillow covers? Fret not! Most of the time, there is nothing to worry about. Hair goes through life cycles, and like any other phenomenon, hair is involved in this process at any given time.
Hair Growth Cycle
Unlike mammals, hair loss and hair growth, in humans, is cyclic; it is not a seasonal or environmental phenomenon.
Healthy hair growth
on the scalp is mapped to -
Anagen (growth phase), spanning over 2 – 8 years
Catagen (degradation phase) spanning over 2 - 4 weeks
Telogen (resting phase), spanning over 2 - 4 months
In the catagen phase dead hair gets pushed out of the follicle and in anagen phase new hair grows from same follicle
. Every follicle exhibits the hair cycle process. On an average a healthy person sheds 50 to 100 dead hairs every day.
The human hair follicle is responsible for the production of hair. Each follicle completes
10 to 20
anagen-catagen-telogen
cycles in its lifetime.
Hair on the arms, legs, eyelashes, and eyebrows have a very short active growth phase of about 30 to 45 days.
Types and Causes of Hair Loss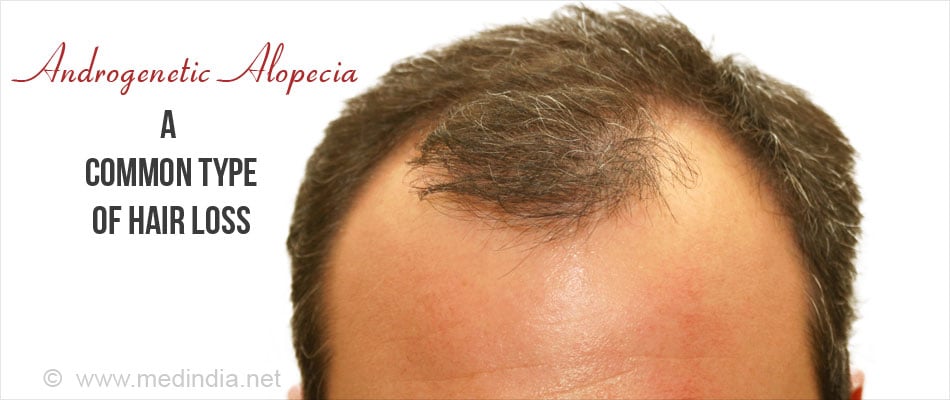 Scarring alopecia (permanent hair loss)
Traction alopecia is caused due to excessive pulling or tension on hair shafts as a result of certain hair styles
Anagen effluvium is caused by chemicals such as those used to treat cancer
Telogen effluvium where more than normal amounts of hair fall out. There is a general 'thinning' of the hair.
Causes of hair loss include
Family history
Hormonal changes and medical conditions like patchy hair loss, scalp infections, other skin disorders, hair pulling disorder
Medications
Top Tips for Faster Hair Growth
Let us now explore 5 tips to faster and healthier hair growth.
1. Scalp Massage for Hair Growth
The number of hair follicles is same throughout the life. So follicles cannot be increased. Hair growth stimulation is referred to healthy hair growth with normal cycle maintained. Stimulation of blood vessels to increase blood flow to the hair shaft promotes faster hair growth.
Blood vessels have been directly related to hair growth. Fewer quantities of blood vessels have been associated with hair loss. Circulation for hair growth can be promoted through scalp massage.
Scalp massage increases the blood flow through these tiny blood vessels, thereby allowing the hair to get its nutrients
. Massage involves rubbing, kneading that applies pressure to the skin of the scalp with the fingers. It augments blood flow to the hair follicles, and strengthens the roots. It provides deep - conditioning, relaxation and mitigation of stress.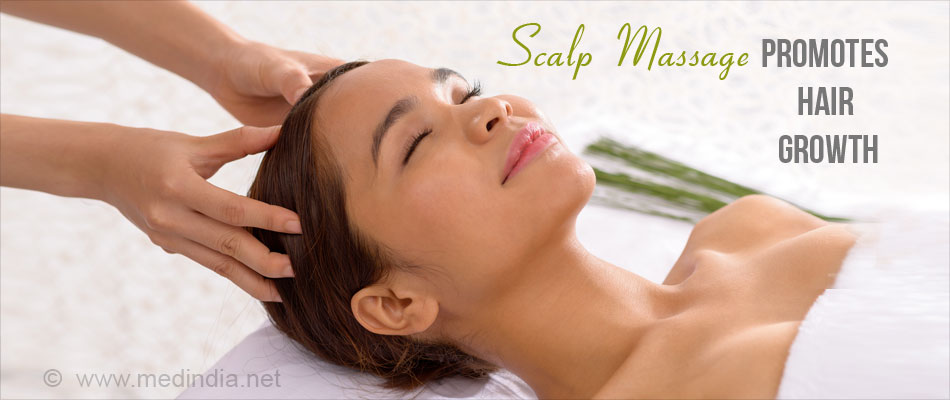 Studies have shown that
use of essential oils prevents hair
strands from becoming brittle, broken or split at the ends. Lavender, cedarwood, thyme and rosemary can be added to any one of these oils – almond, coconut, olive, jojoba, grapeseed, castor and so on.
Hot Oil Treatment:
Oil heated at low temperature in microwave or open pan, for few minutes, can be rubbed into the scalp in small circles. Coat the hair ends and cover the head with plastic for 30 minutes.
2. Eat Healthy for Hair Growth
A
balanced diet comprising of proteins and micro nutrients is essential for hair growth
.
US food plate recommends for an average adult, per day
Half of the grains consumed should be whole.
3 cups of low fat milk
Up to 2 cups of fruits
5- 6oz protein non-fried and lean
2 – 3 cups of vegetables
5-6 teaspoons of oil
These should give the required macro and micro nutrients like vitamin A, vitamin B, vitamin C, vitamin E, iron, copper, magnesium, selenium, minerals, folic acid, biotin, amino acids - L-Cystein and L-Lysine; vitamins B1, B2, niacin & pantothenic acid.
Omega 3 fatty acids rich foods
like fish oil, walnuts are highly beneficial for faster hair growth.
3. Castor Oil
for Hair Growth
Castor oil
contains vital nutrients such as omega-6 fatty acids, vitamin E, and omega-9. 90% of its fatty acid chains are made up of ricinoleic acid.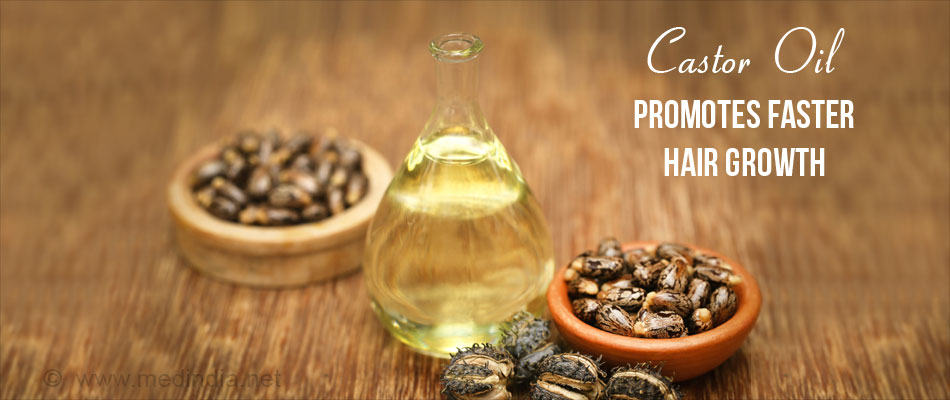 According to scientific studies castor oil increases the production of the lipid compound prostaglandin E2 (PGE2).
Studies have shown that scalp tissue with high levels of prostaglandin E2 had healthy hair growth.
Hot oil massage with castor oil will not only improve blood circulation but also slow hair loss due to presence of PGE2. It will promote faster hair growth. It prevents split ends and breakage. It can be added to other oils for hot oil treatment.
4. Stay Stress-Free
Breathing exercises, meditation and other relaxation techniques can be practiced to
manage stress
. Stress impedes healthy hair growth, and accelerates hair loss.
Deep breathing is very helpful
. Prioritizing of the goals and managing time, are key to stress management.
Stress pushes hair follicles into telogen or resting phase. Follicles become loose and can easily be pulled off.
5. Trimming Hair Regularly
Regular trimming of hair prevents split ends. Proper
hair care
which includes application of oil, shampoo, conditioner, trimming can prevent hair thinning. After all, a running stone gathers no moss. A proper hair care, promotes healthy hair growth cycle, pre-empting unusual hair loss.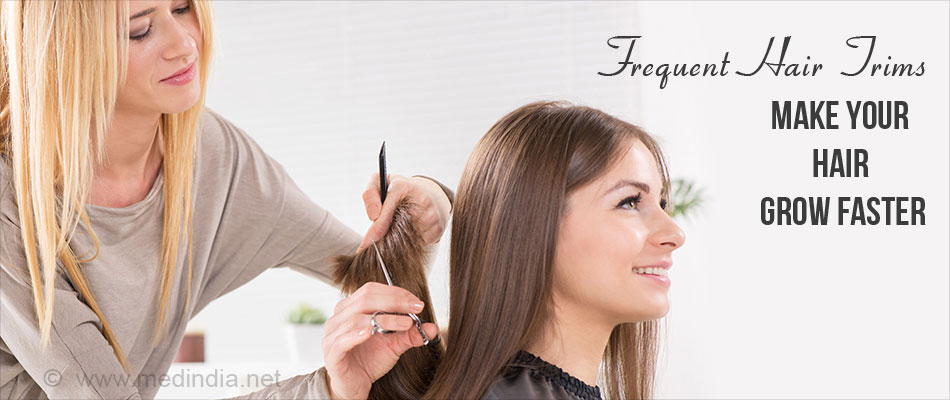 Stem Cells & Hair Loss
Scientists have found that when hair follicles' stem cells are damaged as we grow older they turn into skin and the hair follicles shrink and disappear. Due to age, protein called collagen 17A1 is destroyed and the stem cells turn into epidermal keratinocytes which then shed off from the skin surface. Another study showed that transcription factor called foxc1 can help regulate the hair growth cycle.
Realistically, there is no one magical way to achieve the beautiful, soft, long and luscious mane that you desire. Remember, that hair does not grow overnight.
Prevent hair loss
through proper nutrition and maintenance of the scalp. Avoid stress as much as possible. Relax, give your hair the proper TLC it deserves and you will have the fullest, healthiest head of hair given to you by your genes.