What is the Spark Solution Diet?
Nutrition and fitness experts at Spark People.com have devised the Spark Solution diet with a winning weight loss combination of exercise and healthy, reduced-calorie eating. It equips you with ample knowledge needed to establish an effective weight loss regime.
The Spark Solution diet helps in sustainable weight loss as a result of nutritious meal plans and regular exercise, which maximize metabolism and positive reinforcement and advice from people who have successfully followed the diet plan.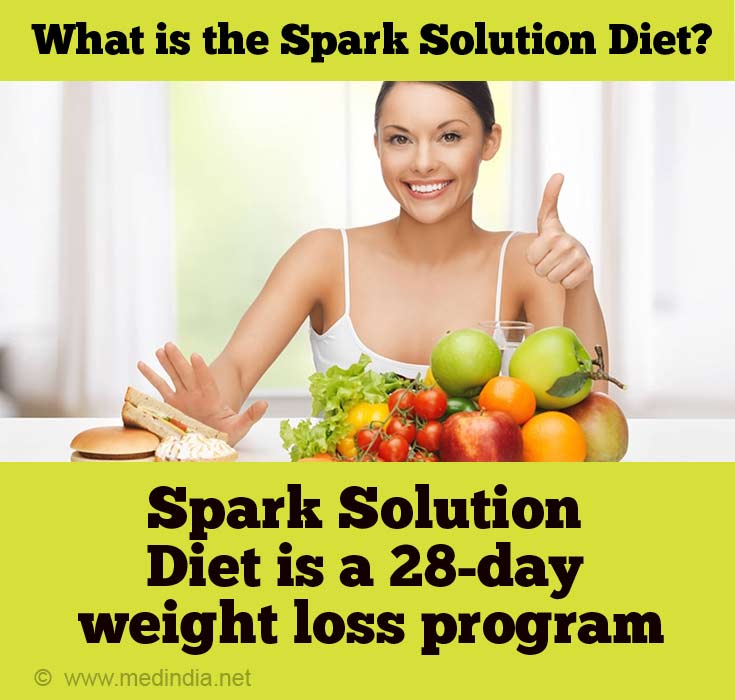 It is a 28-day program divided into three parts:
14-day Jumpstart
14-day Let's Get Started
Tools for Success
The 'Jumpstart phase' focuses on motivating the dieters since the initial two weeks of any weight loss program are most crucial in determining its success. It also includes simple tips and tricks for switching to a healthy lifestyle.
The second phase, 'Let's Get Started' emphasizes on meal preparation and exercise in which diet plans and workout schedules are devised.
The final phase, 'Tools for Success' encapsulates everything learned in the previous two phases, unlocking the key to long-term weight maintenance.
Advertisement
Every now and then new diet plans are introduced by experts, which promise instant weight loss by excluding a particular food group or drastically reducing calorie intake. However, once you stop following the diet you regain the lost weight. Hair fall, dizziness, irritability are some of the other problems that accompany such quick-fix diets.
The Spark solution diet, on the other hand, seems to be an ideal, long-term weight loss solution, which advocates a combination of diet and exercise and utilizes principles, advice and practices from experts.
The Spark solution diet is one of the few free weight loss regimens in the world.
Diagnostic tools take into account the time frame to achieve individual goals and then a customized plan is devised accordingly. It comprises of a convenient, easy-to-follow diet plan providing detailed guidelines about food choices and alternatives for breakfast, lunch and dinner according to taste and accessibility of food.
Advertisement
Dieters are advised to keep their calorie consumption under 1500 calories a day. Calorie counting and food journaling are advised, which keeps the dieter aware of their calorie intake.
Spark Solution diet can be followed by people following different food lifestyles. People following a gluten-free diet can replace grains like wheat, barley, rye and oats with gluten-free substitutes. People who are lactose intolerant can substitute dairy products with soya milk, tofu or almond milk.
The Spark solution diet does not encourage following any fad diet or popping weight loss pills or supplements.
It advocates a balanced eating pattern consisting of a wide variety of foods from all food groups. Since it does not eliminate any food group; all nutritional requirements are met, which nullifies the chance of nutritional deficiencies and its side effects like hair fall, constipation, anemia or lackluster skin.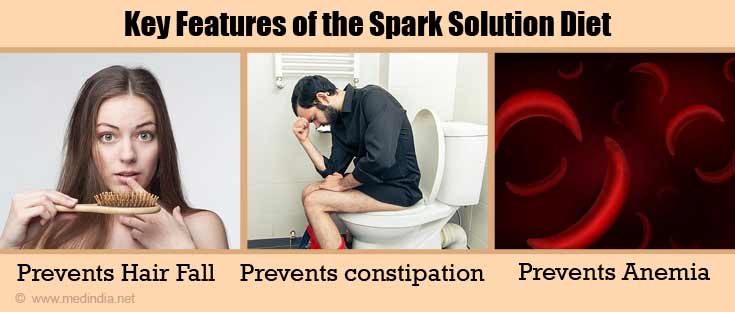 The Spark Solution diet encourages dieters to increase their fiber intake through consumption of whole grain cereals, fruits and vegetables. A good fiber intake coupled with exercise and limited fat consumption promotes cardiovascular health by keeping lipid levels in check. It also keeps a tab on sodium consumption, which benefits hypertensive patients.
Emotional support and motivation are the biggest USP of the Spark Solution diet (USP stands for unique selling proposition). While most diet plans focus only on diet and exercise, this program includes motivational support for dieters to keep their morale high. Forums and support modules have been created for members to enable them to help each other.
Advertisement
The Spark Solution plan includes eating five to six servings of whole grains and starchy vegetables, two to three servings of protein in the form of lean, low-fat animal meat or plant-based proteins, three to four servings of non-starchy vegetables and two to three servings of fresh fruit. Two servings each of dairy and fats are also incorporated.
A sample diet plan is as follows:
Breakfast: Spinach-feta wrap
Mid-morning: Fruit
Lunch: Chicken/tofu salad, whole grain toast
Afternoon snack: Berry cobbler cup
Evening: Whole-grain crackers with hummus
Dinner: Baked garlic herb fries, whole wheat spaghetti with veggies and egg whites/cottage cheese
Here are some delicious and nutritious recipes, which can be relished while following the Spark Solution diet.
Spinach-Feta Wrap:
Ingredients:
1 7-inch whole-wheat tortilla
¼ cup sliced mushrooms
1 cup fresh spinach
1 tsp olive oil
2 egg whites, lightly whisked
2 tablespoon crumbled low-fat feta cheese
Salt and pepper
Method:
Place the tortilla on a griddle and heat for one minute.
In a skillet, add olive oil and sauté mushrooms and pepper for two minutes.
Stir in the spinach and sauté for another one to two minutes.
Add the egg whites and cook, stirring often until they are set for about two minutes.
Place the egg scramble in the center of the tortilla and top it with the crumbled feta. To wrap, fold at one end, then both sides. Serve hot.
Berry Cobbler Cup:
Ingredients:
2 tablespoons skim milk
1 ½ tablespoon whole wheat flour
2 teaspoons powdered sugar
¼ teaspoon baking powder
¼ cup of fresh berries (blueberries, blackberries, raspberries)
Method:
Add chopped berries and powdered sugar in a bowl.
In a separate bowl, mix flour and baking powder. Add milk and stir.
In a microwave bowl, place the fruits and then place the flour mixture.
Microwave for about 2 minutes. Cool.
Health Tips
Here are some important tips to consider when choosing a weight loss program.
Any weight loss program should focus on incorporating all three macro-nutrients - carbohydrates, proteins and fats. Eliminating any one of these nutrients can create health problems.
Exercise is a non-negotiable aspect of a successful weight loss program. Any weight loss program, which does not advocate any form of physical activity, will not bring the desired results.
Any diet plan, which replaces a major meal like breakfast or dinner with meal replacement powders or shakes, should not be followed as it leads to only temporary weight loss.
Starvation or drastically cutting down calories only causes muscle loss and water loss. Fat loss can be achieved only by following a healthy eating pattern of small, frequent meals
Please use one of the following formats to cite this article in your essay, paper or report:
APA

Vishruta Biyani. (2019, June 10). Spark Solution Diet. Medindia. Retrieved on May 31, 2023 from https://www.medindia.net/patients/lifestyleandwellness/the-spark-solution-diet.htm.

MLA

Vishruta Biyani. "Spark Solution Diet". Medindia. May 31, 2023. <https://www.medindia.net/patients/lifestyleandwellness/the-spark-solution-diet.htm>.

Chicago

Vishruta Biyani. "Spark Solution Diet". Medindia. https://www.medindia.net/patients/lifestyleandwellness/the-spark-solution-diet.htm. (accessed May 31, 2023).

Harvard

Vishruta Biyani. 2019. Spark Solution Diet. Medindia, viewed May 31, 2023, https://www.medindia.net/patients/lifestyleandwellness/the-spark-solution-diet.htm.
Latest Publications and Research on The Spark Solution Diet
Request an Appointment with a Doctor (Nutrition Expert)
Dt. Priti Kumari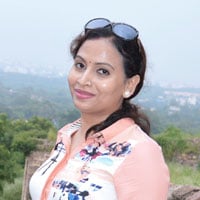 DNHE, Diploma in Medical Nutrition, Medical Nutrition, Diploma in Yoga and Naturopathy, PGDHM, DND, DYTT
2 years experience
Aarogyam Fitness, Kadugodi,Whitefield, Bengaluru Urban
Dt. Trupti Padhi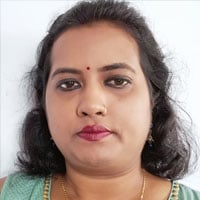 BA, MA
10 years experience

Dt. Sharmitha C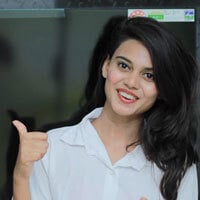 BSc
3 years experience

Dr. Sunita Malhotra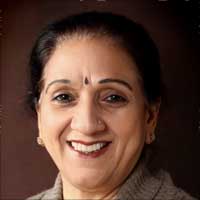 DDPHN, MSc
30 years experience
Pro Health Diet Clinic, Sector 37-C, Chandigarh
View All