About Berries
Berries look small but each one of them is laden with so many health benefits that they are rightfully called superfoods! They are also inexpensive, easily available and provide an indispensable way to health and beauty. According to Shubi Husain, Consultant Nutritionist and Co-Owner of Indiadiets.com, all dark berries contain powerful antioxidants and anti-inflammatory properties. Antioxidants are those substances which protect your body against the deleterious effects of the cell damaging free radicals or toxins which accumulate because of pollution, stress or chemicals in our environment, food and water. The oxygen radical absorbance capacity (ORAC) is the unit used to express the antioxidant values of specific food.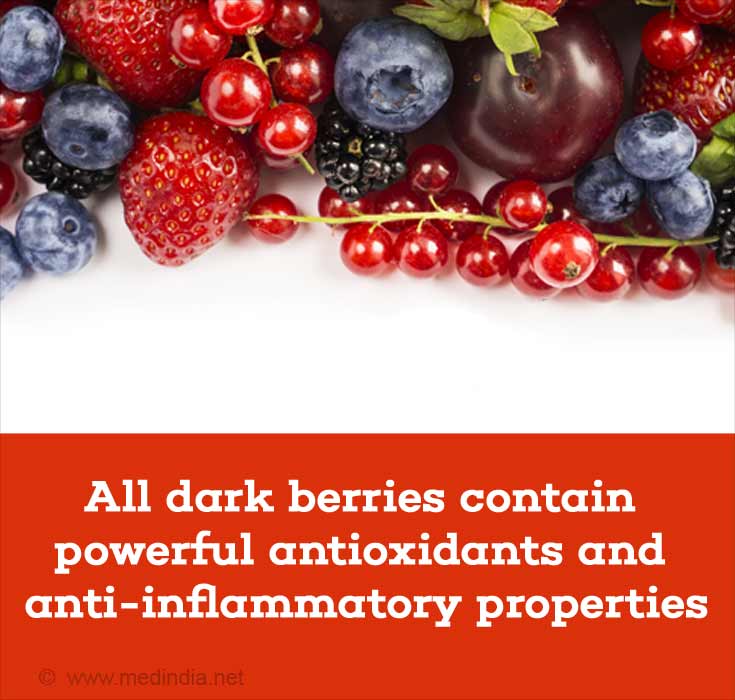 However, there is a note of caution as some berries, for example strawberries, are known to cause severe allergies in some individuals. So, they should refrain from consuming them.
Listed below are a few common berries and their health benefits.
1. Indian Gooseberry: The Indian gooseberry also known as Phyllanthus emblica or "amla" is an extremely rich source of vitamin C, flavonoids, ellagic acid, gallic acid, antioxidants, proteins, carbohydrates, polyphenols, carotene and other vitamins and minerals such as calcium, iron, phosphorus and B complex vitamins. It is no secret that its immune modulating action helps to fight deadly diseases like diabetes, cancer, heart ailments, bleeding disorders, skin diseases, and liver diseases. The oxygen radical absorbance capacity (ORAC) of 100g of raw amla is over 3, 277 units. Eating or applying it on the hair can promote a healthy, glossy and lustrous hair as it increases hair growth and pigmentation, strengthens the roots of the hair, fights dandruff and acts as a natural hair conditioner. It is used in beauty products for fighting pimples and wrinkles, improving eyesight and lightening darkened under-eyes, weight related problems, cholesterol and ageing. Dental problems such as bleeding gums or inflammation are controlled by the Indian gooseberry besides giving you a healthier and fresher breath!
2. Jamun or Java plum: The Java plum or black plum or Indian blackberry is native to tropical countries and sub-tropical countries. Its botanical name is Syzgium cumini. The oxygen radical absorbance capacity (ORAC) of 100g of jamun is 2,036 units. The antibacterial, antioxidant and astringent effect of this fruit makes it beneficial in diabetes, diarrhea, enlarged spleen and ringworm infection. The bark of the jamun tree is used as a mouth freshener and for treating gum and teeth disorders like inflammation of the gum tissues. This fruit is very low on calories and is completely fat free making it a green signaled fruit as far as weight loss is concerned. The essential oils from the leaf of the berry are used to make scented soaps and inexpensive perfumes. It is used as a face mask to treat oily skin and acne because of its astringent and antibacterial properties.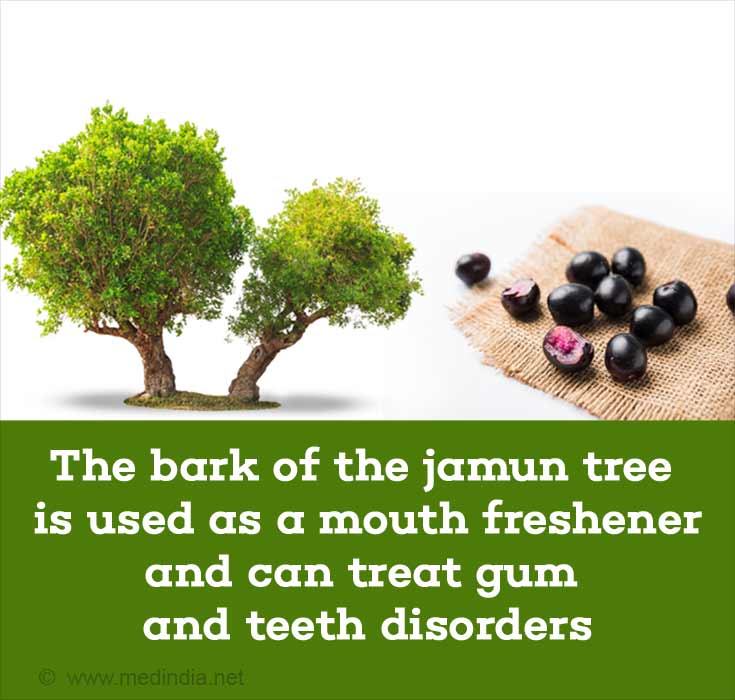 3. Strawberry: Strawberries (Fragaria ananassa) are bursting with the natural goodness of antioxidants, flavonoids, polyphenols and other phytonutrients besides being rich in vitamin C, phosphorus, calcium, potassium, dietary fiber, folates and vitamin A. Strawberries are completely cholesterol free and are relatively low in dietary calories. Their regular consumption has been known to reduce heart disease and cancer. Strawberries reduce the free radicals in your system and help to retard the process of ageing. A study was conducted on strawberries by Dr. Gene Spiller of the Sphera Foundation. The results of this study showed that antioxidant levels in the body increased remarkably 30 to 60 minutes after eating strawberries. The oxygen radical absorbance capacity (ORAC) of 100g of strawberries is 1,540 units. Strawberries can be eaten or applied on the skin as a face mask. When used as a face mask it gently refreshes and exfoliates the skin because of the presence of salicylic acid and antioxidants which help reduce wrinkles and remove the effects of environmental stress on the face.
Advertisement
4. Blueberries: Botanically known as Vaccinium angustifolium, blueberries have all the goodness of anthocynins, luteins, flavonoids, antioxidants and phytochemicals that can reduce inflammation and retard diseases such as cancer or heart ailments. It is also known to improve vision. Blueberries have an oxygen radical absorbance capacity (ORAC) of 2,400 units. A cup of blueberries which is roughly around 145g supplies over 30 percent of our daily requirement of vitamin C which helps to fight infections and scavenges harmful free radicals besides being anti-inflammatory in nature. Blueberries have been found to decelerate Alzheimers disease, as well as to prevent brain damage, experimental stroke and aging. The phytochemical pterostilbene (a methoxylated form of resveratrol) present in blueberries lowers the cholesterol in the body besides favorably reducing blood sugar in type-2 diabetes. Blueberry paste is usually mixed with oats, almonds and honey to make a refreshing face pack or a body scrub which helps to exfoliate the skin making it look younger.
5. Raspberries: Raspberries (Rubus idaeus) are packed with antioxidants and cancer-fighting phytochemicals such as anthocyanins, pelargonidins, gallic acid, cyanidins, coumaric, catechins, kaempferols, ellagic acid, ferulic acid and salicylic acid. It is also a rich source of Vitamin C, manganese, magnesium, potassium, vitamin B complex, folic acid, copper, iron and dietary fiber. Raspberries have an ORAC of 4,900 units per 100g. Consuming this fruit is a delicious way to lose weight because of its high fiber content which makes you feel fuller. The high levels of manganese present in it increase your basal metabolic rate which is the amount of energy you burn while at rest. The more the basal metabolic rate the better the weight loss. The pulp of raspberries mixed with yoghurt is a powerful face pack to fight wrinkles and leave you with a glowing skin!
6. Acai berry: Another great superstar among food is the acai berry (Euterpe oleracea) which is a native food of the Amazon region in Brazil. It has excellent amounts of antioxidants such as proanthocyanidins and bioflavanoids which are helpful in cancer, heart attacks, diabetes and stroke. Acai berries have an oxygen radical absorbance capacity (ORAC) of a whooping 18,500 units per 100g! 100g of the dry extract of the fruit contains 8.1g of protein with 7.59 percent of this protein being constituted by 19 amino acids, 52.2g of carbohydrates, and 32.5g of fat with a healthy amount of monounsaturated fatty acids (oleic acid and linoleic acid) similar to that of the olive oil with around 44.2g of fiber. These berries also contain micronutrients, vitamins and minerals such as vitamin C, vitamin B complex, iron, phosphorous, calcium and potassium. Acai berries improve digestion and mental clarity, reduce bad cholesterol in the body because of the presence of â-sitosterol, assist in sound sleep, help improve the immune system and improve vision. There have also been some controversial claims that acai berries have the ability to cleanse the body from toxins and promote weight loss. Lately, the market has been flooded with face creams containing acai berry extracts besides its use in lip-glosses, shampoos and conditioners to promote a healthier and more beautiful body.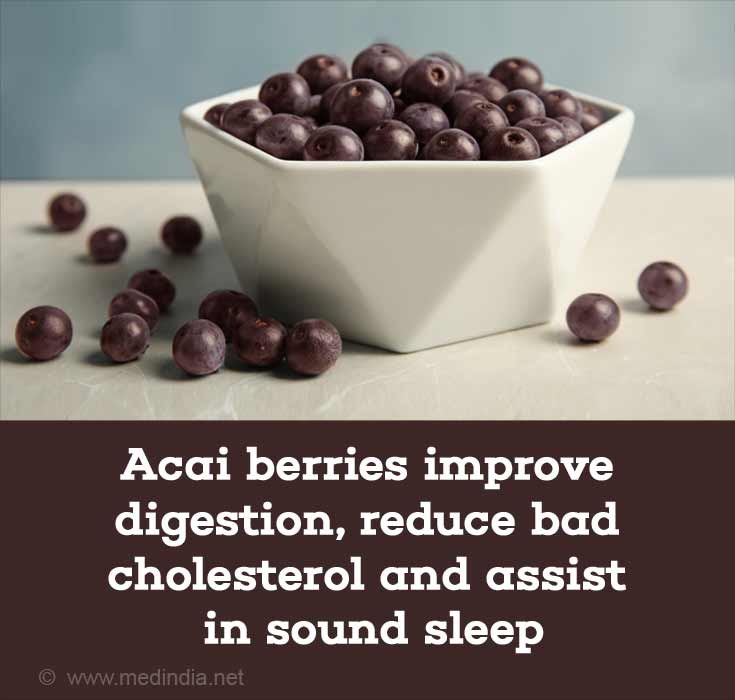 7. Cranberry: Cranberries (Vaccinium macrocarpa) are one of the world healthiest foods and are practically loaded with antioxidants. The oxygen radical absorbance capacity (ORAC) of 100g of cranberries is roughly around 9,584 units. Cranberries are a rich source of essential micronutrients such as manganese, calcium, magnesium, vitamin C, fiber, and vitamin K. They are also rich in phytochemicals, flavonoids and polyphenols. Cranberries are known to be anticarcinogenic and anti-clotting agents. They are also used in preventing recurrent urinary tract infections and heart disease. However, people taking warfarin (a blood thinner) should be cautious while consuming cranberries as it can interfere with its effect. Cranberries are used in multitudinous natural beauty products for the face and body care, soaps and shampoos, sprays and constitute an important ingredient in aromatherapy.
Tarwadi K, Agte V (Aug 2007). "Antioxidant and micronutrient potential of common fruits available in the Indian subcontinent". Int J Food Sci Nutr 58 (5): 341–9.

doi:10.1080/09637480701243905

. PMID 17558726.
Nutrient Data Laboratory, Agriculture Research Service, US Department of Agriculture, Oxygen radical absorbance capacity (ORAC) of Selected Foods – 2007.
Caldecott, Todd (2006). Ayurveda:The Divine Science of Life. Elsevier/Mosby. ISBN 0723434107.
Antioxidant actions and phenolic and vitamin C contents of common Mauritian exotic fruits, by Amitabye Luximon-Ramma1, Theeshan Bahorun1,and Alan Crozier, retrieved November 3rd, 2010.
Seeram NP, Adams LS, Zhang Y, et al. (December 2006). "Blackberry, black raspberry, blueberry, cranberry, red raspberry, and strawberry extracts inhibit growth and stimulate apoptosis of human cancer cells in vitro". J Agric FoodChem. 54 (25): 9329–39.

doi:10.1021/jf061750g

. ISSN 0021-8561. PMID 7147415.
Health and healing fact sheets, blackberries ~ Connecting Berry Health Benefit Researchers.
The Acai Berry and Its Effect on Weight Loss. Annalisa O. Jenner.
McDonnell, Patrick J. (21 September 2008). "Humble Berry Now a Global Superfood". Los Angeles Times (Los Angeles, CA).
Grape Family (Vitaceae) -

(https://www2.palomar.edu/users/warmstrong/ecoph18.htm)

Health and Healing Fact Sheets -

(http://berryhealth.fst.oregonstate.edu/health_healing/fact_sheets/strawberries_facts.htm)
Please use one of the following formats to cite this article in your essay, paper or report:
APA

Dr. Shalini Aul. (2018, November 27). Berries for a Healthy and Beautiful You. Medindia. Retrieved on Dec 10, 2022 from https://www.medindia.net/patients/lifestyleandwellness/berries-for-a-healthy-and-beautiful-you.htm.

MLA

Dr. Shalini Aul. "Berries for a Healthy and Beautiful You". Medindia. Dec 10, 2022. <https://www.medindia.net/patients/lifestyleandwellness/berries-for-a-healthy-and-beautiful-you.htm>.

Chicago

Dr. Shalini Aul. "Berries for a Healthy and Beautiful You". Medindia. https://www.medindia.net/patients/lifestyleandwellness/berries-for-a-healthy-and-beautiful-you.htm. (accessed Dec 10, 2022).

Harvard

Dr. Shalini Aul. 2021. Berries for a Healthy and Beautiful You. Medindia, viewed Dec 10, 2022, https://www.medindia.net/patients/lifestyleandwellness/berries-for-a-healthy-and-beautiful-you.htm.
Latest Publications and Research on Berries for a Healthy and Beautiful You
Request an Appointment with a Doctor (Nutrition Expert)
Dr. Pratiksha Prashant
Masters in Dietitics, Masters in Health Science, International Health coach, International diabetic educator, Certification in Vedic nutrition, Bachelors in Dental Surgery
7 years experience

Ms. Himaja H
BSc, MSc
12 years experience
Health and Nutrify clinic, Serlingampally, Hyderabad
Dt. Unnati Sisodia
Diploma
2 years experience

Ms. Jaichitra R
DNHE
1 year experience

View All