Weight Loss and Apple Cider Vinegar
Letís look at the weight loss claims associated with consumption of Apple Cider Vinegar. It is said that ancient Egyptians were the first people to use ACV but it was made popular in the 1950ís by the best selling book Ė Folk Medicine authored by a Vermont doctor, D. C. Jarvis.
A number of researches were conducted to find out if vinegar could really help with weight loss and fat loss. For example, a 2005 study published in the European Journal of Clinical Nutrition revealed that healthy subjects who ate a meal based on white wheat bread supplemented with vinegar felt fuller as compared with the control group who were not given vinegar supplementation.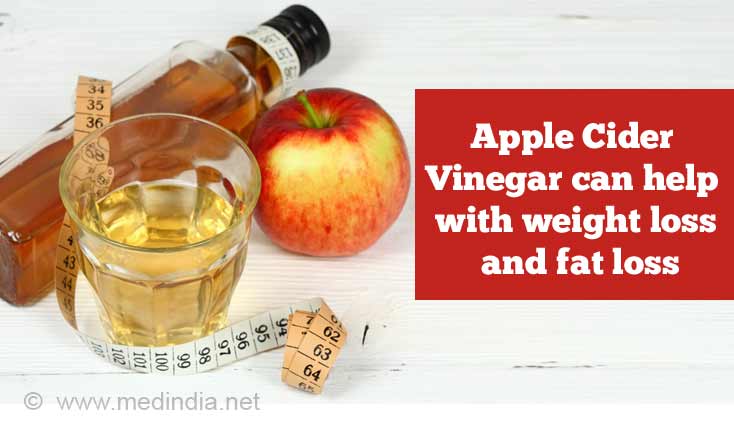 However, vinegar ingestion increased just short-term satiety. In another research study published in the Journal of Agricultural and Food Chemistry, scientists found that acetic acid (vinegar) suppressed accumulation of body fat and also the fatty liver by upregulating the expression of certain genes.
Despite the promising results, the fact remains that these studies are preliminary and most of them were done on experimental animals. Human studies were small. So, much larger clinical trials have to be performed to confirm that vinegar (including cider vinegar) really helps with weight loss.
References:
Vinegar: Medicinal Uses and Antiglycemic Effect -

(http://www.ncbi.nlm.nih.gov/pmc/articles/PMC1785201/)

Ostman E, Granfeldt Y, Persson L, BjŲrck I. Vinegar supplementation lowers glucose and insulin responses and increases satiety after a bread meal in healthy subjects. Eur J Clin Nutr. 2005 Sep;59(9):983-8. -

(http://www.ncbi.nlm.nih.gov/pubmed/16015276)

Kondo T, Kishi M, Fushimi T, Kaga T. Acetic acid upregulates the expression of genes for fatty acid oxidation enzymes in liver to suppress body fat accumulation. J Agric Food Chem. 2009 Jul 8;57(13):5982-6. -

(http://www.ncbi.nlm.nih.gov/pubmed/19469536)

Shishehbor F, Mansoori A, Sarkaki AR, Jalali MT, Latifi SM. Apple cider vinegar attenuates lipid profile in normal and diabetic rats. Pak J Biol Sci. 2008 Dec 1;11(23):2634-8. -

(http://www.ncbi.nlm.nih.gov/pubmed/19630216)

Liatis S, Grammatikou S, Poulia KA, Perrea D, Makrilakis K, Diakoumopoulou E, Katsilambros N. Vinegar reduces postprandial hyperglycaemia in patients with type II diabetes when added to a high, but not to a low, glycaemic index meal. Eur J Clin Nutr. 2010 Jul;64(7):727-32. Epub 2010 May 26. -

(http://www.ncbi.nlm.nih.gov/pubmed/20502468)

Johnston CS, Steplewska I, Long CA, Harris LN, Ryals RH. Examination of the antiglycemic properties of vinegar in healthy adults. Ann Nutr Metab. 2010;56(1):74-9. -

(http://www.ncbi.nlm.nih.gov/pubmed/20068289)

Kondo S, Tayama K, Tsukamoto Y, Ikeda K, Yamori Y. Antihypertensive effects of acetic acid and vinegar on spontaneously hypertensive rats. Biosci Biotechnol Biochem. 2001 Dec;65(12):2690-4. -

(http://www.ncbi.nlm.nih.gov/pubmed/11826965)