About
A balanced diet can help maintain one's ideal body weight, enhance well-being, and reduce the risk of diseases. What we eat and how we eat it, has a profound effect on the mind and body. Eating at the right time is also extremely essential. Breakfast, being the first meal of the day after a long fast, should be heavy and balanced. Thereafter, small complete meals should be eaten every three hours during the day.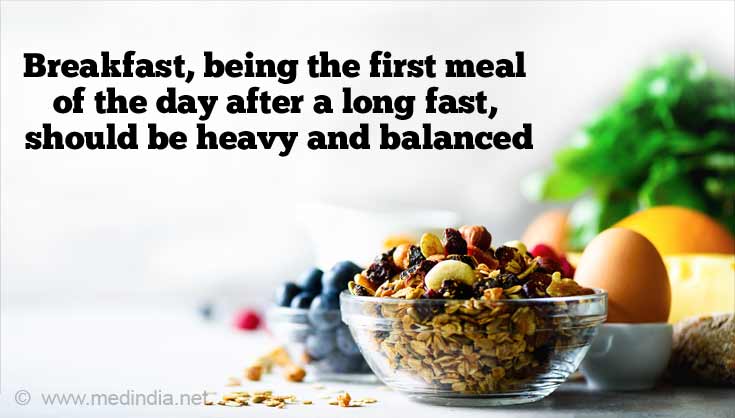 Studies indicate that a sound breakfast helps one:
Improve the mood
Concentrate better
Be energetic
This holds true for all age groups. A healthy breakfast can actually boost a kid's performance in school. Adults too, feel more energetic doing household and office work. People who skip breakfast have late morning/early noon hunger pangs which lead to irregular munching and obesity in due course.
There is a famous quote, 'All happiness depends on a leisurely breakfast'. However, early morning rush and work commitments tend to make us cut down on leisurely breakfast time. An ideal breakfast provides the body with lots of nutrients and water as one breaks fast/starvation after a gap of twelve to fourteen hours.
The best bet for breakfast is to have a variety of foods from the table given below:
| | | | | |
| --- | --- | --- | --- | --- |
| Whole grains and cereals | Pulses, dals and nuts | Fish, poultry, meat & eggs | Milk and milk products | Fruits and vegetables |
| Whole wheat roti/parathas, Oats, Broken wheat porridge, Muesli, Whole wheat bread, Poha/upma/idli | Bean salad, Sprouts, Besan cheela, Nuts | Lean meat, Baked fish, Omelets, Scrambled eggs, Poached eggs | Skimmed milk, Low fat yoghurt, Low fat cheese, Milk shakes | Seasonal ones are the best option including apples, bananas, pear, and oranges. |
Including moderate amounts of the foods mentioned above helps achieve maximum nutrition in the first meal of the day.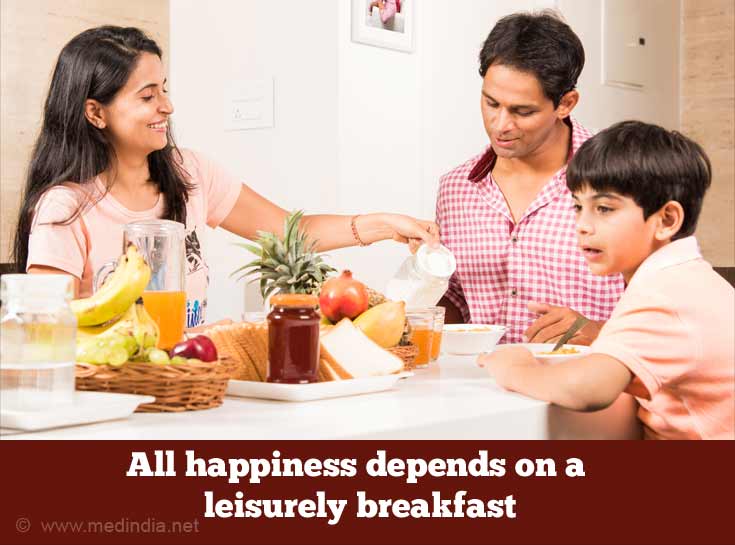 Healthy and Quick Breakfast Tips
Keep the dough ready for parathas for the next morning, or roast suji for upma.
Wash fruits and cling wrap them before leaving in the refrigerator, or peel vegetables for the morning and store them in an airtight container.
Keep sprouts and salad mixture in the refrigerator.
Stock up on non-perishable snacks like roasted channas, peanuts, low-fat khakhras, puffed rice, and biscuits in your purse, briefcase, car, or office desk so that you can snack.
Always keep milk and fruits easily available at home. Ready-to-eat or puffed cereals can be packed and carried to be munched along the way.
Opt for sugarless breakfast cereals with skimmed milk.
Munching On the Go
Skipping the first meal of the day can make a person feel tired and hungry. Carrying easy-to-consume foods can take care of breakfast if one had missed it at home. Sticking to a five-meal pattern is not a difficult task in this case. Here are some suggestions for takeaways:
Vegetable wraps and sandwiches made using wheat flour and whole wheat bread.
Cooked sprouts.
Plain or vegetable parathas made with multigrain flour and bran.
Fruits like apples, bananas, pears, grapes, and pomegranate. These have vitamins, minerals, water, and fiber to keep one satiated.
A mix of ready-to-eat breakfast cereals and/or nuts and dry fruits. Nuts and seeds have a high-fat content and should be taken in small quantities (10 to 15 nuts or two tablespoons of mixed seeds). Whole grain muesli and wheat flakes are also a quick and easy option. These foods are packed with nutrients, provide fullness, and accelerate one's metabolism.
Dried fruits like dates, prunes, apricots, figs, and raisins are filled with nutrients, fibre and energy. However, they have more calories per serving than fresh fruits, and so it is important to limit the quantity consumed.
Ready-to-drink packs of soya milk, curd, lassi, buttermilk, coconut water, etc., provide a high degree of satisfaction and are packed with calcium and proteins. Probiotic curds available in the market aid digestion.
A mix of rice puff with roasted grams, homemade chivda (flattened rice), and popcorn. Homemade farsans (salty snacks) are yummy, crunchy and a great option to munch on the go. One cup of puffed rice can be mixed with roasted channa, raisins, or a few cashews, spices, and herbs (jeera, salt, green chilli, turmeric, and roasted kadipatta - curry leaves). Popcorn made without oil or butter is a nutrient-dense snack. It is also low on calories.
Homemade dried fruit/nut mix. Almonds, peanuts, raisins, and pistas could be mixed with salt, jeera, and roasted kadipatta. The mixture could be varied by adding different types of nuts and seeds (sesame, melon seeds). Three tablespoons of this mixture could be eaten at any time of the day or night.
References:
Nestle India Limited newsletter
Which? Right Choice, May 2011.
Latest Publications and Research on Wholesome Breakfast Choices for an Ideal Start