About
Freshly squeezed fruit and vegetable juices can work wonders for the body and mind. Winters are the best time to benefit from the nutrient-rich fresh green, red, and orange fruits and vegetables.
Although it is best to consume whole fruits and vegetables to save the fiber, many of us fail to consume them. Some people have a very sluggish digestive system and even fruits and vegetables become difficult to digest. It is also said that when the fresh juices from the fruits and vegetables are consumed, nutrients are more 'bioavailable' to the cells. Most of the nutrients are retained in the juice.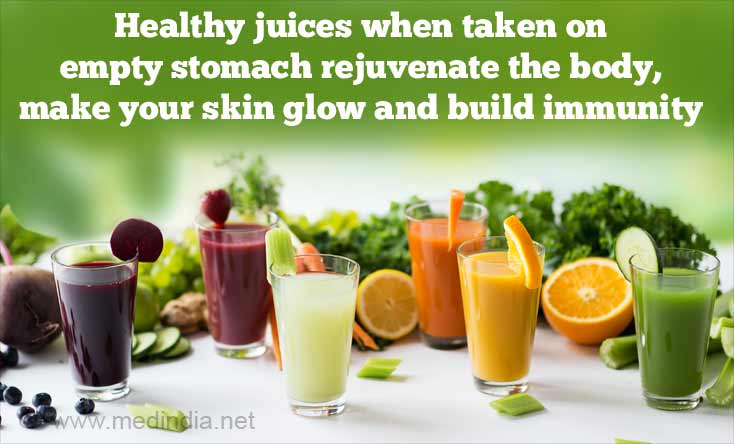 The main disadvantage of juicing is the loss of fiber. Thereby, it is important to use juice extraction techniques and equipments, which retain some of the fiber and do not just extract a crystal clear liquid. Fresh fruit and vegetable juices are commonly made from oranges, sweet lime, beetroot, carrots, coriander, mint, fenugreek, spinach, grapes, and pineapple. A measure of 200 to 300 ml of such a juice can be had in between the meals or the first thing in the morning without any digestive disturbances.
Amla juice, carrot juice, orange juice, pomegranate juice, carrot-amla-spinach juice, and fenugreek-spinach-coriander-mint- amla juice are some of the healthy juices, which when taken on empty stomach rejuvenate the body, make the skin glow and build immunity.
Ayurveda experts say that a fruit and a vegetable juice should not be combined. A combination of beetroot, carrot, coriander/spinach, and amla juice is a great immune booster.
Healing juices are juices made of amla, aloe vera, tulsi, neem, bitter gourd, and wheatgrass. These juices are immensely beneficial against diseases and have therapeutic properties. They could help cure a disease if taken as prescribed by the doctor or Ayurvedic physician on a regular basis.
In Ayurvedic science, it is said that if any of the above juices are taken regularly through the year, one would be able to cut his or her disease /infection risk by a great extent. They should be taken early morning on empty stomach. The usually recommended dosages are 20 to 30ml. Juice of wheatgrass is a power packed juice full of important nutrients. It is prescribed to cancer patients.
All bitter juices help in the management and prevention of diabetes.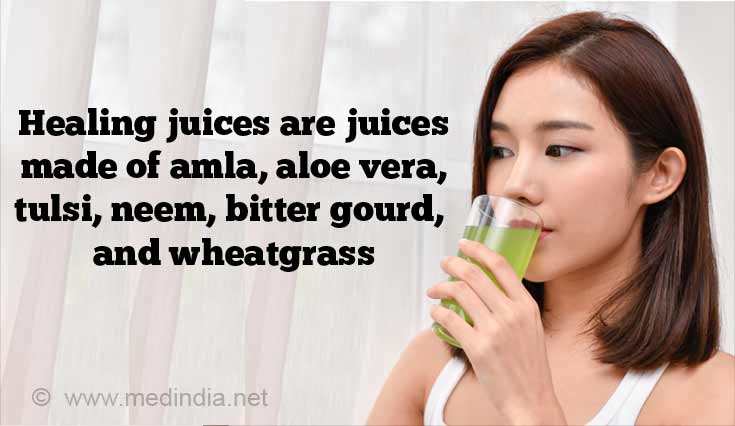 References:
"About Juice Therapy" Moira Geary (Natural Juice Therapist) - (Moira Geary was the first Natural Juice Therapist to qualify in the South of Ireland)
Dr. Partap Chuahan, Jiva Ayurveda, New Delhi, India.
Latest Publications and Research on Juices for Detoxification and Well-being