About
For women coping with balding and considering hair replacement, there are more options today than there have ever been in history. But there are no miracle cures still, and many incompetent and dishonest people around, and you need to be careful. Here's a guide to women's hair replacement – the proven methods, even if they are not perfect: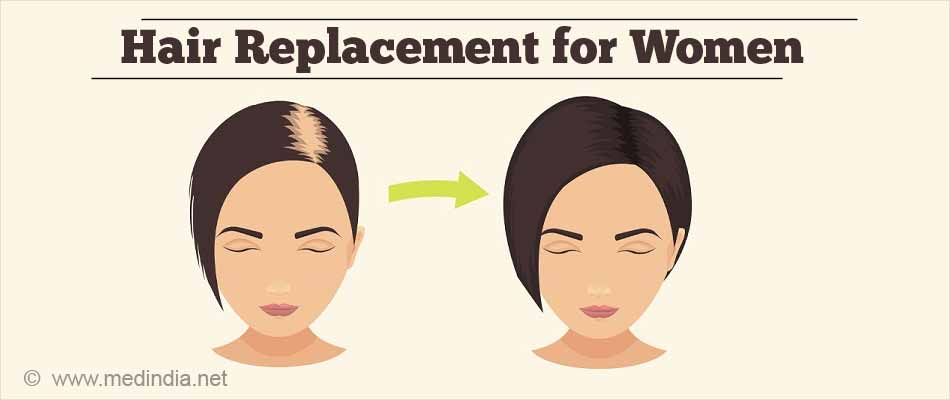 Medicines: There are medicines taken through the mouth and medicated lotions applied on the scalp proven to help hair grow for many people who use them – and many may mean less than 50%.
Surgery: Surgical hair replacement takes hair follicles from a part of your head that still has good hair growth, and puts them on the bald areas. You are a candidate for surgery if you still have good hair growth in at least part of your scalp.
Hair systems/weaves/sprays: Hair systems are sophisticated wigs that look, feel, and behave like natural hair. Weaves attach artificial extensions to your hair to camouflage bald spots. Sprays are powders that look like hair when you spray them over your head, and they are good for small bald spots.
Women, more than men, need to have complete investigative work done before they begin treatment for hair loss, because many hormonal disorders, diseases, and drugs can cause hair fall. Unless the cause is established, the treatment will not be effective. For most women, like for most men, hair loss is caused by genetics. But a responsible doctor will check for all other possible explanations for the loss before concluding that the balding is genetic, and treating it in the corresponding way.
Remember, if you are a woman facing hair loss and looking for hair replacement options, you are likely to be depressed and desperate and make an easy victim for people looking for easy money.  So first be careful and check out thoroughly every claim you hear and every person you meet who says he or she will cover your head with hair again. Covering your head with a scarf may be more dignified – and safer – than the some of the solutions these people will be suggesting to you. But, if you are informed and do your research, there is a real chance that you can start to grow hair again.
Latest Publications and Research on Hair Replacement for Women