What are the Exercises for Seniors?
Aging isn't easy to accept and deal with. Maintaining an active lifestyle with regular exercise becomes all the more important and it can make a world of difference as you age.
Getting Started - If the idea of walking into a gym or aerobics class is just too intimidating for you, take a deep breath and relax. There are other options.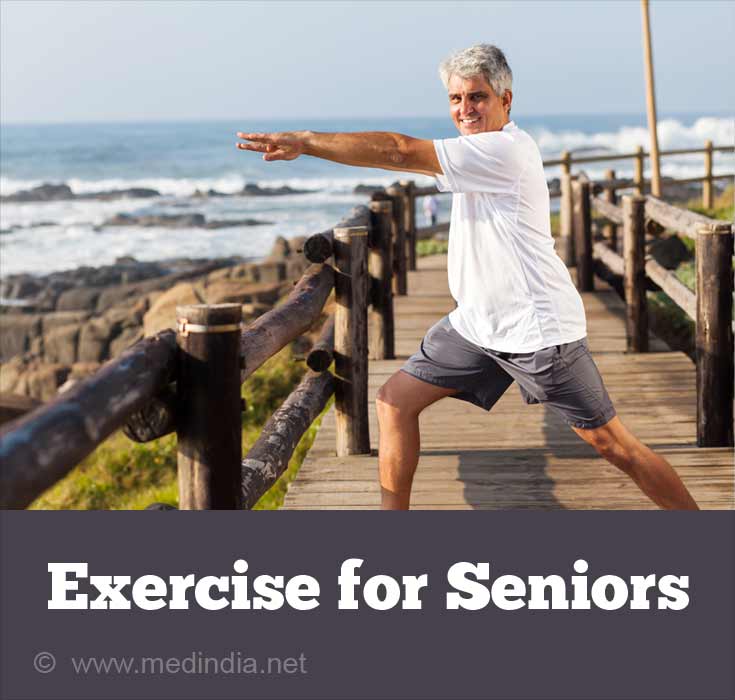 Walking is one of the best activities and it costs you nothing. You just need to don a pair of comfortable walking shoes and you're good to go. Walking improves your general fitness level, strengthens muscles and serves as a good cardio endurance exercise.
Swimming and water sports can be incredibly fun and swimming is also a way to stay healthy.
Bicycling and hiking will help you reconnect with nature. If you're not an outdoor person, take the kids or grandkids along, so that they can enjoy the countryside, while you get some much-needed entertainment.
Playing sports like tennis or volleyball, ballroom dancing and canoeing!
Most of these activities classify as moderate-intensity aerobic activities as they raise the heart rate and cause you to breathe faster. In order to stay fit, we need a combination of moderate-intensity aerobic activity and muscle-strengthening activities as well. While fast walking, swimming, playing tennis, dancing and other activities provide you with your requirement for aerobic activity, try not to neglect muscle-strengthening activities.
Advertisement
There are various types of exercise and different approaches to exercise for seniors. Some of these include:
Stretching Exercises - There are numerous stretching exercises that work on the shoulder, neck, lower back and the lat muscles. Stretching exercises are extremely important because they warm-up muscles, improve flexibility and muscle mobility, stimulate blood circulation, improve heart function and prepares both the mind and body for exercise. This is why all fitness routines begin with stretching exercises.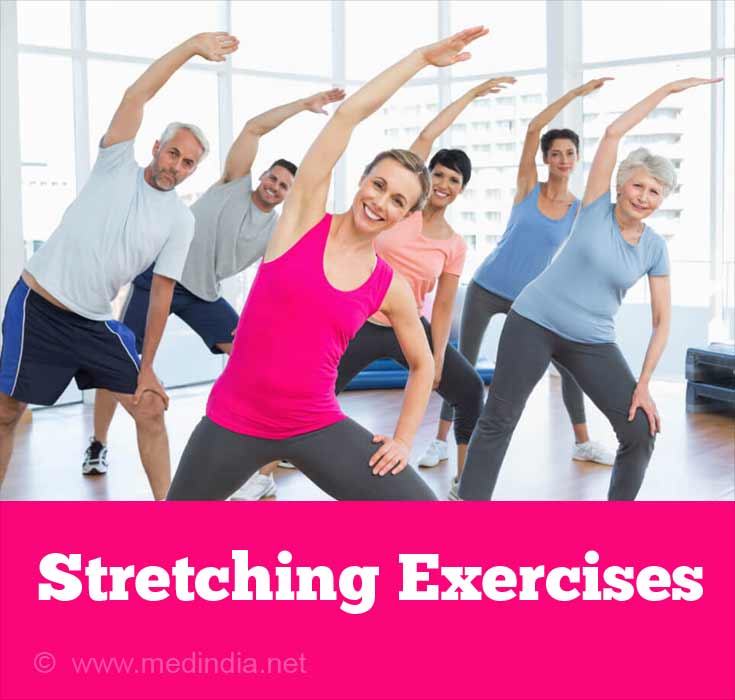 Chair Exercises - We often tend to think of exercise as an activity for people who are physically fit, but it is actually so much more important for those who have restricted or impaired mobility because of degenerative conditions or injuries. In addition to improving mobility in functional muscle groups, chair exercises also act as mood boosters and relieve stress and depression.
Such seated exercises for seniors may include cardiovascular exercises, strength training exercises and flexibility exercises. Even if there is limited mobility in the legs, exercising the leg muscles can delay or prevent muscle atrophy to some extent.
Core Exercises - As we age, we lose some amount of muscle mass and this fact makes core exercises all the more important. When talking about core exercises for seniors, we are specifically referring to strengthening exercises for the abdomen, back, lower back and pelvis. Because of physiological differences, there are some differences in core building exercises for men and women, but most of these exercises can be practiced at home.
Advertisement
Core building exercises for seniors will typically include exercises like limb extensions, simple crunches, knee raises and the snake posture, which is a yoga pose. Exercises like knee raises and crunches work on the lower back and abdominal muscles respectively. Likewise, every type of exercise will target a specific muscle group.
Low Impact Exercises - Low impact exercises can include a variety of activities that provide you with a workout without subjecting your muscles or ligaments to much strain or pressure. Low impact exercises for seniors can include those that focus on endurance, strength, flexibility and balance. While some activities like walking and swimming will serve well as low impact endurance activities, other activities like Yoga and Pilates focus mainly on flexibility and balance, but can also help build strength and endurance.
For those who have joint trouble, cycling and swimming are among the best low impact activities because there is minimal stress on the joints. Gardening may not seem like much physical activity, but digging up those roots, watering the plants and weeding do constitute low impact activities.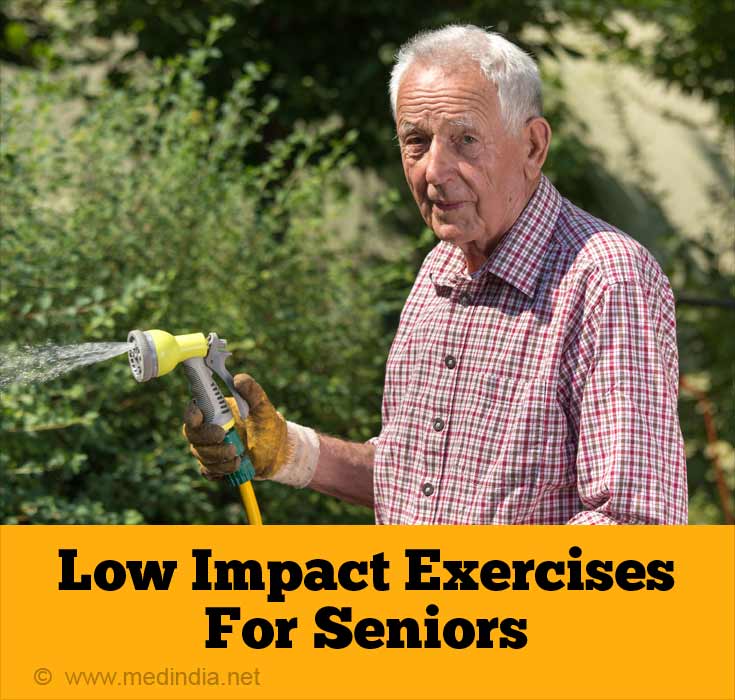 Resistance Band Exercise - Resistance bands are, as the name suggests, huge rubber bands that are designed with the sole purpose of increasing resistance to give your muscles a much more rigorous workout.
Resistance bands are commonly attached to furnitures like a doorknob or pillar, or even to the chair. This makes them extremely handy, especially for individuals who cannot get out of the house or who can't even get out of a chair for that matter. In such cases, resistance band exercises for seniors may be used as a type of chair exercise technique. Resistance bands are commonly used for exercise activities like shoulder rotations, pull-downs and arm and leg-extensions.
Advertisement
Cognitive Exercises - We tend to think of exercises as a purely physical activity but you also need mental exercises to stimulate your mind and to preserve cognitive function. Cognitive exercises for seniors can include a wide variety of activities from hobby activities like stamp collection and pottery to solving puzzles and quizzes. Any activity that requires logic and deduction and the use of your mental faculties qualifies as cognitive exercise. Memory loss and degenerative diseases that cause a loss of cognitive function are often an unfortunate side effect of the aging process, but several studies have shown that engaging in such mentally stimulating activities can stave off memory loss and conditions like Alzheimer's.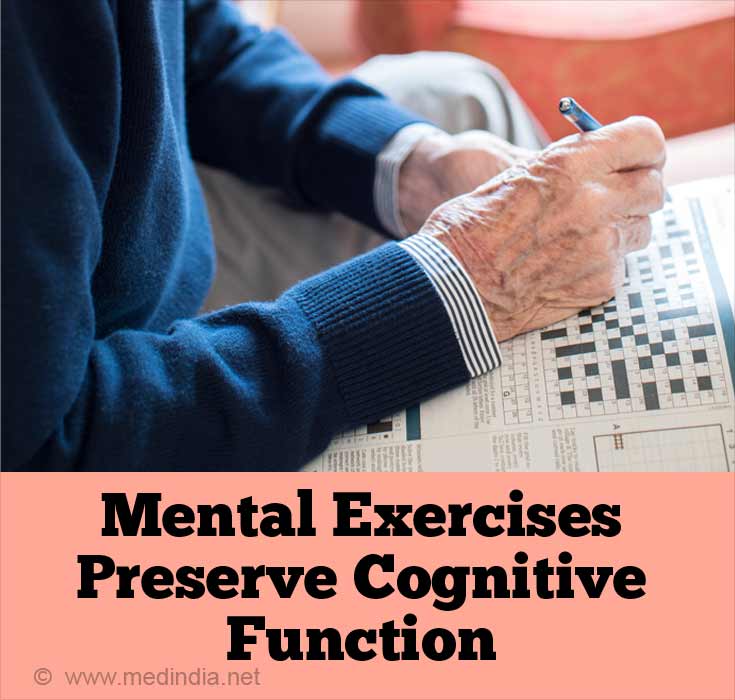 Yoga - Yoga is one of the best fitness disciplines for seniors because it is extremely versatile and the practice can be adjusted to individuals of various fitness and flexibility levels. Yoga for seniors is, in many ways, the perfect fitness regimen because it addresses every concern that you could have. It includes stretching techniques, low impact exercises, core exercises and it also includes chair exercises, which is a modified version of yoga that includes poses that can be performed while seated. Yoga also includes meditative practices and breathing techniques that help reduce stress levels and improve respiration.
Senior Exercise and Fitness Tips -

(https://www.helpguide.org/articles/healthy-living/exercise-and-fitness-as-you-age.htm)

Exercise for Older Adults -

(https://medlineplus.gov/exerciseforseniors.html)

Physical activity guidelines for older adults -

(https://www.nhs.uk/live-well/exercise/physical-activity-guidelines-older-adults/)
Please use one of the following formats to cite this article in your essay, paper or report:
APA

Shaun DMello. (2020, December 08). Exercise for Seniors. Medindia. Retrieved on Mar 28, 2023 from https://www.medindia.net/patients/lifestyleandwellness/exercise-for-seniors.htm.

MLA

Shaun DMello. "Exercise for Seniors". Medindia. Mar 28, 2023. <https://www.medindia.net/patients/lifestyleandwellness/exercise-for-seniors.htm>.

Chicago

Shaun DMello. "Exercise for Seniors". Medindia. https://www.medindia.net/patients/lifestyleandwellness/exercise-for-seniors.htm. (accessed Mar 28, 2023).

Harvard

Shaun DMello. 2021. Exercise for Seniors. Medindia, viewed Mar 28, 2023, https://www.medindia.net/patients/lifestyleandwellness/exercise-for-seniors.htm.
Latest Publications and Research on Exercise for Seniors