What is Spinal Anesthesia?
Spinal anesthesia is a form of regional anesthesia that involves the injection of certain anesthetic drugs in the region adjacent to the spinal cord or just outside it using a fine long needle. This renders the portion of the body beyond / below (as the case maybe) the point of injection numb and anesthetized, while the rest of the body remains active.
The injection is usually administered in a space called the subarachnoid in the lumbar (low back) spine. This form of anesthesia is easy to administer and is ideally suited for surgeries performed in the lower parts of the body.
Surgeries below the level of the umbilicus; examples are genitourinary surgery, gynecological surgery, hernial repair procedures, and surgeries performed on the lower extremities.
It is especially suited for older patients and those with diseases such as chronic respiratory/renal/hepatic disease.
Diabetics also face an advantage from spinal anesthesia.
It is also suitable in cases of trauma where there is a need for emergency surgery.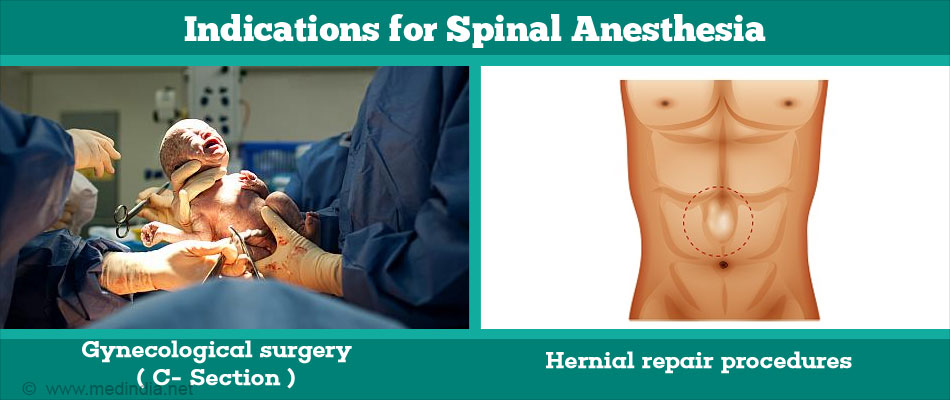 The patient is usually positioned in a sitting posture on the operating table. A small stool can be given for the patientís convenience or support. The forearms can be made to rest on the thighs to make the patient stable and comfortable.
Alternatively, the procedure can also be performed with the patient lying on their side with their hips and knees maximally flexed in the form of the letter C.
Following positioning, the anesthetist will clean your back using an anti-septic solution. He may administer a little bit of local anesthetic to numb the skin at the point where he is going to give the spinal, so that you do not feel the pain due to the spinal needle. The anesthetic solution is then injected into the spinal space usually between the lumbar vertebrae L3 and L4 through a long needle. This is subject to change and can vary from one individual to another. After successful administration, you will be positioned in the required position and once again all your parameters will be checked by the anesthetist.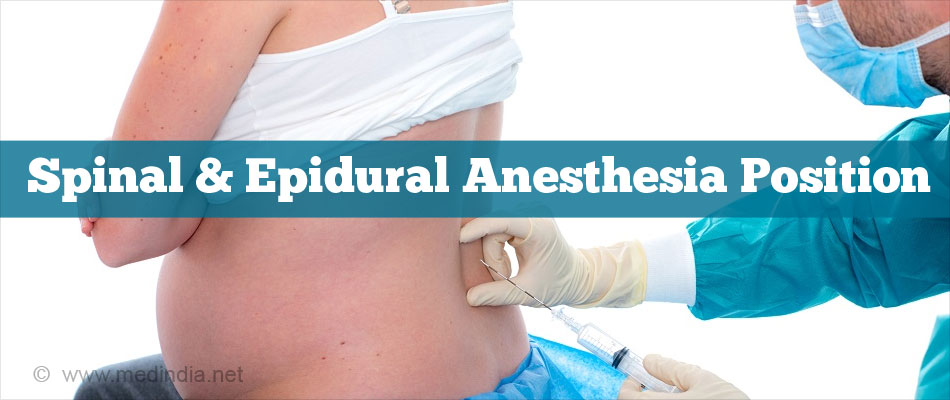 Relatively cheap
Patient satisfaction
Reduced risk of respiratory complications
Superior muscle relaxation
Less bleeding
Quick restoration of bowel function
Reduced incidence of coagulation disorders following surgery
Reduced post operative stay
The time required for anesthetic induction varies depending on the anesthetist's skill and competence.
In some cases, it might be difficult to locate the dural space and obtain cerebrospinal fluid. The procedure has to be avoided in such situations.
It is generally not advisable to employ spinal anesthesia for surgeries lasting for more than 2 hours.
Potential risk of hypotension due to overload and meningitis due to improperly sterilized medical equipment.
Spinal anesthesia may not be suited for a certain group of patients even if they are sedated. This is because different people react or respond in different ways to anesthesia.
Spinal anesthesia should not be attempted when there is a lack of availability of proper or necessary equipment for the same.
Special consideration should be given to patients with abnormal bleeding and clotting parameters, or liver disease. Furthermore, patients receiving anticoagulants such as warfarin or heparin are at increased risk.
Patients with severe fluid loss either by bleeding, vomiting, or diarrhea should be replaced with adequate fluids before being taken up for spinal anesthesia due to the risk of hypotension.
Patientís refusal for the administration either due to lack of knowledge or preference for general anesthesia. It might be possible to convince some patients if the situation is properly explained.
Uncooperative patients such as children, mentally challenged individuals, or patients with psychiatric disorders.
Anatomical difficulties that might make the administration of anesthesia difficult.
Presence of neurological disease, or infection of skin around the lumbar area in the back.
This form of administration had many applications and was first used in humans in the year 1921. It is very versatile as it can be used as an anesthetic in combination with general anesthesia, and to reduce the post-operative pain following surgery of the lower limbs, perineum, pelvis, abdomen and thorax.
Epidural anesthesia is used as anesthetic for procedures involving the lower limbs, pelvis, perineum and lower abdomen. It is also possible to perform upper abdominal and thoracic procedures under epidural anesthesia alone.
Hip and Knee surgery
Surgery in the lower limb, or amputation
Obstetrics: Difficult or high-risk labor, twin pregnancy, pre-eclampsia, and prolonged labor. Cesarean section performed under epidural anesthesia is associated with a lower maternal mortality owing to anesthetic factors than under general anesthetic
Low concentration local anesthetics, opioids, or combinations of both can be given for control of postoperative pain in patients undergoing abdominal and thoracic procedures
Trauma related to the respiratory system with associated rib or sternum fractures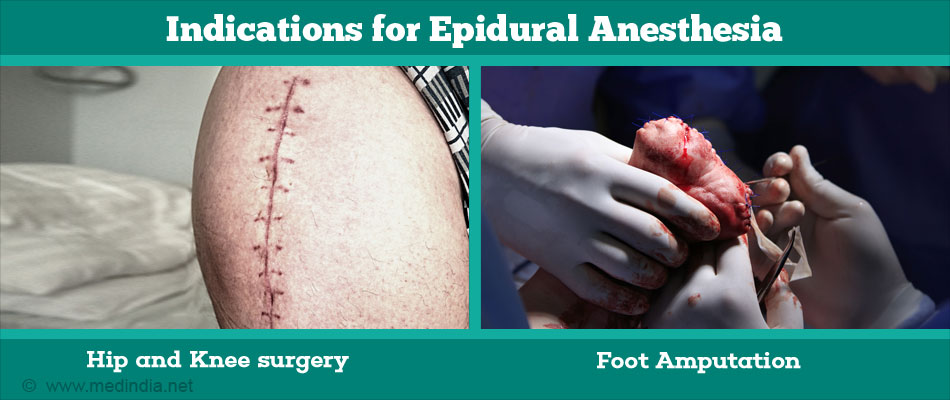 In epidural anesthesia, a hollow needle is inserted into the epidural space in the spinal cord and a small flexible catheter is then inserted into the space through the hollow needle and is then taped unto the back with injection port, so that the medicine can be delivered when needed.
The procedure should be taken up only after a consent form is obtained from the patient and when proper equipments are available. Prior to performing the block, all equipment should be checked. An intravenous line is mandatory before epidural administration to manage any emergency situation that may arise. The administration should be done under strict aseptic conditions. Different types of techniques, procedures and drugs are available. The choice of the ideal approach is dependent on the surgical need and the discretion of the anesthetist.
Continous or prolonged pain relief can be provided, unlike spinal anesthesia which lasts only for 2-3 hours.
Hypotension
Nausea, sensory loss, difficulty in breathing
Toxicity manifested by light-headedness, tinnitus, numbness, feeling of anxiety, confusion, tremor, convulsions, coma and cardio-respiratory arrest
Total spinal anesthesia is a rare complication manifested by profound hypotension, apnea, unconsciousness and dilated pupils
Patient refusal for surgery, uncooperative patients
Abnormal bleeding or clotting parameters, anti-coagulant therapy
Skin infection at/near injection site
Uncorrected fluid loss (hypovolemia)
Presence of neurological disorders, cardiovascular disease
Anatomical abnormalities of the vertebral column
References:
Spinal and epidural anesthesia: MedlinePlus -

(https://medlineplus.gov/ency/article/007413.htm)
Post a Comment
Comments should be on the topic and should not be abusive. The editorial team reserves the right to review and moderate the comments posted on the site.