How do you Diagnose Ear Deformities?
The correct diagnosis is necessary to classify ear malformations and to determine the type of treatment needed. Imaging techniques, medical examination, and hearing tests (audiometry) can diagnose ear deformities.
Medical examination: The head and face of the newborn should be examined carefully to detect abnormalities in the ear. Any structural defects should be noted since it may have an effect on the outcome of middle ear surgery. The function of the middle ear also needs to be inspected since development of the external and the middle ears are linked.
Audiometry: Quite often, deformities in the external ear are associated with defects in the middle ear. Audiometry helps to determine the extent of hearing loss in the ear and is useful to detect ear malformations that are not immediately detected through structural changes. Infants up to 3 years of age are subjected to otoacoustic emissions (OAE), tympanometry, and detection of the response of the auditory brain stem. Exploratory tympanotomy gives a definite diagnosis for middle ear malformations. In older children, conventional tone audiometry, the response of the auditory brain stem, or play techniques, help to measure hearing. In adults, speech reception provides details on hearing.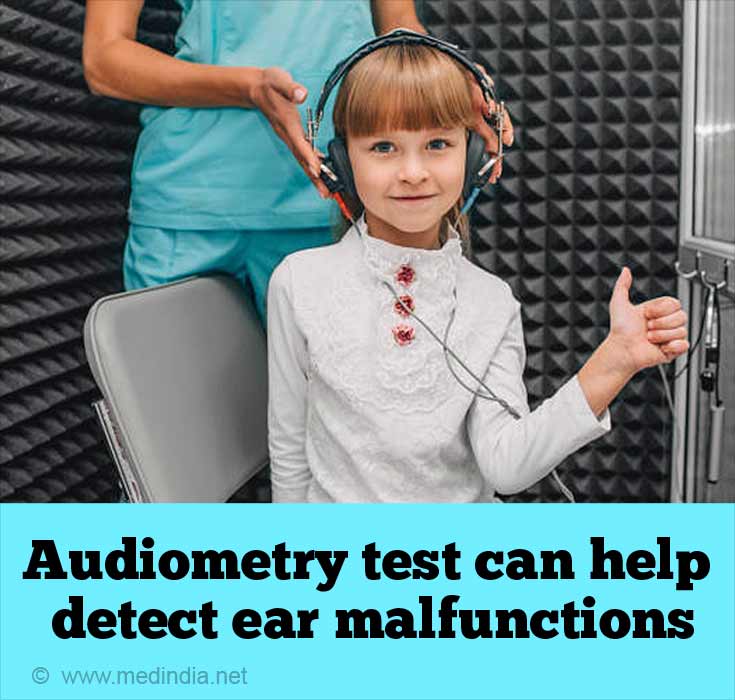 Imaging: High-resolution computed tomography (CT) scan and magnetic resonance imaging (MRI) are useful to detect structural and anatomical changes within the external, middle, and inner ear. Radiography is rarely used. If radiography fails to detect an abnormality, there is no need to proceed with other imaging techniques.
How do you Treat Ear Deformities?
To decide the appropriate treatment, you should consider factors such as the condition of the skin (scars), availability of local tissue (cartilage), and the ear deformity or malformation in question. Doctors and patients have to work together to come to the right conclusion.
Ear deformities that are visibly detected in infancy can be corrected with non-surgical methods, such as molding. Molding is recommended as soon as a baby is born because the ear cartilage becomes firm and loses elasticity within the first few weeks. Surgery (corrective or reconstructive surgery) is then the next best option for children between the ages of 5 and 6 years.
In middle ear malformations, surgery should be delayed till adolescence or adulthood so that the affected children can participate in treatment decisions. Bone-anchored hearing aids (BAHA) or prostheses are useful for treating hearing loss in both ears especially in children of age 4 years and above, having bilateral atresia auris congenita. In the initial years of infancy, forehead bands are used as hearing aids. In the case of unilateral hearing loss, hearing aids may be supplied in infancy but surgery is recommended later in adolescence.
Cochlear implantation (CI) is another treatment strategy for inner ear malformations only in cases where nerve distribution (e.g. facial nerve) is present. If hearing loss is due to lack of nerve development, CI cannot be performed.
References:
Ear deformities - Children's Hospital of Philadephia, USA -

(https://www.chop.edu/conditions-diseases/ear-deformities)

Facts about Anotia/Microtia - Centers for Disease Control and Prevention, USA -

(https://www.cdc.gov/ncbddd/birthdefects/anotia-microtia.html)

Bartel-Friedrich S, Wulke C. Classification and diagnosis of ear malformations. GMS Curr Top Otorhinolaryngol Head Neck Surg. 2008; 6: Doc05.
Cox TC, Camci ED, Vora S, Luquetti DV, Turner EE. The genetics of auricular development and malformation: New findings in model systems driving future directions for microtia research. Eur J Med Genet. 2014; 57(8): 394-401.
Franchella A, Pellegrinelli S, Carinci F, Zollino I, Carnevali G, Candotto V, et al. Congenital malformations of the ear. Eur J Inflamm. 2012; 10 (1): 35-8.
Woo JE, Park Y-H, Park EJ, Park KY, Kim SH, Yim S-Y. Effectiveness of ear splint therapy for ear deformities. Ann Rehabil Med. 2017; 41(1):138-47.
Woo T, Kim YS, Roh TS, Lew DH, Yun IS. Correction of congenital auricular deformities using the ear-molding technique. Arch Plast Surg. 2016; 43(6): 512-7.
Mohammadi AA, Imani MT, Kardeh S, Karami MM, Kherad M. Non-surgical management of congenital auricular deformities. World J Plast Surg. 2016; 5(2): 139-47.
Junior AT, Haetinger RG, de Carvalho e Silva FL, de Castro Gudmon M. Middle and inner ear malformations in two cases of velocardiofacial syndrome. Int Arch Otorhinolaryngol. 2009; 13(1): 83-6.
Esteves SDS, da Silva AP, Coutinho MB, Abrunhosa JM, e Sousa CA. Congenital defects of the middle ear - uncommon cause of pediatric hearing loss. Braz J Otorhinolaryngol. 2014; 80(3): 251-6.
Storck K, Staudenmaier R, Buchberger M, Strenger T, Kreutzer K, von Bomhard A, et al. Total reconstruction of the auricle: Our experiences on indications and recent techniques. BioMed Research International, vol. 2014, Article ID 373286, 15 pages, 2014.
Post a Comment
Comments should be on the topic and should not be abusive. The editorial team reserves the right to review and moderate the comments posted on the site.