Staphylococcus aureus infection or staph infection as it is commonly known occurs when staph bacteria enter the body through bruised skin infecting skin and blood. The staphylococcus bacteria usually beside on the outer skin, nose and genitals not affecting the person normally. But a cut or wound on the skin might lead bacterial strains to enter the skin and bloodstream causing serious infections. It results in redness, swelling, itching, pus-filled boils and painful rashes on the body mostly affecting the face and neck (1✔ ✔Trusted Source
Staphylococcus Aureus

Go to source).
S. aureus† are one of the most common bacterial infections in humans and causes multiple human infections, including bacteremia, infective endocarditis, skin and soft tissue infections (e.g. impetigo), osteomyelitis, septic arthritis, pulmonary infections (e.g., pneumonia), gastroenteritis, meningitis, and urinary tract infections (2✔ ✔Trusted Source
Staphylococcus aureus infections: epidemiology, pathophysiology, clinical manifestations, and management

Go to source).
Methicillin-resistant Staphylococcus aureus (MRSA) is another strain of staph bacteria that is resistant to many antibiotics and cannot be treated by medication easily. Staph infection is extremely contagious and is spread by direct skin contact with the infected person and objects (3✔ ✔Trusted Source
Methicillin Resistant Staphylococcus Aureus

Go to source). A scientific study indicates that MRSA is responsible for 10-fold more infections than all multi-drug resistant (MDR) Gram-negative pathogens combined (4✔ ✔Trusted Source
Methicillin-resistant Staphylococcus aureus (MRSA): antibiotic-resistance and the biofilm phenotype

Go to source).
What Causes Staph Infection?
Staph bacteria enter through a cut or bruised skin. Direct skin contact with staph bacteria can be due to various factors such as:
All these may result in serious staph infection on skin and other body organs. Staphylococcus infection is generally treated by antibiotic medicines, however, in recent times bacteria are getting progressively resistant to different antibiotics posing a difficulty in treating the infection. The MRSA strain of staph bacteria is hard to treat with antibiotics (6✔ ✔Trusted Source
Treatment of Staphylococcus aureus Infections

Go to source). Hence, alternative options are useful in tackling the infection. Here are some home- based natural remedies for staph infection.
Disclaimer: The home remedies suggested here are not a substitute for treatment by doctors. It is highly advisable to seek an expertís opinion. All the remedies listed here may not be suitable for everyone. It is recommended to check for allergies or do a patch test before using the remedy.
Home Remedies for Staph Infection
There are certain home remedies that can help improve immunity of the body. However these are not a substitute to treatment by the doctors.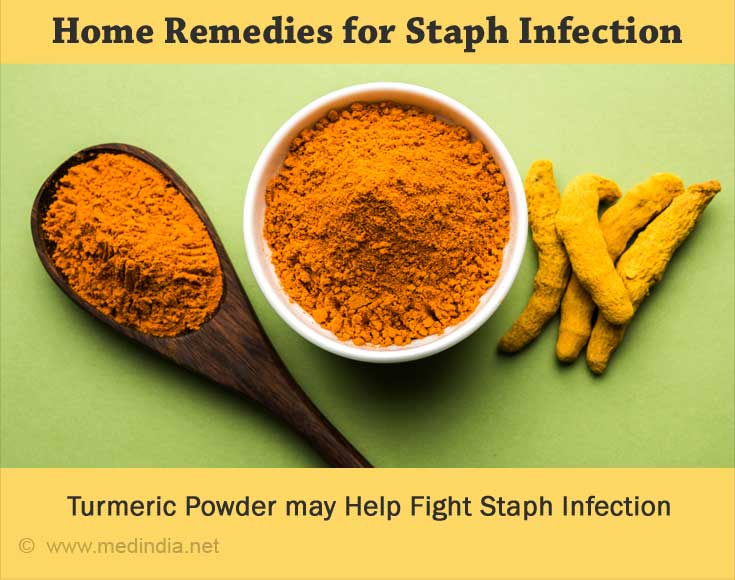 Advertisement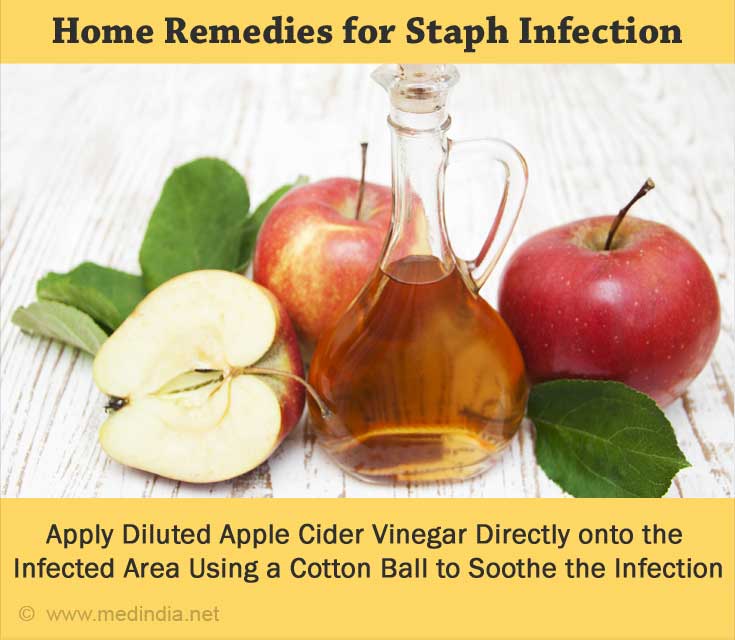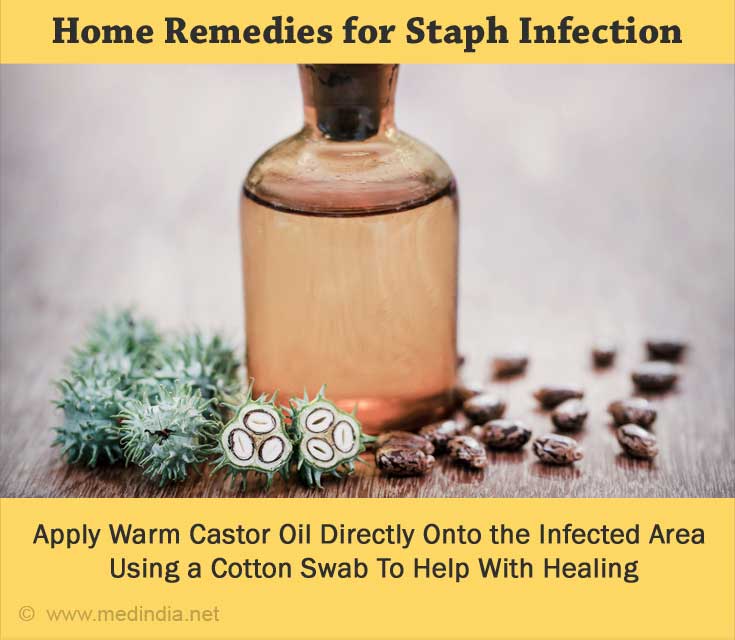 Advertisement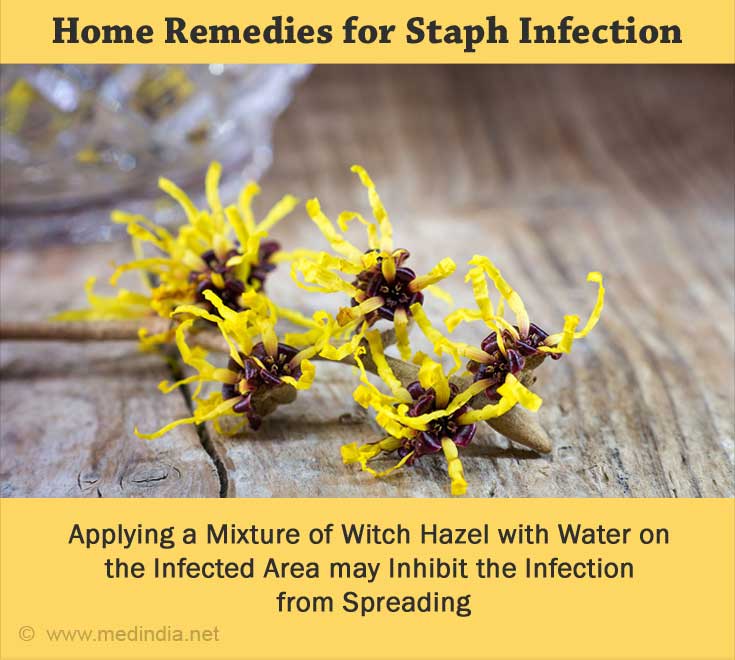 These home remedies may be beneficial in treating staph infections and reducing their symptoms. They can lessen pain and prevent bacterial growth naturally and are effective even against antibiotic-resistant strains like MRSA on which most antibiotics fail to act. Do try out these easy and simple home remedies for staph infection or use them along with the prescribed antibiotics. .