About
Numbness and tingling are common symptoms, which could be due to a problem in nerves, blood supply or other systemic diseases.
Numbness and tingling are abnormal sensations felt usually in the limbs. The most common reason for numbness and tingling, which has been experienced by one and all, is keeping a limb in a particular position for a prolonged period of time. This feeling, referred to as "pins and needles," subsides on moving the limb. It occurs due to pressure on the nerves as well as reduced blood supply to the limb due to compression of blood vessels.
Some cases of numbness and tingling are due to an underlying disease, which requires treatment. The cause of numbness and tingling is diagnosed based on the history and physical examination of the patient. The doctor may also ask for certain tests depending on the possible cause.
Nerve–related Causes
Numbness and tingling are often caused due to a problem in the nerves.
The causes of numbness and tingling that involve nerves include: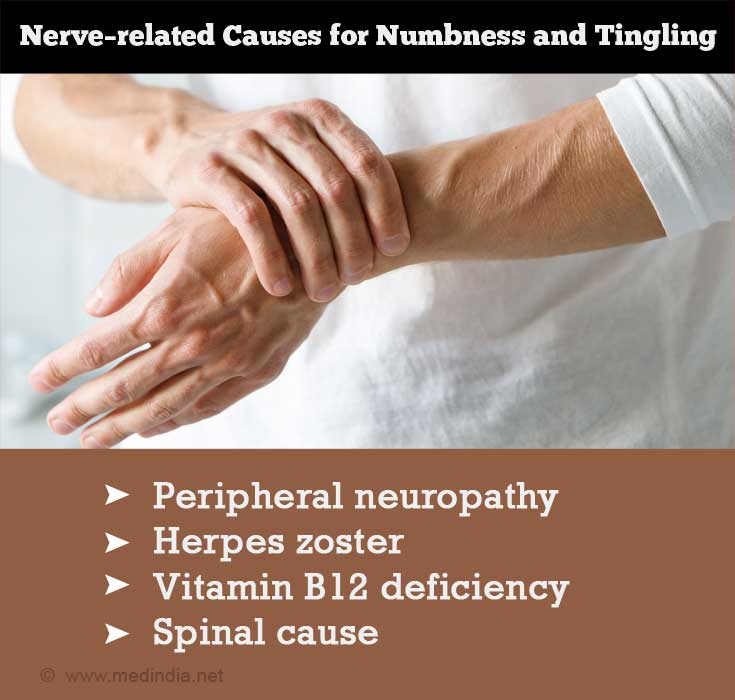 Blood supply-related and Other Causes
Numbness and tingling could also result due to a problem with blood supply to a particular part, or a systemic disease.
Causes of numbness and tingling associated with reduced blood supply are: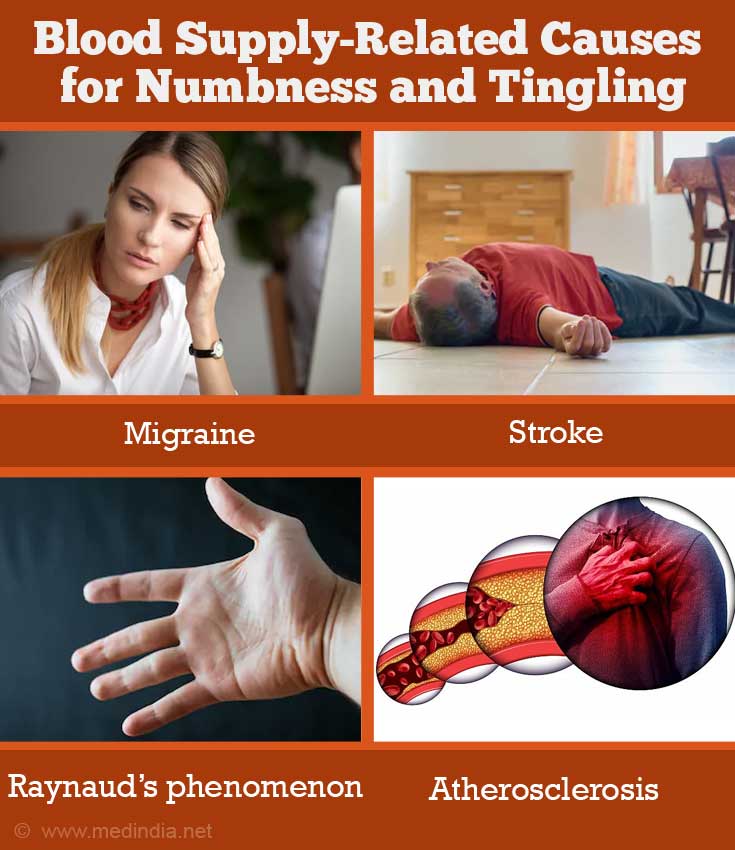 Other causes of numbness and tingling are:
Systemic diseases: Other disease conditions can also result in tingling and numbness. These include: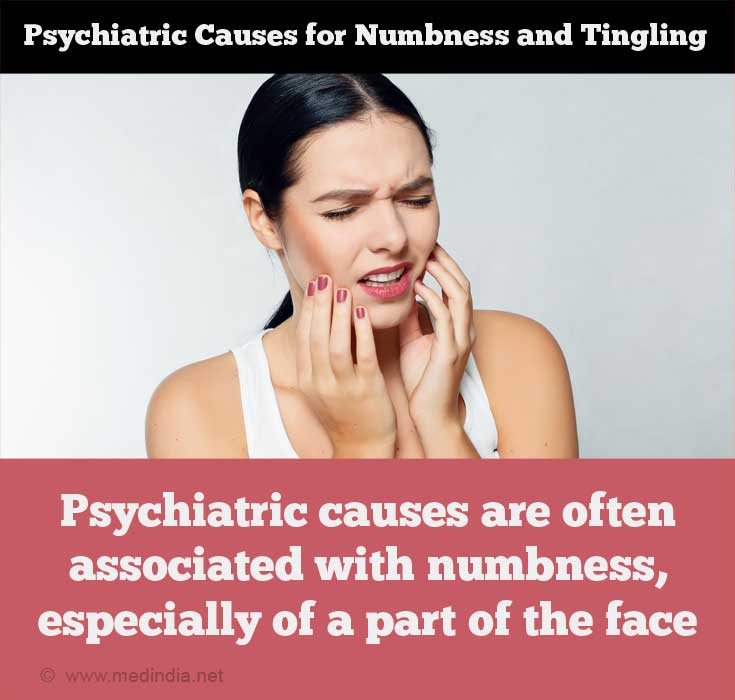 Frequently Asked Questions
1. Which doctor should I visit in case I suffer from tingling and numbness?
You should visit a neurologist in case you suffer from tingling and numbness.
2. How can tingling and numbness be treated?
Tingling and numbness can be treated by identifying the underlying cause and eliminating or controlling it. For example, the blood sugar level in diabetics should be restored to normal. B complex vitamins may be administered to restore vitamin B levels. Compression on nerves may be removed.
3. Can changes in the lifestyle help in controlling tingling and numbness?
Lifestyle changes can help to prevent tingling and numbness in some cases. For this, a balanced diet should be eaten, while avoiding smoking and alcohol. Exposure to toxins should be avoided. Weight should be controlled.
Reference:
Causes of a Numb Thumb or Hand -

(http://neurology.about.com/od/Symptoms/a/Numbness-And-Tingling.htm)

Tingling in Hands and Feet -

(http://www.webmd.com/brain/tingling-in-hands-and-feet?page=2)

Evaluation of the patient with "numbness" -

(http://www.dartmouth.edu/~dons/part_2/chapter_13.html)
Latest Publications and Research on Numbness and Tingling