What is Nasal Pain?
Nasal pain refers to pain in the nasal cavity and paranasal sinuses. Common causes of nasal pain are allergic rhinitis, sinusitis, antritis, nasal bone fracture or foreign body in the nose.
Skin infections, tumors, poisoning with metal cleaners or mildew remover and nerve disorders can also cause nasal pain, which are rare to occur.
Early detection of the cause for nasal pain usually restricts the transformation of acute inflammation into chronic form.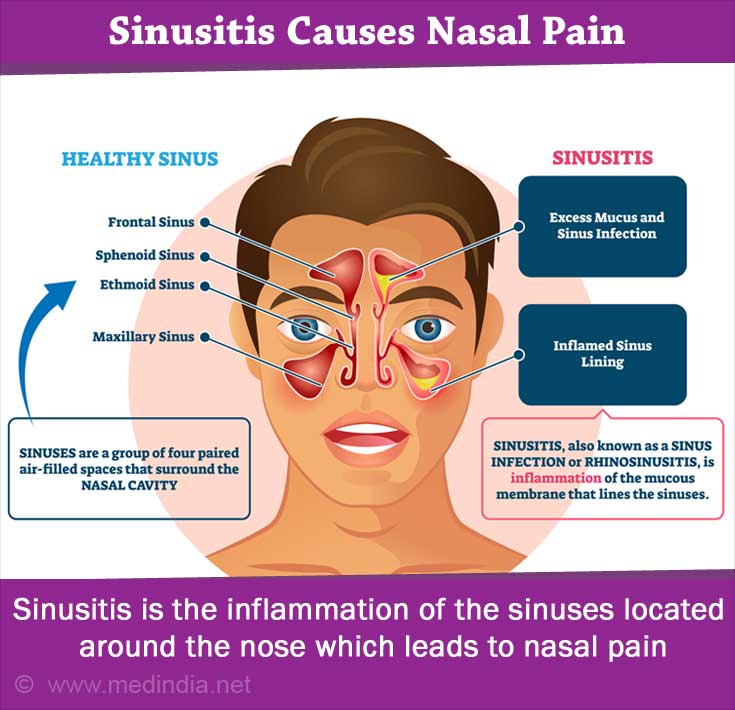 Conditions in which nasal pain is a common complaint are:
Allergic rhinitis – It is the inflammation of the nasal mucosa in response to allergens like pollen, climatic changes, dust, animal dander or weeds. Usual presentation is with itchy nose and eyes, nasal congestion, headache, reduced sense of smell, cough, clogged ears and fatigue. History, presentation, allergy testing along with measurement of eosinophil count are helpful in identifying the case for allergy.
Sinusitis – It is the inflammation of the sinuses located around the nose, cheeks and the eyes. Usually respiratory infections and allergies tend to cause sinusitis. Sinus headache is typical in its presentation. It is worse after waking up in the morning or when you bend forward or when you move from a warm environment to a cool place. Headache is often localized to the cheeks, around the eyes or the forehead. Fever, stuffy nose, yellow/green nasal discharge are also common. Along with history, X – rays, CT Scan/ MRI scan of face and nasal endoscopy are required to conclude on the diagnosis.
Antritis – It is the inflammation of the maxillary sinuses. Causative organisms include bacteria, viruses, fungi or even allergies. Usually dental procedures, respiratory infections and nasal bleeds precede before an episode of antritis. Nasal congestion, pain over the sinuses, headache, toothache, and yellowish nasal discharge are some of the common symptoms with this condition. Physical examination, X – ray of the sinuses are useful in arriving on the diagnosis.
Fracture of the nose – It is the most common fracture of the face. It is a fracture of the bone or cartilage of the bridge of the nose or septum of the nose. It often occurs along with neck injuries. Depending upon the severity immediate medical help is required to drain the bleeding from the nose to avoid complications like abscess or nasal collapse. Common symptoms include pain in the nose with bleeding, difficulty breathing and deformed nose. Physical examination, X – rays and CT scan of face are helpful in confirming the cause.
Advertisement
Foreign body in the nose – Young children may attempt to put small objects like beans, small toys, erasers, crayons, buttons or pieces of cotton into their nostrils while playing. Often parents notice bleeding from nose or a foul smelling discharge, irritation in the affected nostril with difficulty in breathing. Upon examination by a doctor foreign body is detected. It is important not to attempt removing the object with cotton swabs or with any instrument, as this may push the foreign body even farther. You should ask the child to breathe through the mouth and seek immediate medical help.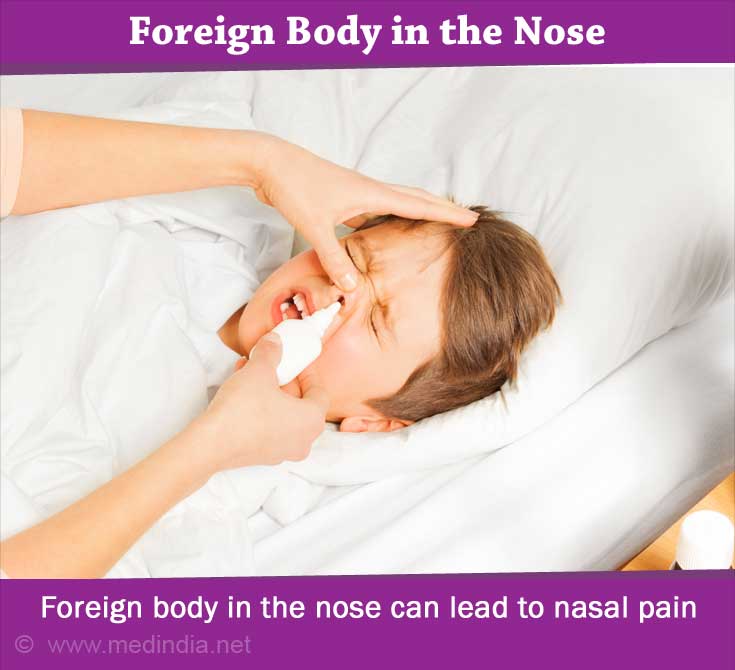 Poisoning with Mildew remover – Household cleaners when inhaled or swallowed can be very dangerous and require immediate medical help. They contain chemicals like hydrogen peroxide, sodium perborate, sodium hypochlorite and sodium percarbonate. They affect different systems of the body. Common symptoms include burning sensation in the eyes, nose, lips, throat, difficulty breathing, vomiting, abdominal pain, and loss of consciousness, hypotension and skin burns. Immediate medical help should be taken.
Nasal polyps – These are soft non-cancerous growths in the nasal cavity caused due to inflammation from chronic asthma, respiratory infections, allergies or sensitivity to drugs. Common symptoms include stuffy nose, loss of smell and taste, snoring, facial pain, headache and itchy eyes. Nasal endoscopy, CT Scan/ MRI imaging and physical examination are useful in arriving on diagnosis. Steroids oral or inhalational are the first line treatment for this condition. In case of failure of response to drugs surgery is indicated.
Advertisement
Deviated nasal septum - Nasal septum comprises of the bones and cartilages that separate the left and right side of nasal passage. A deviated nasal septum, which is very common in the population, may lead to frequent infections of the sinuses and cause nasal pain.
Nasal Spurs: The nasal septum may contain sharp spurs of bone that poke into the side walls of the nasal cavity. Spurs can produce sharp pain, usually one sided.
Tumors of the nasal cavity and paranasal sinuses – Usually patients might be asymptomatic or being treated for benign conditions like sinusitis which are difficult to treat. Common symptoms are nasal congestion/ obstruction, pain in the nose, over the teeth, face, nose bleeds, swelling of the face, reduced smell sensation, loss of vision, weight loss, fatigue, lump on the face, nose or inside the mouth. Physical examination along with X – rays, endoscopy, biopsies of the tissue, CT Scan/ MRI Scan/ PET Scan/ Bone scan are useful in arriving on the diagnosis.
Nasal pain is treated by treating the underlying cause for its occurrence. In case of allergic origin, avoiding the triggering agents reduces the frequency of acute episodes of allergies. During an acute attack antihistamines, decongestants and NSAIDs are useful. Injuries require immediate medical attention to evaluate the severity of the injury and decide on the mode of treatment (medical or surgical). Infections are treated with a course of antibiotics, NSAIDs, nasal irrigation and if required inhalational corticosteroids are also used. In case of chronic sinusitis endoscopic sinus surgery or balloon rhinoplasty might be suggested.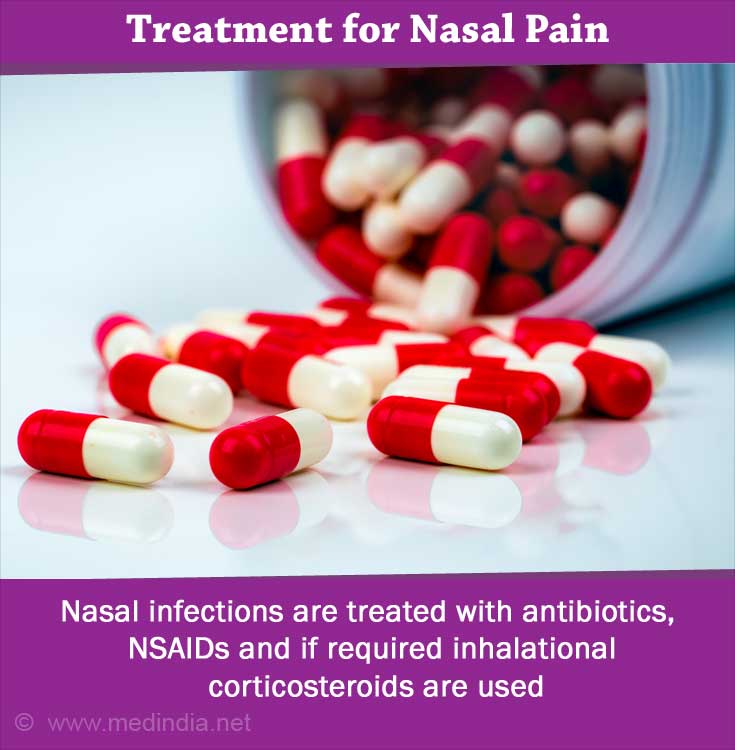 Health Tips
Nasal congestion can be relieved with frequent steam inhalations, using a humidifier, saline nebulizations and by taking warm liquids.
Practicing yoga, meditation, breathing exercises and relaxation techniques helps in controlling muscle tension and therefore relieves from frequent headaches.
If you are allergic to a particular substance, avoiding contact with that substance reduces the frequency of allergic attacks.
Practicing personal hygiene in the form of using kerchiefs while sneezing or coughing, washing hands before eating reduces the spread of respiratory infections.
Advertisement
1. Which doctor should you consult for nasal pain?
You should consult an otolaryngologist (ENT surgeon) for nasal pain.
2. What if I have an episode of common cold with history of sinusitis?
A common cold is usually of viral origin and presents with nasal congestion, throat pain, headache and increased mucus production. Sinusitis occurs when there is impaired mucus clearance and obstruction of the sinuses. This happens due to development of secondary bacterial infection. If common cold is treated effectively it does not progress to sinusitis.
3. Is balloon Rhinoplasty a permanent solution for chronic sinusitis?
It depends upon the condition of your sinuses, like the extent of disease in your sinuses and other factors. Requirement of repeat procedures is unlikely, but if required it can be repeated. A Functional endoscopic sinus surgery (FESS) is the most commonly performed procedures to treat sinusitis.
4. How to decide whether I have acute sinusitis or chronic sinusitis?
If you have been suffering for more than three months with symptoms of sinusitis or have experienced more than four episodes of acute sinusitis in a year, then it is considered to be chronic sinusitis.
5. Why do I bleed from nose when I touch the inside of the nostrils?
It could be due to nose picking, infection, bruising or due to incorrect use of nasal sprays.
Nose fracture -

(http://www.nlm.nih.gov/medlineplus/ency/article/000061.htm)

Foreign body in the nose -

(http://www.nlm.nih.gov/medlineplus/ency/article/000037.htm)

Nose -

(http://www.entnet.org/content/sinus-headaches)
Please use one of the following formats to cite this article in your essay, paper or report:
APA

Dr. Talla Veena. (2021, May 29). Nasal Pain - Symptom Evaluation. Medindia. Retrieved on Dec 03, 2022 from https://www.medindia.net/symptoms/nasal-pain.htm.

MLA

Dr. Talla Veena. "Nasal Pain - Symptom Evaluation". Medindia. Dec 03, 2022. <https://www.medindia.net/symptoms/nasal-pain.htm>.

Chicago

Dr. Talla Veena. "Nasal Pain - Symptom Evaluation". Medindia. https://www.medindia.net/symptoms/nasal-pain.htm. (accessed Dec 03, 2022).

Harvard

Dr. Talla Veena. 2021. Nasal Pain - Symptom Evaluation. Medindia, viewed Dec 03, 2022, https://www.medindia.net/symptoms/nasal-pain.htm.