What is Zika Fever?
So one day you develop flu-like symptoms, nothing alarming right? But the next thing you know is that you have severe joint pains and a red, bump-like rash on your body. After a series of tests, you are diagnosed with something known as 'Zika Fever.' The symptoms of Zika disease can resemble mild case of the flu, but it can lead to serious complications such as paralysis.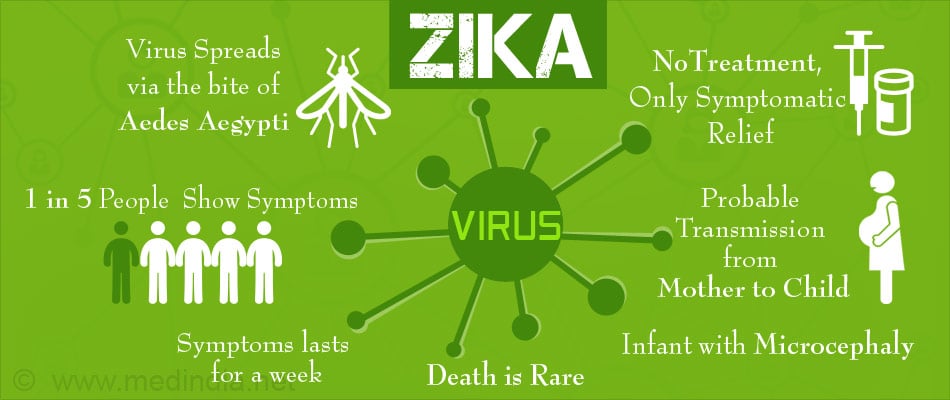 Zika fever is an illness caused by a single-stranded RNA virus called the Zika virus (ZIKV). This virus belongs to the genus Flavivirus, family Flaviviridae, from the Spondweni group.
Initially it was isolated in 1947 from a monkey in the Zika forest, Uganda and after that in mosquitoes (Aedes africanus) in the similar forest in 1948; after that it was found in a human in Nigeria in 1952.
Zika virus needs a host to infect people, that host is the mosquito. Humans are mainly infected through the bite of an infected mosquito belonging to the Aedes genus, mostly Aedes aegypti found in the tropical regions. When a mosquito bites a person already infected with the Zika virus, the mosquito contracts the virus and gets infected. These infected mosquitoes can spread the viral infection to other people through bites. These are the same mosquitoes which spread chikungunya, dengue, yellow fever, and West Nile virus.
Zika fever is a tropical disease, which is carried from person to person by mosquitoes and has been linked to birth defects in newborns. In Brazil outbreak of microcephaly has been linked to Zika virus. Microcephaly is a neurological condition in which a child is born with a smaller-than-normal sized head and impaired brain development. According to recent reports, Zika virus can be transmitted through sexual intercourse and also through blood transfusion in humans. The Institut Pasteur in French Guiana has sequenced the complete genome of the Zika virus.
The countries currently affected by the virus include, Brazil, South America, Bolivia, Colombia, Paraguay, and other tropical countries. It has recently spread to the United States and in Europe such as Denmark and Switzerland.
What is new in Zika Fever?
Zika fever is caused by a Zika virus transmitted by Aedes species mosquitoes, which usually bite during mid-morning and late afternoon/evening hours. Aedes includes the following species Aedes aegypti, Aedes africanus, Aedes albopictus, Aedes polynesiensis, Aedes unilineatus, Aedes vittatus, and Aedes hensilli.
Advertisement
The mosquitoes lay their eggs in unhygienic and in all stagnant water areas such as flower pots, vases, tree holes, used tyres, open containers, bowels, buckets, etc. They are ferocious daytime biters and stay indoors and outdoors near people.
The clinical manifestations of Zika fever are similar to those of dengue and chikungunya. The incubation period is generally from 3 to 12 days after being bitten by an infected mosquito and acute symptoms typically resolve within 4 to 7 days with no serious complications and very low possibility of hospitalization.
The following symptoms usually occur about two to seven days after the mosquito vector bite:
Mild fever (37. 8–38.5°C)
Exanthema or maculopapular rash, which starts on the face and then spreads throughout the body
Arthralgia (joint pain), mainly of the small joints of the hands and the feet and swelling in the lower limbs.
Myalgia (muscle pain)
Weakness
Conjunctival hyperaemia (redness of the sclera)
Asthenia (post-infection) (lack of energy)
Rarely, retro-orbital pain, gastro-intestinal problems, aphthae (inflammation of the oral mucosa), and pruritus are observed.
Other symptoms such as headache, malaise, diarrhea, vomiting, and dizziness are seen.
It is believed that, but not confirmed that Zika fever can morph into Guillain Barre Syndrome. It is an autoimmune disorder and can cause paralysis, severe pain, loss of bladder control, difficulty breathing, and sometimes death.
Advertisement
Check with a doctor for any of the above mentioned symptoms providing medical history and travel details especially after travel to areas where Zika virus is prevalent.
Zika fever is diagnosed based on the symptoms, travel history, and after exclusion of more serious diseases such as measles, rubella, chikungunya, and dengue (since the symptoms of Zika fever are similar to these diseases).
The healthcare provider may order blood tests to check for Zika virus which can help confirm the diagnosis. Zika virus has been observed in urine up to 10 days after the appearance of the disease. From the fifth day after the onset of fever, serological investigations using polymerase chain reaction (PCR) can be done by identification of Zika-specific IgM antibodies and verification by neutralization, seroconversion or four-fold antibody titer increase of Zika specific antibodies in paired serum samples.
Interpretation of serological results should be done in accordance to the vaccination status and recent exposure to different flaviviral infections.
Currently, there are no vaccines or specific anti-viral treatments available for Zika virus infection.
Symptoms like headache, pain and fever can be treated symptomatically by taking medications such as acetaminophen or paracetamol.
Pruritic rash is treated with some anti-histamines.
Patients are advised to take plenty of rest and keep themselves hydrated by drinking lot of fluids.
Treatment with aspirin and other non-steroidal anti-inflammatory drugs (NSAIDs) is generally avoided until dengue is ruled out, because of increased risk of hemorrhage as well as the risk of Reye's syndrome after viral infection in children.
If you have Zika viral infection then avoid mosquito bites for first week of illness; because in the first week zika virus is found in the blood and can be transmitted to other people through mosquito bites.
Advertisement
Since no vaccine or prophylactic drug is available yet for Zika fever, personal protection measures against mosquito bites should be undertaken.
Use of mosquito repellents is encouraged particularly when there is highest mosquito activity (mid-morning, late afternoon to twilight).
Drain or discard any sources of stagnant water, which potentially could be mosquito breeding sites, in and around your house.
Keep the domestic water tanks covered at all times.
Use of long-sleeved shirts or t-shirts and long pants
Keep garbage in closed containers and avoid accumulating them.
Seek your doctor's advice if you are planning to travel to Zika virus-infected areas. This is mostly applicable to young children, pregnant women and people with immune disorders. You should use personal preventive measures against mosquito bites if you plan to travel to these places.
Drugs Used in Zika Fever
There is no specific treatment against Zika fever.
Treatment is directed mainly to relieve symptoms using antipyretics and analgesics. Acetylsalicylic acid and non-steroidal anti-inflammatory drugs are not recommended due to the increased risk of hemorrhage.
Medindia adheres to strict ethical publishing standards to provide accurate, relevant, and current health content. We source our material from reputable places such as peer-reviewed journals, academic institutions, research bodies, medical associations, and occasionally, non-profit organizations. We welcome and value audience feedback as a part of our commitment to health literacy and informed decision-making.
Symptoms, Testing, & Treatment -

(http://www.cdc.gov/zika/symptoms/index.html)

Zika virus -

(http://who.int/mediacentre/factsheets/zika/en/)

Zika virus disease -

(http://ecdc.europa.eu/en/healthtopics/zika_virus_infection/factsheet-health-professionals/Pages/factsheet_health_professionals.aspx)

Emergence of Zika Virus -

(http://www.esciencecentral.org/journals/emergence-of-zika-virus-2327-5073-1000222.pdf)

About Zika virus -

(http://www.health.govt.nz/our-work/diseases-and-conditions/zika-virus)

Zika virus infection and Zika fever: Frequently asked questions -

(http://www.paho.org/hq/index.php?option=com_content&view=article&id=9183%3A2015-preguntas-frecuentes-virus-fiebre-zika&catid=3986%3Azika-virus-infection&Itemid=41463&lang=en)
Please use one of the following formats to cite this article in your essay, paper or report:
APA

Sudha Bhat. (2023, July 28). Zika Fever - Causes, Symptoms, Diagnosis, Treatment and Prevention. Medindia. Retrieved on Oct 04, 2023 from https://www.medindia.net/patients/patientinfo/zika-fever.htm.

MLA

Sudha Bhat. "Zika Fever - Causes, Symptoms, Diagnosis, Treatment and Prevention". Medindia. Oct 04, 2023. <https://www.medindia.net/patients/patientinfo/zika-fever.htm>.

Chicago

Sudha Bhat. "Zika Fever - Causes, Symptoms, Diagnosis, Treatment and Prevention". Medindia. https://www.medindia.net/patients/patientinfo/zika-fever.htm. (accessed Oct 04, 2023).

Harvard

Sudha Bhat. 2023. Zika Fever - Causes, Symptoms, Diagnosis, Treatment and Prevention. Medindia, viewed Oct 04, 2023, https://www.medindia.net/patients/patientinfo/zika-fever.htm.
Latest Publications and Research on Zika Fever