What is Tonsillitis?
Tonsillitis refers to acute inflammation of the tonsils.
The tonsils (mostly referring to the palatine tonsils) are two small lymphoid organs that lie on either side of the back of the throat that one can see when the mouth is opened.
The inflammation in tonsillitis can also include the adenoids (pharyngeal tonsils) and the lingual tonsils.
The adenoids are situated behind the nose and quite high up the throat. Adenoids unlike tonsils require special instruments to be viewed. Lingual tonsils are also situated at the back of the throat.
Tonsillitis occurs primarily in children and sometimes in adults. It can be classified as acute, recurrent and chronic tonsillitis.
Both the tonsils and adenoids act as the body's first line of defense (by producing antibodies) to protect the throat against disease germs that enter via the nose and mouth. Incidentally, this also makes these lymph nodes particularly vulnerable to infection and inflammation.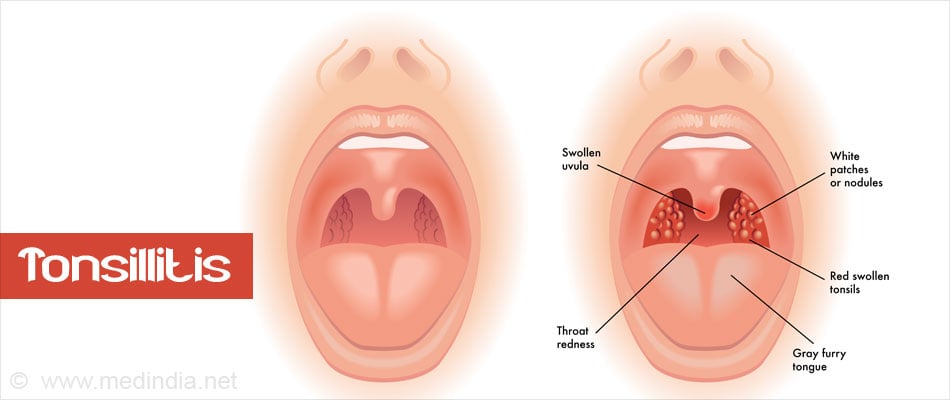 The most common cause of tonsillitis is either a bacterial or a viral infection.
Age - Children above the age of 2 are more likely to get tonsillitis. Bacterial tonsillitis is more common in children between 5 and 15 years of age. Tonsillitis is rare in adults.
Exposure - Daycare and school going children are more exposed to tonsillitis due to close contact with other children and exposure to viral and bacterial infections.
Common symptoms of an acute tonsillitis are:
Infected tonsils and adenoids block the normal breathing of a person and the drainage of the sinuses. This obstructed air passage can cause: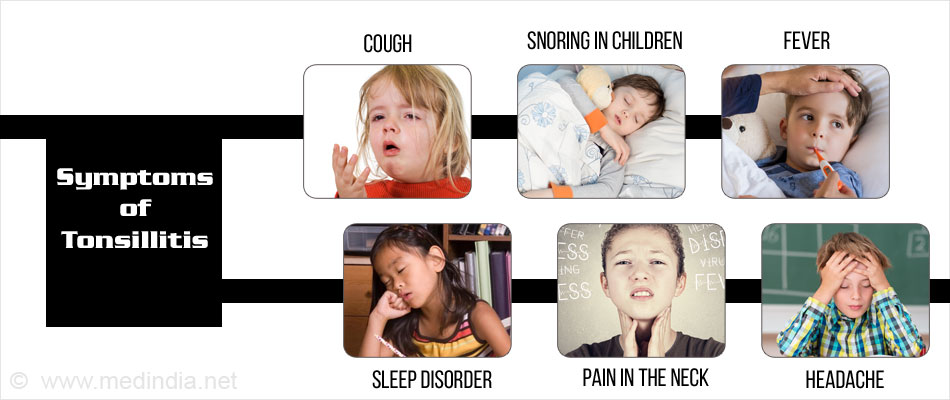 Recurring Tonsillitis leads to inflammed or swollen tonsils. In the long run it could cause -
Tonsillitis caused by group A streptococcus or another strain of streptococcal bacteria when left untreated poses risk of rare disorders such as:
Rheumatic fever, an inflammatory disorder that affects the heart, joints, skin and brain. It affects children between the age of 5 and 15 and usually develops 2 weeks after untreated or partially treated strep throat or scarlet fever.
Post-streptococcal glomerulonephritis, develops 1 or 2 weeks after an untreated throat infection. It causes inflammation of the tiny blood vessels of the glomeruli or the filtering units of the kidneys. This results in impaired filtration and inadequate removal of waste and excess fluids from blood.
Diagnosis is made on the basis of clinical symptoms.
Initial diagnosis is done by a physical inspection of the mouth,throat, ears and nose using a lighted instrument.
In case of infection, the tonsils will be enlarged, usually red with white spots on them. Some cases of strep throat might reveal a rash. Gentle examination of the neck and jaw will reveal swollen, tender glands.
A throat swab or a culture of the tonsils is taken to identify bacterial infection. In particular, the diagnosis of GABHS tonsillitis is confirmed by obtaining cultures from both tonsillar surfaces and the posterior pharyngeal wall.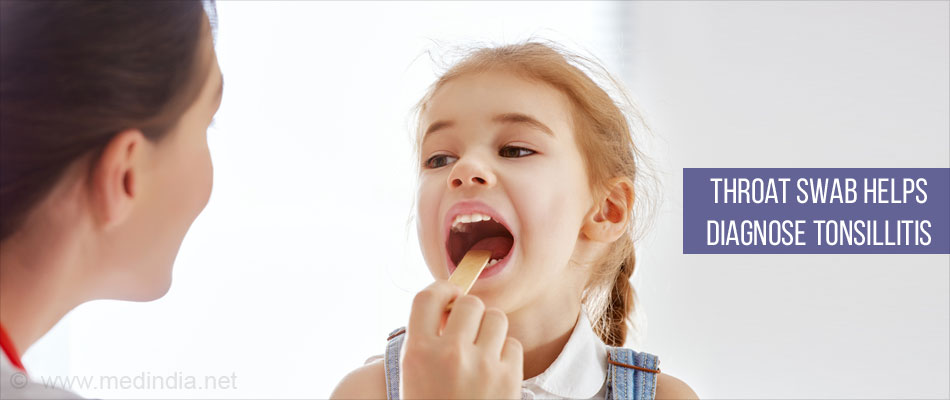 A Complete Blood Cell count (CBC) can also be taken to check whether the infection is caused by a bacteria or a virus.
References:
Wang H, Fu Y, Feng Y, Guan J, Yin S. Tonsillectomy versus Tonsillotomy for Sleep-Disordered Breathing in Children: A Meta Analysis. Gao C-Q, ed. PLoS ONE. 2015;10(3)
Stelter K. Tonsillitis and sore throat in children. GMS Current Topics in Otorhinolaryngology, Head and Neck Surgery. 2014;13
Omrani M, Barati B, Omidifar N, Okhovvat AR, Hashemi SAG. Coblation versus traditional tonsillectomy: A double blind randomized controlled trial. Journal of Research in Medical Sciences : The Official Journal of Isfahan University of Medical Sciences. 2012;17(1):45-50.
About Tonsillitis -

(http://www.mayoclinic.org/diseases-conditions/tonsillitis/basics/definition/con-20023538)

Tonsillitis-Introduction -

(http://www.entnet.org/content/tonsillitis)

What is Tonsillitis? -

(https://en.wikipedia.org/wiki/Tonsillitis)
Post a Comment
Comments should be on the topic and should not be abusive. The editorial team reserves the right to review and moderate the comments posted on the site.