What is Teething?
Teething is a process in which a tooth pierces through the gum and appears in the mouth. Babies are born with all 20 primary teeth below their gum line and they start to appear between 6 and 12 months.
In rare cases, newborn babies are found to have teeth on the day of their birth called natal teeth. It occurs 1 in 2000 - 3000 live births.
Natal tooth is often loose and usually removed by the dentist as it may affect breastfeeding and eliminate the aspiration risk.
When does Teething Start?
Teething usually starts when a baby is between 6 and 8 months old but some do not show any teeth till 8 months. If teething starts later, it is usually normal there is no need to worry.
Symptoms usually occur before the appearance of teeth in the mouth. It also differs from one baby to another and most commonly includes the following: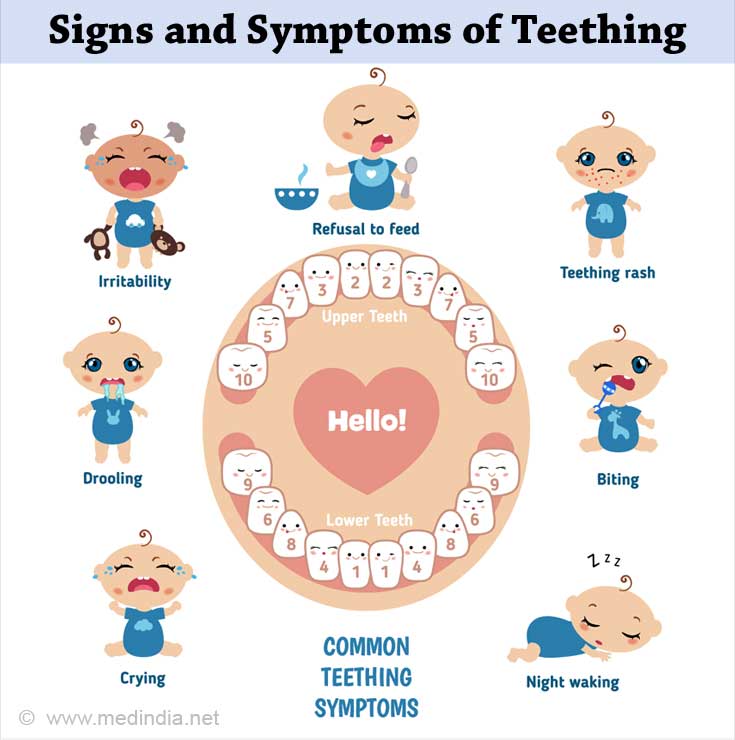 Swollen and painful gums
Fussiness and crying
A slightly raised temperature (less than 101 F)
Gnawing or wanting to chew on hard things
Lots of drool, which can cause a rash on their face
Rubbing their cheek or pulling their ears
Bring their hands to mouth often
Refusal of food due to pain and discomfort
Reduced sleep and niggles often due to pain
Teething can be painful, but it doesnít make babies sick. Diarrhea, vomiting, rashes on the body, a higher body temperature, and congestion are not typical signs of teething. Consult with a pediatrician if the babyís gums are bleeding or any pus or swelling is noticed.
Advertisement
The order in which different tooth appears in the mouth can differ for every baby and may be based on family history. But most of the time, the following pattern is seen:
The lower front two teeth come in first, followed by the opposite top two teeth and the two on either side.
Next, come the two on either side of the bottom front teeth, then the first molars appear.
The teeth in front of the first molars are next, and the back molars are the last ones to come in.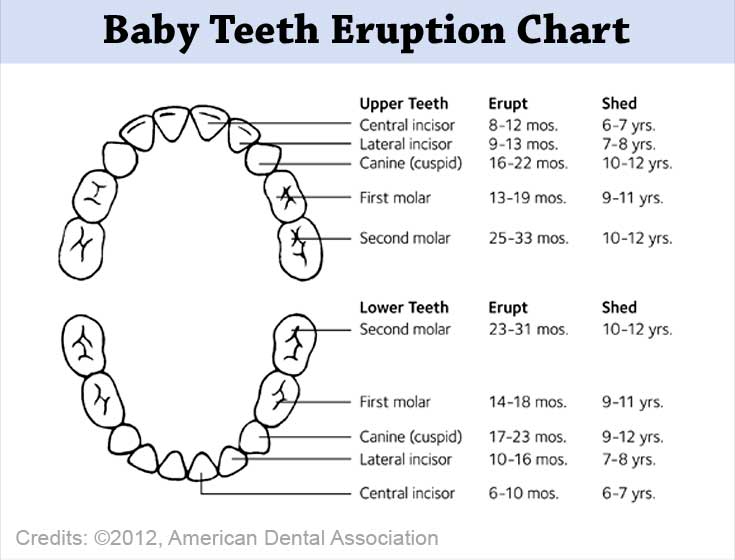 All 20 baby teeth will eventually be in place, usually by 3 years. However, if there has been no appearance of teeth till 9 months then it is best to visit a pediatric dentist.
Wipe the baby's face with a cloth to remove the drool and prevent a rash.
Give a cool object to chew on, such as a firm rubber teething ring, cold pacifier, spoon, or a clean wet washcloth.
Try offering a hard, unsweetened teething cracker or cold soft foods such as yogurt (if your baby is eating solids).
For babies older than 6-9 months, offer cold water from a sippy cup.
Gently massage the gums with a clean finger. If the teeth havenít come in yet, you can let babies bite the finger.
Try dipping fingers in cold water and massaging gums before each feeding to avoid babies from biting nipples while nursing.
If a bottle seems to help, fill it only with water. Formula, milk, or juice can cause tooth decay.
If a child is 2 years or older, teething gels and preparations rubbed on the gums may help the pain for a short while. Be careful not to use too much. Do not use these remedies if your child is younger than 2 years old.
Relief with Medications
If baby is clearly uncomfortable, talk to a pediatrician about giving a dose of pain relievers such as acetaminophen (Tylenol) or ibuprofen to relieve discomfort.
You can also apply a teething gel. However, avoid gels that contain choline salicylate and benzocaine. These are not safe for infants, since they can reduce the levels of oxygen in the blood.
General oral pain relief gels are not suitable for children.
Never put anything in the babyís mouth that is not specifically approved to help soothe teething. Even some products described as teethers or teething aids arenít safe choices, including ones:
Teethers filled with liquid that can tear and spill.
Teethers are made up of breakable material, like plastic, that can lead to choking and from harmful substances, like lead.
Do not tie a teething ring or any other object around the child's neck.
Do not place anything frozen against the child's gums.
Never cut the gums to help a tooth grow in because this can lead to infection.
Avoid teething powders.
Do not rub alcohol on the babyís gums.
Do not use homeopathic remedies. They may contain ingredients that are not safe for infants.
How to Care of Babyís New Teeth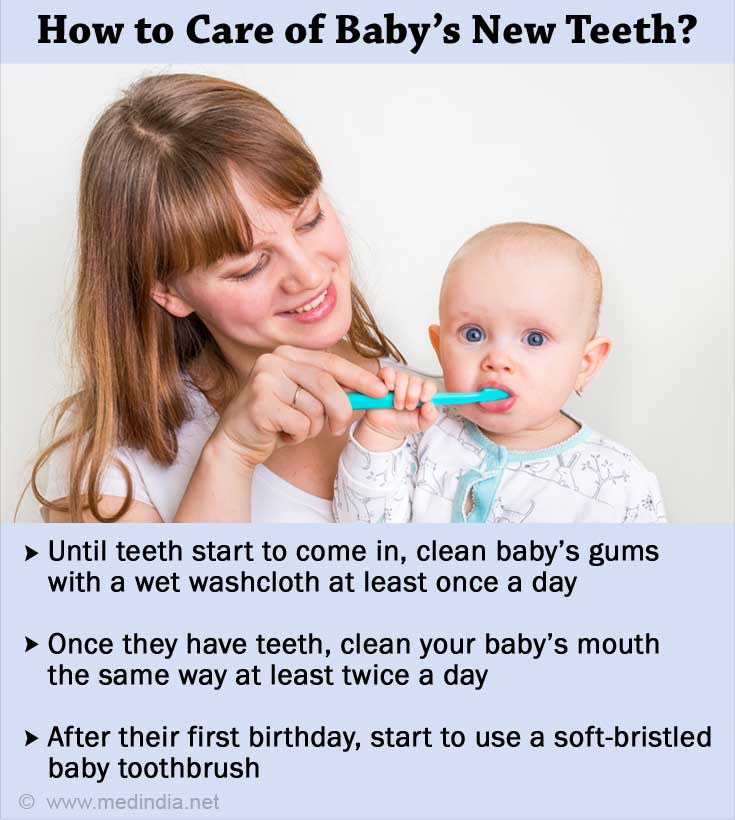 Until teeth start to come in, clean babyís gums with a wet washcloth or piece of gauze at least once a day.
Once they have teeth, clean your babyís mouth the same way at least twice a day. After the feeding is a good time for this.
After their first birthday, start to use a soft-bristled baby toothbrush with water and a small amount of toothpaste that doesnít have fluoride in it.
A pediatrician will monitor your baby's teeth for decay and decide if a referral to a dentist is needed before one year.
The American Dental Association and the American Academy of Pediatric Dentistry recommend scheduling a child's first dental visit at or near his or her first birthday. Regular childhood dental care helps to set the stage for a lifetime of healthy teeth and gums.
References:
Tips for helping your teething baby - https://www.nhs.uk/conditions/baby/babys-development/teething/tips-for-helping-your-teething-baby/
What is teething? - https://www.stanfordchildrens.org/en/topic/default?id=teething-90-P01873
Safely Soothing Teething Pain and Sensory Needs in Babies and Older Children - https://www.fda.gov/consumers/consumer-updates/safely-soothing-teething-pain-and-sensory-needs-babies-and-older-children
CKS is only available in the UK - https://www.nice.org.uk/cks-uk-only
Latest Publications and Research on Teething
Please use one of the following formats to cite this article in your essay, paper or report:
APA

Dr. Monesh Shanmugam. (2021, November 15). Teething in Babies | Babies First Tooth. Medindia. Retrieved on May 19, 2022 from https://www.medindia.net/patients/patientinfo/teething.htm.

MLA

Dr. Monesh Shanmugam. "Teething in Babies | Babies First Tooth". Medindia. May 19, 2022. <https://www.medindia.net/patients/patientinfo/teething.htm>.

Chicago

Dr. Monesh Shanmugam. "Teething in Babies | Babies First Tooth". Medindia. https://www.medindia.net/patients/patientinfo/teething.htm. (accessed May 19, 2022).

Harvard

Dr. Monesh Shanmugam. 2021. Teething in Babies | Babies First Tooth. Medindia, viewed May 19, 2022, https://www.medindia.net/patients/patientinfo/teething.htm.
Do you wish to consult a Dentist for your problem? Ask your question
Dr. Harita Pottam
BDS
2 years experience

Teleconsult Now
View Profile
Dr. Naresh Sharma
BDS
20 years experience
Suraksha dental hospital , Near shyam complex
Teleconsult Now
View Profile
Dr. Ishan Singh
BDS, MDS
9 years experience
Peoples Dental Clinic, Gamma 1
Teleconsult Now
View Profile
Dr. Shrasta Sajeev
BDS
3 years experience

Teleconsult Now
View Profile
View All