What is Rheumatic Heart Disease (RHD)?
Rheumatic heart disease. is a sequelae of rheumatic fever which affects heart valves, and can result in heart failure and death if left untreated. It is the most common heart disease acquired by children of developing countries.
Rheumatic fever occurs after a single or multiple episodes of strep throat or sore throat due to group A beta hemolytic streptococci. Antibodies produced by the body against these bacteria react with tissues of the heart and other parts of the body and result in rheumatic heart disease.(1✔)
The risk of RHD is more with repeated infections of rheumatic fever and in children of 5-15 years of age. Occurrence of RHD is rare before 3 years & after 30 years of age. Treating strep throat infection with antibiotics can prevent rheumatic fever and therefore rheumatic heart disease.
What is New in Rheumatic Heart Disease (RHD)?
1. Double Danger for Women with Rheumatic Heart Disease
Women of childbearing age with rheumatic heart disease (RHD) face a double danger. They are at a risk of developing complications during pregnancy, reveals a new study. RHD interventions need to target women in the low- to moderate-income countries to prevent the disease.
Read more >
Group A streptococcus is a bacteria that causes throat infection in children. Following infection, the body produces antibodies as a protective mechanism to fight against the bacteria. However, the antibodies can react with body tissues like heart valves and cause inflammation. The heart valves are located at the opening of the heart chambers and assist in the unidirectional flow of blood. When they are damaged in RHD, they cannot open or shut properly. This affects the blood flow to the body, which results in various symptoms.
The antibodies also target the brain, skin and joints and cause various other associated symptoms.
What are the Risk factors of Rheumatic Heart Disease?
Since rheumatic fever is caused by a communicable disease, the risk factors include:
The symptoms and signs of rheumatic heart disease may be: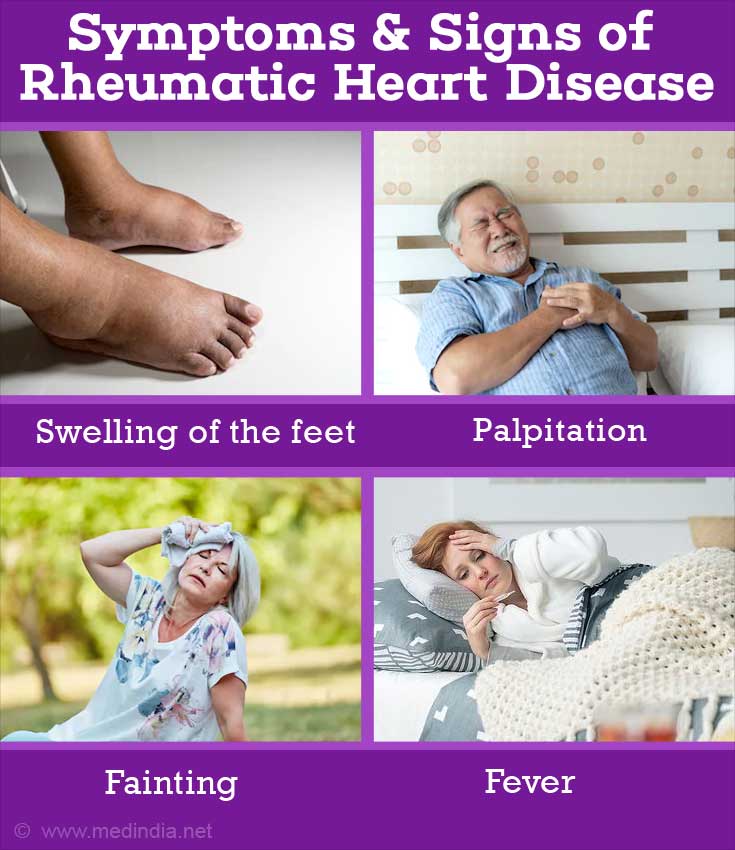 In addition, features of rheumatic fever like arthritis, abnormal movements, subcutaneous nodules and rash may also be present.
Complications of Rheumatic Heart Disease
Complications of rheumatic heart disease include the following:
Clinical Types of Rheumatic Heart Disease
RHD mainly affects the mitral, and aortic valves. The other valves may be affected as a secondary consequence of these damages. The mitral valve is at the junction of the left atrium and left ventricle while the aortic valve is at the junction of the left ventricle and the aorta.
Generally, the valvular heart defects are of two types: regurgitation & stenosis. Regurgitation is where there is a backflow of blood while stenosis is where there is an obstruction to the flow of blood. Usually, regurgitation is noted first, and later on, the valve undergoes stenosis.
Rheumatic heart disease is diagnosed if a person meets the criteria for rheumatic fever and the heart is affected. Guidelines for clinical diagnosis of acute rheumatic fever were originally suggested by Dr. Jones and later revised by American Heart Association and the WHO. These are called as JONES criteria.
They consist of major criteria & minor criteria.
For the condition to be diagnosed as rheumatic fever, the presence of two major or one major along with two minor criteria is required, along with evidence that the patient had suffered from a group A streptococcal infection.
Major criteria:
Minor Criteria:
Tests that provide evidence of a recent streptococcal infection include an increased or rising anti-streptococcal antibody level, or a positive throat culture or rapid antigen test for group A streptococci. A history of recent scarlet fever is also indicative of streptococcal infection.
Approach to diagnosis is done as follows: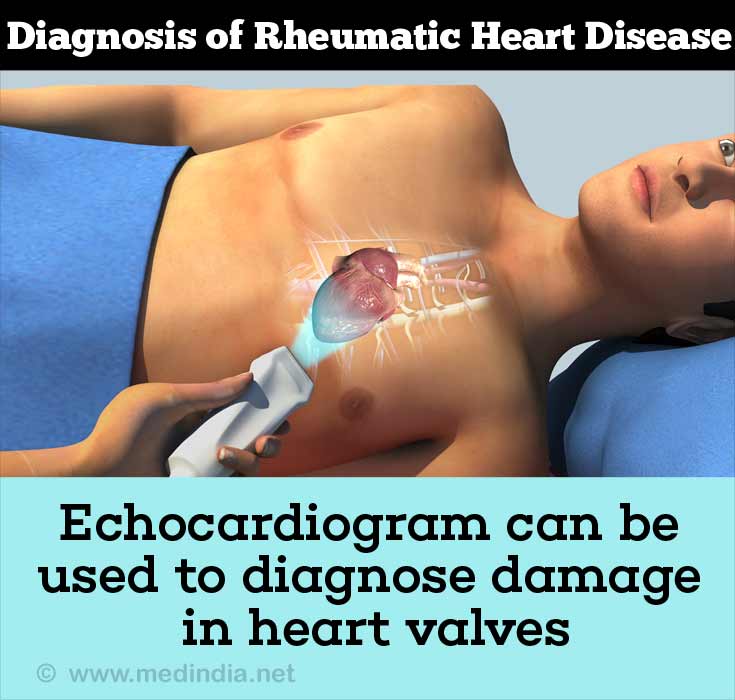 Treatment with medications depends on the underlying condition of the patient. Medications like diuretics, digitalis and ACE inhibitors are used to treat heart failure. Surgical treatment depends on the heart valve involved.
Rheumatic heart disease with mitral regurgitation (RHD with MR)
Mitral valve repair surgery can be done. Commonest approach nowadays is prosthetic valve replacement, because rheumatic mitral valves are difficult to repair.
Rheumatic heart disease with mitral stenosis (RHD with MS)
A procedure called balloon mitral valvotomy (BMV), also known as percutaneous trans-septal mitral commissurotomy (PTMC) is commonly done to treat mitral stenosis. A catheter with a balloon is introduced into the leg vein up to the mitral valve. Here, the balloon is inflated, which helps to open the valve. The procedure is repeated if stenosis occurs again. Closed mitral valvotomy (CMV) is an inexpensive & equally effective surgical alternative to BMV.
Rheumatic heart disease with aortic regurgitation (RHD with AR)
Mild AR usually does not require surgical treatment. Severe AR is treated surgically. The aortic valve is replaced either by homograft or by prosthetic valve. Valve repair is usually not feasible.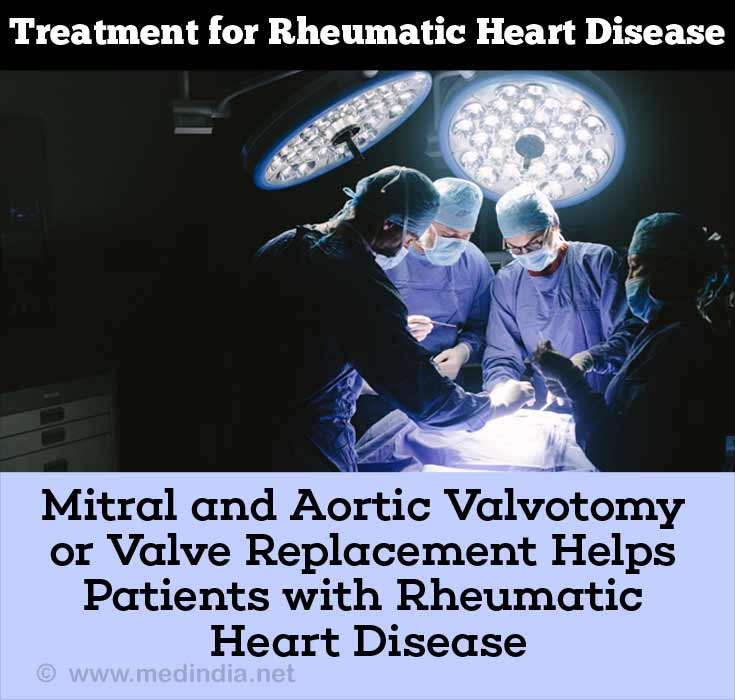 Rheumatic heart disease with tricuspid regurgitation (RHD with TR)
TR may resolve following mitral valvotomy. If not, tricuspid annuloplasty or repair may be necessary.
Prevention of Rheumatic Heart Disease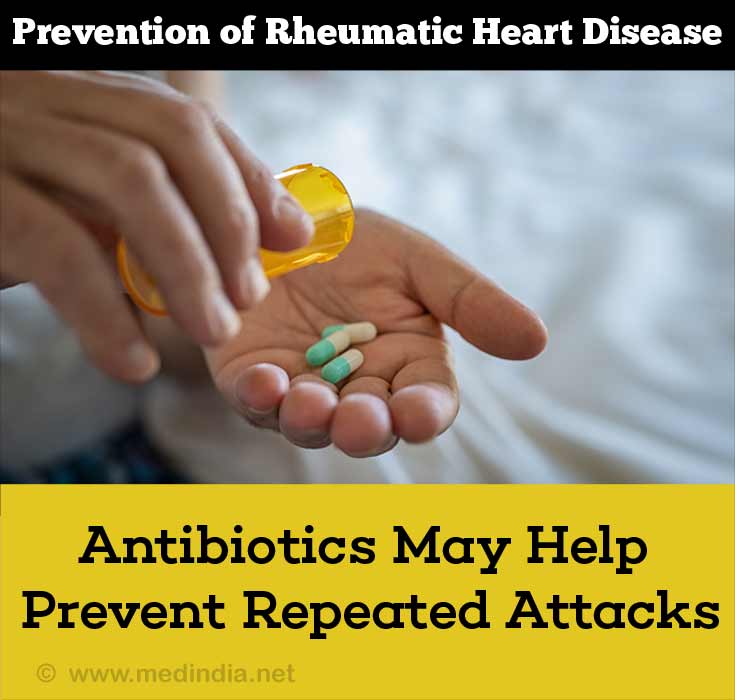 References:
Rheumatic Heart Disease -

(https://www.ucsfbenioffchildrens.org/conditions/rheumatic_heart_disease/)

Acute Rheumatic Fever and Rheumatic Heart Disease -

(https://www.ncbi.nlm.nih.gov/pmc/articles/PMC5810582/)

More Information About Rheumatic Heart Disease -

(https://www.betterhealth.vic.gov.au/health/conditionsandtreatments/rheumatic-heart-disease)

Complications of RHD -

(https://rhdaction.org/what-rhd/complications-rhd)

Acute Rheumatic Fever and Rheumatic Heart Disease -

(https://www.ncbi.nlm.nih.gov/books/NBK425394/)

About Rheumatic Heart Disease -

(https://www.hopkinsmedicine.org/health/conditions-and-diseases/rheumatic-heart-disease)
Latest Publications and Research on Rheumatic Heart Disease (RHD)