Sun-dried products – Food products made by drying them under the sun have been in use in Indian homes since the vedic age. Papads, vegetables, fruits, green chillies, chips, fish and kachris have been sun-dried to make them last long and save time of the home maker. These products are tasty and require minimum cooking time.
Papads can be fried as well as roasted. Vegetables that are sun-dried can be used in off seasons and cooked quickly since they require less time to become tender. Fishes are sun-dried and salted, on cooking these the recipe acquires a distinct taste.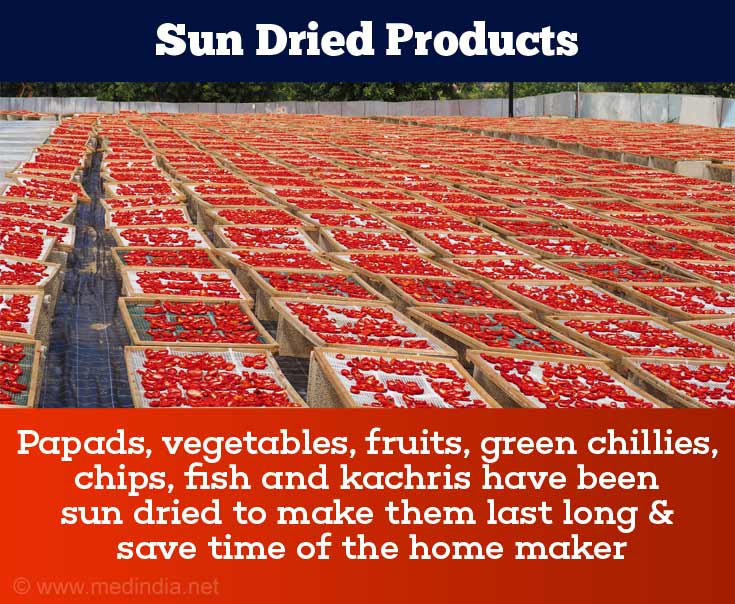 Pickles – These ready to eat convenience foods are a delight to have at any meal. They provide that added spice to meals and act as an appetizer. They are made at home and have various combinations. They provide variety to diet.
Jams, preserves and jellies - Sugar is one taste that is liked by most people. Jams and jellies made by heat-treating fruit pulp and filtrate with sugar so yield semi-solid spreads. They make the ready to use spread to be had with breads. They are excellent to quench the in between meal hunger. Fruit preserves are also tasty foods.
Dehydrated foods – Products that have been subjected to dehydration constitute this group. Powders for making south Indian dishes, soups, dhokla and bakery products along with cakes are all dehydrated food products.(4✔ ✔Trusted Source
Semi Cooked Food

Go to source) They are prepared commercially and need expertise. They are subjected to mechanical dehydrators and packed attractively in cartons for storage and sale. Prior to being used they have to be treating with water for rehydration and cooked according to the instructions. These mixes have made so many recipes so easy to cook that they have made a permanent place on breakfast, lunch and dinner tables.
Advertisement
Heat treated foods – It has been a common practice in Indian homes to roast groundnuts and other nuts, Bengal gram, bajra and sesame seeds. The heat treatment meted out to the causes the dextrinisation of starches making the food easily digestible. The roasted and heated products are easier to powder and store. They can be consumed in the salted form as such or served as an accompaniment. Puffed rice and Bengal gram is an excellent combination in making bhel puri, a nutritious snack which can be prepared very easily. Chutney powders are also made by grinding curry leaves, bengal, with other spices. Handpounded and flattened rice called "Chiwda" or "poha" is also a good convenience food.
Canned foods – These products keep in good condition for a long time, have good shelf life and can be stored easily. They also resist spoilage. Meat products, fish, fruits, vegetables and pulses all come in the form of cans. Fruit juices, soups and other fluid products are also canned. They save the time to a large extent.(5✔ ✔Trusted Source
Canning - Wikipedia

Go to source)
Fully processed convenience foods/ Ready to Eat foods these days many companies have come up with fully processed ready to eat recipes. Cooked spaghetti with sauce, noodles, fried rice, chowmein, rajmah, mutter panner, palak paneer all come in packets which just have to be heated and are ready to be served. They are either packed in retort pouches, vacuum sealed packages or in the frozen state in polythenes. They have all the spices and additives already added and require no cooking. Potato chips, namkeens, hel puri, biscuits all are part of this range.
Semi processed convenience foods some products have undergone some cooking procedures so that the finishing touches have to be given by the consumer. One minute noodles, idli mixes, gulab jamun mixes, upma mixes, soup mixes, cake and baked products mixes. Some ingredients may also have to be added by the user. These products are all supplemented by instructions. The recipes are standardized to yield a set number of servings with a fixed serving size.
Reference:
Convenience food -

(https://en.wikipedia.org/wiki/Convenience_food)

Food Processing -

(http://www.foodsystemprimer.org/food-processing/index.html)

Salient Features of Packaging of Food Products -

(https://www.scribd.com/document/318897189/Reading-Material-for-CII-Workshop-on-Food-Packaging-3-Aug-16)

Semi Cooked Food -

(https://fdocuments.us/document/project-semi-cooked-food.html)

Canning -

(https://en.wikipedia.org/wiki/Canning)

Advantages and Disadvantages of Processed Foods -

(https://www.lorecentral.org/2019/02/advantages-and-disadvantages-of-processed-foods.html)

Food storage -

(https://en.wikipedia.org/wiki/Food_storage)
Please use one of the following formats to cite this article in your essay, paper or report:
APA

Lari Warjri. (2019, October 28). Processed Foods - Types. Medindia. Retrieved on May 19, 2022 from https://www.medindia.net/patients/patientinfo/processedfoods_types.htm.

MLA

Lari Warjri. "Processed Foods - Types". Medindia. May 19, 2022. <https://www.medindia.net/patients/patientinfo/processedfoods_types.htm>.

Chicago

Lari Warjri. "Processed Foods - Types". Medindia. https://www.medindia.net/patients/patientinfo/processedfoods_types.htm. (accessed May 19, 2022).

Harvard

Lari Warjri. 2021. Processed Foods - Types. Medindia, viewed May 19, 2022, https://www.medindia.net/patients/patientinfo/processedfoods_types.htm.
Request an Appointment with a Doctor (Nutrition Expert)
Dr. Pratiksha Prashant
Masters in Dietitics, Masters in Health Science, International Health coach, International diabetic educator, Certification in Vedic nutrition, Bachelors in Dental Surgery
7 years experience

Teleconsult Now
View Profile
Dr. Varsha
PhD
39 years experience

Teleconsult Now
View Profile
Mrs. Priya S
BSc
11 years experience

Teleconsult Now
View Profile
Ms. Pandi Alagammai Thillainathan
BSc, MSc
1 year experience
Online mode, Porur
Teleconsult Now
View Profile
View All