What is Plantar Fasciitis?
Plantar fasciitis is a common cause of foot pain. It is characterized by pain and stiffness in the heel of the foot particularly on waking up after periods of inactivity or after intense activity.
The plantar fascia is a tough tissue on the undersurface of the foot which is designed to tackle stress and strain over the heel. It is attached behind the inner side of the calcaneus, the bone of the heel. It extends to the front of the foot and splits into 4 parts, which are inserted into the bases of each of the toes. It helps maintain the arch of the foot.(1✔)
Plantar fasciitis is a form of over use injury or repetitive stress injury. Pain in plantar fasciitis can be a dull ache or can be as a sharp stabbing pain. Pain progresses gradually over time or can occur suddenly.
The exact cause of plantar fasciitis is not known. Though the suffix 'itis' of fasciitis suggests the presence of inflammation, plantar fasciitis is more likely due to degenerative changes rather than inflammation due to repetitive microtrauma. For this reason, the term 'plantar fasciosis' is sometimes preferred to fasciitis.
What Increases the Chance of Getting Plantar Fasciitis?
Plantar fasciitis affects athletes as well as sedentary persons. Conditions that increase the chances of developing plantar fasciitis include: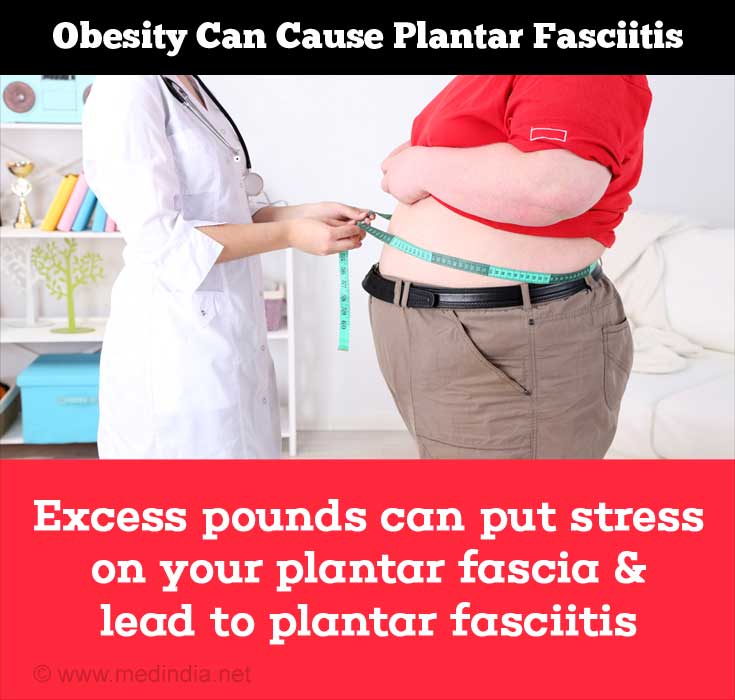 Plantar fasciitis causes pain in the heel. Characteristics of the pain are: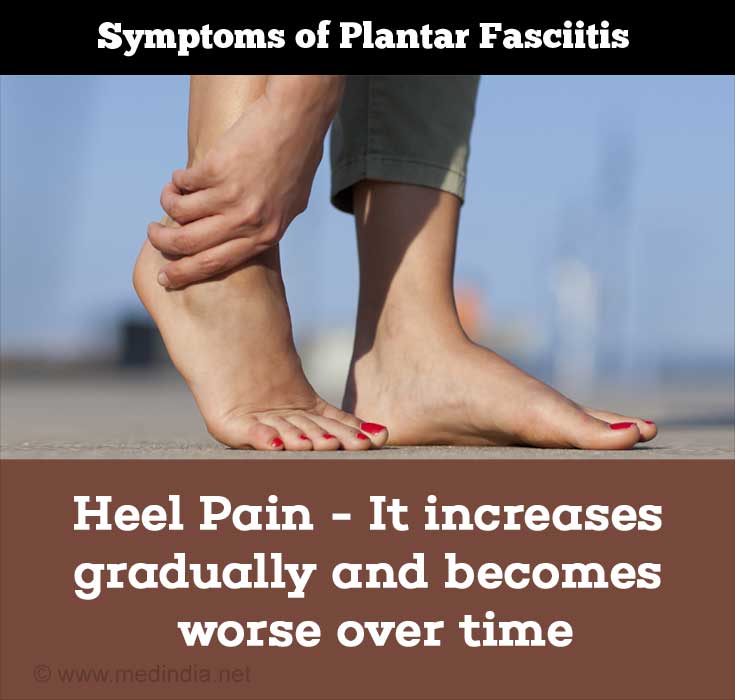 Plantar fasciitis is diagnosed based on history and physical examination of the patient. The physician will carry out a detailed examination of the ankle and foot to diagnose plantar fasciitis as well as to rule out other possible causes of the heel pain. On physical examination, plantar fasciitis is suspected if the following signs are present:
Though tests may not be necessary, an x-ray may be done to rule out any other condition which may be a cause of the pain. A heel spur may be noted on x-ray. Ultrasound is sometimes done to measure the plantar fascial thickness. A thickness of more than 0.4cm is indicative of plantar fasciitis.(4✔)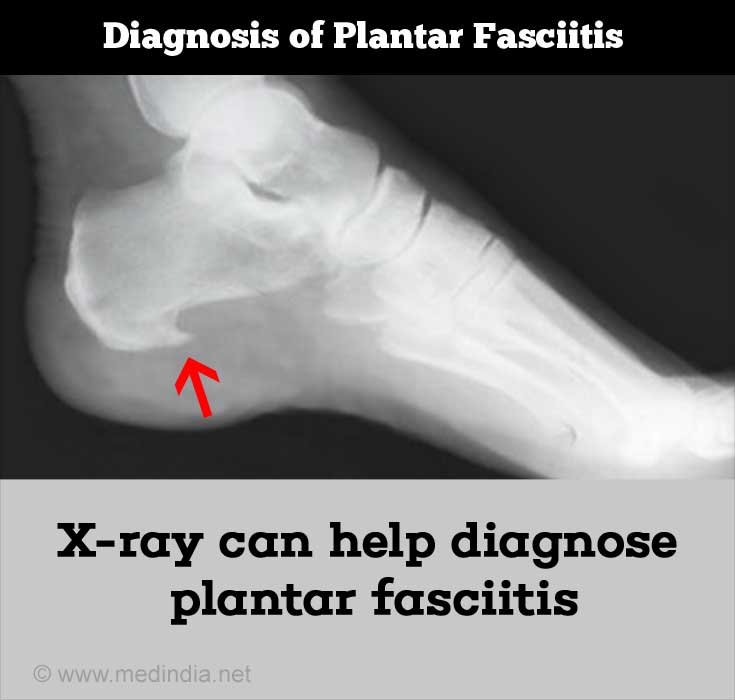 Other conditions that produce a similar type of heel pain should be ruled out. These include compression of a nerve in the foot, stress fracture of the underlying bone, and loss of fat pad of the heel. Additional tests may be required to rule out these conditions.
An MRI is ordered in case of failure to respond to initial methods of treatment.
The symptoms of plantar fasciitis resolve with time and by conservative treatments.
Plantar fasciitis is usually treated conservatively. Most patients find relief with some of the following remedies: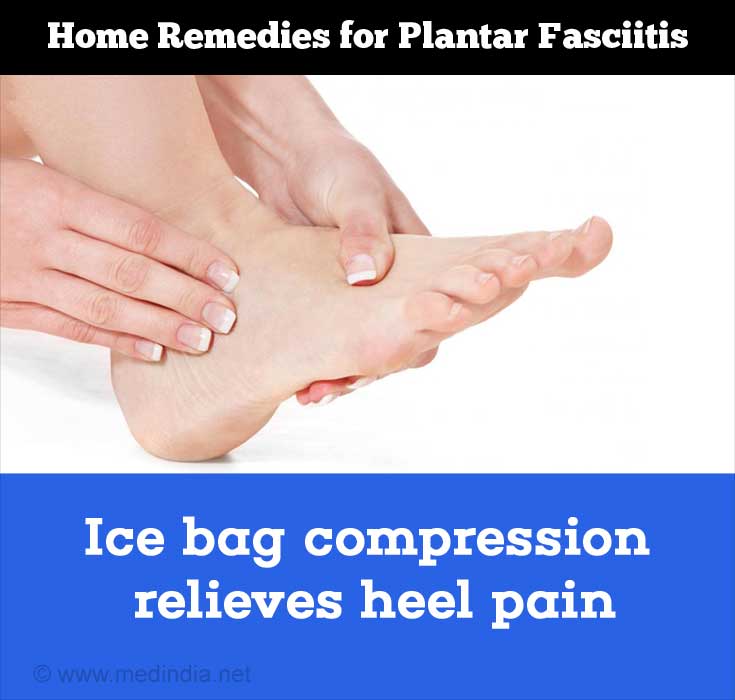 Additional Remedies for Plantar Fasciitis
If the patient does not respond to the above approaches, some other steps that can be taken include the following: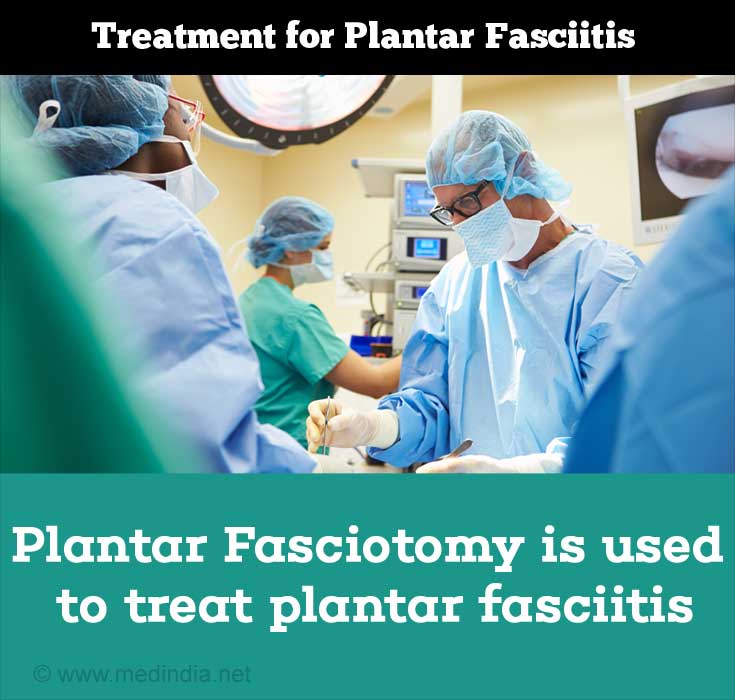 Health Tips
Post a Comment
Comments should be on the topic and should not be abusive. The editorial team reserves the right to review and moderate the comments posted on the site.