What is Plantar Fasciitis?
Plantar fasciitis is a common cause of foot pain. It is characterized by pain and stiffness in the heel of the foot particularly on waking up after periods of inactivity or after intense activity.
The plantar fascia is a tough tissue on the undersurface of the foot which is designed to tackle stress and strain over the heel. It is attached behind the inner side of the calcaneus, the bone of the heel. It extends to the front of the foot and splits into 4 parts, which are inserted into the bases of each of the toes. It helps maintain the arch of the foot.
Plantar fasciitis is a form of over use injury or repetitive stress injury. Pain in plantar fasciitis can be a dull ache or can be as a sharp stabbing pain. Pain progresses gradually over time or can occur suddenly.
The exact cause of plantar fasciitis is not known. Though the suffix 'itis' of fasciitis suggests the presence of inflammation, plantar fasciitis is more likely due to degenerative changes rather than inflammation due to repetitive microtrauma. For this reason, the term 'plantar fasciosis' is sometimes preferred to fasciitis.
What Increases the Chance of Getting Plantar Fasciitis?
Plantar fasciitis affects athletes as well as sedentary persons. Conditions that increase the chances of developing plantar fasciitis include:
Presence of flat feet or high-arched feet or a tight Achilles tendon
Use of shoes that do not provide good support
Lack of good sports training equipment
Excessive walking or running leading to repetitive or excessive stress on the tissue
Overweight or obesity
Standing for prolonged durations
Loss of fat pad of the heel due to aging
Pregnant women
Diabetes
Abnormal gait
Aging
Walking barefoot on hard surfaces
Plantar fasciitis causes pain in the heel. Characteristics of the pain are:
The pain is worse in the morning or while getting up after sitting or standing for long periods of time. At night, the front of the foot droops, resulting in slight contraction of the plantar fascia. Sudden stretching while walking soon after getting up causes heel pain.
Pain is severe after an activity than it is during an activity. The patient may complain of pain on the inner side of the heel on pressing. Pain may also be experienced when toes are bent upward during the examination.
The pain in the heel increases gradually and becomes worse over time.
Plantar fasciitis is diagnosed based on history and physical examination of the patient. The physician will carry out a detailed examination of the ankle and foot to diagnose plantar fasciitis as well as to rule out other possible causes of the heel pain. On physical examination, plantar fasciitis is suspected if the following signs are present:
High arches.
Flat foot.
Tenderness, swelling and redness at the bottom of the foot.
Restricted movement in the ankle upwards.
Worsening of pain upon flexion of the foot.
Though tests may not be necessary, an x-ray may be done to rule out any other condition which may be a cause of the pain. A heel spur may be noted on x-ray. Ultrasound is sometimes done to measure the plantar fascial thickness. A thickness of more than 0.4cm is indicative of plantar fasciitis.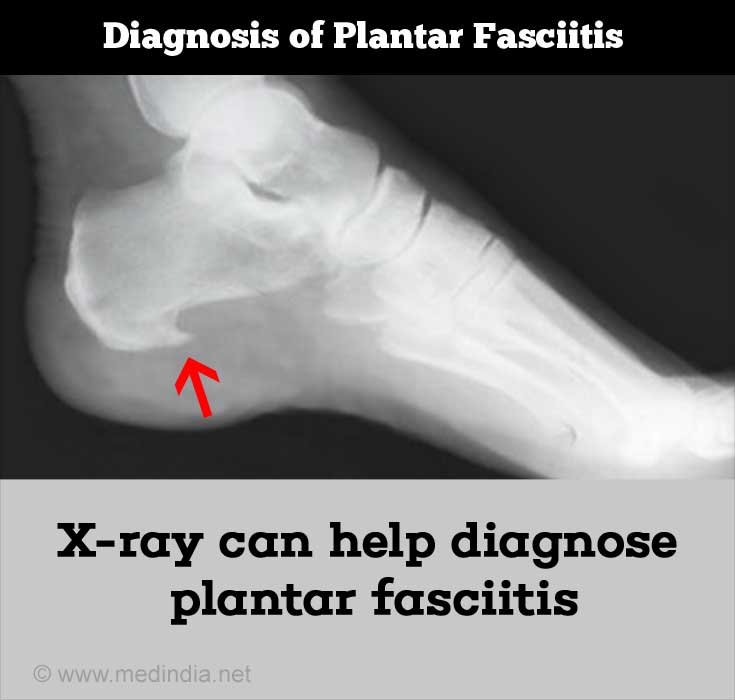 Other conditions that produce a similar type of heel pain should be ruled out. These include compression of a nerve in the foot, stress fracture of the underlying bone, and loss of fat pad of the heel. Additional tests may be required to rule out these conditions.
An MRI is ordered in case of failure to respond to initial methods of treatment.
The symptoms of plantar fasciitis resolve with time and by conservative treatments.
Plantar fasciitis is usually treated conservatively. Most patients find relief with some of the following remedies:
Adequate rest to the foot since plantar fasciitis often occurs due to overuse.
Avoid going bare foot.
Over-the-counter painkillers for pain relief.
Limiting extended physical activities to reduce stress on the heel.
Orthotic devices: Shoe inserts to correct the underlying structural abnormalities of the foot and provide support to the foot.
Applying ice to the feet.
Use night splints to prevent tightening of the plantar fascia and calf muscles during the night. However, several people are uncomfortable using the splints.
Use of walking casts in rare cases.
Stretching exercises for the plantar fascia. Stretching exercises may be done by sitting with the leg extended on the bed, passing a towel under the sole and pulling it gently. Another way is to roll a can or a ball under the foot. These exercises can be done just before going to bed and on waking up. Stretching exercises for the Achilles tendon are also advised.
Physical therapy.
Additional Remedies for Plantar Fasciitis
If the patient does not respond to the above approaches, some other steps that can be taken include the following:
Steroid injection is sometimes given to the heel, but can cause atrophy of the fat pad.
Extracorporeal shock wave therapy may be given to those who have failed with other treatments and do not want to undergo surgery. However, the usefulness of this therapy in patients with plantar fasciitis has not been established.
Injection of platelet-rich plasma. Platelet-rich plasma is rich in growth factors and has been used to assist healing in a variety of conditions. Though it has been used in plantar fasciitis, its benefit has not been completely established.
Surgery for plantar fasciitis is done under rare conditions when the patient does not improve with conservative treatments over prolonged periods. During surgery, part of the fascia may be detached from the bone of the heel. A heel spur if present, may also be removed during the surgery. Endoscopic surgery or plantar fasciotomy can also be used to treat plantar fasciitis.
Health Tips
Wear proper shoes that are comfortable and support the foot
Do stretching exercises before any sporting activity
Try to lose weight if you are overweight
References:
Cutts S, Obi N, Pasapula C, and Chan W. Ann R Coll Surg Engl. 2012 Nov; 94(8): 539–542. doi:

10.1308/003588412X13171221592456

Schmitz C, Császár NBM, Rompe J, Chaves H and Furia JP. Treatment of chronic plantar fasciopathy with extracorporeal shock waves (review). Journal of Orthopaedic Surgery and Research20138:31 DOI:

10.1186/1749-799X-8-31

Petrofsky JS, Laymon MS, Alshammari F, Khowailed IA (2014) Evidence Based use of Heat, Cold and NSAIDS for Plantar Fasciitis. Clin Res Foot Ankle 2:140. Doi:

10.4172/2329-910X.1000140

Lawson D, Hoffmeyer A, Pearsall A and Vallabhajosula S (2015) Kinesio® Tex Tape: Valuable Conservative Treatment for Plantar Fasciitis? J Nov Physiother 5:271.

doi:10.4172/2165-7025.1000271

Amin AH, Fahmy MH (2014) Endoscopic Deep-Fascial Approach for the Treatment of Plantar Fasciitis. Orthop Muscul Syst 3:175. Doi:

10.4172/2161-0533.1000176

Plantar Fasciitis and Bone Spurs -

(https://orthoinfo.aaos.org/en/diseases--conditions/plantar-fasciitis-and-bone-spurs)

Heel Pain (Plantar Fasciitis) -

(http://www.foothealthfacts.org/footankleinfo/heel-pain.htm)
Post a Comment
Comments should be on the topic and should not be abusive. The editorial team reserves the right to review and moderate the comments posted on the site.