What is Parkinsonís Disease?
Parkinson's Disease (PD, is also known as idiopathic or primary parkinsonism, hypokinetic rigid syndrome/HRS, or paralysis agitans) is a brain disorder and a progressive disease that leads to persistent movement disorder and worsens over time. It is caused by the loss of dopamine brain cells (neurons). The patient usually experiences uncontrollable shaking and tremors, slow movement, problems in standing up, difficulty in balancing and stiffness in the limbs. It mostly affects the middle-aged and elderly. Idiopathic Parkinsonís disease is the most common type and causes tremors, rigidity and slowness of movement. Although there is no permanent cure, medication and surgery are both available to manage its symptoms. Dr Richard Wade-Martins, University of Oxford is conducting a research on ĎTRAPing Parkinsonís Ė why do some cells die?í and he aims to find out why some cells die while others live.
What is New in Parkinson's Disease?
1. Effects of Binge Eating in Parkinson's Patients
Binge eating in Parkinson's patients was associated with cognitive abnormalities such as a working memory deficit, reveals a new study. Binge eating alters the mechanisms in Parkinson's patients and it is essential to understand them.
Read more >
Parkinsonís (PD) is a slowly progressive disease caused by the loss of dopamine brain cells (neurons). Dopamine, are brain cells produced in the substantia nigra of the brain. It is a neurotransmitter and a chemical messenger. Messages are transmitted between the substantia nigra and other parts of the body by dopamine. Dopamine brain cell death causes lesser dopamine. This causes impairment of movement in body parts.
Advertisement
The symptoms of Parkinsonís disease begins when about 50 to 80 percent of dopamine neurons have died and it is hard for doctors to detect PD at its early stages. However, about 70 percent of people with the disease experience slight tremors in the hand and the foot over one side of the body. The symptoms are branched out to ĎPrimary Motor Symptomsí and ĎSecondary Motor Symptomsí.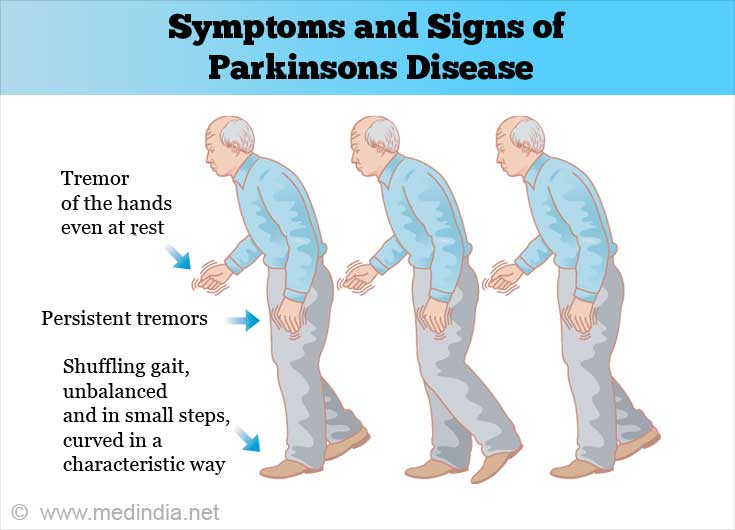 The Primary Motor Symptoms are as described here:
ďResting tremorĒ is usually experienced and happens when a personís muscles are completely relaxed. Typically, tremors on one finger are prominent.
ďSlow movementĒ also known as bradykinesia or movement disorder is another symptom that results in abnormal stiffness and decreases facial expression. A personís repetitive movements and routine functions are also often affected. This condition of slow movement may often lead to reduced speech.
ďRigidityĒ is yet another condition resulting in stiffness and the muscles do not relax like in a normal person. The person experiences rigidity in the neck, shoulder and legs.
ďPostural instabilityĒ is the most important sign of a PD patient. The person with this condition loses some reflexes essential for maintaining an upright posture. Patients with balance problem may have difficulty when turning around or pivoting or during quick movements.
Advertisement
Here is a list of Secondary Motor Symptoms:
Freezing causes fear to put the foot forward. The person feels that their feet are stuck to the ground. However it is a temporary feeling.
Micrographia is the result of a Parkinsonís patient whose handwriting shrinks. Mask-like Expression happens due to decreased and unconscious facial movements. A PD patient exhibits flexed posture resulting from rigidity and bradykinesia.
Unwanted accelerations occur in PD patients and cause trouble in speech and movement. People who experience festination face greater risks to falls.
Advertisement
Stage I: This is the mildest stage of PD which least interferes with routine tasks. Tremors and other symptoms are restricted to one side of the body.
Stage II: It is a moderate stage in PD where stiffness, tremors and trembling can be noted and facial expressions may change. The symptoms are sensed on both sides of the body.
Stage III: This is the mid-stage in PD, which symbolizes a major change point in PD progression. In addition to loss of balance and decreased flexes, the symptoms mentioned in stage II also occur. Occupational therapy combined with medication may help in decreasing the symptoms.
Stage IV: In this progressive stage, it becomes difficult for the patient to move without a walker or other assistive device. However, the person can stand without assistance.
Stage V: This is the most advanced and debilitating stage of PD. Stiffness in legs may cause freezing when standing. Patients are frequently unable to stand without falling. They may experience hallucinations and occasional delusions.
In order to diagnose Parkinsonís disease, the physician takes a neurological history and executes an examination. Clinical information provided by the PD person and findings from neurological examination plays a key role in the diagnosis, as there are no standard diagnostic tests available. The observations carried out include:
The doctor examines the PD patientís expression
The patientís arms are observed for any tremors that may occur at rest or when extended
Stiffness in limbs or neck are observed
It is checked if the patient can rise from a chair easily
The patientís pattern of walking is observed; the patient may be walking in short steps.
It is examined if the patientís arms swing symmetrically
Also, the patientís quickness in regaining balance is checked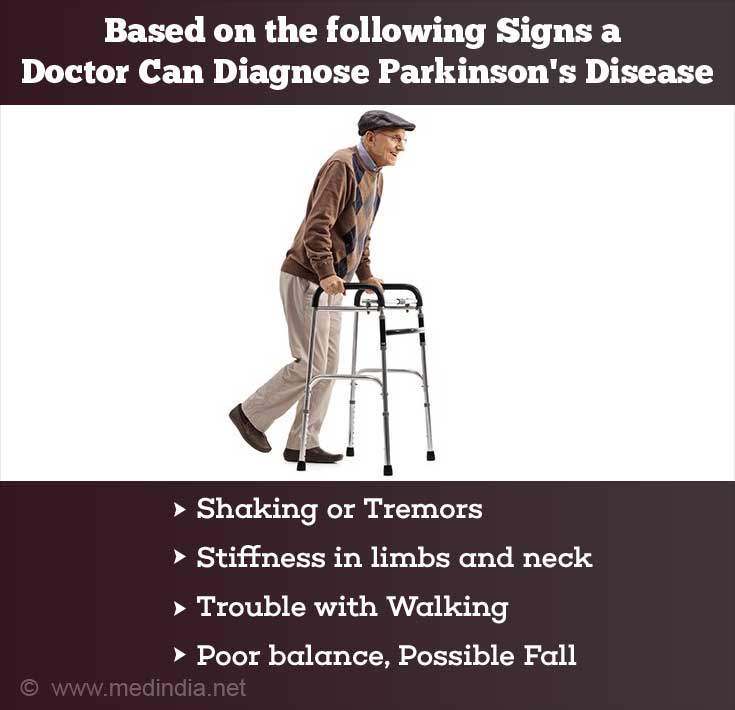 Over the years, it has been concluded that most PD patients respond to medications. However, the duration of drug efficiency varies from one person to another. Movement disorder and also non-motor symptoms vary from person to person. These affect PD patients at all stages of the disease. For some PD patients, fatigue or depression may be more complicated to deal with than movement disorders.
In order to manage the symptoms of PD, it is common for PD patients to take an assortment of medications at different times and in different doses. A proper medication schedule provides great benefits to the patient. Certain classes of medication are available to treat PD. However, the exact condition of the patient and symptoms are diagnosed before prescribing the right combinations of medication and treatments.
Some of the Medications are mentioned below:
Carbidopa/ Levodopa Therapy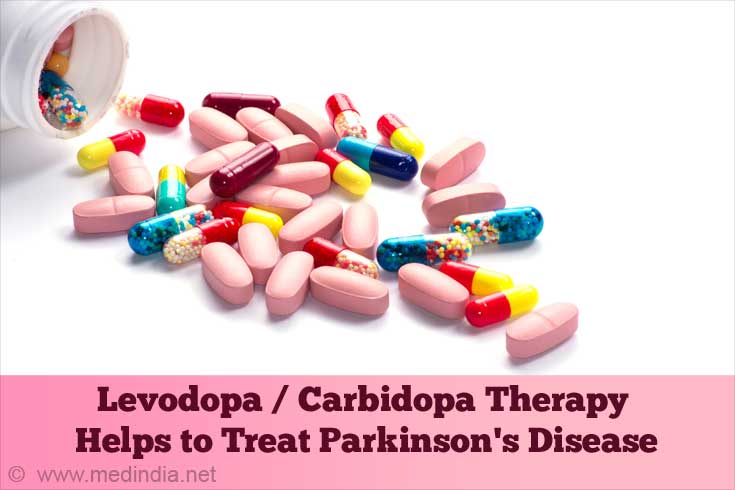 Dopamine Agonists
Anticholinergics
MAO-B Inhibitors
COMT Inhibitors
Drugs
Amantadine
Rivastigmine tartrate
Medindia adheres to strict ethical publishing standards to provide accurate, relevant, and current health content. We source our material from reputable places such as peer-reviewed journals, academic institutions, research bodies, medical associations, and occasionally, non-profit organizations. We welcome and value audience feedback as a part of our commitment to health literacy and informed decision-making.
The Michael J. Fox Foundation for Parkinson's Research -

(https://www.michaeljfox.org/)

Understanding Parkinson's - What Is Parkinson's? -

(https://parkinson.org/understanding-parkinsons/what-is-parkinsons)

Types of Parkinsonism -

(https://www.parkinsons.org.uk/information-and-support/types-parkinsonism)
Please use one of the following formats to cite this article in your essay, paper or report:
APA

Vani Pradeep. (2023, March 11). Parkinsonís Disease - Causes, Symptoms, Diagnosis, Treatment. Medindia. Retrieved on Sep 21, 2023 from https://www.medindia.net/patients/patientinfo/parkinsonsdisease.htm.

MLA

Vani Pradeep. "Parkinsonís Disease - Causes, Symptoms, Diagnosis, Treatment". Medindia. Sep 21, 2023. <https://www.medindia.net/patients/patientinfo/parkinsonsdisease.htm>.

Chicago

Vani Pradeep. "Parkinsonís Disease - Causes, Symptoms, Diagnosis, Treatment". Medindia. https://www.medindia.net/patients/patientinfo/parkinsonsdisease.htm. (accessed Sep 21, 2023).

Harvard

Vani Pradeep. 2023. Parkinsonís Disease - Causes, Symptoms, Diagnosis, Treatment. Medindia, viewed Sep 21, 2023, https://www.medindia.net/patients/patientinfo/parkinsonsdisease.htm.
Latest Publications and Research on Parkinsons Disease
Do you wish to consult a Neurologist for your problem? Ask your question
Dr. Shakya Bhattacharjee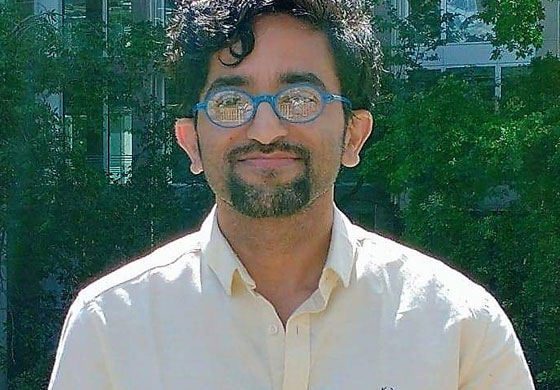 MBBS, MD, MRCP, MRCP, CCT Neurology
15 years experience

Dr. Siddharth Kharkar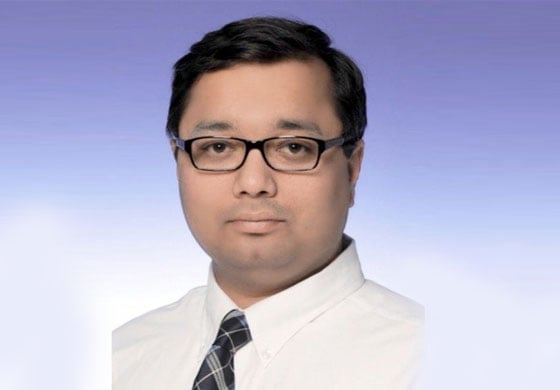 MBBS, MD, MHS, Fellowship In Epilepsy
22 years experience

View All