Over-the-Counter (OTC) Decongestants for Allergy
Decongestants work by constricting blood vessels in the sinuses, nose and chest. Sudafed is a decongestant available as non-prescription allergy relief drug.
Decongestants allow drainage of sinuses, nose and chest and relief of congestion. Decongestants are normally prescription drugs found in the form of tablets, capsules, and liquid or as nasal spray.(4✔)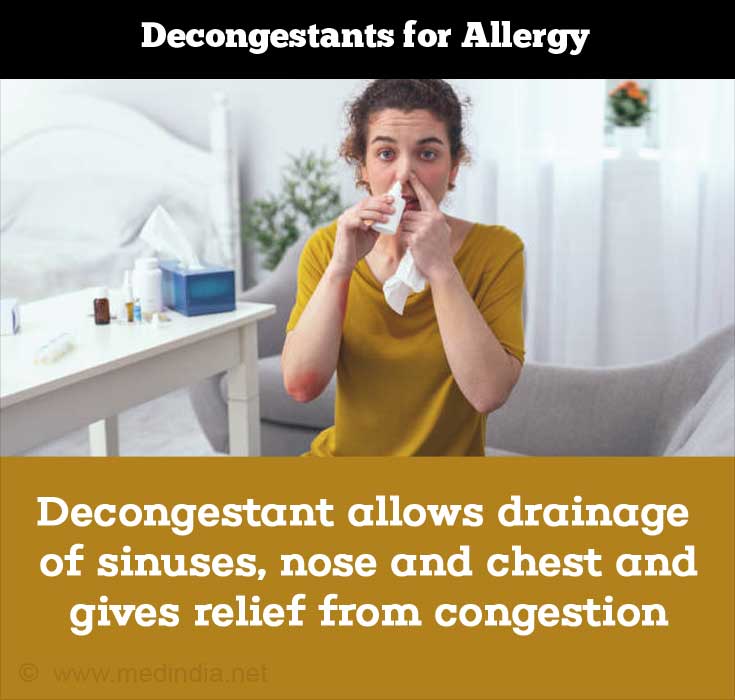 Pseudoephedrine (Sudafed) is a decongestant that is available as Over-the-Counter (OTC) medication for allergies. It works best when used in combination with an antihistamine.
Indications – nasal congestion and sinus congestion are associated with allergies.
Contraindications – discontinue if symptoms do not improve within 7 days of treatment or if you have fever with a headache, cough or skin rash.
Dosage – Sudafed for immediate release tablets: 2 tablets every 4 to 6 hours.
Sudafed-12 for extended-release tablets: 1 tablet every 12 hours.
Sudafed-24: 1 tablet once a day.
Side effects – chills, drowsiness, fatigue, nervousness, mild dizziness, dry mouth, constipation or diarrhea, ringing in the ears, difficulty passing urine and sweating.(5)
Precautions and Warnings:
Possible drug interactions with sodium bicarbonate antacids, SNRI antidepressants, monoamine oxidase inhibitors (MAOI) and cannabinoids.
Decongestants work only when there is congestion. They do not relieve itchy nose.
Consult your doctor before using this drug if you have high blood pressure, heart disease, glaucoma, hyperthyroidism, diabetes, and kidney failure.
Inform your healthcare provider if you are pregnant or breastfeeding.
Store in cool, dry place. Protect from heat and light
Oxymetazoline and xylometazoline are other decongestants. They are available over the counter as nasal sprays. They should not be used for more than 3 to 5 days at a stretch.
Phenylpropanolamine or PPA is a decongestant used earlier for treating the congestion associated with allergies and hay fever. However, FDA recommended not using any products that contain PPA as it was found to be associated with increased risk of hemorrhagic stroke in women aged 18 to 49. Some examples of drugs that contain the active ingredient phenylpropanolamine are Acutrim II, Dexatrim, Empro, Propan, Phenyldrine and Maximum Strength. Incidentally, this compound is also used in diet pills.
Post a Comment
Comments should be on the topic and should not be abusive. The editorial team reserves the right to review and moderate the comments posted on the site.