What is Monogenic Diabetes?
The most common types of diabetes, Type 1 and Type 2 are "polygenic", meaning developing from multiple genes. Polygenic forms of diabetes are often genetically inherited and run in families. In most cases of Type 2 diabetes, overeating, lack of physical activity and a poor diet are recognized causes, but such patients also have a strong family history of Type 2 diabetes, suggesting a genetic contribution to the disease as well. In both Type 1 and Type 2 diabetes, individuals present with an elevated blood glucose level (Fasting blood sugar - FBS > 70 mg/dL).
There is another rare form of diabetes which often gets misdiagnosed as Type 1 or Type 2 diabetes. This is called "monogenic diabetes", or diabetes resulting from mutations in a single gene. Monogenic diabetes accounts for 1-5% of diabetes among young people. A human body has nearly 30,000 genes and it is found that more than 20 genes are linked to monogenic diabetes. Mutations in any of these genes lead to monogenic diabetes. Examples of monogenic forms of diabetes include:
Neonatal diabetes mellitus (NDM) caused by mutations in genes KCNJ11, ABCC8 or INS
Maturity-onset diabetes of the young (MODY) caused by mutations in genes HNF1A or GCK
Some forms of monogenic diabetes present with absent or moderate symptoms (For example: MODY that is caused by a mutation in the GCK gene). GCK-MODY usually requires no medical treatment, as normal blood glucose levels can be achieved with dietary and lifestyle changes alone. Other forms of monogenic diabetes present with elevated blood sugar levels that require clinical interventions such as treatment with insulin.
In most forms of monogenic diabetes, the body's ability to produce insulin (the hormone that helps the body use sugar for energy) is reduced. In a few cases, insulin resistance is presented wherein the body cannot use insulin efficiently.
The correct diagnosis of monogenic diabetes is critical. Since it is often misdiagnosed as Type 1 or Type 2 diabetes, treatment may not be correct. Most children with monogenic diabetes are put on insulin. However, if rightly diagnosed, children can lead quality lives with oral diabetes medications and better blood glucose control though dietary and lifestyle modifications.
NDM is a rare form occurring in only 1 in 100,000 to 500,000 live births. Babies with NDM do not produce sufficient insulin which leads to elevated blood glucose levels. Often NDM is mistaken for Type 1 diabetes which actually occurs later than the first 6 months. The permanent form of NDM is also known as permanent neonatal diabetes mellitus (PNDM). In some cases, the diabetes is transient often disappearing and recurring later in life. This type of NDM is known as transient neonatal diabetes mellitus (TNDM).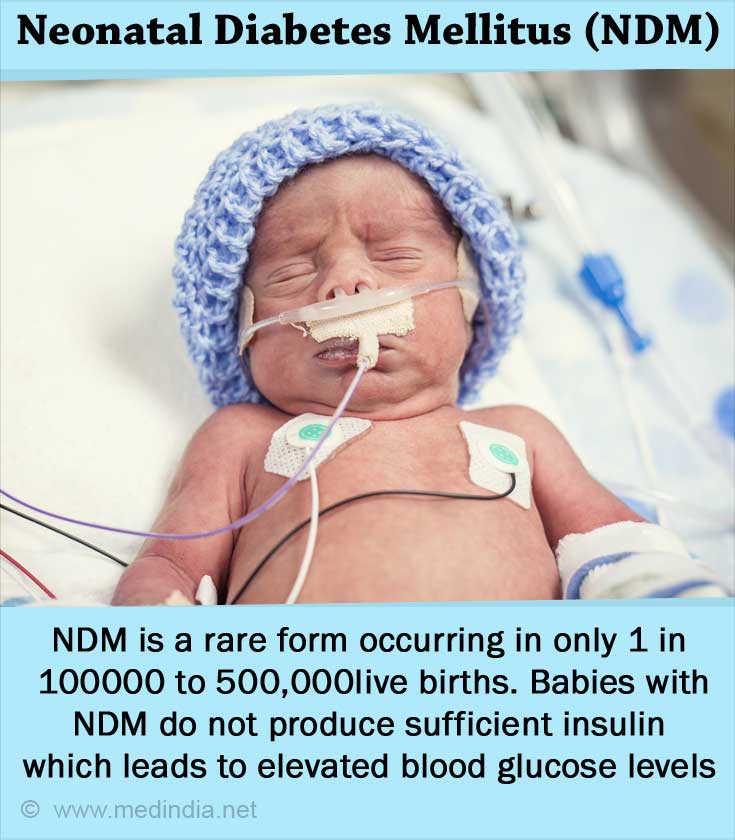 Fetuses with NDM do not grow well and newborns are smaller than the normal newborn with lower birth weight. After birth, the infant may fail to thrive and grow properly. Timely diagnosis and treatment usually improves infant weight and growth. NDM can be diagnosed through elevated glucose in blood or urine.
NDM is attributed to more than 15 genes. Early genetic testing is important because this knowledge can help direct appropriate therapy. For example, one form of NDM involves the ATP-sensitive potassium channel (KATP channel) on the beta cell membrane and this form responds to treatment with high doses of sulfonylureas.
Some of the symptoms include:
Frequent urination
Extreme thirst
Drowsiness
Lethargy
Sudden weight loss
Sweet or fruity breath
Heavy, labored breathing
Unconsciousness
Sulfonylurea tablets are generally used to treat Type 2 diabetes. However, doses 3-4 times higher are also used to treat NDM. In Type 2 diabetes, the sulfonylurea stimulates insulin release developing a rapid response to elevated glucose. In patients with NDM caused by mutations in the KCNJ11 or ABCC8 genes, sulfonylurea enables the pancreas to release insulin in response to food through the hormone GLP-1 which is released by the gut when food is ingested. Sulfonylureas are generally successful in treating NDM caused by mutated KCNJ11 or ABCC8 genes. It is only in rare exceptions that sulfonylureas do not work.
Insulin may sometimes be required in some forms of NDM. Usually infants with TNDM do not require insulin at first and the condition may disappear for a while. If the diabetes recurs later in life, life-long insulin treatment may be required.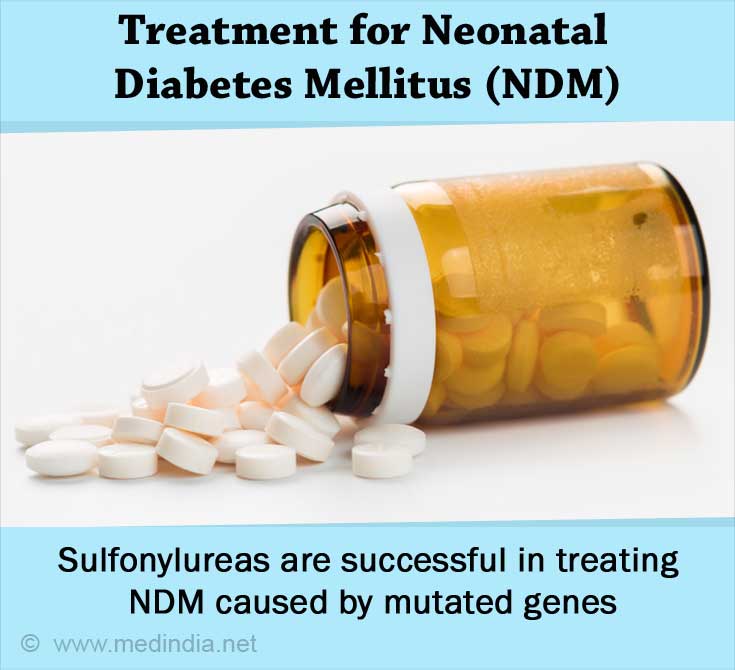 Mutations in nearly 10 genes have been known to cause MODY. MODY affects the ability of the pancreas to produce insulin. This leads to elevated blood glucose levels People with MODY may not present with symptoms and some are diagnosed through routine screening. MODY is often misdiagnosed as Type 1 or Type 2 diabetes.
People who are diagnosed with MODY usually have a family history of this disease. MODY is usually diagnosed before the age of 25.
People with MODY can be treated through oral medications, diet and exercise and may not be required to be on insulin treatment. Some patients with MODY may need treatment for related complications like kidney cysts or ketoacidosis (deficiency of insulin leading to excess acid production in the body affecting the kidneys).
Diagnostic tests for diabetes include:
Fasting blood glucose – glucose levels measured in the blood after fasting for 8 hours. The normal range is up to 70 mg/dL.
Random blood glucose – glucose levels measured casually at any time of the time. Acceptable range- is usually 70-125 mg/dL.
Oral glucose tolerance test – glucose levels measured after drinking a glucose beverage post-fasting 8 hours and after 2 hours.
Risk factors
The risk factors usually found in Type 1 or Type 2 diabetes like obesity or high-blood pressure may not apply to people with monogenic diabetes.
Most complications occur due to poorly managed blood glucose levels which damages tissues and organs.
Some of the complications include:
damage to the blood vessels, heart and nerves leading to diabetic neuropathy and cardiac arrest
damage to the kidneys leading to diabetic nephropathy and kidney failure
damage to the blood vessels in the eyes leading to diabetic retinopathy, cataract or glaucoma
dental issues
poor wound healing
increased susceptibility to skin and urinary tract infections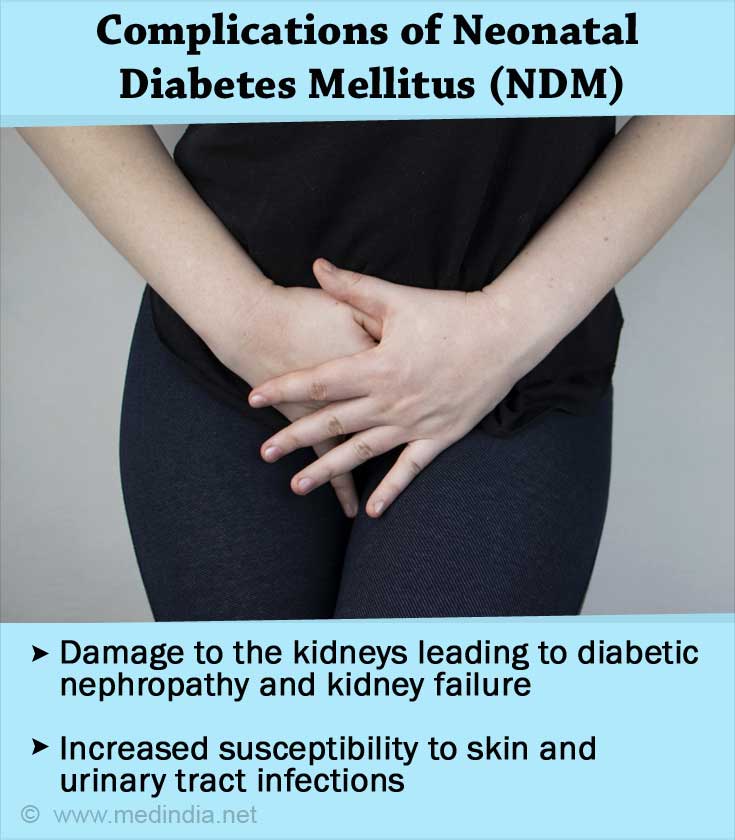 The DNA is analysed for mutations in the genes causing monogenic forms of diabetes. Results usually indicate if an individual already has the mutation or is likely to develop a monogenic form of diabetes in future. Genetic testing is essential towards putting together the right treatment program.
Prenatal testing is useful to diagnose unborn babies. Most forms of monogenic diabetes are autosomal dominant which means a single parent can pass on the mutation to children. If the mutation is recessive, the offspring will inherit two recessive genes from both parents and present with a monogenic form of diabetes.
Genetic counselling is essential both for affected individuals and parents who plan to conceive (one or both have the recessive gene).
References:
What is Monogenic Diabetes? -

(http://monogenicdiabetes.uchicago.edu/what-is-monogenic-diabetes/)

Monogenic Diabetes -

(http://www.hormone.org/questions-and-answers/2010/monogenic-diabetes)
Latest Publications and Research on Monogenic Forms of Diabetes