About
Menopause is a natural part of life that all women have to go through when they are around 50 years of age (give and take a few years). Menopause symptoms, however, vary from woman to woman. The symptoms are as individual as women themselves and so is the duration and severity of the menopause symptoms.
Menopause is said to be complete if a woman has missed her periods for one whole year. Therefore, technically speaking, the last menstrual cycle is called the menopause, but a woman may experience the symptoms of menopause for 5 years or more.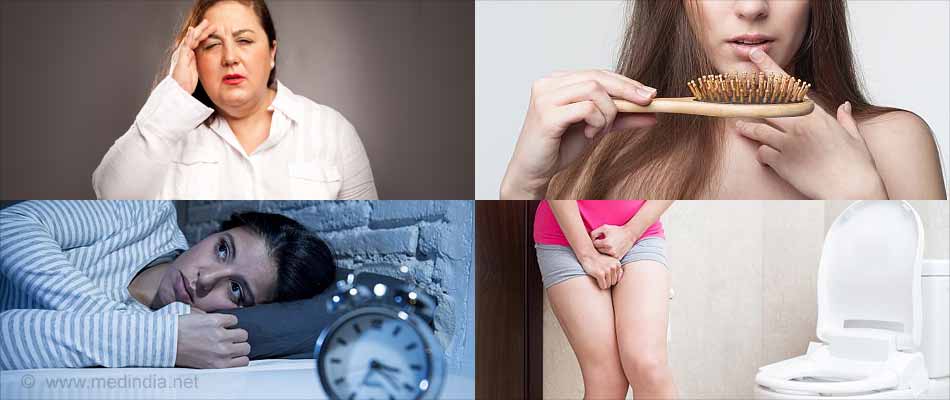 Menopause is actually a transition period in a woman's life when her ovaries stop producing eggs and she undergoes several changes both physically as well as emotionally. Her body produces less estrogen and progesterone; her periods become less frequent and eventually stop altogether.
The estrogen levels drop dramatically during the onset of menopause causing fluctuation of hormones in the body. This causes a number of changes in the body's functions which produces the symptoms of menopause. The symptoms may be mild, moderate or severe and may be specific to each woman.
In some women menopause sets in early or prematurely. It is said to be early if menopause occurs before the age of 45, but when menopause occurs before the age of 40, it is considered premature menopause. The signs and symptoms of menopause, normal or otherwise, are mostly the same.
References:
Menopause -

(http://www.nlm.nih.gov/medlineplus/ency/article/000894.htm)

Early and Premature Menopause -

(http://www.epigee.org/menopause/early.html)

The 35 Symptoms of Menopause -

(http://www.project-aware.org/Experience/symptoms.shtml#hot_flashes)

Rahman SA, Zainudin SR, Mun VL. Assessment of menopausal symptoms using modified Menopause Rating Scale (MRS) among middle age women in Kuching, Sarawak, Malaysia. Asia Pac Fam Med. 2010 Feb 22;9(1):5.
Research news -

(http://www.34-menopause-symptoms.com/osteoporosis-postmenopausal-women-soy-counteract-harmful-effects.htm)

Newton KM, Buist DS, Keenan NL, Anderson LA, LaCroix AZ. Use of alternative therapies for menopause symptoms: results of a population-based survey. Obstet Gynecol. 2002 Jul;100(1):18-25.
Latest Publications and Research on Dealing with Menopause symptoms through lifestyle changes