What is Itchy Armpits?
Itchy skin, also known as "pruritus", is an irritating, discomforting condition. It affect men and women and often cause a great deal of embarrassment. Itchy skin is usually attributed to improper hygiene. Itchy armpits are usually the result of pathogens like bacteria or microbes which infect the skin pores and release chemicals acting as irritants.
The degree of itchiness and irritation often depends on the cause of the itch. Infections usually cause severe itchiness along with a burning sensation. Apart from a sensation of itchiness, the condition may be accompanied by redness, soreness and slight swelling. Though scratching alleviates the irritation to some extent, excessive scratching can cause bleeding and scarring. Scratching can also lead to further infection and pus formation. It is best to seek medical help to avoid further infection.
Itchy armpits have multiple causes including allergies, heat rashes, fungal infections and other dermatological disorders.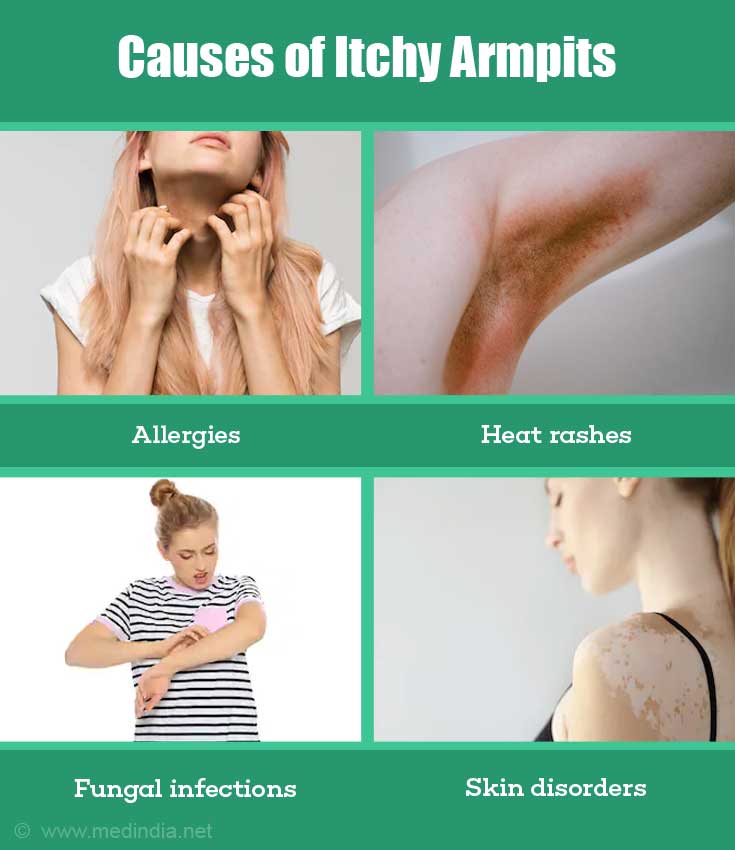 An accurate diagnosis of the exact cause of itchy armpits is essential for proper treatment. Often, people with Type I and Type II diabetes may experience severe itchy armpits due to high blood glucose levels. For people with diabetes, it is essential to control blood glucose levels and maintain proper hygiene to avoid itchy armpits.
Other Causes of Itchy Armpits include:
Personal hygiene is recommended for prevention of itchy armpits. Treatment of itchy armpits usually depends on the underlying cause.
The best way to prevent itchy armpits and consequent infections is improved hygiene. Washing the armpits at least once or twice a day with an antiseptic soap is helpful in preventing bacterial and microbial growth.(2) In hot and humid climes, people are advised to avoid tight, synthetic clothes and wear loose, cotton clothes that allow easy perspiration. In cases where perfumes, deodorants or other cosmetics are known to cause an allergic response, it is best to avoid these.
Depending on the Root Cause of the Itchiness, Treatment is Variable and includes:
Antiseptic or antibacterial soaps – if lack of personal hygiene is found as the cause, doctors usually advise proper hygiene and prescribe mild antiseptic or antibacterial soaps.(3)
Infections caused by candida usually require topical anti-fungal creams or ointments like clotrimazole. In some cases, an oral antibiotic may be required.
Hyperhidrosis can be effectively treated with aluminum chloride hexahydrate 10-25% solution or gel. If this is not effective, 1% hydrocortisone cream is usually prescribed.(4✔)
Heat rash, Miliaria Rubra and inverse psoriasis is usually treated with calamine lotion or hydrocortisone cream.
Home Remedies
Home remedies can be used to treat mild itchiness.(5) However, it is best to seek medical help if symptoms do not subside.
Some home remedies include:
Keeping armpits fresh by dipping cotton wool in rose water and cleaning.
Using natural deodorants.
Ice cubes can be used to alleviate burning sensation due to rashes.
Vitamin-C rich foods can boost immunity and prevent frequent skin infections.
While these home remedies are used to soothe symptoms, it is necessary to visit a dermatologist or physician to get the right diagnosis and prevent frequent episodes.
Post a Comment
Comments should be on the topic and should not be abusive. The editorial team reserves the right to review and moderate the comments posted on the site.