What is Glycosuria?
Usually the kidneys filter out the blood glucose back into the bloodstream and do not allow blood to be excreted. The condition is commonly associated with diabetes mellitus, but if there is a problem with the ability of the kidneys to reabsorb glucose, the condition is termed renal glycosuria.
Nephrons are the smallest functional units of kidneys. Blood flows from the arteriole into the kidney's special capillaries called glomerulus. These capillaries are surrounded by a capsule called Bowman's capsule which absorbs the filtrate – a mixture of water, solutes like glucose, sodium, potassium and amino acids and waste products such as urea. Some of these solutes, including glucose, are reabsorbed back into the bloodstream. The nephrons are able to take back sugar from the filtrate only up to a certain level of glucose concentration in the filtrate. When the blood glucose level exceeds 160 to 180 milligram per deciliter (mg/dL), the tubules cease to absorb the glucose back into the bloodstream and this filtrate along with glucose is excreted in the urine. This is called renal threshold or RTG. The rate at which glucose is reabsorbed into the bloodstream from the filtrate is called glucose reabsorption rate.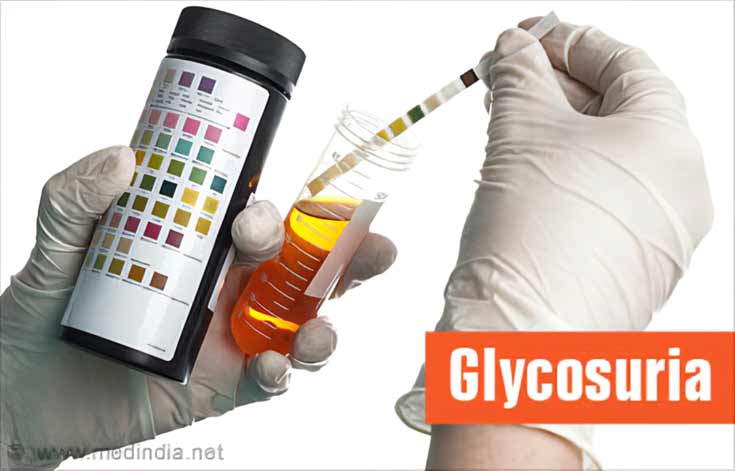 When the blood glucose level exceeds about 160 – 180 mg/dl, there is a saturation of the reabsorbed filtrate and glucose is excreted in urine.
Diabetes mellitus: The lack of insulin in the blood elevates the glucose levels. When there is too much glucose in the blood, the kidneys are not able to reabsorb the sugar back into the bloodstream, allowing some of it to be excreted in the urine.
Pregnancy: Increased renal blood flow decreases the renal threshold, thus eliminating more sugar in the urine.
Hyperthyroidism: Increased thyroid hormones in the bloodstream can result in poor absorption of glucose from the filtrate, and glucose passes out of the body.
High-sugar diet: High sugar content in the blood can result in exceeding the renal threshold levels of reabsorption and more sugar in the urine. The condition is called alimentary glycosuria.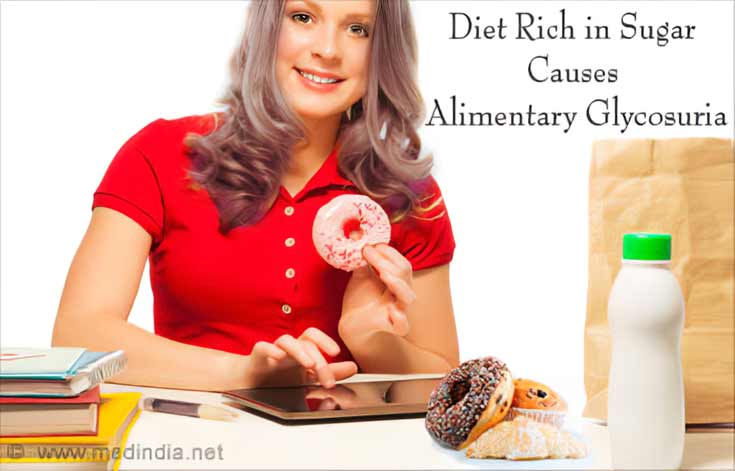 Raised intracranial pressure: Hyperglycemia and glycosuria are sometimes seen in patients with increased intracranial pressure and other brain lesions. This occurs because of the activation of the sympathetic nervous system and the consequent alterations in carbohydrate metabolism.
Liver disease: Cirrhosis of the liver affects the carbohydrate metabolism, resulting in high glucose levels in the blood. High levels of blood glucose exceed the renal threshold resulting in excretion of glucose in urine.
Emotions causing glycosuria: Emotional glycosuria is a condition in which emotions like fear, anger, anxiety etc can cause to release the hormone adrenaline. This hormone promotes breaking down of sugars to produce energy for "flight or fight" reaction. Such an event results in temporary rise in blood sugar levels, which can exceed renal threshold for glucose resulting in glycosuria.
Other possible causes of glycosuria include:
Post-gastrectomy
Interstitial nephritis
Hereditary tyrosinaemia
Glucose-galactose malabsorption in the intestine
Wilson's disease
Cystinosis
Heavy metal poisoning (lead, mercury etc)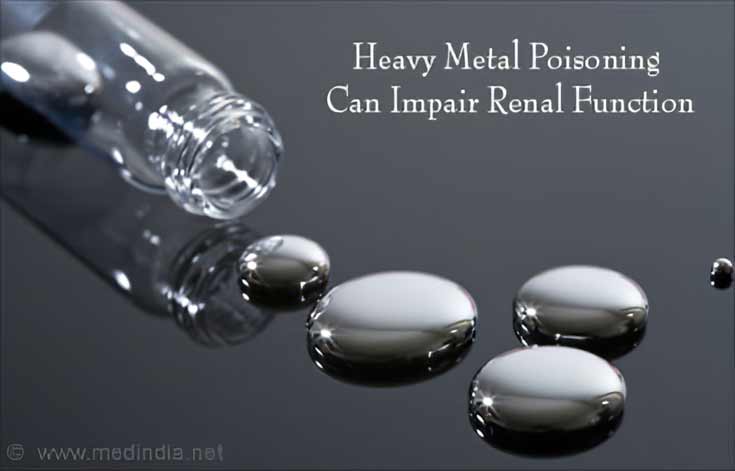 Based on the rate of absorption and renal threshold, benign glycosuria is categorized into three types:
Type A: Most common type of glycosuria where there is a decline in both glucose threshold and maximal glucose reabsorption rate.
Type B: The rate of reabsorption is normal but there is a decline in the renal threshold.
Type O: Glucose reabsorption does not happen in the kidneys. There is a lot of glucose excreted through urine though blood glucose, glucose tolerance and insulin levels are normal.
Some of the noticeable symptoms may include:

Abdominal pain
High blood sugar levels on testing in some cases
High urine glucose levels
Excessive thirst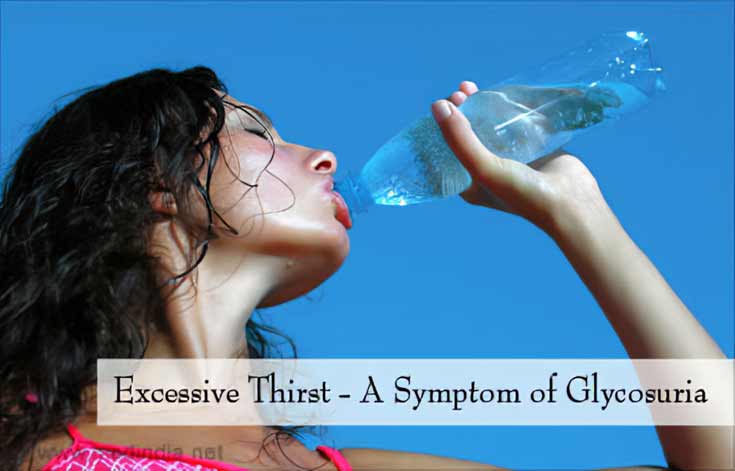 The patient does not present with any obvious symptoms of renal glycosuria, a
disease of the kidney
in which there is a failure of reabsorption of glucose in the kidneys.
Pregnant women may have asymptomatic glycosuria but test positive for glucose in urine. This may not indicate any medical problems except that it could be a warning sign of gestational diabetes.
Kidney disorders including infections may result in glycosuria. Symptoms of glycosuria in such cases include pain in the kidney area, fever and difficulty in passing urine. Urine tests may reveal excretion of glucose along with a large number of white blood cells, proteins, etc.
Diagnosis of Glycosuria
Historically, glycosuria was detected by tasting the urine or with its distinctive sweet scent. Currently, urine dipstick analysis reveals the presence of excessive amounts of glucose. Further urine tests confirm the exact concentration of glucose in urine.
The cause of glycosuria determines whether the condition is chronic or acute. However, the presence of glucose in urine is not necessarily a serious or life-threatening condition.
Managing diabetes, hyperthyroidism and regular kidney function tests can help in reducing excretion of sugars in urine.
Drugs like dapagliflozin and canagliflozin have recently been approved for lowering blood sugar levels in patients with type 2 diabetes mellitus.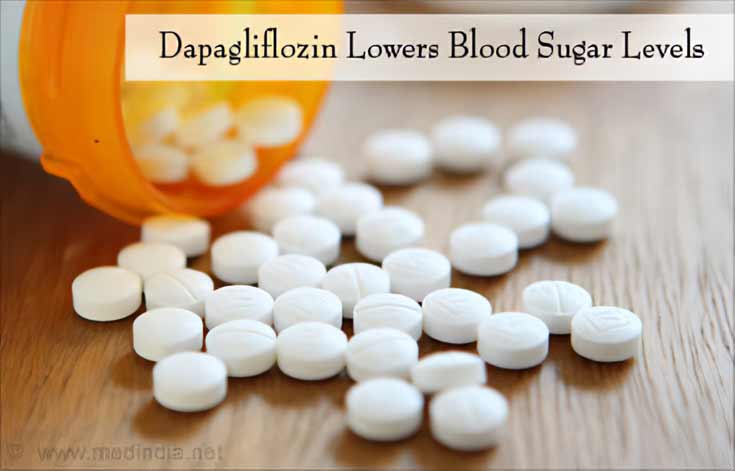 Prevention of Glycosuria
Reducing the amount of sugar consumption, both direct and indirect ways can help prevent high sugar levels in urine.
Glycosuria symptoms depend on glycosuria causes and may not always indicate high blood sugar levels. Renal glycosuria may show negative in blood glucose tests but positive in glucose urine.
Health Tips
Avoid eating food that contains more sugar than necessary.
Get regular health checks.
During pregnancy, urinalysis must be done at frequent intervals to check gestational diabetes or glycosuria.
Lifestyle diseases such as diabetes and obesity are factors contributing to glycosuria. Leading a healthy lifestyle and preventing such diseases can help keep glycosuria at bay.
Home remedies like fenugreek and juice from bitter gourd have found to be helpful in controlling blood sugar and thus reducing glycosuria.
References:
Glucosuria -

(http://www.rightdiagnosis.com/g/glucosuria/intro.htm)

Renal Glucosuria -

(https://emedicine.medscape.com/article/983678-overview)

Diagnosis and Treatment of Glycosuria -

(https://www.ncbi.nlm.nih.gov/pmc/articles/PMC2529517/)
Post a Comment
Comments should be on the topic and should not be abusive. The editorial team reserves the right to review and moderate the comments posted on the site.
Advertisement
Your Health Super Store