Drugs Banned in other Countries but Available in India
Several drugs that are prohibited or withdrawn from other countries like the United States are still widely available in India. Some of these include the following:
Painkillers - Oxyphenbutazone, Nimesulide, Propoxyphene
Oxyphenbutazone is a non-opioid painkiller that has been banned in many countries since it causes bone marrow depression thereby reducing the number of blood cells in the body, and other side effects. Its combination with any other drug is banned in India though it is available as a single drug.
Nimesulide is a non-opioid painkiller that was found to cause liver failure and was never introduced in the US. Children with viral infection were particularly susceptible to this adverse effect of nimesulide. In India, its use in children below 12 years of age is banned though it can be used in adults.
Propoxyphene is an opioid painkiller that may alter the electrical activity of the heart, causing problems in heart rhythm. It is not banned in India.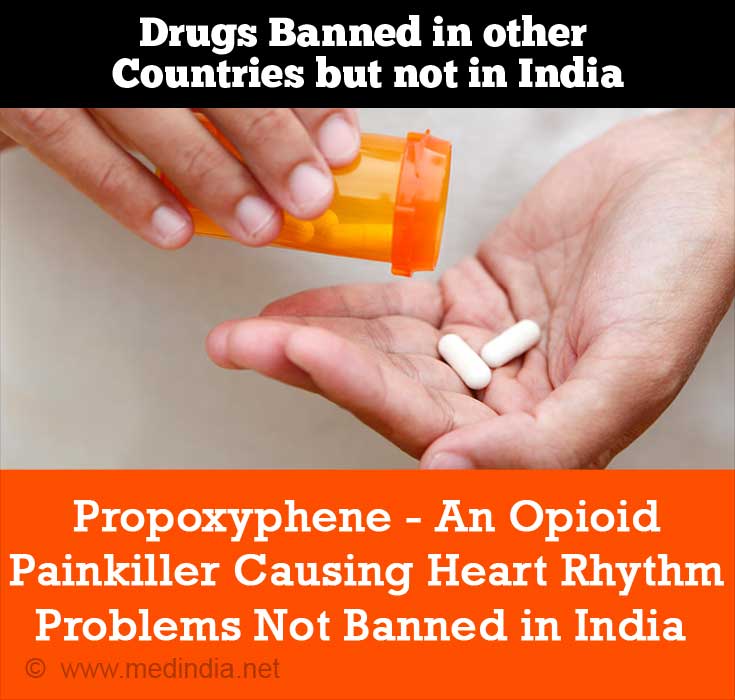 Antibacterials - Furazolidone, Nitrofurazone
Furazolidone is used in the treatment of diarrhea caused by bacteria or protozoa, alone or in combination with another drug, metronidazole. Studies indicate that its use has a possibility of causing cancer, and it is therefore not used in several countries. In India, only its combination with loperamide, an anti-motility drug used in the treatment of diarrhea, is banned.
Nitrofurazone is a topically used antibacterial similar to furazolidone and therefore, could also possibly cause cancer. It is banned in some countries, but not yet in India.
Anabolic Steroid - Nandrolone decanoate
Nandrolone decanoate is a drug that is used in the treatment of anemia due to kidney disease and osteoporosis. The drug is commonly abused by athletes to build muscle mass. It has been discontinued in the United States but is still used in India.
Drugs Acting on the Brain - Thioridazine, Pergolide, Pemoline
Thioridazine is an antipsychotic drug used in the treatment of conditions like schizophrenia. Its side effects include abnormal heart rhythms or arrhythmia, eye damage, and a condition called neuroleptic malignant syndrome where the patient suffers from high temperature and muscle rigidity. It continues to be available in India.
Pergolide is a drug used for the treatment of Parkinson's disease, a condition that affects the nervous system resulting in stiffness and tremors. For a long time, levodopa and carbidopa were the only drugs effective in this condition. The availability of new drugs provided hope for the patients. Pergolide was among these newer drugs, however it had to be withdrawn because it caused damage to heart valves.
Pemoline, a drug used in the treatment of attention deficit hyperactivity disorder, has been withdrawn in the United States due to its liver toxicity risk. However, it is not discontinued in India.
Cholesterol Lowering Drug - Cerivastatin
Cerivastatin is a cholesterol-lowering drug that caused several cases of rhabdomyolysis (destruction of skeletal muscles). With this side effect, patients suffered from damage to muscles followed by kidney failure. Unfortunately, it is still available in India.
Constipation - Phenolphthalein
Phenolphthalein belongs to a group of drugs called stimulant purgative, which are useful in the treatment of constipation. Studies in mice have indicated that its use may be associated with cancer or genetic damage, due to which it is not available in several countries. Though available in India, it is not frequently used.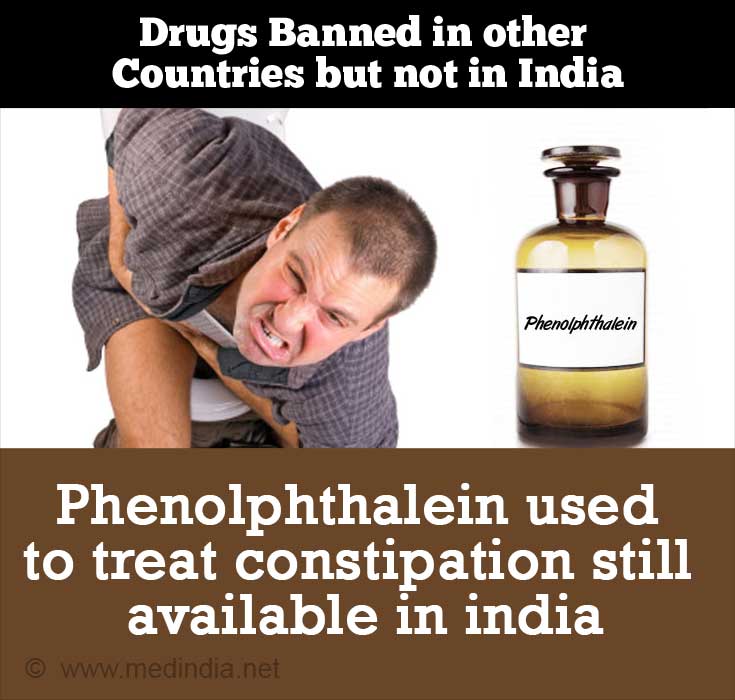 Human Placental Extract
The human placental extract is derived from the placenta obtained during delivery of a baby and finds use in the cosmetic industry. As other tissues of human origin, it may transmit infections like hepatitis B and HIV if adequate precautions are not taken, and is therefore not used in several countries. It is only allowed for two conditions in India - to be used locally for wound healing, and to be injected for pelvic inflammatory disease.
Post a Comment
Comments should be on the topic and should not be abusive. The editorial team reserves the right to review and moderate the comments posted on the site.
View More Comments