Drugs Banned in India
Drugs undergo rigorous testing before they are introduced into the market. They are first tested in animals and then in human beings during clinical trials for their efficacy as well as safety. Despite all precautions, some adverse effects of drugs appear only when the drug is used in the general population after its approval. These adverse effects are detected though a process of regular monitoring after the drug is released into the market called pharmacovigilance(1✔).
If the adverse effects are severe or the risks of using the drug outweigh the benefits, or if the drug is ineffective, the country may ban the drug or the drug company may itself voluntarily withdraw the drug. Some drugs may cause adverse effects only when combined with particular drugs. In such cases, only the fixed dose combination is banned and not the individual drugs.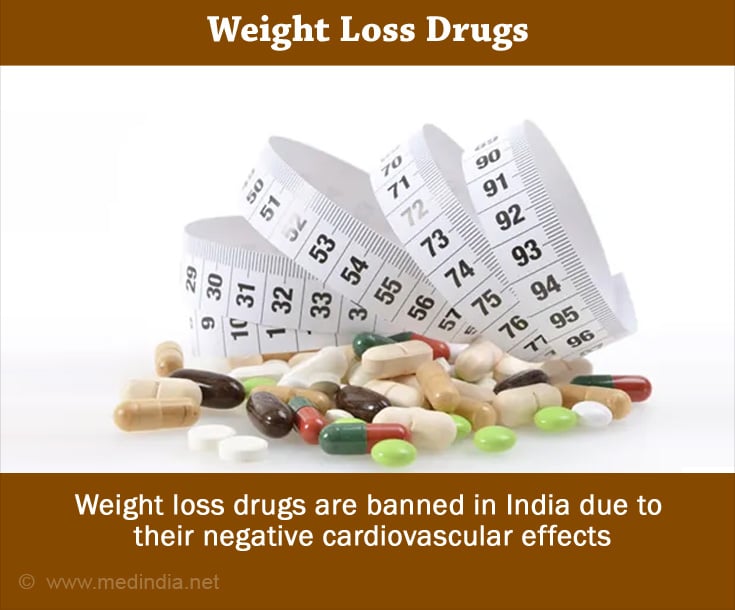 A number of single drugs as well as fixed dose combinations have been banned for manufacturing, marketing and distribution in India. Some individual drugs banned in India are mentioned below:
Drugs Used for Obesity and Weight Loss - Fenfluramine, dexfenfluramine, rimonabant, sibutramine, phenylpropanolamine
The introduction of weight loss drugs in the Indian market provided hope to numerous people suffering from overweight and obesity. These drugs could not only help people with a better body image, but they also promised reduction of health consequences of obesity. Unfortunately, these drugs were associated with serious side effects and had to be withdrawn for the following reasons:
Fenfluramine and dexfenfluramine affected the cardiovascular system and were associated with diseases of the heart valves, the formation of fibrous tissue in the heart, and pulmonary hypertension (high blood pressure in the lung circulation).
Rimonabant was withdrawn due to its association with serious brain-related side effects like depression, suicidal tendencies and seizures.
Sibutramine has been banned since it caused cardiovascular side effects like heart attack and stroke.(2✔)
Non-steroidal Painkillers - Rofecoxib, Valdecoxib
Rofecoxib and valdecoxib were second generation non-steroidal painkillers. They claimed to provide pain relief without causing stomach ulcers unlike conventional painkillers like aspirin, ibuprofen and indomethacin. However, their use was eclipsed with a higher incidence of heart attack and stroke in patients taking the drugs and therefore, they were banned.
Patients taking valdecoxib were also at a higher risk for serious skin reactions. These adverse effects did not support the use of these drugs for pain relief when safer drugs are available.
Anti-allergy Drugs - Astemizole, Terfenadine
Astemizole and terfenadine belong to a class of medications called antihistamines and were used to prevent and treat allergies. They have been withdrawn because they were linked to a problem with the heart rhythm called torsades de pointes, especially when used along with certain other drugs like erythromycin and ketoconazole.
Antidiabetes Drugs - Phenformin, Rosiglitazone
Phenformin, an anti-diabetes drug related to metformin, was banned because it caused lactic acidosis, where it increased the pH of the blood. In more recent times, rosiglitazone has been withdrawn because of its associated risk of heart attack.
Gastrointestinal Drugs - Cisapride, Tegaserod
Cisapride was a drug used in the treatment of acidity and constipation. It had the possibility of causing abnormal heart rhythms when used in high doses or when used along with other drugs like erythromycin and ketoconazole.
Tegaserod was another drug acting on the digestive system that was used to treat patients with a condition called irritable bowel syndrome with predominantly constipation. Its association with cardiovascular events like heart attack and stroke have prompted its exit.(3✔)
Antibiotic - Gatifloxacin
Gatifloxacin, an antibiotic belonging to the class fluoroquinolone, has been banned due to its ability to cause high blood sugar levels when taken either orally or through injection. However, eye drops containing gatifloxacin are still available.(4✔)
Reference:
Regulatory Control on Banned Drug: A Review Article -

(https://www.pharmatutor.org/articles/regulatory-control-banned-drug-review-article)

Rise and Fall of Anti-obesity Drugs -

(https://www.ncbi.nlm.nih.gov/pmc/articles/PMC3083904/)

Cardiovascular Safety of Prokinetic Agents: A Focus on Drug-induced Arrhythmias -

(https://www.ncbi.nlm.nih.gov/pmc/articles/PMC6364982/)

Gatifloxacin Ophthalmic Solution for Treatment of Bacterial Conjunctivitis: Safety, Efficacy and Patient Perspective -

(https://www.ncbi.nlm.nih.gov/pmc/articles/PMC3619660/)
Latest Publications and Research on Drugs Banned in India