Why Diabetic Patients Develop more Oral Health Problems?
Diabetes is a multisystem disorder that affects various organs of the body due to insulin resistance, where the body fails to produce enough insulin.
Insulin is a hormone produced by the pancreas that helps push the glucose from the food we eat into the cells for energy.
The risk factors for diabetes include old age, obesity, family history of diabetes, prior history of gestational diabetes, impaired glucose tolerance, physical inactivity, and race/ethnicity.
Most people affected by this disorder should know that it can harm eyes, heart, kidneys and blood vessel. They should also know about the impact of diabetes on oral health.
This aspect is less discussed even by the medical professionals and awareness about diabetes and oral health requires constant education.
Oral health problems are more likely to develop if the blood sugar level is poorly controlled.
Glucose Helps Bacteria Multiply - The growth of certain bacteria existing in our oral cavity is controlled by the body's natural defense mechanism and saliva to maintain a good oral hygiene.
Uncontrolled diabetes that weakens the body's main defense, the white blood cells against bacterial infections that occur in the mouth raises the glucose levels in saliva and this in turn facilitate the excessive growth of these bacteria.
Advertisement
Plaque Formation & Gum Disease - These bacteria along with food taken form a soft, colorless, and sticky film known as plaque on the tooth surfaces, causing gum disease, bad breath, and tooth decay.
Recently, severe gum disease also known as periodontal disease is recognized as the "sixth complication" of diabetes mellitus.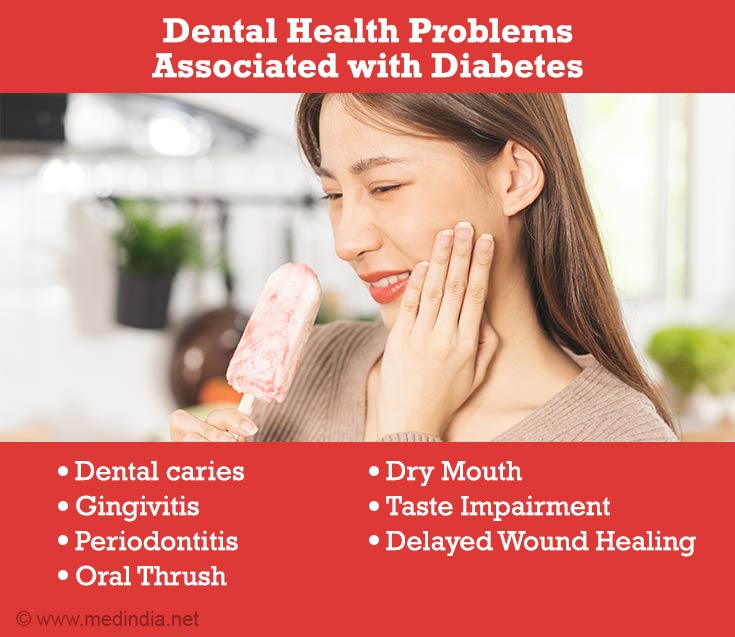 Dental caries (tooth decay): Decreased saliva production and increased sugar level in saliva seen in diabetic patients favor the growth of decay causing bacteria present in the mouth.
This results in the formation of brown or black stained tiny holes in the hard surface of teeth with mild to sharp pain on eating or drinking something sweet, hot, or cold is known as dental caries.
Consuming sugary or acidic foods also increases the risk of dental caries.
Gingivitis: It is the initial stage of gum disease. Decreased ability of the body to fight oral bacteria in diabetes and improper removal of plaque from tooth surfaces by brushing or flossing irritate the gums and result in swollen bleeding gums known as gingivitis.
Uncontrolled diabetes also slows down the blood flow in the gums reducing the supply of oxygen and nutrition to the gums and exposing them to infections easily.
Periodontitis: If gingivitis is not treated timely, it can result in damage to the soft tissue and bone that support the teeth known as periodontitis. Periodontitis causes bad breath, tooth mobility, abscess, and eventually tooth loss.
Since periodontal disease is a bacterial infection, people with uncontrolled diabetes might experience more frequent and severe gum disease resulting in tooth loss.
The chronic inflammatory state induced by untreated periodontitis may contribute to insulin resistance and can worsen the blood sugar level control in diabetes.
Oral thrush: Also known as oral candidiasis. Diabetes patients taking antibiotics frequently to fight various infections are more prone to develop a fungal infection of the mouth and tongue.
The fungus thrives on the high glucose levels in the saliva of people with uncontrolled diabetes. Constantly wearing dentures can also lead to fungal infections.
Oral thrush produces white or red patches in the oral cavity that may transform to ulcers with pain, and burning sensation.
Dry mouth: Also known as xerostomia, a condition in which the mouth is abnormally dry. Salivary function is essential for digestion, mastication, taste, speech, deglutition, and maintenance of oral health.
Decreased saliva (spit) flow, oral sensory dysfunction, dehydration and altered saliva composition in diabetes can result in dry mouth. Dry mouth can further lead to soreness, ulcers, infections, and tooth decay.
Taste impairment: Taste sensation can be influenced by the occurrence of peripheral neuropathy in diabetes. This sensory dysfunction inhibits the ability to maintain a proper diet and can lead to poor glycemic control and development of obesity.
Burning mouth and/or tongue: Diabetic patients are characterized by a bilateral burning sensation of the oral mucosa called burning mouth syndrome, an orofacial neurosensory disorder of unknown cause. This condition is caused by the presence of thrush and dry mouth.
Poor healing of oral tissues: People with uncontrolled diabetes do not heal quickly after oral surgery or other dental procedures because of damaged blood flow to the treatment site.
New insights about diabetes characteristics
Recent studies show that diabetes characteristics such as age at diabetes diagnosis, diabetes duration and diabetes treatment are correlated with poor perception about oral health, even after maintaining proper oral hygiene.
The poor oral health in diabetic patients compared to non-diabetic appears to be high because of the increased sugar levels in the gums and saliva present in our mouth.
Diabetic patients are more prone to oral health problems, so it is important to follow good oral hygiene practices, pay special attention to any changes in your oral health, and visit the dentist immediately if such changes occur.
Suggestions to prevent or reduce oral health problems: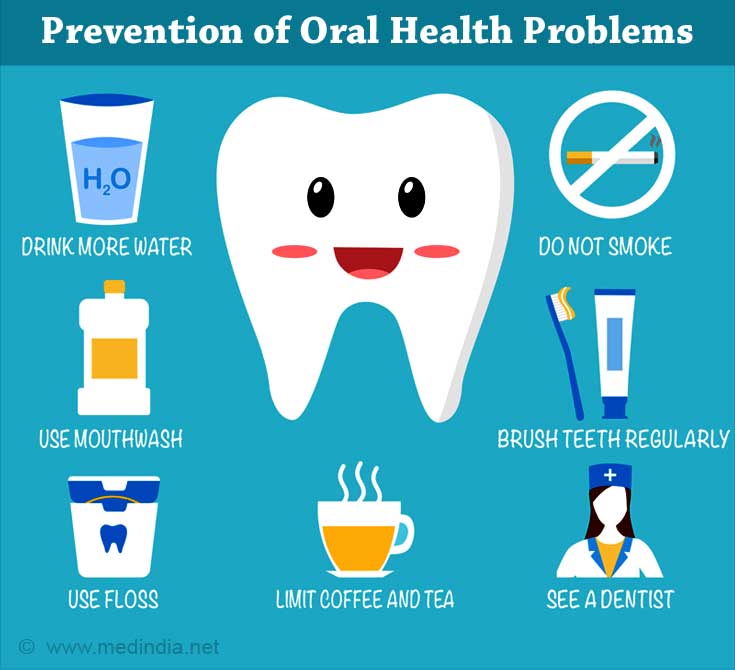 Keep blood sugar levels within the target level.
Drink plenty of water.
At each dental visit, tell your dentist about the diabetic status.
Before scheduling dental treatment for periodontal disease consult your doctor for planning pre-surgical antibiotics, changing your meal schedule, and the timing and dosage of your insulin
Inform your dentist about the medications you are taking to avoid unlikely interference.
Postpone non-emergency dental procedures if your blood sugar is not in good control.
As healing might take longer in people with diabetes, please follow your dentist's post-treatment instructions closely.
Call your orthodontist immediately if a wire or bracket (such as those in braces) cuts your tongue or mouth.
Oral hygiene tips for diabetic patients:
Clean your teeth and gum and get checked by your dentist at least twice a year.
Use dental floss at least once a day to prevent plaque build-up on teeth.
Brush your teeth after every meal using a soft-bristled toothbrush.
Remove and clean your dentures once daily.
Look for early signs of gum disease.
Quit smoking.
Managing diabetes also includes proper dental care with professional assistance from dentist. All the efforts will be rewarded with a lifetime of healthy teeth and gums.
References:
Diabetes mellitus and oral health -

(https://www.jofs.in/text.asp?2012/4/1/7/99874)

Periodontal status, perceived stress, diabetes mellitus and oral hygiene care on quality of life: a structural equation modelling analysis -

(https://bmcoralhealth.biomedcentral.com/articles/10.1186/s12903-020-01219-y)

Oral Health and Type 2 Diabetes -

(https://www.ncbi.nlm.nih.gov/pmc/articles/PMC3623289/)
Latest Publications and Research on Diabetes and Dental Health
Please use one of the following formats to cite this article in your essay, paper or report:
APA

Dr Jayashree. (2021, October 08). Diabetes and Dental Health. Medindia. Retrieved on May 18, 2022 from https://www.medindia.net/patients/patientinfo/diabetes-and-dental-health.htm.

MLA

Dr Jayashree. "Diabetes and Dental Health". Medindia. May 18, 2022. <https://www.medindia.net/patients/patientinfo/diabetes-and-dental-health.htm>.

Chicago

Dr Jayashree. "Diabetes and Dental Health". Medindia. https://www.medindia.net/patients/patientinfo/diabetes-and-dental-health.htm. (accessed May 18, 2022).

Harvard

Dr Jayashree. 2021. Diabetes and Dental Health. Medindia, viewed May 18, 2022, https://www.medindia.net/patients/patientinfo/diabetes-and-dental-health.htm.
Do you wish to consult a Dentist for your problem? Ask your question
Dr. Safia Mohammed
BDS
6 years experience
CDC, Tolichowki
Teleconsult Now
View Profile
Dr. Shrasta Sajeev
BDS
3 years experience

Teleconsult Now
View Profile
Dr. Harita Pottam
BDS
2 years experience

Teleconsult Now
View Profile
Dr. Ishan Singh
BDS, MDS
9 years experience
Peoples Dental Clinic, Gamma 1
Teleconsult Now
View Profile
View All