What are COX - 2 Inhibitors?
COX–2 (Cyclooxygenase enzyme – 2) Inhibitors are a group of drugs that are used to treat pain caused by inflammation anywhere in the body. Cyclooxygenase – 2, is an enzyme that converts a fatty acid called arachidonic acid into prostaglandins & thromboxane – these two substances promote inflammation in tissues. COX – 2 Inhibitors act by inhibiting Cyclooxygenase–2 enzyme activity and hence inflammmation.
There are two types of Cyclooxygenase (COX) enzymes, namely COX—1 and COX—2. The COX–1 enzyme receptors are located in the gastrointestinal system and protect the lining of the stomach from getting damaged. The COX – 2 enzyme receptors are present at the sites of inflammation.
COX–2 Inhibitors act by selectively inhibiting the transformation of arachidonic acid into prostaglandin H2 without affecting the COX–1 enzyme receptors. Due to this selective inhibition common side effects experienced with Non - steroidal anti – inflammatory drugs (NSAIDs) are avoided. NSAIDs act on both COX-1 and COX-2 enzymes and hence make the stomach lining more prone to damage and ulcer formation. Whereas COX–2 Inhibitors are useful as they don't work on COX-1 enzyme hence selectively work towards reducing inflammation and pain.
Advantages of COX–2 Inhibitors:
Has no effect on the gastrointestinal system in the form of ulcers, bleeding and obstruction
No stomach upset / indigestion
Side effects of COX–2 Inhibitors:
Headache
Insomnia
Dizziness
Elevation of blood pressure (Systolic and Diastolic)
Heart Attack
Vascular events in bypass graft patients
Stroke
Rare liver and kidney problems
Nausea/ Diarrhea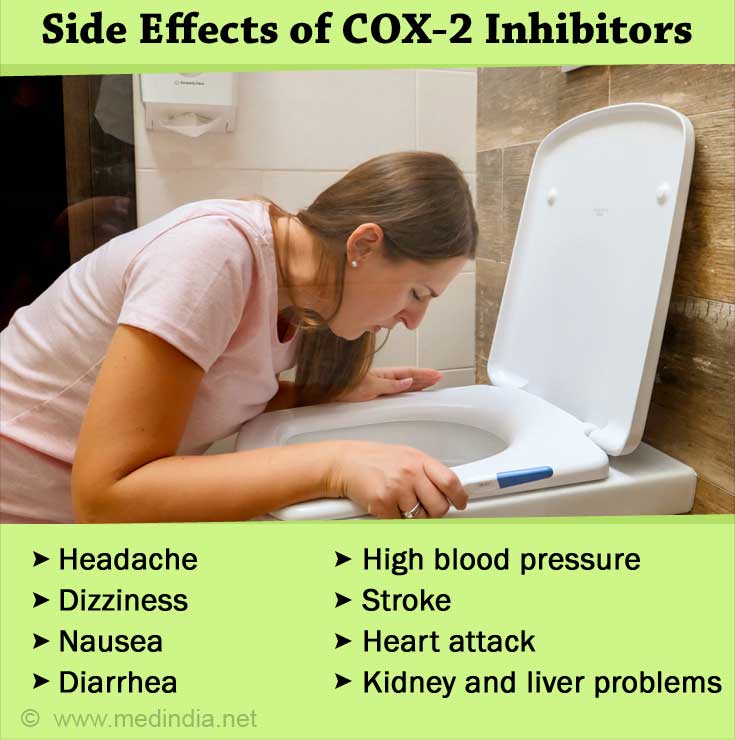 Ankylosing Spondylitis – It is the arthritis of the joints in the spine causing pain, stiffness, bony fusion and inflammation in the ligaments and tendons down the body from the neck to the lower back.
Juvenile Rheumatoid Arthritis – It is an autoimmune condition, affecting children below the age of 17. It causes persistent pain, swelling and stiffness in the joints of the body. It may recover within few months or may remain for the rest of their lives.
Osteoarthritis – Also known as, "wear and tear" arthritis. It occurs due to damage of the cartilage or the cushion between the bones in the joint spaces. It is common in the elderly, obese people and those with injury or overuse.
Rheumatoid Arthritis – It is a autoimmune condition affecting adults. It causes severe chronic inflammation of the joints in the body.
Pain management – In post-operative period.
Familial adenomatous polyposis – It is a genetically inherited condition in which numerous adenomatous polyps form with in the large intestine. They can transform into malignant tumors if left untreated.
Breast cancer – It is an abnormal malignant growth of tumor in the breast tissue.
Major depressive disorder – It is a mental disorder characterized by low mood or interest in any activities, low self esteem and pervasive behavior.
Schizophrenia – It is a mental disorder characterized by abnormal social behavior and loss of perception of what is real.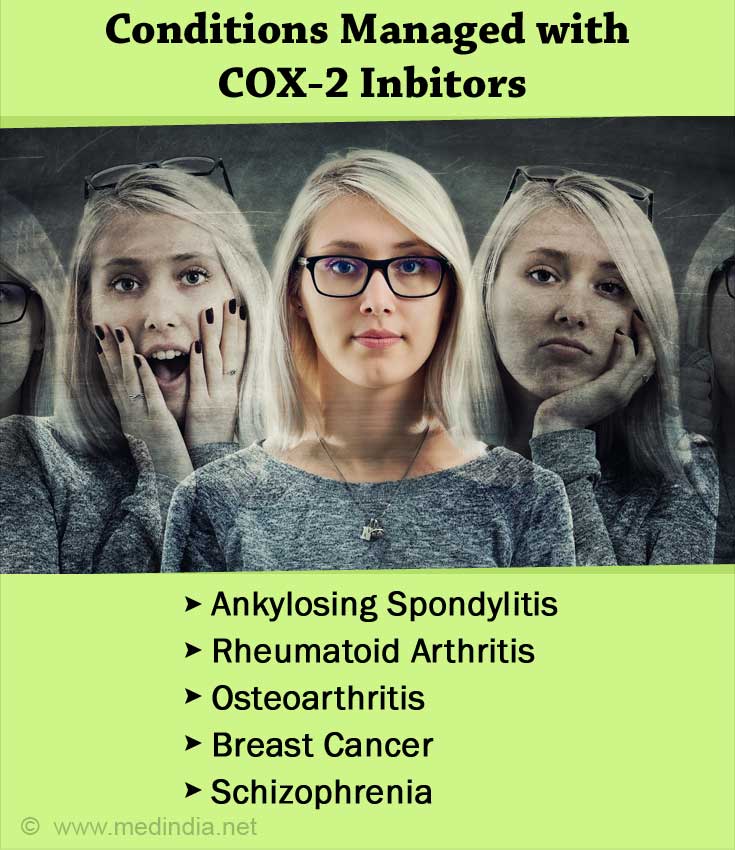 If you have allergy to sulfonamide or sulfa drugs, you should avoid COX–Inhibitors.
With history of asthma, allergies or hives, COX–Inhibitors should be avoided.
Patients with serious coronary artery disease or who have undergone CABG recently, should avoid taking COX–2 Inhibitors.
If you are using COX-2 Inhibitors for a long time, it is important to remember that it can cause serious stomach problems. The risk of developing stomach problems increases with the consumption of alcohol.
The chances of experiencing side effects from Celebrex and Bextra use are high in the elderly population.
Blood work including liver function tests and kidney function tests should be done on regular intervals if you are using COX-2 Inhibitors for long periods of time.
COX–2 Inhibitors should not be used along with traditional NSAID's. If required low dose aspirin can be used.
Reference:
COX-2 inhibitor -

(http://en.wikipedia.org/wiki/COX-2_inhibitor)
Latest Publications and Research on COX - 2 Inhibitors