Common Food Additives
Various types of food additives have been used, each one for a different reason.
The oldest and the most common role of an additive is that of a preservative. As innumerable varieties of food invaded the market, food additives have taken on an important role. The following are some of the kinds of food additives commonly used:
Preservatives: They are used to increase the shelf life of food by preventing the growth of microorganisms like yeast or bacteria in food. E.g. Class II preservatives, like sodium or potassium benzoate, that are used in sauces.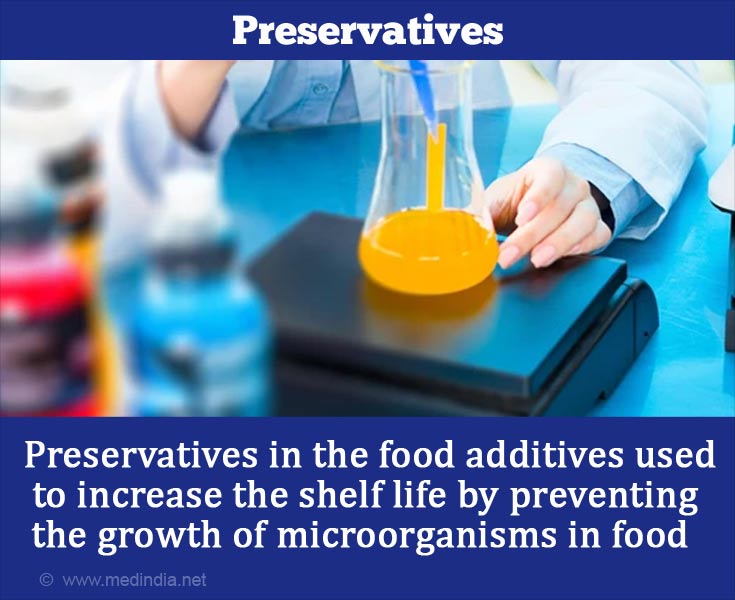 Sodium or Calcium Propionate used in cakes and breads, Fumigants, such as Ethylene oxide or Ethyl formate, used to prevent microbial growth on nuts and spices and Sulphur dioxide, used to prevent browning of fruits and vegetables are good examples of preservatives.
Advertisement
Antioxidants: Spoilage of fat is called rancidity. All fat containing foodstuffs like nuts, breakfast cereals or potato chips have a tendency to become rancid. Antioxidants are added to these products to prevent rancidity. Butylated Hydroxy Anisole (BHA), Butylated Hydroxy Toulene (BHT), naturally available ascorbic acid, tocopherols or sulphur dioxide are some of the commonly used antioxidants.
Sequestrants: Iron or copper can act as active catalysts of oxidation and induce color reactions in foods. Sequestrants, such as citric acid or EDTA combine with these trace metals and act as metal scavengers and prevent oxidation, thereby improving the quality and stability of food.
Surface-active agents: These are necessary to stabilize an emulsion, whether it is oil in water or gas in liquid type. It includes natural emulsifiers, such as lecithin found in egg yolk, which stabilizes mayonnaise, or synthetic emulsifiers, such as monodiglycerides.
Stabilizers and thickening agents: Additives such as pectin, amylose, and gelatin increases viscosity, by combining with water to form gels, and hence are used to thicken gravies and pies. They are typically used in puddings, salad dressings and cake toppings.
Bleaching and maturing agents: Aata or milled wheat flour is slightly yellow in color in contrast to maida, a derivative of aata, which is white in color. Maida also has better baking properties. These altered properties of maida are due to the addition of benzoyl peroxide, used to bleach yellow color and to mature the aata. Similarly, hydrogen peroxide is used to bleach milk in manufacture of cheese.
Food color: The turmeric grown at home and powdered, is not as visually appealing as its commercial counterpart and hence its contribution to flavoring the food is limited. Food color is added to it to improve its visual appeal. Natural or synthetic color can be added to provide attractive and appetizing qualities to food. Some natural colors include:
Annatto
Caramel
Saffron
Carotene
Cochineal, a natural color, is extracted from females of an insect called coccus cacti. Natural reds from cranberries, grapes, beets are also available.
Common synthetic colors include certified coal tar dye used in carbonated drinks bakery items and candies.
The synthetic colors have an edge over natural ones in that they provide greater color stability and uniformity and are cheaper compared to the natural ones. Further the desired hue of natural colors may not available.
Dietary sweeteners: Sweeteners are non-nutritive and do not add calories to the food. These are used by the weight-conscious and by patients with diabetes. Among the initial sweeteners were the cyclamates and saccharine. The former was banned in 1969 and the later was in use extensively till 1977. The common ones available today are aspartame, sucralose, and acesulfame-K. Unlike aspartame, sucralose can be used while cooking. These artificial sweeteners are of great use in the preparation of low calorie or diabetic foods.
Flavoring agents: The need of flavoring agents is on the rise. This is because some flavor loss occurs either totally or partially during the steps involved in the processing of food such as heating, concentration or drying. Besides, variety being the spice of life, these flavoring agents helps in the preparation of different varieties of food. Flavoring agents is the largest group of food additive with 1200 varieties, comprising of both natural and synthetic flavors. Some natural flavors include herbs, spices and essential oils.
Synthetic flavoring agents include:
Amyl acetate for banana flavor
Benzaldehyde for cherry flavor
Ethyl butrate for pineapple flavor
Methyl anthranilate for grape flavor
Also included in this group are "flavor enhancers" which by themselves do not have flavors but enhance the flavor when added to food. One such product is mono sodium glutamate or better known as "ajinomoto" used, largely in Chinese cooking.
Anti-caking agents: These are used to keep the product from clumping together e.g. calcium phosphate used in salt, or magnesium carbonate used in icing sugar.
References:
Food Science: Third Addition - By Norman Potter
Anticaking Agents -

(http://www.foodadditivesworld.com/anticaking-agents.html)

Hydrogenated Sperm Oil: Sec 173.275, of Ch 1 "Food and Drug Administration, Dept of Health and Human Services", Code of Federal Regulations.
Please use one of the following formats to cite this article in your essay, paper or report:
APA

Bina Naik. (2019, May 16). Common Food Additives. Medindia. Retrieved on May 16, 2022 from https://www.medindia.net/patients/patientinfo/common-food-additives.htm.

MLA

Bina Naik. "Common Food Additives". Medindia. May 16, 2022. <https://www.medindia.net/patients/patientinfo/common-food-additives.htm>.

Chicago

Bina Naik. "Common Food Additives". Medindia. https://www.medindia.net/patients/patientinfo/common-food-additives.htm. (accessed May 16, 2022).

Harvard

Bina Naik. 2021. Common Food Additives. Medindia, viewed May 16, 2022, https://www.medindia.net/patients/patientinfo/common-food-additives.htm.
Request an Appointment with a Doctor (Nutrition Expert)
Ms. Supraja Vijay
BSc
1 year experience

Teleconsult Now
View Profile
Ms. Himaja H
BSc, MSc
12 years experience
Health and Nutrify clinic, Serlingampally
Teleconsult Now
View Profile
Mrs. Priya S
BSc
11 years experience

Teleconsult Now
View Profile
Ms. Dharanya Ramesh
BSc, Pg
1 year experience
Dt.Dharanya s clinic, Arul Nagar
Teleconsult Now
View Profile
View All