Angina can cause discomfort during activities such as walking, exercising, cleaning or climbing stairs. The pain may radiate to the neck and arms and may cause sweating or breathlessness. If the pain is mild it may go away after a while. Severe form of angina can be treated with nitroglycerine.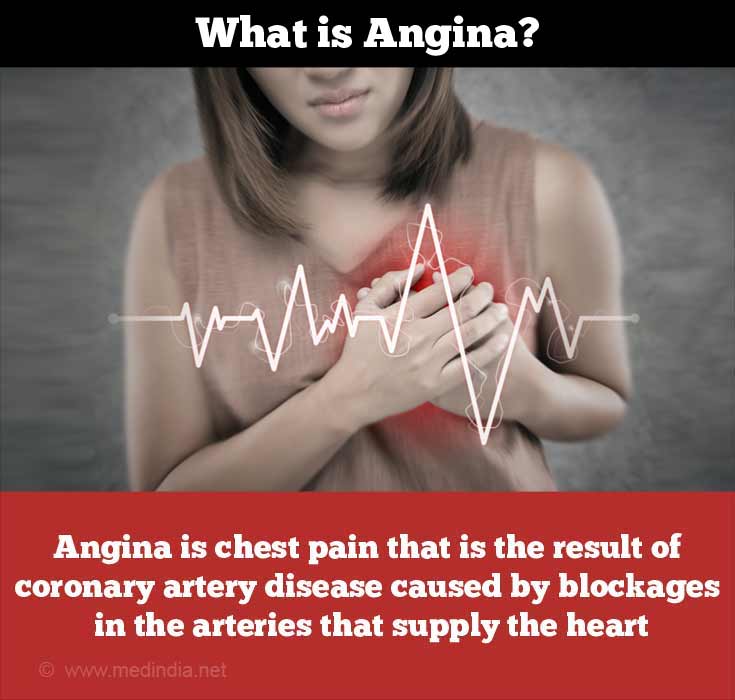 In some people the angina arrives while exerting at a certain level of activity and subsides once the activity is over. This is called stable angina. But when there are a lot of variations in the arrival of the pain and its going away, it is referred to as unstable angina. This variety is more dangerous.
Angina in a resting person, sudden or frequent episodes of angina with little exertion and angina that does not go away require immediate medical attention.
The doctor may check if the following risk factors are present:
The doctor usually asks for an ECG and a stress test or a treadmill test. Sometimes cardiac catheterization may also be needed to do an angiogram study of coronary artery to look for blockages that maybe the cause for the angina.
Very often angina-related heart disease is controlled with medicines such as beta blockers, nitrates and calcium channel blockers. Sometimes the condition may have to be rectified surgically through methods such as angioplasty or by-pass surgery. This is something that the cardiologist (heart doctor) will help to decide.
Heart diseases are mostly preventable by monitoring and controlling the risk factors.(4✔)
Post a Comment
Comments should be on the topic and should not be abusive. The editorial team reserves the right to review and moderate the comments posted on the site.