Brain Tumor - Treatment
Treatment for brain cancer depends on the age of the patient, the stage of the disease, the type and location of the tumor, and whether the cancer is a primary tumor or brain metastases. The treatment plan is developed by the multidisciplinary team consisting of neurosurgeons, neurooncologists, medical oncologists, and radiation oncologists. and the patient. It involves any combination of surgery, radiation, and chemotherapy. Some tumors require several different surgical procedures, and some can be treated with radiation alone.
Surgery: Surgery is the treatment of choice for accessible localized primary brain tumors, when the patient is in good health. The goal of surgery is to remove as much of the tumor as possible without damaging nearby normal brain tissue.
Craniotomy: It is to remove as much of the tumor as possible. The procedure is performed under general anesthesia and involves opening the skull (cranium).
Laser microsurgery: MRI is used to pinpoint the location of the tumor and a laser is used to destroy the tumor. This procedure may be used after craniotomy to remove remaining tumor tissue.
Brain-mapping: It is performed under local anesthesia and sedation. Electrodes stimulate nerves in the brain and measure responses. The surgeon removes as much of the tumor as possible without damaging vital areas of the brain, such as those that control motor function and speech.
Radiation Therapy: Radiation is used when the entire primary tumor cannot be surgically removed. Radiation therapists use several different approaches to treat primary brain tumor like External-beam radiation, Brachytherapy, and Stereotactic radiosurgery, 3-dimensional conformal radiation therapy and Proton beam radiation therapy.
Chemotherapy: Chemotherapy is generally not a very effective treatment for most malignant primary brain tumors or metastatic tumors. The problem with chemotherapy is that it works by interrupting mitosis, the process of cell division. Many brain tumors grow slowly by nature, so slowing their growth by chemotherapy doesn't do much good. Chemotherapy is also used as a radio-sensitizing agent with radiation to control a recurrent tumor and to treat patients who can no longer tolerate radiation therapy.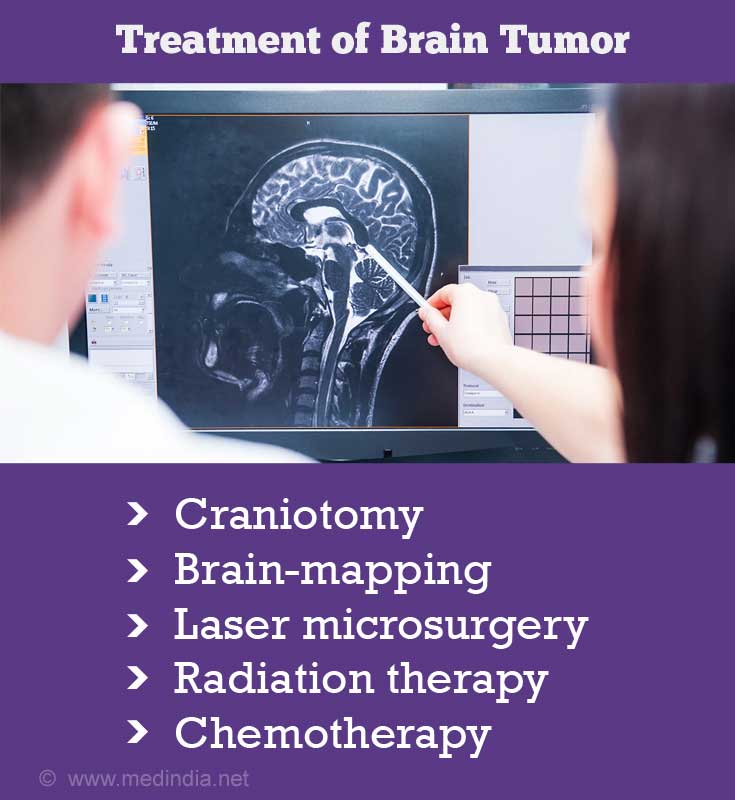 Supportive therapy
Immunotherapy: Various techniques that attempt to boost a person's immune system so that it more effectively fights the tumor cells is used as supportive therapy.
Gene therapy: Inserting genes into a person's tumor cells or immune system to change the way the tumor cells operate.
Steroid therapy: Steroids are drugs that are used to reduce the swelling that often surrounds brain tumors. Although steroids do not treat the tumor itself, they are very useful in improving symptoms and making you feel better. They may be used before or after surgery, or during or after radiotherapy.
Anticonvulsant medicines: Anticonvulsants are drugs to prevent epileptic fits. These medicines are prescribed for people who have brain tumors and also after brain surgery. Some commonly used types are phenytoin and carbamazepine.
Brain Tumor - References
Post a Comment
Comments should be on the topic and should not be abusive. The editorial team reserves the right to review and moderate the comments posted on the site.
View More Comments