Brain Tumor - Symptoms
Brain tumors can damage vital neurological pathways and invade and compress brain tissue. Symptoms usually develop over time and their characteristics depend on the location and size of the tumor. Not all brain tumors cause symptoms, and tumors of the pituitary gland are found mainly after death. Symptoms may be caused when a tumor presses on a nerve or damages a certain area of the brain. They also may be caused when the brain swells or fluid builds up within the skull.
These are the most common symptoms of brain tumors (primary tumors):
Headache (usually worse in the morning)
Weakness
Clumsiness
Difficulty in walking
Seizures and convulsions (muscle jerking or twisting).
Altered mental status - Changes in concentration, memory, attention, or alertness
Nausea, vomiting - Especially early in the morning
Abnormalities in vision or other sensory problems
Difficulty with speech or in expressing oneself.
Gradual changes in intellectual or emotional capacity
Changes in behavior or personality
Nausea or vomiting (especially in middle-aged or older people)
Sudden onset of fever, especially after chemotherapy
(usually worse in the morning)
Problems balancing
Numbness or tingling in the arms or legs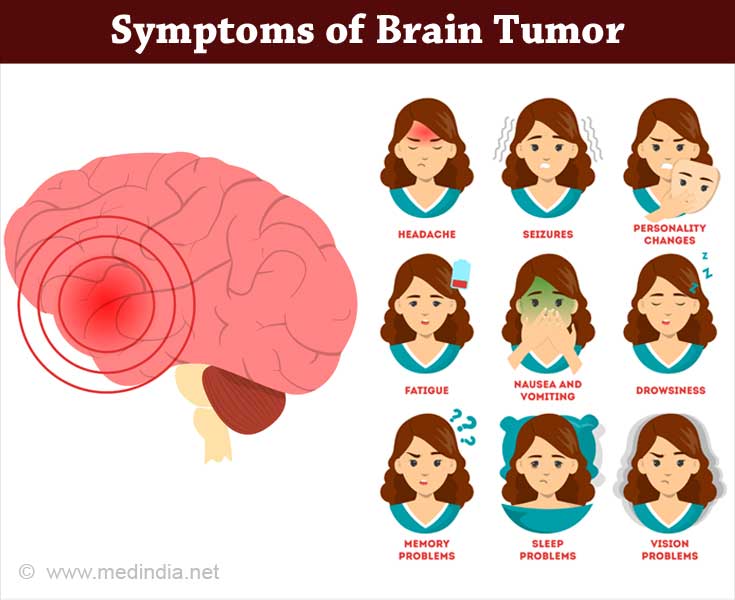 Brain Tumor - References
Post a Comment
Comments should be on the topic and should not be abusive. The editorial team reserves the right to review and moderate the comments posted on the site.
View More Comments