About Poliomyelitis
Poliomyelitis, also known as infantile paralysis or polio disease, is an infectious viral disease caused by the poliovirus. The infection leads to inflammation of nerve cells of the brain and the spinal cord, resulting in muscle paralysis.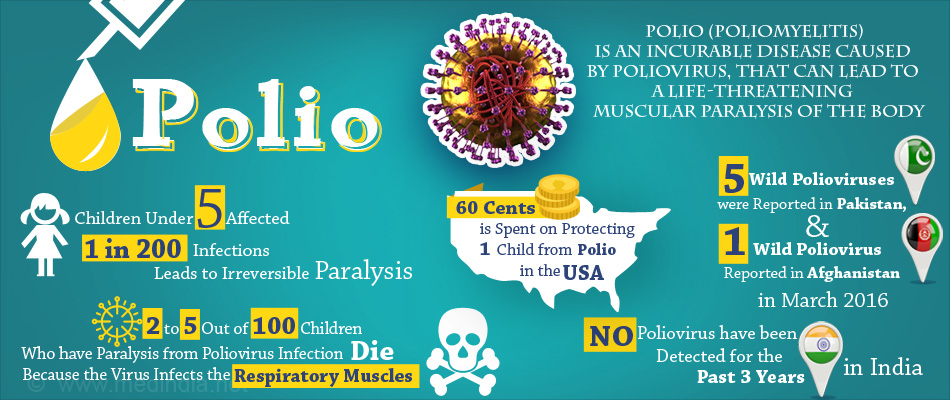 Poliomyelitis affects people of all age groups. However, Children less than 2 years of age are at an increased risk of infection, particularly in areas with poor hygiene and sanitation. Poliovirus transmission occurs through contact with the feces of an infected person. In countries that have an active poliomyelitis immunization program for children, infection is predominantly among the older age group.
The majority of individuals who are infected with polio are either asymptomatic or have mild symptoms. Less than 1 percent of those who acquire the viral infection develop paralytic disease. The risk for paralysis often increases with age.
Paralytic poliomyelitis strikes without prior warning. The infected person may experience aseptic meningitis with backache and pain in the neck muscles for several days before the symptoms progress to paralysis.
Treatment of this condition aims at managing the symptoms and the majority of the affected individuals achieve a complete cure. However people who have suffered a polio attack at a very young age are likely to develop a condition called the post polio syndrome, which causes a lot of discomfort to the individual.
Prevention through vaccination holds the key to achieving a complete wipeout of the dreaded polio and several countries have achieved this feat. India too has embarked on elaborate immunization programme and was to a large extent able to control its debilitating spread. However, the disease has raised its ugly head once again in some of the backward areas of the country and control programmes are back in full swing.
Spreading awareness about the need for hygiene in backward areas followed by extensive and meticulous vaccination programmes will help to achieve a complete eradication of polio.
Latest Publications and Research on Poliomyelitis