About
"Vitality and beauty are gifts of nature for those who live according to its laws" - Leonardo Da Vinci
There is more to herbs than just grandma's potions for curing rashes and stomach aches. Many herbs are essential constituents in the herbal beauty industry products as well as most Indian homes. Here are the top ten -
1. Lavender, also known as Lavandula angustifolia or Lavandula officinalis is one of the best known herbs used in the beauty industry for its fragrance and aromatherapy benefits. Lavender is used as an antiseptic, analgesic and a deodorant in bath gels, soaps, and lotions.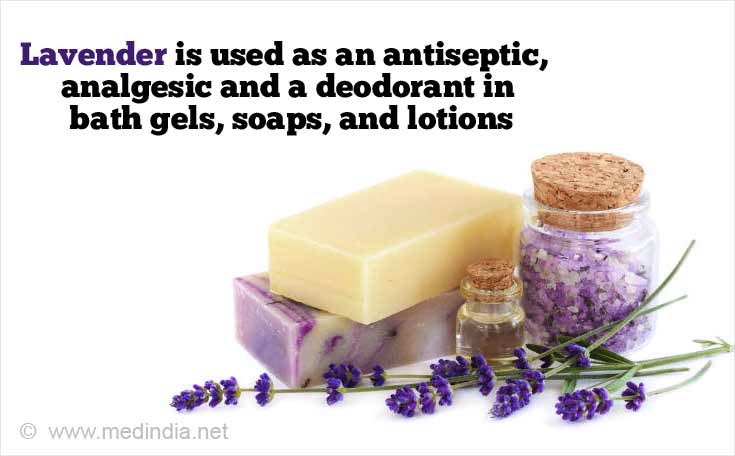 Scientific evidence suggests that lavender is helpful in alopecia areata or patchy baldness. Along with oils from thyme, rosemary, and cedarwood, it helps in over 44 percent reduction in hair loss after just 7 months of treatment.
The anti-bacterial and anti-inflammatory properties of lavender make it ideal for treating acne and sunburns. Lavender is also beneficial in relieving insomnia, restlessness, stress-related headaches, fungal infections like candidiasis, scars, burns and eczema (a number of chronic skin conditions with a characteristic itching, redness, swelling and blistering rash).
Lavender oil acts as a toner for the skin and the advantage is that it suits all skin types.
2. Aloe vera has been used since time immemorial for skin problems like burns, blisters, frostbite, urticaria (an allergic skin rash), herpes, inflammatory skin disorders, psoriasis (chronic immune-related skin disease characterized by red thickened skin with silver scales), besides tooth and gum diseases. Aloe is rich in calcium, potassium, vitamin C, vitamin E, zinc. The potassium present in aloe helps in the detoxification of the liver and kidneys. Aloe vera finds its usage in innumerable face packs, moisturizers, soaps, bath gels, shampoos, conditioners, toothpaste, face and skin creams, cleansers, sunscreens, shaving gels, baby lotions and wipes.
Local application of aloe prevents aging and wrinkles
Aloe, also helps in healing the skin and reducing scars. Regular application of aloe is known to prevent scarring and stretch marks
Aloe is a very popular substitute for creams as a moisturizer for dry skin
It is one of the main exfoliating ingredients in the organic skin scrub
Aloe reduces dandruff and makes for a good conditioner for silkier and softer hair
Some people use it to shrink warts
Advertisement
3. Calendula or marigold has anti-inflammatory, antiviral, and antibacterial properties besides containing a high amount of flavonoids (antioxidants) that protect the body against the damaging effects of free radicals. Local application of calendula cream treats inflammations and infections of the skin, burns, scalds, bruises, cuts, eczemas and hemorrhoids.
Calendula is used extensively in face packs and soaps as a cleanser and for blemishes and acne.
It is also used as a hair conditioner and cleanser.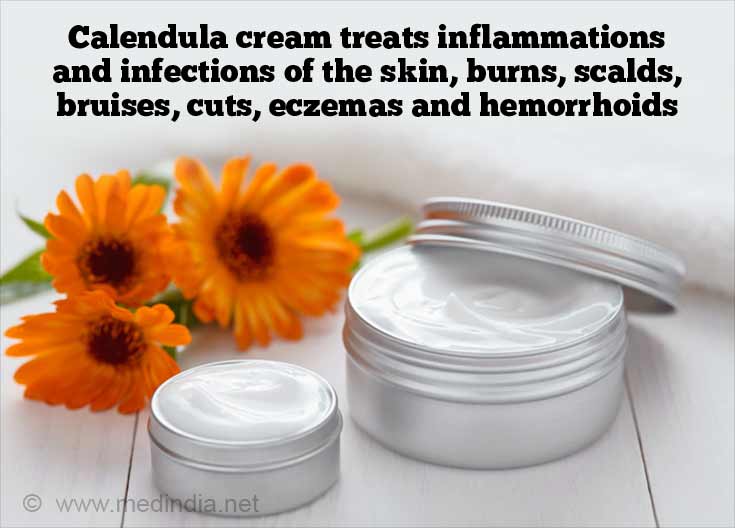 4. Turmeric or Curcuma longa has been also known as the "Indian solid gold" because of its innumerable health and beauty benefits. Turmeric is an anti-inflammatory, antioxidant, antibacterial, antiviral, antifungal and anti-disease agent. Turmeric can be taken orally or applied on the skin. It's beauty uses are many -
Since ancient times, turmeric mixed with gram flour is used on the skin of Indian brides and grooms for a flawless complexion
Turmeric is applied locally to treat acne, wrinkles, dry skin, oily skin, scars, pigmentation of the skin
A pinch of turmeric added to castor oil and applied on scalp prevents dandruff
In olden days, turmeric was used in removing unwanted hair from the body. It gives an added advantage of soft and smooth skin. Turmeric being anti-septic it proves useful in preventing tooth decay.
Advertisement
5. Neem or Azadirachta indica is a tree whose bark, sap, leaves, fruit, seeds, and twigs are all used for multitudinous medicinal and beauty purposes. Neem is also known in India as 'Sarva roga nivarini' which means "the one that can cure all ailments". Neem is used in diabetes, hypertension, leprosy, ulcers, skin diseases, and many more health related diseases. It is by nature a potent anti-inflammatory, anti-viral, and anti-fungal agent besides its use as an anti-malarial and anti pesticidal plant. Neem is used in soaps, toothpaste, detergents, face packs and skin creams for acne and eczema, hair products for thinning of hair and as a shampoo.
6. Tulsi or Ocimum basilicum is also known as basil worldwide. Holy basil or Ocimum tenuiflorum is a sacred plant to the Hindus. It is also known as the 'king of herbs'. Basil is a rich source of vitamin A, vitamin K, vitamin C, calcium, magnesium, potassium, and iron besides other antioxidants and phytonutrients. In the beauty industry, tulsi has found use in -
anti acne face packs and creams
Anti-lice and dandruff shampoos
aromatherapy and perfumes
7. Rosemary has the botanical name of Rosmarinus officinalis. According to a legend, it was the scent of a rosemary flower which awoke sleeping beauty from her slumber! Rosemary is antifungal, antioxidant, anti-inflammatory, antimicrobial, and antidiabetic in nature. It has an important role in cancer prevention, as a digestive aid, and in promoting overall health. The extract of its leaves has been reported to reduce weight and obesity due to a high-fat diet besides protecting against fatty liver as it inhibits the digestive activity of lipase (the enzyme which accelerates the hydrolysis or formation of fats). Apart from these health benefits, it has other benefits as well.
Rosemary treats alopecia with a successful outcome as it reportedly stimulates hair growth
It acts as a hair conditioner which softens the hair to make it more manageable and healthy
In aromatherapy, rosemary relieves stress and improves memory and concentration
The toning and moisturizing property of rosemary oil is used in reducing fine lines and wrinkles and even clearing acne
Rosemary oil can be used in toothpaste, as it kills bad breath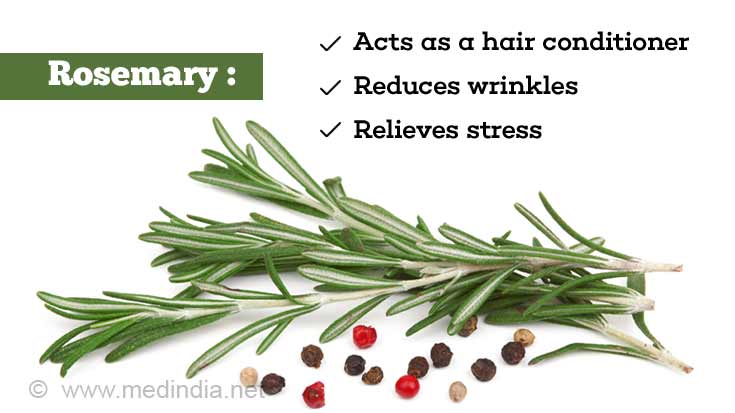 8. Chamomile is an amazingly gentle, anti-inflammatory, antiseptic, analgesic and soothing herb used widely in skin creams, shampoos, conditioners, soaps and body lotions. It helps in the treatment of eczema and contact dermatitis. Chamomile calms stomach upsets, colds and flu, muscle cramps and anxiety. Other than these -
It fights signs of aging and pollution on the skin because of its restorative and hydrating qualities besides its role in treating acne
Chamomile is used in makeup products, sunscreens, and cleansers
It also finds usage in aromatherapy and herbal teas, as a nervine tonic and a general relaxant promoting sleep and sedation
9. Wheatgrass or Triticum aestivum, is a superfood with astounding nutritional and antioxidant values. According to research, 100 pounds of wheatgrass has the nutritional value comparable to 2500 pounds of vegetables. Wheatgrass is antibacterial in nature and detoxifies the body from heavy metals. It is good for the lungs and respiration. It also helps normalize red blood cell counts. Wheatgrass helps rejuvenate the body and fights the deleterious effects of age, therefore, it is referred to as the 'Plasma of youth.' It is loaded with vitamins A, C, B complex and E, superoxide dismutase (SOD), chlorophyll, multi-minerals, amino acids, and enzymes. Wheatgrass is extremely beneficial for weight reduction, as it is an appetite suppressant while increasing the basal metabolic rate (the energy needed for the body while at rest). It is invaluable in treating incurable illnesses ranging from cancers, skin and eye disorders, diabetes and other endocrine diseases, kidney and liver problems, and cardiac ailments. It -
acts as a natural skin ointment against acne and eczema
prevents the falling of hair, and
acts as a hair conditioner
10. Bergamot or Citrus bergamia is used in many spas and Ayurvedic centers for its aroma-therapeutic and massage benefits. Its use in skin creams, lotions, and face packs for its cooling and refreshing properties are well known. Bergamot has antiseptic and anti-inflammatory properties that help in treating skin problems like psoriasis, acne, blemishes, eczema and seborrhea (oily skin). It is also neuroprotective in nature. However, there is a note of caution when using bergamot due to its photo-sensitizing effect while exposed to the sun. Bergamot is used in aromatherapy and the fragrance industry.
Medindia adheres to strict ethical publishing standards to provide accurate, relevant, and current health content. We source our material from reputable places such as peer-reviewed journals, academic institutions, research bodies, medical associations, and occasionally, non-profit organizations. We welcome and value audience feedback as a part of our commitment to health literacy and informed decision-making.
Blumenthal M, Goldberg A, Brinckmann J. Herbal Medicine: Expanded Commission E Monographs. Newton, MA: Integrative Medicine Communications; 2000:226-229.
Randomized trial of aromatherapy. Successful treatment for alopecia areata. Hay IC, Jamieson M, Ormerod AD. Arch Dermatol. 1998 Nov;134(11):1349-52.Karch SB. The Consumer's Guide to Herbal Medicine. Hauppauge, New York: Advanced Research Press; 1999:28-30.
Management of psoriasis with Aloe vera extract in a hydrophilic cream: a placebo-controlled, double-blind study. Syed TA, Ahmad SA, Holt AH, Ahmad SA, Ahmad SH, Afzal M. Trop Med Int Health.1996 Aug;1(4):505-9.
An evaluation of the biological and toxicological properties of Aloe barbadensis (miller), Aloe vera. Boudreau MD, Beland FA. J Environ Sci Health C Environ Carcinog Ecotoxicol Rev. 2006 Apr;24(1):103-54.
Aggarwal BB, Sundaram C, Malani N, Ichikawa H. Curcumin: the Indian solid gold. Adv Exp Med Biol. 2007;595:1-75.
National Research Council, Neem: A tree for solving global problems: report of an ad hoc panel of the Board of Science and Technology for International Devlopment, Washington D.C.: National Academy Press, 1992.
Pullaiah 2002, II, 385. Ocimum basilicum. Sanskrit: barbari, munjarik. (''Sweet,'' or ''common'' basil.). Medicinal uses.
Hay IC, Jamieson M, Ormerod AD. Randomized trial of aromatherapy. Successful treatment for alopecia areata. Arch Dermatol. 1998;134(11):1349-1352.
Duke JA. Handbook of Medicinal Herbs. CRC Press: Boca Raton, 1985.
Fugh-Berman A. The 5-Minute Herb and Dietary Supplement Consult. Lippincott, Williams, and Wilkins, Baltimore, 2003: 346-47.
Rosemary (Rosmarinus officinalis L.) leaf extract limits weight gain and liver steatosis in mice fed a high-fat diet. Harach T, Aprikian O, Monnard I, Moulin J, Membrez M, Béolor JC, Raab T, Macé K, Darimont C. Nestlé Research Center, Lausanne, Switzerland. lanta Med. 2010 Apr;76(6):566-71. Epub 2009 Nov 16.
Kulkarni Sunil D, Jai. C. Tilak, R. Acharya, Nilima S. Rajurkar, T. P. A. Devasagayam, A. V. R. Reddy. Evaluation of the antioxidant activity of wheat grass (Triticum aestivum L.) as a function of growth under different conditions. Phytotherapy Research 2006; 203: 218-227.
UVB phototherapeutic modalities. Comparison of two treatments for chronic plaque psoriasis. Valkova S. Department of Dermatology and Venereology, Pleven Medical University, 130 Dojran Str., 5800 Pleven, Bulgaria. Acta Dermatovenerol Alp Panonica Adriat. 2007 Mar;16(1):26-30.
Please use one of the following formats to cite this article in your essay, paper or report:
APA

Dr. Shalini Aul. (2018, December 17). Top Ten Herbs to Promote Beauty. Medindia. Retrieved on Dec 11, 2023 from https://www.medindia.net/patients/lifestyleandwellness/top-ten-herbs-to-promote-beauty.htm.

MLA

Dr. Shalini Aul. "Top Ten Herbs to Promote Beauty". Medindia. Dec 11, 2023. <https://www.medindia.net/patients/lifestyleandwellness/top-ten-herbs-to-promote-beauty.htm>.

Chicago

Dr. Shalini Aul. "Top Ten Herbs to Promote Beauty". Medindia. https://www.medindia.net/patients/lifestyleandwellness/top-ten-herbs-to-promote-beauty.htm. (accessed Dec 11, 2023).

Harvard

Dr. Shalini Aul. 2018. Top Ten Herbs to Promote Beauty. Medindia, viewed Dec 11, 2023, https://www.medindia.net/patients/lifestyleandwellness/top-ten-herbs-to-promote-beauty.htm.
Advertisement
Do you wish to consult a Complementary Medicine Doctor / Alternative Medicine Doctor for your problem? Ask your question
Mr. Rajeevan Moothal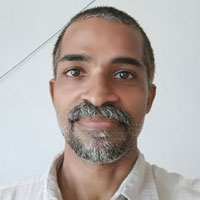 M.A
18 years experience

Dr. S K Nivethitha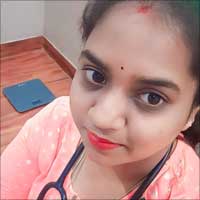 BAMS
4 years experience
Ayurchakra Panchakarma, and ayurvedic clinic , Medavakkam , Chennai
Dr. Rajan Handa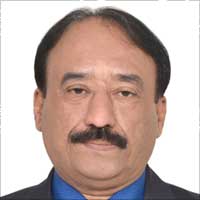 DEHM,BEMS,MDEH, NDDY, MDAM, Ph.D. Honorary, DNHE, Doctorate of Natural Medicine® / DNM®, Executive Therapist
26 years experience

Dr. Anusree I K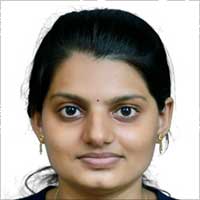 BAMS
2 years experience

View All