What is Langsat?
Langsat or Lanzones are trees from the Mahogany family, scientifically known as Lansium parasiticum. Langsat is a plant that bears small edible fruits. These fruits are similar to potatoes on their outer appearance and inside they have a white flesh containing inedible, bitter seeds. Langsat originated in the Southeast Asian regions.
The larger size variety of langsat is known as Duku. Langsat grows in clusters and is widely cultivated in Malaysia, Indonesia, Thailand and Sumatra. In India, it grows in the southern hills of Nilgiri from April to September.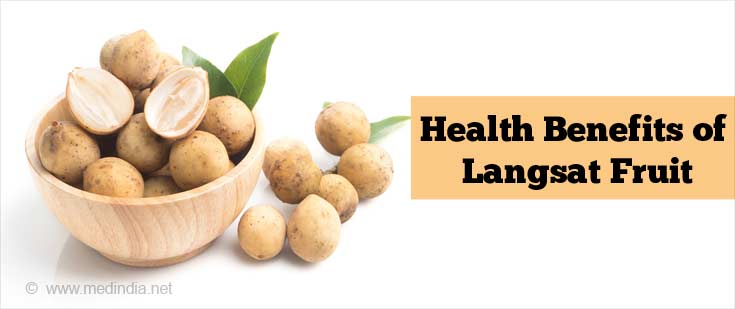 These fruits have a tangy, sour and sweet combination of flavors, and tastes a lot like grapes. Some people find its taste similar to that of pomelo. Its aril is juicy and translucent when ripe. Once ripe, the taste of langsat is really refreshing and exotic. Only the fresh langsat tastes the best because if kept for days after plucking, it may lose its taste and become bland.
Advertisement
Langsat is a nutritionally rich fruit containing many vital elements like proteins, carbohydrates, minerals, vitamins and dietary fiber in abundance. It is rich in vitamin A, thiamine and riboflavin, which are necessary for many body functions.
Every 100 gms of Langsat contain:
| | |
| --- | --- |
| Nutrition | Amount |
| Protein | 0.8 g |
| Carb | 9.5g |
| Fiber | 2.3g |
| Calcium | 20 mg |
| Phosphorous | 30 mg |
| Vitamin A | 13IU |
| Thiamine | 89mcg |
| Riboflavin | 124mg |
| Ascorbic Acid | 1mg |
Riboflavin Enhances RBC Formation: Langsat is rich in vitamins like riboflavin and thiamine. Riboflavin is important for the production of red blood cells and overall body growth. Consuming langsat enhances the production of RBCs in the blood and also helps in the break down of carbohydrates to provide energy to the body.
Vitamin A Maintains Proper Body Function: Vitamin A is an essential co-factor for many vital body functions. It is necessary for maintaining healthy skin, eyes, teeth and tissues. Langsat being high in vitamin A, keeps eyes, skin, skeletal tissues and mucous membranes healthy.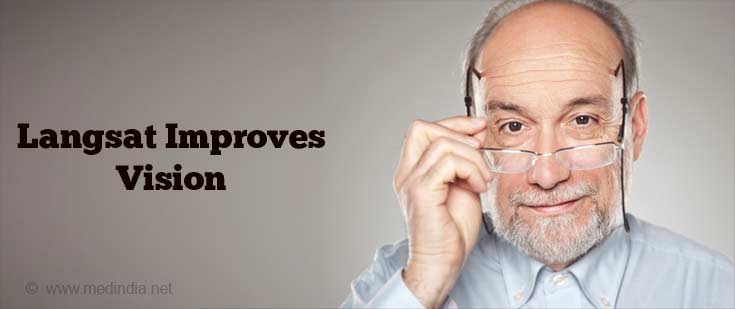 Antioxidants Prevent and Protect from Cell Damages: Langsat contains many powerful antioxidants that fight the free radical damages to cells. Oxidative damage to cells may lead to the formation of tumors and cancers; langsat contains limonoids, which are anti-cancerous in nature and protects the body from many cancer-causing elements.
Advertisement
Seeds are Proven Anti-Malarial: Many studies are in progress to prove the ability of its seeds as potential anti-malarial therapeutic. Also, its skin and leaves are shown to possess anti-pathogenic nature against Plasmodium falciparum, a malaria-causing parasite. They contain such chemical compounds that interrupt the life cycle of the pathogen and kill them.
Its Bark and Skin Cures Diarrhea: Langsat fruit helps in curing digestive tract problems. It being rich in fiber is good for gut health. The bark of the tree, when made into astringent has been proven to exhibit anti-spasmodic properties and can be efficiently used to treat dysentery and diarrhea. Also, the peel of langsat fruit contains oleoresin that helps in curing diarrhea and its symptoms.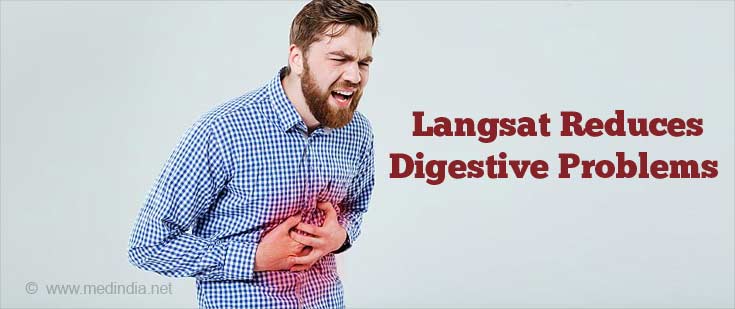 Cures Fever: Langsat fruit is helpful in treating fever and cold. It contains vitamin C, which helps in reducing flu and cold symptoms. Crushed seeds of langsat help lower the body temperature.
Treat Inflammation: The bark and seed resins of langsat helps in reducing inflammation. The bark resin can be used to treat gastrointestinal colic, swellings, ulcers and flatulence. The powder from the bark can also be applied to scorpion stings to cure its allergic reaction and inflammation.
Burning the peel of langsat keeps mosquitoes at bay and emits aromatic fragrance.
Eliminate Skin Problems: The rind of langsat is used to treat various skin problems like rashes, acne, itching etc. Rubbing its rind over the affected area can reduce the redness, inflammation and itching.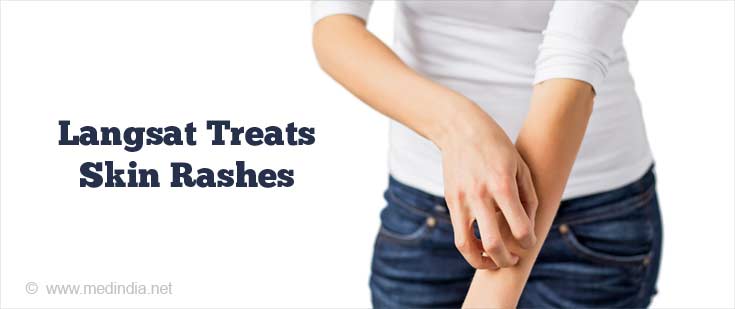 The langsat fruit is mainly eaten fresh and raw and can also be made into candies while Duku is good for making pickles. It can be bottled into juices and syrups or cooked along with some other fruits and vegetables.
Advertisement
The Fruity Mocktail
Ingredients:
Fresh langsat juice 1 cup
Fresh lychee juice 1 cup
Fresh pomegranate juice Ż cup
Lemon juice 1-2 tsp
Sugar, if desired
Crushed ice
Method:
In a mocktail glass, pour langsat juice and lychee juice
Add sugar and lemon juice to it
Add crushed ice and shake it well
Now, add pomegranate juice and mix.
Serve chilled
Lansium Parasiticum -

(https://en.wikipedia.org/wiki/Lansium_parasiticum)

Lansones Lansium Domesticum -

(http://www.vegtalk.org/fruits/lansones-lansium-domesticum-t2825.html)

Langasat and Duku -

(http://rfcarchives.org.au/Next/Fruits/LangsatDuku/LangsatDuku5-82.htm)
Please use one of the following formats to cite this article in your essay, paper or report:
APA

áKriti Jain. (2018, November 16). Health Benefits of Langsat Fruit. Medindia. Retrieved on Nov 29, 2022 from https://www.medindia.net/patients/lifestyleandwellness/top-9-health-benefits-of-langsat-fruit.htm.

MLA

áKriti Jain. "Health Benefits of Langsat Fruit". Medindia. Nov 29, 2022. <https://www.medindia.net/patients/lifestyleandwellness/top-9-health-benefits-of-langsat-fruit.htm>.

Chicago

áKriti Jain. "Health Benefits of Langsat Fruit". Medindia. https://www.medindia.net/patients/lifestyleandwellness/top-9-health-benefits-of-langsat-fruit.htm. (accessed Nov 29, 2022).

Harvard

áKriti Jain. 2021. Health Benefits of Langsat Fruit. Medindia, viewed Nov 29, 2022, https://www.medindia.net/patients/lifestyleandwellness/top-9-health-benefits-of-langsat-fruit.htm.
Request an Appointment with a Doctor (Nutrition Expert)
Ms. Jaichitra R
DNHE
1 year experience

Dr. Sunita Malhotra
DDPHN, MSc
30 years experience
Pro Health Diet Clinic, Sector 37-C, Chandigarh
Ms. Priti Kumari
DNHE, Diploma in Medical Nutrition, Medical Nutrition, Diploma in Yoga and Naturopathy, PGDHM, DND, DYTT
2 years experience
Aarogyam Fitness, Kadugodi,Whitefield, Bengaluru Urban
Ms. Himaja H
BSc, MSc
12 years experience
Health and Nutrify clinic, Serlingampally, Hyderabad
View All