What is a Fitness App?
Fitness apps are applications designed by companies to keep you fit and healthy. These apps can be downloaded on mobile phones quite easily.
The aim of these apps is to make your lifestyle healthier by tracking your food intake, water intake and workout pattern. Some apps even keep a track of your heart rate and blood pressure, which is beneficial for individuals with high blood pressure.
Some health and fitness apps even have a health coach, who help their clients to achieve their health goals effectively.
1. Monitor Your Diet Easily
Weight watchers or people who want to gain weight can mention the type and amount of foods consumed at each meal. From this information, health apps calculate the calories, carbohydrates, proteins and fat content of your meal. In this way, you can avoid foods that may not be right for your health. You can track all your food intake easily and maintain a digital food diary at just one click. Studies have found that maintaining a food diary or a food log helps individuals to eat food more consciously.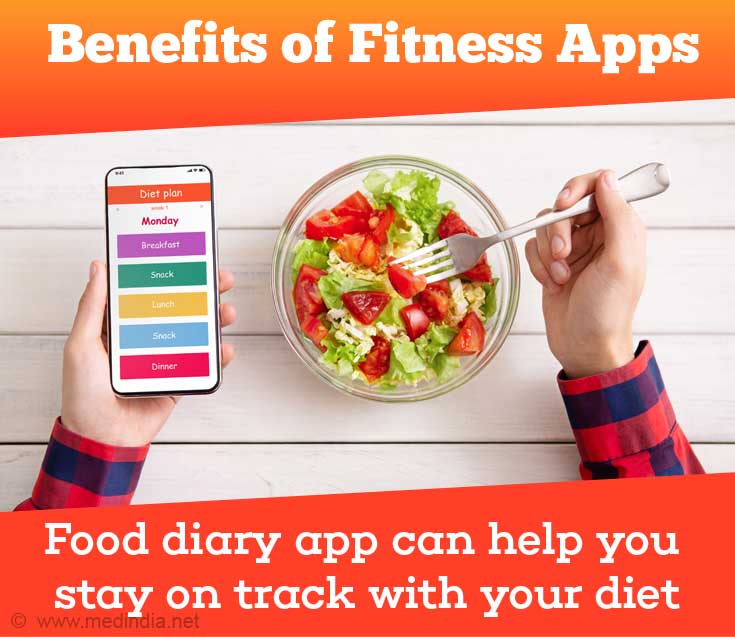 2. Monitor Your Progress
Now you can simply monitor all your workout and health progress at just one click. Fitness apps enable you to fill in all your health details and updates. For example- you can record your blood glucose levels and blood pressure levels each time you get them checked. This helps you to track your health details at just one go. You can even compare your current blood parameters with your previous ones, which will give you an idea if your health has improved or not.
3. Give Free Health and Fitness Tips
Many health and fitness apps provide health and fitness tips and guidelines, which help individuals in meeting their health goals. You can also get free workout or exercise ideas that help you to plan your workout routine easily.
4. Track Your Foot Steps
Pedometer apps are now available on mobile phones, where you can keep a count of steps and track the distance you have walked. Such apps help you meet your step count target by giving you all the information you need. Monitoring your steps can improve your daily step count and work more towards achieving your target.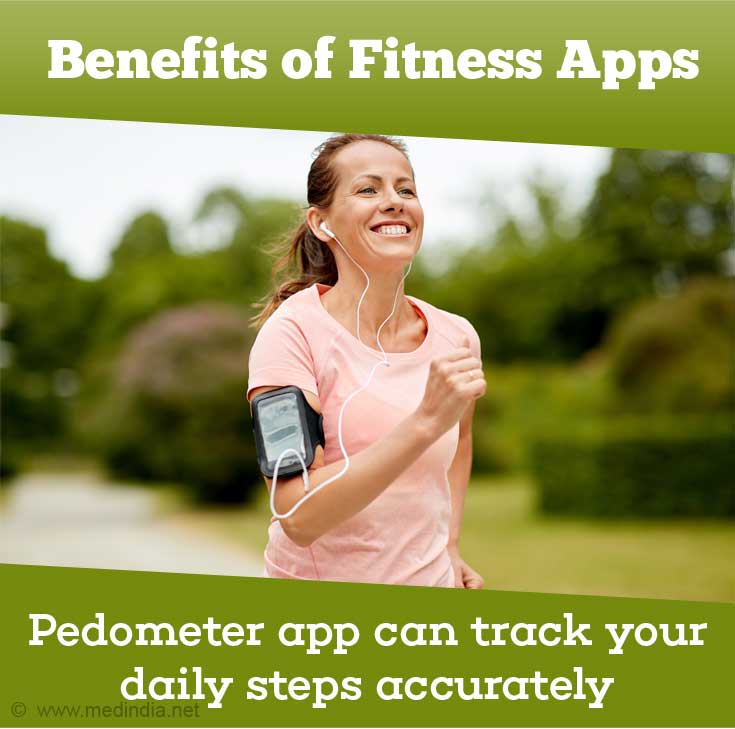 5. Provide Personal Health Coaches
Smartphone technologies have now made life easier. You no longer need to hunt for trainers or health coach or a fitness class. Fitness apps provide excellent facilities to keep you fit and healthy. Some apps have personal health coaches at affordable prices. The coach helps you achieve your fitness goals and educates you about the fitness activities and your diet too.
The best part is you don't need to travel for long hours to get this facility. All you need to do is download the app and start a fitness program.
6. All In One Health Tool
Fitness apps are like a one-stop station where you can monitor all your lifestyle parameters like step count, diet, water intake, blood parameters and workout routine. You don't need to maintain different diaries or books to keep a record of all these things. Fitness apps help improve your lifestyle habits, as they have a huge positive impact on your health.
7. Keep You Motivated
One of the most important benefits of using a fitness app is 'motivation'. Notification and reminders from fitness apps keep reminding you about your health goals, thus keeping you motivated.
You may also come across your fitness app various times in a day while using your smartphone. Fitness apps have made our lives easier and enable you to track your activities on a daily basis. Thus, making you stay focused on your activities and overall fitness.
Fitness apps can drain your smart phone's battery life. These apps can quickly cut down the battery life and once your mobile phone is switched off, you cannot use the app.
Fitness apps may be expensive. Hi-tech fitness apps are expensive because they have a lot to offer. Not everyone may want to invest in these fitness apps because it may not be a necessity for everyone.
Fitness apps may not always be 100% accurate. Especially when it comes to a pedometer, the apps may just loosely estimate your step count and this count may not always be accurate. The same applies to calorie-counting apps. Hence, you cannot completely rely on these apps always.
Smartphone fitness apps have made our lives much easier and healthier. The apps allow us to set goals and make lifestyle modifications. There are a number of fitness apps available that help keep a track of your calories, speed, and distance traveled. Here are some of the best fitness apps:
Fooducate
Home workout
MyFitnessPal
Sleep cycle
Headspace
Yoga daily fitness
Aaptiv
Daily yoga
ClassPass
Daily Burn
Fitness apps keep track of your goals and remind you to follow them. With the best fitness apps, you can achieve your goals and stay healthy. So, if you wanna stay fit, quickly grab this chance to download a fitness app and enjoy its benefits to stay healthy.
References:
Personalizing Mobile Fitness Apps using Reinforcement Learning -

(http://ceur-ws.org/Vol-2068/humanize7.pdf)

The fitness of apps: a theory-based examination of mobile fitness app usage over 5 months -

(https://www.ncbi.nlm.nih.gov/pmc/articles/PMC5344171/)

The Benefits of Logging Workouts into a Fitness App -

(https://www.nifs.org/blog/the-benefits-of-logging-workouts-into-a-fitness-app)

Better health with smartphone apps -

(https://www.health.harvard.edu/staying-healthy/better-health-with-smartphone-apps)
Latest Publications and Research on Top 7 Benefits of Using Fitness Apps