What is Aquatic Therapy?
Aquatic therapy is a specialized form of physical therapy that takes place in a heated pool in waist or neck deep water. It is aimed to rehabilitate patients, who do not respond well to traditional land based exercises. Aquatic therapy is especially suited for patients with chronic illness or injury especially of the muscles and joints, the aged and even pregnant women. The temperature of the water is maintained between 84-93°F, which has a relaxing and soothing effect on the body.
Aquatic therapy exercises are easier to perform, as they use the resistance of water instead of traditional weights, thus taking excess pressure off the joints. It makes use of the natural buoyancy of water which reduces the gravitational pull making it easier to perform. It is suitable for all age groups, especially the elderly and even those who can't swim.
Aquatic therapy is also known as water therapy, aquatic rehabilitation, aqua therapy, pool therapy or hydrotherapy.
Aquatic therapy practitioners use the buoyancy, viscosity and hydrostatic pressure properties of water to design new techniques.
Ai Chi- is a water based exercise program that integrates mental, physical and spiritual well-being. It is a simple aquatic form of Tai Chi [a form of Chinese martial art effective for health of body and mind] in combination with Qi Gong [ "Qi" is the energy in a human body; "Gong" means the practice of ]. This technique includes balance, breathing and relaxation forms of exercise. Ai Chi is performed in shoulder deep water and combines deep breathing along with slow movements of the body. The repetitive slow broad movements strengthen the body, increase oxygen and caloric consumption by the cells of the body, thus improving the range and mobility of the joints. It also provides relaxation for highly stressed and depressed patients.
Aquatic Proprioceptive Neuromuscular Facilitation (PNF)- This stretching technique is commonly used to facilitate rehabilitation progress. It includes flexion/extension, abduction/adduction and rotation motions through spiral and diagonal exercise patterns. PNF stretching is the most effective stretching technique when the aim is to increase ROM.
Advertisement
The Bad Ragaz Ring Method (BRRM)- is an active technique in which the therapist provides manual resistance to a patient who lies supine in waist or shoulder deep water, supported by flotation aids. The "ring" refers to the ring shaped flotation devices used to support the patient as they move across the pool. The BRRM method is commonly used with clients suffering from soft tissue injuries, spinal cord injuries, head injuries and Parkinson's disease.
Fluid Moves- Patients practicing fluid moves stand in chest deep water with their back to the pool wall. They are instructed through slow and rhythmic combinations of movements, as they breathe deeply.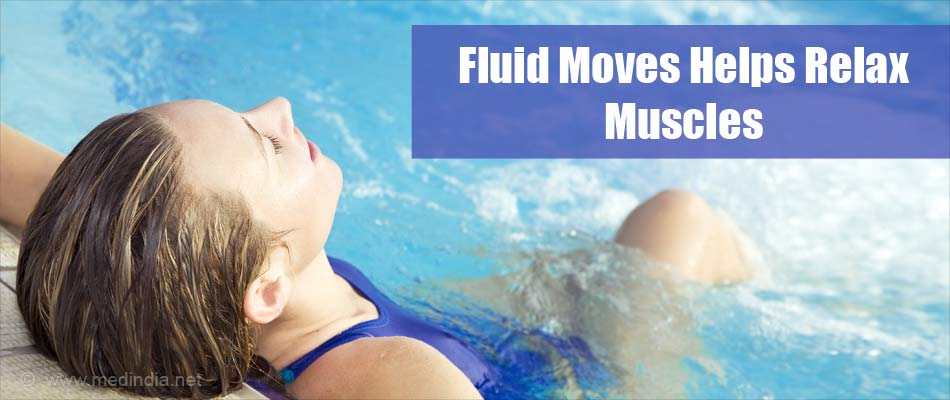 Halliwick Method- was originally developed to teach patients with a physical disability such as cerebral palsy to swim and to make them independent in water. The willingness to lose balance and knowing how to stand up again are key features. This is an important prerequisite for group participation in therapeutic or recreational activities. The patient is usually held in the water while the therapist systematically and progressively destabilizes them in order to teach balance and postural control.
Back Hab Aquatic Therapy- is an integrated program that is developed for people with back problems and disabilities. Rather than focusing on healing one part of the body, all the body parts coordinate to work on healing and fixing the affected area. Back Hab is an aquatic walking program which makes use of various strides to accomplish a variety of benefits. It is excellent for treating different types of walking abnormalities due to physical issues such as arthritis, tendonitis, leg injuries or cerebral issues such as cerebral palsy and stroke.
Aquatic Task Type Training Approach (TTTA)- involves a set of guiding principles to reduce patients disabilities. TTTA has a suggested set of parameters for optimizing a patient's treatment, particularly those with stroke and neurological impairments. The TTTA is best described as a task oriented approach program, as it emphasizes functional skills. The patients are stimulated to do a variety of tasks which they are unable to do well. Clients are encouraged to be active participants in development of their skills which is an important aspect of task oriented rehabilitation.
Advertisement
Watsu- This helps decrease muscle tension and increases range of motion. The movements through the water provide gentle stretching through all ranges for the spine and extremities. The support of the water provides relief from compression forces in the joints. It is recommended for conditions such as rheumatoid arthritis, after knee replacement surgery, lower back pain. Watsu decreases muscle spasm and guarding, increases their range of motion, and promotes profound relaxation of body as well as mind.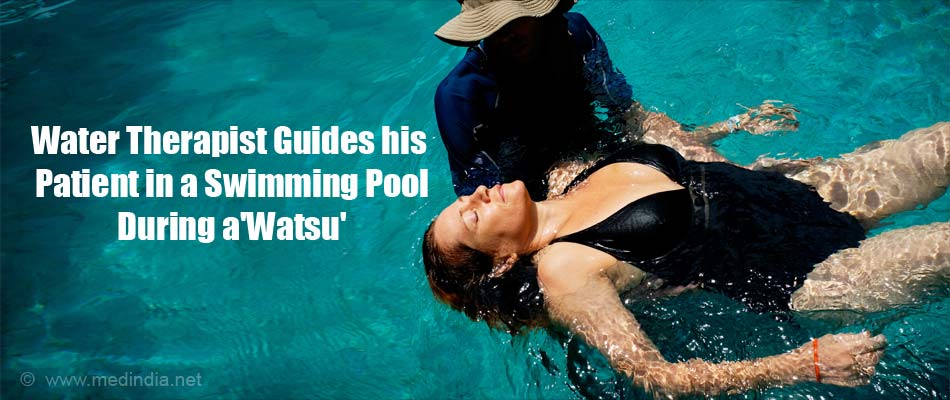 Aquatic therapy is good substitute to the conventional land based physical therapy. The unique advantages of exercising in water include:
Water Resistance- The natural viscosity of water can be used to strengthen muscles. One of the biggest aquatic therapy benefits is the constant resistance that water offers, when compared to air. Air resistance on land is lesser than the resistance found in water. Hence, patients undertaking aquatic therapy utilize more muscles, as compared to the muscles they would be using on land.This helps tone atrophied muscles faster by working more muscle fibersand the presence of water helps reduce pain, improves balance and strength in the patients. This is especially beneficial in rehabilitation progressions.
Hydrostatic Pressure- is the pressure exerted by a liquid when it is at rest. Because water is denser than air, it exerts more pressure on the body. This forces the lungs and heart to work harder. It helps to stabilize and support the patients who have difficulty in keeping balance without fear of falling. The compression on the muscles and joints helps to relieve chronic aches and assists in improving muscle strength and blood flow.
Improved Circulation- as the temperature of the water is controlled to be warm. Warmth improves blood flow to the limbs. This is helpful in patients with weak heart muscles as this compensates for the poor circulation. Also, the warmth helps to relieve pain and relax the muscle spasms, back pain and joint pains.
Buoyancy- makes the body feel lighter in water than it would feel on land and helps in flotation. The water reduces the effects of gravity and provides lots of support to joints and muscles. This is particularly helpful in obese patients and those with severe arthritis. Also, being in the water allows the therapist to swim around patient in order to work with all parts of the body. This prevents the discomfort of turning over, when preparing for other exercises.
Muscle Relaxation- due to dilatation of blood vessels caused by the warmth of the water. This prevents the accidental injury of healing muscles, joints and cartilage. Soreness of muscles is caused by lactic acid build-up and the increased blood flow flushes away the lactic acid, thus relieving the soreness. The gentle flow of water currents acts as a normal form of massage. This helps promote circulation and the relaxation of tired or sore muscles. By using equipment such as water paddles or aquatic gloves, the therapist can create gentle currents aimed at specific areas of the body, helping to work on problem areas.
Helps Rebuild Muscle Memory - The resistance offered by water, forces patient to move at a slower pace. This allows the brain to process the signals from the muscles more thoroughly because it has more time, an added benefit for rebuilding muscle memory. If the patient has a neuromuscular condition, such as myasthenia gravis, spinal muscular atrophy, muscular dystrophy or other impairment, muscle re-education is made easier through specially designed aquatic exercises.
Fun-filled Environment- Being in water promotes a positive and reinforcing environment. This fun-filled atmosphere makes it enjoyable, promotes healing process and also benefits the mind.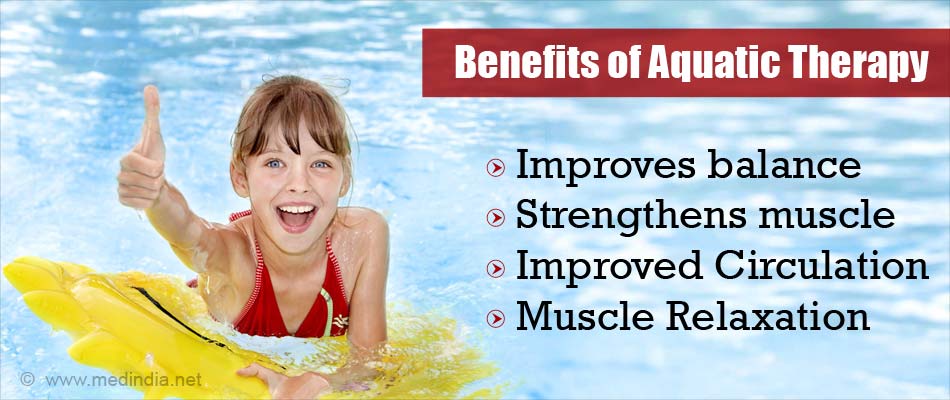 Some conditions where aquatic therapy may be risky:
High fever
Open wounds, unless it is covered with air-tight and water-proof dressing
Incontinence of urine, feces
Difficulty in breathing due to chronic obstructive pulmonary disease, asthma or other respiratory diseases
Epilepsy, especially when uncontrolled
Chlorine allergy
Hydrophobia [fear of water]
Complications during pregnancy
Aquatic therapy is not entirely risk-free, even if it is conducted in shallow waters in a pool. In order to provide a safe environment, the licensed aquatic therapy professionals should be trained in safety measures such as first aid, cardiopulmonary resuscitation [CPR], defibrillation, [procedure to treat irregular rhythms of the heart], oxygen administration and general risk awareness.
Medindia adheres to strict ethical publishing standards to provide accurate, relevant, and current health content. We source our material from reputable places such as peer-reviewed journals, academic institutions, research bodies, medical associations, and occasionally, non-profit organizations. We welcome and value audience feedback as a part of our commitment to health literacy and informed decision-making.
Aquatic therapy -

(https://www.nchpad.org/223/1456/Aquatic~Therapy2)

The Halliwick Method: Applications for Individuals with Orthopedic Conditions -

(http://www.atri.org/articles/Grosse-Halliwick%20for%20Ortho%20Issues.pdf)

Proprioceptive neuromuscular facilitation stretching: mechanisms and clinical implications -

(https://www.ncbi.nlm.nih.gov/pubmed/17052131/)

Ai-Chi -

(https://www.nchpad.org/373/2078/Ai~Chi)
Please use one of the following formats to cite this article in your essay, paper or report:
APA

Dr. Sunita Chowdhary. (2021, February 23). Top 7 Benefits of Aquatic Therapy. Medindia. Retrieved on Jun 08, 2023 from https://www.medindia.net/patients/lifestyleandwellness/top-7-benefits-of-aquatic-therapy.htm.

MLA

Dr. Sunita Chowdhary. "Top 7 Benefits of Aquatic Therapy". Medindia. Jun 08, 2023. <https://www.medindia.net/patients/lifestyleandwellness/top-7-benefits-of-aquatic-therapy.htm>.

Chicago

Dr. Sunita Chowdhary. "Top 7 Benefits of Aquatic Therapy". Medindia. https://www.medindia.net/patients/lifestyleandwellness/top-7-benefits-of-aquatic-therapy.htm. (accessed Jun 08, 2023).

Harvard

Dr. Sunita Chowdhary. 2021. Top 7 Benefits of Aquatic Therapy. Medindia, viewed Jun 08, 2023, https://www.medindia.net/patients/lifestyleandwellness/top-7-benefits-of-aquatic-therapy.htm.
Latest Publications and Research on Top 7 Benefits of Aquatic Therapy
Do you wish to consult a Physiotherapist for your problem? Ask your question
Dr. Hemalatha S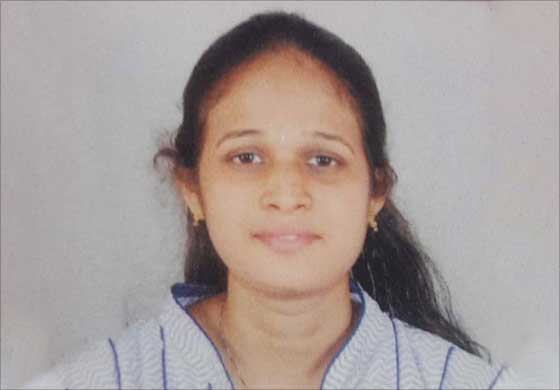 BPT
3 years experience

View All