About
The mind is everything, what you think, you become. - Buddha
Stress is part of our 21st century lifestyle be it work, travel or everyday chores. The toll it has on our health is tremendous. If you are always stressed you tend to get sick more often and are in a poor mental state to make the right decisions in life. Danzae Pace says "Stress is the trash of modern life--we all generate it, but if you don't dispose of it properly, it will pile up and overtake our life."
Over the last 10,000 years or more our body has got programmed and learnt to handle certain kind of acute stress. For most of our existence we have either been a hunter or been hunted. This fight for food and survival has resulted in a "fight or flight response" physiological response that has protected us through these time. As soon as this response is triggered the body prepares for the situation by releasing many stress related hormones such as adrenaline and cortisol and these result in increase in our heart rates, constriction of our blood vessels that is accompanied by heavy fast breathing to increase the oxygen intake to supply the muscles. It is like increasing the throttle of a motor cycle or a car for it to run fast.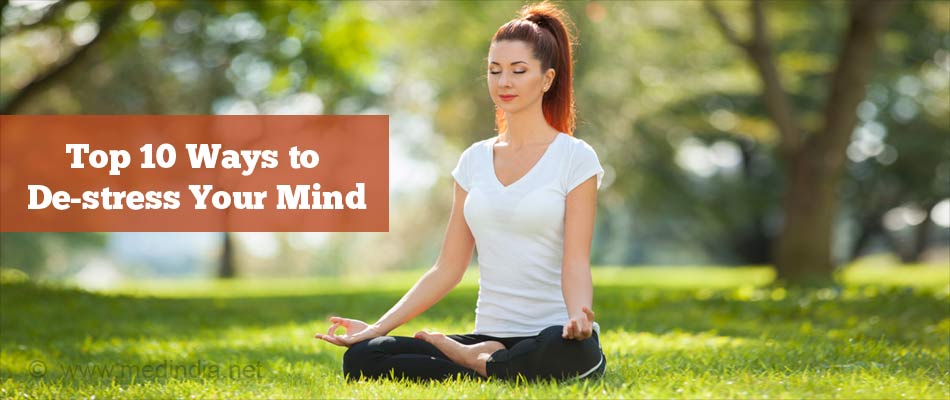 The modern situations be it working with tight schedules, being stuck in a traffic jam or getting late for the office, working till late hours or being told off by the boss produces the same physiological response and leads to stress. When these situations are recurrent in our daily life, it becomes chronic stress and leads to hypertension or other lifestyle diseases. The body that learnt on how to handle stress for our survival, now does not face such physical dangers but these have got transferred to mental stress and now we need to learn how to destress ourselves to avoid chronic lifestyle related illness. We must once again go to our roots to learn the 'New art of living'. This learning requires a change in our approach to life, learning how to manage our daily time, spending quality time for ourselves and knowing how to be in harmony with what we really want for ourselves and what makes us happy. An example could be when in a difficult situation asking yourself if it will matter at all say in 6 months from now and if it does tackle it, otherwise to let go.
Even the WHO definition of health talks about social and mental well-being in its definition of good health. It states that, "Good health is a state of complete physical, social and mental well-being, and not merely the absence of disease or infirmity." We must de-stress and rejuvenate ourselves in mind, body and soul to lead a healthy and happy life.
Advertisement
Our Bodies Physiological Response to Stress?
Human body has an innate ability to handle stress as explained earlier. The release of 'stress hormones' (catecholamines – adrenaline, cortisol, glucagon and growth hormone) results in both sympathetic and our parasympathetic systems to get stimulated.
The heart rate goes up so that the increase in pumping of blood means our body can move faster and run from the place of danger. The release of glucose from our liver reaches the muscles and brain, where there is increased requirement to sharpen our thinking and to prepare the muscles for running and this is achieved by the blood supply to the digestive and urinary tracts being restricted by vessels getting constricted.
Some amount of stress is good for everyone to help us overcome difficult situation and helps in improving our productivity and efficiency. But when the stress level crosses the threshold capacity of the body, it causes deleterious effects. However Chronic stress can produce prolonged and severe effects due to continuous release of stress hormones. It results in decreased immunity and decreased neuro-humoral responses among other changes.
What Ailments are Associated with Chronic Stress?
Chronic stress has been associated with a wide variety of ailments affecting different body systems. These include:
Gastroenterology: Irritable bowel syndrome, non-ulcer dyspepsia
Gynecology: Premenstrual Syndrome, chronic pelvic pain
Rheumatology: Fibromyalgia
Cardiology: Atypical chest pain
Neurology: Tension headaches, non-epileptic attacks
Respiratory: Hyperventilation syndrome
Infectious: Chronic fatigue syndrome
E.N.T: Globus syndrome
Allergy: Chemical sensitivity
Dentistry: Temporo-mandibular joint dysfunction, atypical facial pain.
Advertisement
Stress may be a risk factor of various diseases which are now known as 'lifestyle diseases'. These include: diabetes, heart attack, stroke, hypertension, Alzheimer's, cancer, chronic headache, back pain, anxiety and depression, sleep disturbances and insomnia, decreased immunity, infertility and impotency, peptic ulcer, road traffic accidents, etc.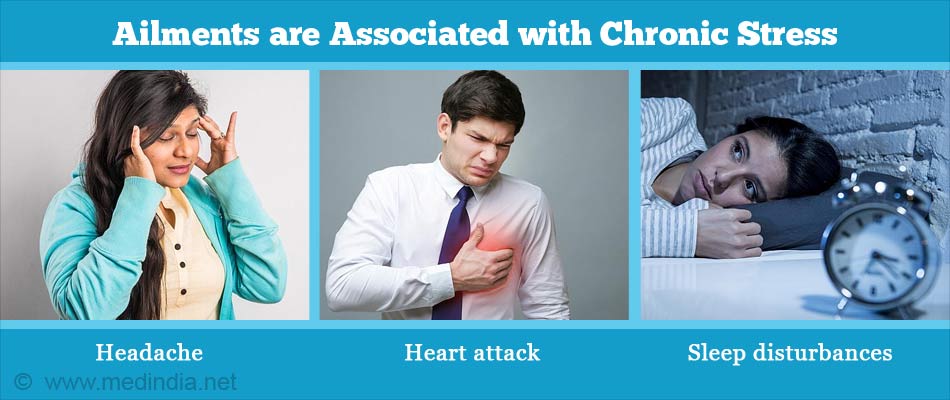 How Can We Tell Our Body to Calm Down?
Coping with stress is not an easy task but basic relaxing techniques can be implemented in order to lead a healthy disease-free life. The mantras for stress management are as follows:
Surya Namaskar, Yoga & Pranayama
Surya namaskar or sun salutation has shown to have beneficial effects on the mind and the body alike, making it the 'go to' routine that must be incorporated in our daily life. It benefits by stretching the stiff muscles on one hand, while it improves co-ordination of mind and body (proprioception) on the other. It provides relief from back pains, joint pains, etc. Also, ideally it is done early morning in the presence of the sun, providing us with a rich source of vitamin D. Yoga asanas provide a similar benefit, surya namaskar being an accumulation of its best asanas.
Specific breathing exercises in yoga are called 'pranayama' (in Sanskrit prâṇa 'life force/breath' + âyâma 'to extend') which aim at invoking our life force/soul via controlled respiration.
Advertisement
Yoga produces several beneficial effects, as demonstrated by various scientific studies. It has a positive effect on diabetes, high blood pressure and immunity. It also helps in spiritual enlightenment, so get up every morning and revitalize your yogic chakras.
Meditation
Meditation is the practice of mindfulness and self-awareness which has a calming impact on the mind. It helps control one's thoughts and emotions, building concentration and channelizing energy in the right direction. Quach D et al have researched on the effectiveness of meditation on the Working Memory Capacity (WMC) in adolescents and have proved the positive impact of mindfulness on memory. Bakhshani NM et al. showed that meditation can also be used as a non-pharmacological treatment for chronic headaches. So the secret chant for success must be, the more you are aware of yourself, the easier it is to achieve your goals.
Music
Joke Bradt et al found that listening to music might have a positive effect in reducing systolic blood pressure and heart rate in people with coronary heart disease. According to them, music decreases anxiety in people with heart attack, especially when they are allowed to choose the kind of music, and may also improve the patients' quality of sleep after a cardiac surgery. So plug in those earphones and let some trance music chime.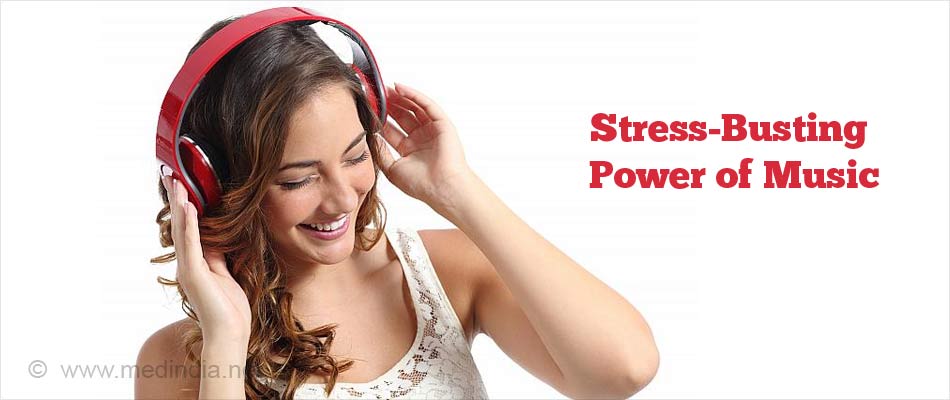 Diet and Exercise
A healthy diet and disciplined exercise routine have proven their remarkable effects in improving the quality of life, through various studies. Adequate exercise and a balanced diet, when coupled, help in combating major lifestyle diseases such as obesity, cardiac illness, etc. Its psychosocial benefits work through the release of endorphins in the body which stimulate the nervous system and make a person 'feel good'. Dark chocolates as a food source contain flavonoids and other compounds which relieve stress and have various other health benefits. So eat healthy and let the steam off by working out.
Spending Time with Family and Friends
There is no substitute to spending time with the people you love. So lock away all those gadgets showing the virtual world and enjoy in the presence of your loved ones.
Charity & Donation
Seva and charity provide inner peace and satisfaction like none others. The sense of being able to help people and contribute to the society makes us feel elated both mentally and spiritually, so there is no space for stress to creep in. Spread smiles and you will automatically keep smiling.
Laughter Therapy
Laughter therapy is commonly practiced these days and in the right format, can help manage stress even amongst cancer patients, according to Kim SH et al.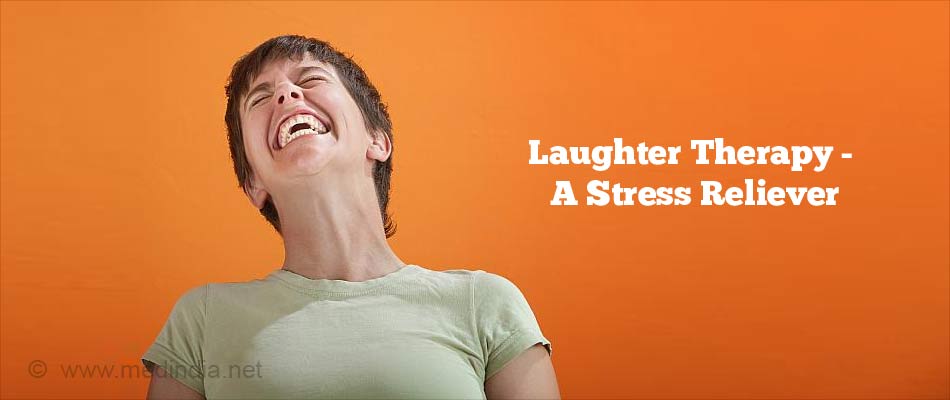 Stroll in the Park Amidst Nature
Spending a quiet moment enjoying nature and appreciating its beauty will make you forget all worries and tensions in life.
Sleeping Adequately
Inadequate sleep and disturbed sleep patterns have been linked to development of mental illnesses such as depression, shows study. Sleeping for 7-8 hours will prevent health-related issues and reduce stress levels.
Finally, if the stress is too much to be handled with the above methods, it is advisable to visit a psychiatrist or a clinical psychologist and take medications accordingly.
Davidson's Principles Practice of Medicine – 21st Edition
Textbook of Medical Physiology by Guyton hall – 11th Edition
Please use one of the following formats to cite this article in your essay, paper or report:
APA

Dr. Aarti Singh. (2018, July 04). Top 10 Ways to De-stress Your Mind. Medindia. Retrieved on Jan 28, 2023 from https://www.medindia.net/patients/lifestyleandwellness/top-10-ways-to-de-stress-your-mind.htm.

MLA

Dr. Aarti Singh. "Top 10 Ways to De-stress Your Mind". Medindia. Jan 28, 2023. <https://www.medindia.net/patients/lifestyleandwellness/top-10-ways-to-de-stress-your-mind.htm>.

Chicago

Dr. Aarti Singh. "Top 10 Ways to De-stress Your Mind". Medindia. https://www.medindia.net/patients/lifestyleandwellness/top-10-ways-to-de-stress-your-mind.htm. (accessed Jan 28, 2023).

Harvard

Dr. Aarti Singh. 2021. Top 10 Ways to De-stress Your Mind. Medindia, viewed Jan 28, 2023, https://www.medindia.net/patients/lifestyleandwellness/top-10-ways-to-de-stress-your-mind.htm.
Do you wish to consult a Psychiatrist for your problem? Ask your question
Dr. Vivek Pratap Singh
MBBS, MD
5 years experience

Dr. Dana Prabagaran I.d
MBBS, MD
1 year experience

Dr. N K Tak
MBBS, MD
12 years experience
Mann Neuro Psychiatric Clinic, Patrakar Colony, Jaipur
Dr. Archana Pofale-mohare
MBBS, DPM
7 years experience
Athshree Speciality Clinic, Tilak road, near cake studio , Pune
+ 1 more
View All