Why Water?
Water is essential for our body to work properly. In fact, 70% of our body is actually water. Be it our brain that controls every activity of our body, or the blood that circulates throughout to deliver oxygen and nutrients, or even the muscles that keep our bones intact and upright, it is mostly water that facilitates all these functions. It has been said since ages, that water is the most vital element for survival and its importance has been proven scientifically.
Water in its pure, clear form is very important to maintain good health. Intake of other liquid beverages including fruit juices, tea, coffee and carbonated drinks must not be mistaken with water even if they contain mostly water. It is recommended to drink 8 ounces of water 8 times a day (the 8x8 rule) for adequate hydration. Dehydration can cause abdominal pains, nausea, constipation, diarrhea and several other health issues. Water plays a pivotal role in regulating vital body functions and proper functioning of organs.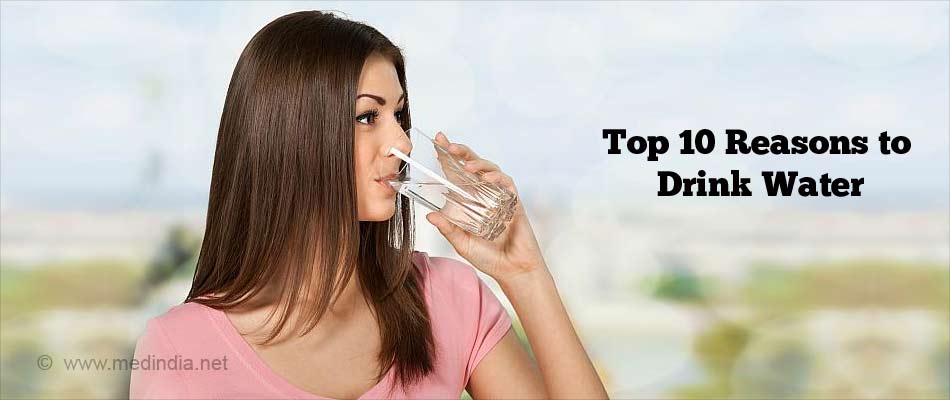 Letís find the top 10 reasons that encourage us to drink more water!
1. Improves Digestive Health: Water helps maintain regular bowel movements through intestines. Enough water intake prevents constipation, indigestion and other problems of gastrointestinal tract. Lack of fluids in the body makes stool tight and it tends to pull water from the colon resulting in constipation. Proper hydration improves digestion and allows maximum nutrient absorption in the blood.
2. Maintains Healthy Body Weight: Drinking more water helps curb extra calories. It maintains a healthy body weight by regulating appetite, making you feel full, controlling your food intake to limited portions. Many diet regimes advice drinking more water as part of their weight loss program. A well hydrated body allows proper metabolism of fats and carbohydrates so that they do not get deposited and thus controlling weight gain.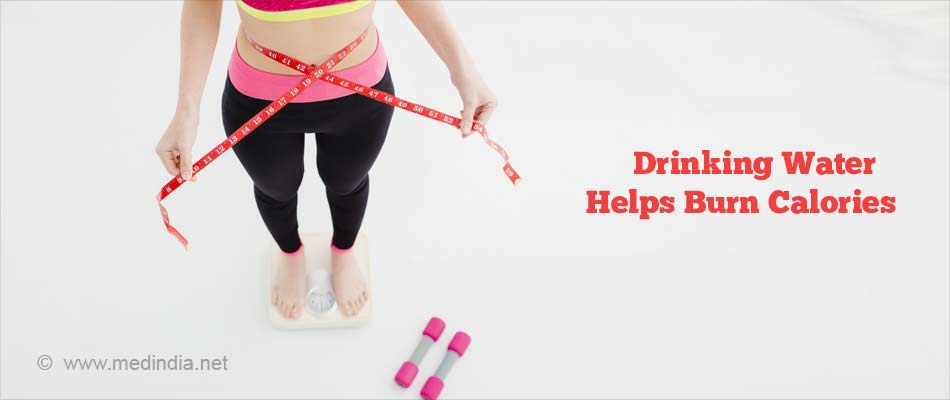 3. Balances Body Fluids: It is imperative to drink enough water to maintain adequate balance of body fluids. Water is important in absorption and assimilation of nutrients in the body. Eight two percent of blood is water and it is very important to maintain its proper viscosity. Salts and minerals dissolve in water to get distributed all over the body through blood. Low water levels in the blood may lead to blood clotting inside blood vessels resulting in blockage and stroke.
4. Keeps Skin Healthy: Water makes skin look fresh and healthy. A hydrated body results in hydrated skin that makes it soft and supple. Proper hydration is necessary to prevent skin from drying and aging. It helps controls wrinkles and fades out scars. Adequate water intake helps maintain good hair and scalp health. It is advised to drink plenty of water to keep your hair lustrous and reduce hair fall.
5. Improves Brain Function: Various studies have shown that water helps improve brain functions. Dehydration could lead to severe anxiety and nerve tension. It can also lead to impaired concentration and mood swings lowering brain functions. Keeping yourself hydrated improves memory and keeps you active. It increases concentration and improves mood.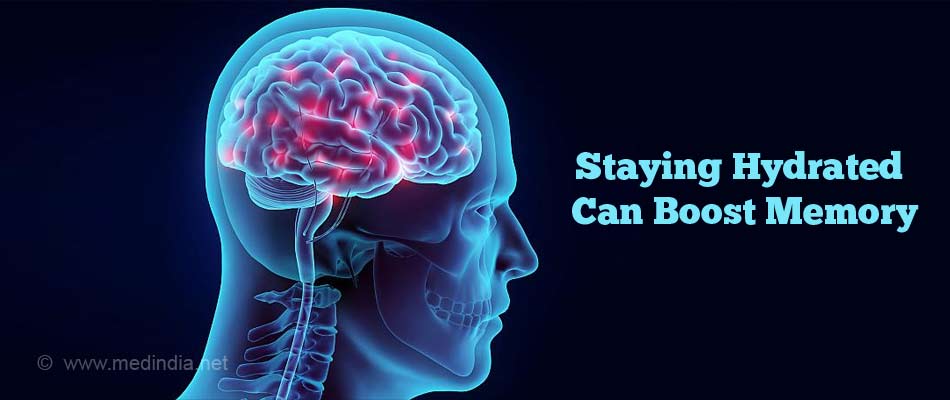 6. Aids Kidney Functions: Kidneys require proper water intake to flush out toxins from the body. It is essential for cleansing toxic waste from the body through liver and kidney releasing waste product through urine. Dehydration may lead to impaired kidney functions and increased urea and Creatinine levels in the urine. Adequate water intake prevents development of kidney stones.
7. Enables Physical Activity: Proper hydration reflects in physical performance. Dehydration results in fatigue, tiredness and loss of physical activity. Muscles are 74% water and thus lack of water leads to strained muscles and hence pain and weakness. It imbalances the electrolyte levels in the body that impairs physical activity and results in low energy levels. Water intake boosts productivity and increases energy.
8. Lubricates Joints: Drinking water helps in lubrication of joints. It maintains the structure of cartilage and tendons by keeping them hydrated and soft. It maintains the cushioning between bones that prevents breakage and friction. Glucosamine supports joints by aiding water absorption by cartilage.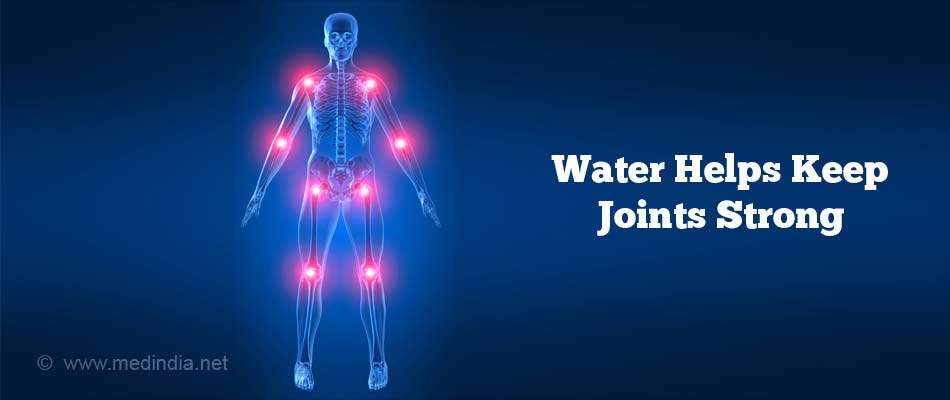 9. Regulates Body Temperature: Water regulates body temperature by maintaining the fluid levels in the body. It flushes out excess heat from the body through sweating that maintains proper body temperature. During the soaring summer heat, proper hydration is necessary in order to keep body safe from rising temperatures. It reduces body heat and prevents body from heat stroke, dizziness and weakness during hot summers.
10. Relieves Headache: Water is an effective remedy to cure headaches. Whether it may be because of the hangover due to alcohol or any other reasons, keeping yourself hydrated is the cure. Alcohol tends to dehydrate body greatly which leads to headaches. Drinking enough water is the solution to never ending hangovers.
Water forms an essential part of our regular lifestyles. Realizing its many health benefits, it is important to keep the body hydrated with sufficient water. Stay hydrated, stay healthy.
References:
Top 10 Reasons to Drink water -

(http://wellspring.northbay.org/articles/top-10-reasons-to-drink-water)

Health Benefits of Water: Real or Overhyped? -

(http://www.stayinghealthy.org/health-benefits-of-water/)
Latest Publications and Research on Top 10 Reasons to Drink Water
Please use one of the following formats to cite this article in your essay, paper or report:
APA

†Kriti Jain. (2018, June 15). Top 10 Reasons to Drink Water. Medindia. Retrieved on May 23, 2022 from https://www.medindia.net/patients/lifestyleandwellness/top-10-reasons-to-drink-water.htm.

MLA

†Kriti Jain. "Top 10 Reasons to Drink Water". Medindia. May 23, 2022. <https://www.medindia.net/patients/lifestyleandwellness/top-10-reasons-to-drink-water.htm>.

Chicago

†Kriti Jain. "Top 10 Reasons to Drink Water". Medindia. https://www.medindia.net/patients/lifestyleandwellness/top-10-reasons-to-drink-water.htm. (accessed May 23, 2022).

Harvard

†Kriti Jain. 2021. Top 10 Reasons to Drink Water. Medindia, viewed May 23, 2022, https://www.medindia.net/patients/lifestyleandwellness/top-10-reasons-to-drink-water.htm.
Request an Appointment with a Doctor (Nutrition Expert)
Ms. Himaja H
BSc, MSc
12 years experience
Health and Nutrify clinic, Serlingampally
Teleconsult Now
View Profile
Mrs. Uma Maheshwari
MSc
5 years experience
kadhri Aarogya, Coimbatore
Teleconsult Now
View Profile
Mrs. Priya S
BSc
11 years experience

Teleconsult Now
View Profile
Dr. Sunita Malhotra
DDPHN, MSc
30 years experience
Pro Health Diet Clinic, Sector 37-C
Teleconsult Now
View Profile
View All