Indian Gooseberry as an Antioxidant and Diabetes Preventer
Detailed scientific analysis of the free radical scavenging properties of amla have showed it to provide powerful antioxidant protection against the damaging free radicals, or reactive oxygen species which are the cause of various debilitating diseases like diabetes, heart disease, arthritis, cancer, inflammation, liver disease and respiratory ailments.
Amla has a range of potent antioxidant molecules, including Vitamin C, flavonoids, pectin, and tannins (30 percent). Benefits come primarily from its rich array of antioxidants, rather than unusually high vitamin C content. Experts from The Defense Institute of Physiology and Allied Sciences, Lucknow recently conducted a research on the antioxidant profile and activity of amla, spirulina and wheat grass. Amongst the three, amla, by far was found to be the richest in vitamin E like activity, total phenolic content, reducing power and antioxidant activity.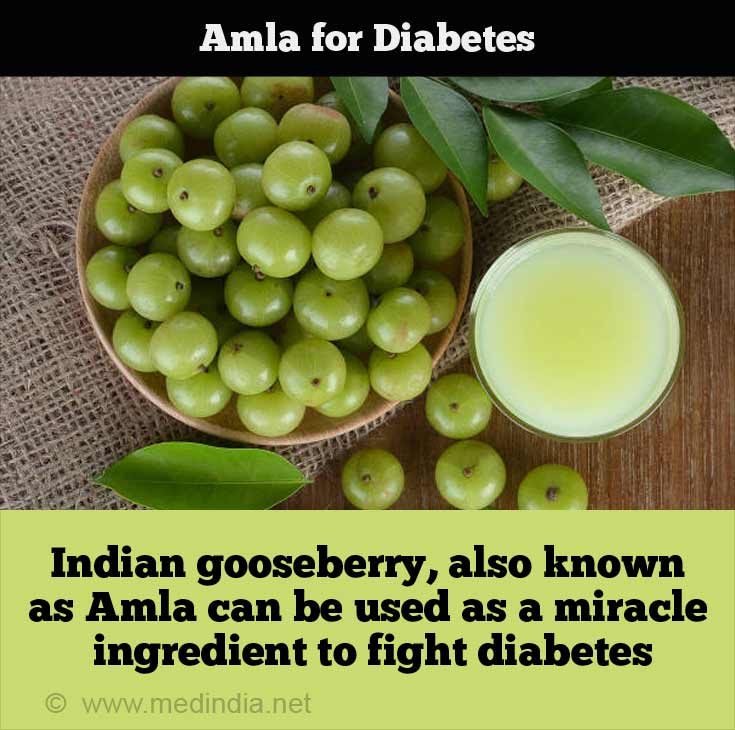 Amla is seen to be effective in controlling diabetes. It works by reducing oxidative stress and impacting the hormones associated with the condition. A recent study conducted in 2011 by Akhtar et al, studied the effects of amla fruit on blood glucose and lipid profile of normal subjects and type 2 diabetes patients. The results of the study indicated a significant decrease in fasting and post prandial blood glucose and total cholesterol and triglyceride levels in both normal and type 2 diabetes patients receiving 1, 2 or 3g of amla powder per day for 21 days continuously as compared to the baseline values.
In a 2011 study, patients with kidney disease and diabetes were subjected to an intake of herbs including amla berry extract, for three months. A significant improvement in the antioxidant defenses as well as diabetic and atherogenic indices in patients was observed.
References:
Chaudhuri ratan k. (2004) pcia conference, guangzhou, china
Chen TS et al. Efficacy of epigallocatechin-3-gallate and amla (emblica officinalis) extract for the treatment of diabetic-uremic patients. med food. 2011 jul-aug; 14(7-8):718-23
Nampoothiri SV et al. In vitro antioxidant and inhibitory potential of terminalia bellerica and emblica officinalis fruits against LDL oxidation and key enzymes linked to type 2 diabetes. Food chem toxicol. 2011 jan; 49(1):125-31.
Sabu MC ; Kuttan R. Anti-diabetic activity of medicinal plants and its relationship with their antioxidant property. J ethnopharmacol. 2002 jul; 81(2):155-60.
Akhtar MS et al. Effect of amla fruit (emblica officinalis gaertn.) on blood glucose and lipid profile of normal subjects and type 2 diabetic patients. Int j food sci nutr. 2011 sep; 62(6):609-16.
Sampath kumar kp et al. Recent trends in potential traditional Indian herbs - Emblica officinalis and its medicinal importance. Journal of pharmacognosy and phytochemistry, vol. 1 no. 1 2012
Shukla v et al. Evaluation of antioxidant profile and activity of amalaki (emblica officinalis), spirulina and wheat grass. Indian journal of clinical biochemistry, 2009 / 24 (1) 70-75
Santhosh J et al. Hypolipidemic activity of phyllanthus emblica linn (amla) & trigonella foenum graecum (fenugreek) combination in hypercholesterolemic subjects – A Prospective, randomised, parallel, open-label, positive controlled study. Asian journal of biochemical and pharmaceutical research issue 1 (vol. 2) feb 2012
Baliga MS ; Dsouza JJ. Amla(emblica officinalis gaertn), a wonder berry in the treatment and prevention of cancer.eur j cancer prev. 2011 may;20(3):225-39.
Gopa. B et al. A comparative clinical study of hypolipidemic efficacy of Amla (Emblica officinalis) with 3-hydroxy-3-methylglutaryl-coenzyme-A reductase inhibitor simvastatin. Indian J Pharmacol. 2012 Mar-Apr; 44(2): 238–242.
Post a Comment
Comments should be on the topic and should not be abusive. The editorial team reserves the right to review and moderate the comments posted on the site.